After we had spent two incredible weeks on New Zealand's South Island visiting Kahurangi National Park, Aoraki Mount Cook, Wanaka and Queenstown, it was time for our next stop: Australia – a completely new terrain for both of us. We have always struggled with ourselves whether to visit Australia or not – white beaches, blue ocean, warm weather, cool people and the Aussie lifestyle really attracted us somehow. But, on the other side, we were a little bit afraid because we thought there might be something waiting to kill us around every corner (snakes, sharks, spiders, crocodiles, stingers, …). However, when we started to plan our world tour, we saw ourselves confronted with the fact that we wanted to tour the world and that Australia is not an insignificant part of the world (being a continent and almost as large as the US without Alaska and Hawaii). So, we went to Australia – from Christchurch we flew into Sydney where we connected to Cairns (gateway to the Great Barrier Reef – our first destination). Quite a trip – 2,5 hours to Sydney and another 3 hours to Cairns – with 3 hours time difference between the start and the destination. We arrived pretty exhausted in Cairns but totally excited for our next adventure.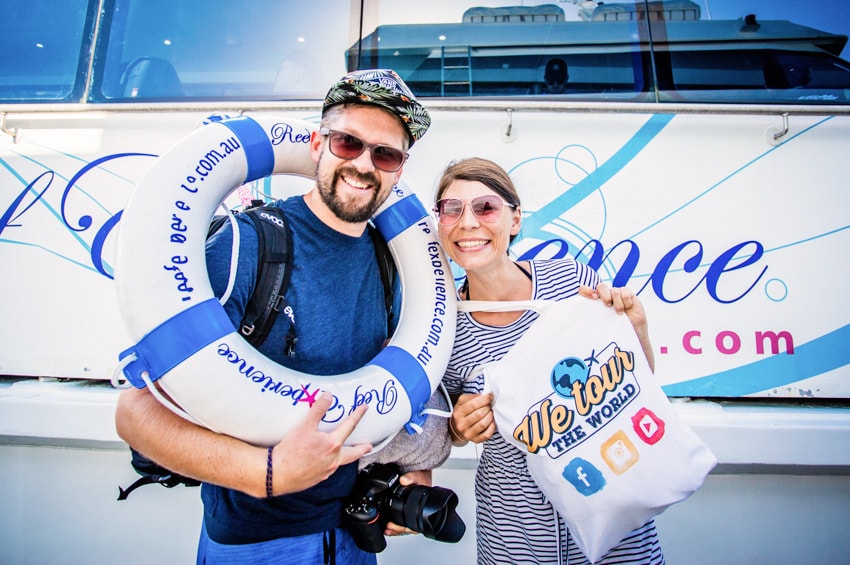 Cairns
Cairns is a pretty small city (the 5th most populated city in Queensland) but still, the major hub for the Great Barrier Reef, Cape Tribulation and Dairntree Nationalpark. The climate is tropical, more precisely a tropical monsoon climate with occasioal tropical cyclones (being a big threat to the Great Barrier Reef).
The city is not highly spectacular – the biggest attractions being the Esplanade and the Lagoon. As occasional crocodile sightings have occurred in Cairns and along the coast, swimming in the sea is usually prohibited. Therefore, you can find bathing opportunities in form of little lagoons or areas that are limited with a net – Australians do really care about the safety. We spent one day in Cairns, as we had booked the tour on our second day because we did not want to go on the tour the day after we arrived at 10:00 PM at our AirBnB.
We walked along the Esplanade to the center. The Esplanade is a very nice walkway along the beach with many little cafes, playgrounds and picnic areas. At the end of the Esplanade you reach the lagoon, a pool that is located almost at the beach. It offers lots of grass to lie down and relax, cool down in the water and get a little tan. However, Cairns is a city that you visit as part of your trip to the Great Barrier Reef, not because of the city.
The Great Barrier Reef – A Natural Wonder
The Great Barrier Reef is considered one of the seven natural wonders. It is the world's largest coral reef and a UNESCO world heritage site. It is more than 2.000 kilometers in length, spreading from Cairns to Bundaberg (north of Hervey Bay) and over 340.000 km2 in size (comparable to the size of Germany, Italy or Japan) . The reef is so massive – it is even bigger than the Great Wall of China – that it is the only living structure on earth visible from space. The Great Barrier is not "a" reef – it consists of more than 3.000 individual reef systems and coral cays and hundreds of tropical islands. So, it is not only a paradise for maritime biologists – it is a the perfect place for scuba diving, snorkeling and boating. The Great Barrier Reef, however, has been massively suffering from global warming, which leads to warming temperatures of the ocean and therefore, to coral bleaching and the reef to die. For this reason, the Great Barrier is protected and tourism well managed by the Great Barrier Reef Marine Park authority.




1 Day on Underwater Safari
As we had had many chances for animal sightings on land as part of our African Safaris in Kruger National Park in South Africa, Etosha National Park in Namibia and Chobe National Park in Botswana, it was high time for some serious underwater wildlife spotting. As we visited the Great Barrier Reef in stinger season (appr. November – April) and are no scuba divers, we decided to spend only one day in the Outer Great Barrier Reef with Reef Experience. Stingers are jellyfish, which are not dangerous in general but there are some species that can affect you if you come in contact with (e.g. box jellyfish). We also planned to spend one day on the Whitsunday Islands, so we got enough opportunities to snorkel and enjoy Australia's unique underwater life. However, if you are scuba diving or just want to spend more time out in the reef, overnight tours are also offered, allowing you more time out in the open water.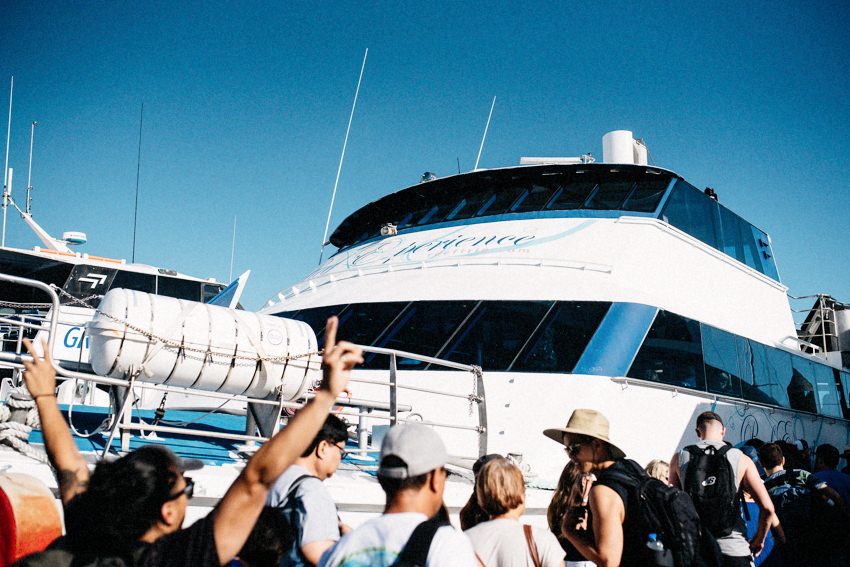 08:00 AM
Boarding the boat of Reef Experience makes you feel like you had booked a cruise. They hang you a life ring around your neck, decorating you just perfectly for the boarding picture – which is, at the same time, when they introduce you to the board photographer and his skills. Smile, Click, Click – once, the perfect picture was taken, you get to know your safety number (the number that you will be assigned to groups with and that helps them to identify you easier the entire day), your snorkel equipment and your stinger suit (if needed, in stinger season it is not an option, it is an obligation).
08:00 – 09:30 AM
After this procedure, we sat down on the boat and got to enjoy a 90-minute introduction program to safety and marine biology. They do really care a lot about safety, so they explain everything about snorkelling, scuba diving and, of course, safety on board. We especially enjoyed the marine biology presentation (of a real graduated marine biologist) because it gave us an insight on the reef, its marine wildlife and what we are likely to see on our upcoming snorkel sessions. He really provided lots of info about the reef and the fish (Nemos, sharks and some fish with big lips that loves attention from human beings – you can even touch it – but where we don't remember the name).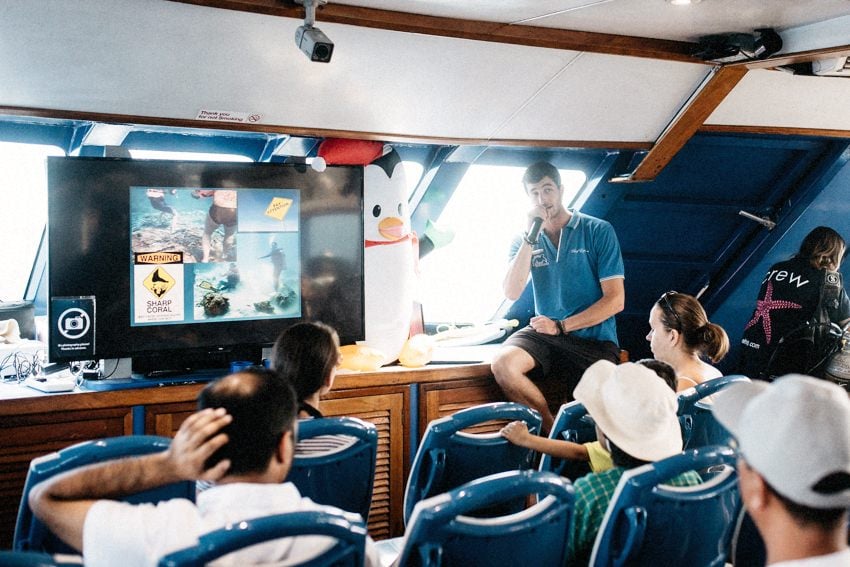 Did u know? A Fun Fact about 'FINDING NEMO'
We got to know that the completely wrong fish was chosen as the protagonist in Finding Nemo – and that, if they had told the story in accordance with the natural behavior of the clown fish, it would have been a totally different one. In reality, if Nemo's mother had died, his father would have taken on the role of the female – changing gender. As this would just have been a way too creepy and not child-friendly course of action / storyline, the story was made Disney-friendly. To tell the story scientifically-correct, clown-fish are "protandrous hermaphrodites" – basically meaning that they alternate between the male and female sexes at some point of their life. In any clown fish community, the largest and therefore "boss" fish is a female. In case this alpha female dies, the breeding male turns into the female. To wrap this highly complicated scientific talk up, when Nemo's mother died, his father would have changed into his mother and Nemo (as the only other clown fish) would have changed to his father, breeding with his father who is now his mother.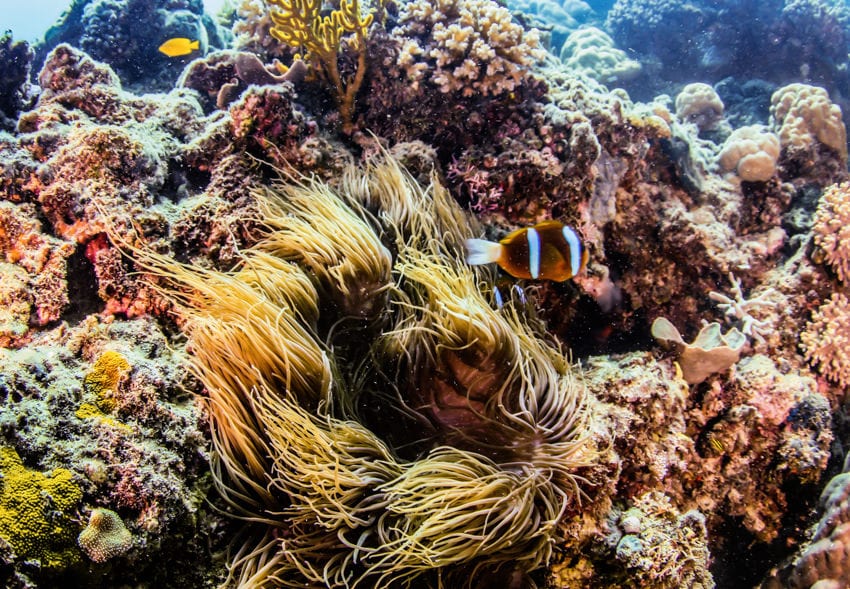 09:30 AM – 1:00 PM
After 90 minutes on the boat (quite shaky but vomit bags are provided for free, 2 sea sick pills can be bought for 3 AUD – they have to be sold as it is a medication and can't be given away for free) and a good breakfast, we arrived at the first reef. We remained there for approximately 3 hours – as they conduct the glass boat tour there, you get to snorkel and also the introductory scuba dives are done there (the more people want to try it, the longer it takes to get them all through). Everything is so well organized that the 3 hours passed very fast. After a lot of fun in the water, it was time for lunch. The lunch is very good – they prepared lots of different fresh salads that you can get from a buffet. It comes with your choice of meat (we could choose between chicken and beef) and a grilled sausage. The lunch was really delicious!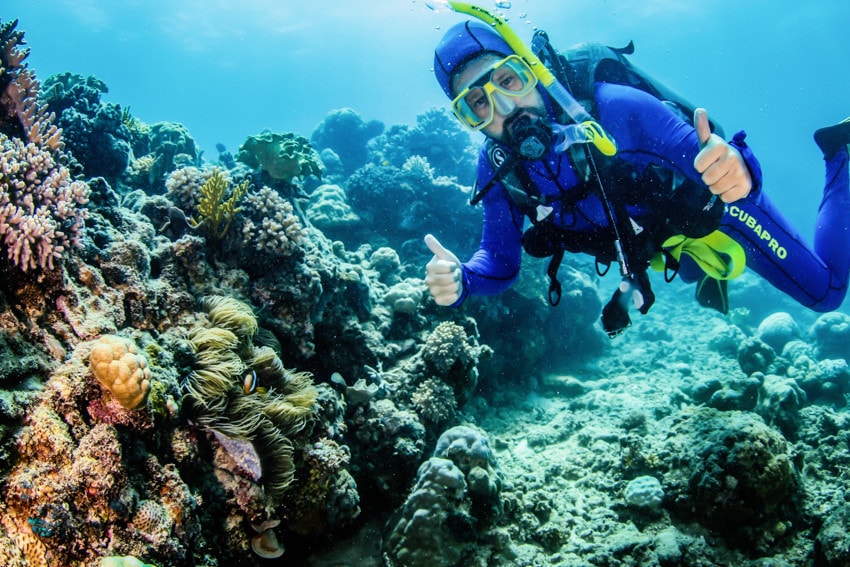 1:30 – 3:00 PM
After lunch, we reached the second snorkelling / diving spot of the day. The reef was even better than the first one. Firstly, because the weather was better and so the water was not misty at all and the reef more colorful. And secondly, the water was more shallow or the reef higher so even those only snorkelling could enjoy the view on the corals from very close. After another hour in the water observing sea wildlife, we were totally exhausted and ready for a sunbath on the sun deck of the boat. We enjoyed fresh fruit and had the sun shine on our bellys – what a wonderful life!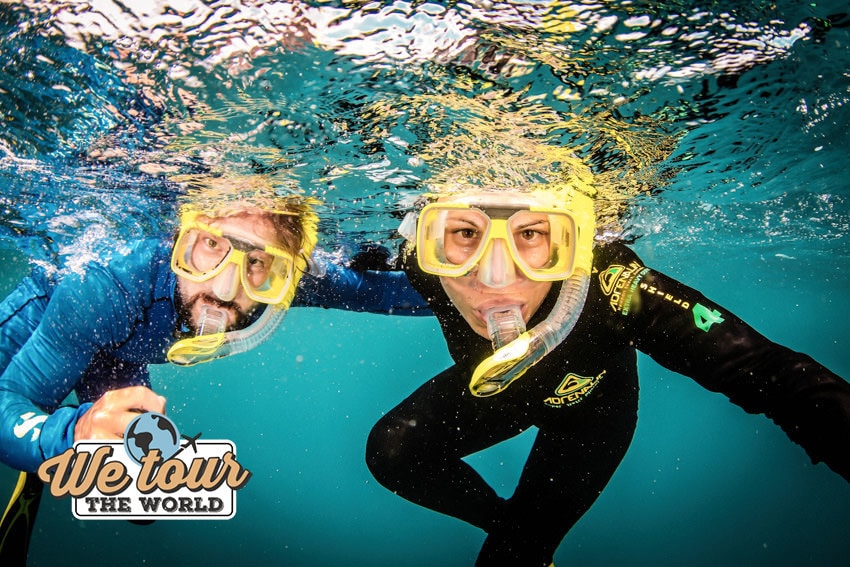 4:30 PM
After we arrived back in the marina, we went straight to the shuttle bus – pick-up and drop-off within Cairns CBD from a public accommodation is included and works really good. We loved the day out in the Great Barrier Reef – the tour was great and we got to see so much new things – on our little underwater safari.




Reef Experience – The Best Crew for a trip to the Great Barrier Reef?
We booked our trip in advance – about a month before coming to Cairns. We decided to do so because we visited the reef in high season and tours can be fully booked if you wait too long. However, there are so many tour operators in Cairns that you should always be able to grab a seat on a boat. But, if you want to have the choice, we recommend booking in advance.
We did lots of research regarding tour operators going to the Great Barrier Reef from Cairns. Aspects that were important for us were:
The Website (how easily we can find the info we needed)
The Booking Process
The Size of the Boat
The Value for Money
The Crew / Staff
The Tour
We soon came across the website of Reef Experience – and liked it very much. It is a family-run business and the website was clear and appealing and we quickly found all the information we needed.
The Website
The website is very nice and it provides the info you need on the first click (costs, itinerary, what it includes). They provide a short summary of the tour on the first page and if you want to get to know more, it is just one more click. Especially Bianca hates it to dig through many sites of a webpage, looking for the info she needs to make a booking/purchasing decision. The website of Reef Experience is very clear and straightforward and allows you to gather all the important facts in just a minute.
The Booking Process
The booking process was as easy as finding all infos on the website. Right when we arrived at the website, a LiveChat popped up. We could ask all our questions concerning availability of the tour, stingers and how dangerous they really are, …) and everything was answered immediately and properly. The tour also includes a free pick-up service from any public accommodation (hotel, hostel, …) but not from any private places. As we stayed in an AirBnB in Cairns North, we could not be picked up from there. The lady in the chat immediately checked out all hotels/hostels in the surroundings of our private home and quickly found two that we could pick from. Very convenient. After a few minutes of chatting, we went ahead and booked the tour online. It was as easy as all the steps before, you just enter the date when you want to do the tour, number of people, special dietary requirements and your credit card details – 1 minute later you receive an e-mail confirmation.
The Size of the Boat
We, of course, prefer smaller group sizes when going on a guided tour. Reef Experience's boat has a capacity of 140 people but they only take 100 for the passenger's convenience. This is a huge advantage as the more private the tour becomes, the more expensive it usually is. With Reef Experience we found the perfect compromise between price and the group size. They are so well organized that we never felt there were 98 other people on the boat. When boarding, they tell you your safety number – that is the number that helps them to identify you the entire day. If you sign up for the introductory scuba dive, you are divided in little groups of 4 people only – of course, according to your number. So, you always have to make sure to remember your number and you will have a perfect day aboard of the Reef Experience vessel.




The Value for Money
Being on a world tour with no unlimited budget will necessarily force you to care about budget somehow. If you have an unlimited budget and you don't … then you are a lucky bastard and we wish you a nice time spending the money! We aren't, so everytime we look for a guided tour, we do analyze the price-benefit ratio thoroughly. What is included that we really need, what is not included that we really need and what extra costs do we have to calculate.
Tour Costs: 195 AUD per person
Reef Experience lists everything that is included nicely and neatly arranged on their website.
So, here is what is included in the day-trip to the Great Barrier Reef:
Breakfast: a roll with bacon and egg, veggie and vegan options are also available
Unlimited Coffee, Tea and Hot Chocolate: always available to prepare on your own (except when the boat is going over the ocean very fast – then the hot water / drinks bar is removed for safety reasons)
Lunch: meat (beef or chicken), sausage and a huge salad buffet (about 6 different salads to choose from or get them all – Chicken Caesar, Couscous, Coleslaw, …)
Water
Fruit in the morning, noon and in the afternoon
Wine and Crackers in the afternoon on the way back to Cairns
Complimentary transfer to the Marina and back to your accommodation (within Cairns CBD)
Sun Screen (30+ and 50+)
One free scuba dive (even for complete beginners) with very good instructors (at the first snorkel stop)
Unlimited snorkelling (high-quality equipment is provided) in the two snorkelling spots

Special instructed snorkelling who don't swim very well

Stinger suits (in stinger season)
Glass bottom boat tour
All reef taxes and fuel levies for the Great Barrier Reef
An interactive Marine Biology Presentation on the way out to the reef
What you can book on top – at extra charges:
Second introductory scuba dive (at the second snorkel stop)
Underwater digital cameras
The pictures that professional photographers take of you (single pics and packages available)
Marine Biology informative snorkel trip (at the second snorkel location) – can be booked aboard
Precription Masks (if required)
Scuba Guide for qualified scuba divers
The Crew / Staff
The crew on Reef Experience was amazing – they call themselves the best crew and they truly are. They have lots of people caring about your wellbeing on board of the vessel. They have numerous scuba dive instructors, a marine biologist, a chef preparing delicious meals, two underwater photographers (one for the divers and one for the snorklers) who also take pictures on the boat and many other helping hands making sure you have the time of your life.
The Tour
We really enjoyed the day. It was packed with fun stuff. The itinerary was pretty tight but as everything was very well organized, we got the most out of our day tour and never felt stressed – it was a very relaxing day that was packed with lots of new impressions and experiences – all wrapped into a perfect itinerary by Reef Experience.
Our Overnight Stay
Air BnB hosted by Patricia (If you don't have an account yet sign-up through our link and earn a € 35 starter bonus)
We decided to stay in an Air BnB. It was located in Cairns North, about 20 minutes walk along the Esplanade from the city center and the lagoon. Our room was very spacious and the house had a little garden where we could enjoy our breakfast. The kitchen (fully equipped with crookery, fridge, …), bathroom and toilet is shared if the other 2 rooms are also rent (when we were there, one other room was rent but we never had to queue for a shower or for going to the toilet). The best thing is that the place had a washing machine that we could use for free – washing powder was provided also for free.
Or check out a hotel in Cairns