After we had successfully done and survived the 1st part of the Heaphy Track (Kohaihai-Heaphy Hut and back), we continued our journey towards Aoraki Mount Cook. Our first stop was Arthur's Pass, where we decided to spend the night and then do a little hike the next morning. Arthur's Pass is the South Island's first national park and nicely located on the "Great Alpine Highway". This highway (255 kilometers / 160 miles) leads from Christchurch to Greymouth and features highlights such as Arthur's Pass and Castle Hill.
Arthur's Pass
The center of Arthur's Pass is Arthur's Pass Village, which feature accommodation opportunities, a visitor center and a little shop / café. There are numerous walk / hikes that start in and around the village (car parks are available). The longest hike is the Avalanche Peak, which can be completed in one day (6-8 hours) – Avalanche Peak is Arthur's Pass' only peak and on clear day the view is stunning. There are two options to complete the Avalanche Peak hike – round trip or one-way (using the same way up and down). The round-trip starts at the Avalanche Peak Track right behind the visitor center and brings you down Scott's Track – about 700 meters west of the visitor center. For the one-way trip, you have two options: Avalanche Peak Track or Scott's Track – the second one being less steep and therefore, the easier one.




As we had planned to drive to Fairlie (30 minutes from Tekapo) via Castle Hill that day, we decided to only do a short hike. We chose the Temple Basin Hike – a short but very steep hike up the mountain to the Temple Basin Hut – an area for skiing in winter with a wonderful view on the surrounding mountains. It took us about 1.5 hours to reach the hut – it was really exhausting because most of the path is full of gravel and big stones. The view from the top pays off for all the effort. If you are looking for a short but demanding hike in the area of Arthur's Pass, we can really recommend this hike.
Castle Hill
We continued our way towards the Tekapo / Aoraki Mount Cook area and only 50 kilomters (30 miles) after Arthur's Pass reached Castle Hill. Castle Hill is a recreation area – basically a very good place for a short walk and a relaxing afternoon with a picnic in the green grass. It is an area covered with huge limestone rock formations that were formed about 30-40 million years ago – if you have never been to Stonehenge, this might be how you think it looks like. It is located directly on State Highway (SH) 73, so going into the direction of Aoraki Mount Cook or coming from there, you can barely miss it.
Useless knowledge but good 2 know: Castle Hill Limestones were used to build the front of Christchurch Cathedral.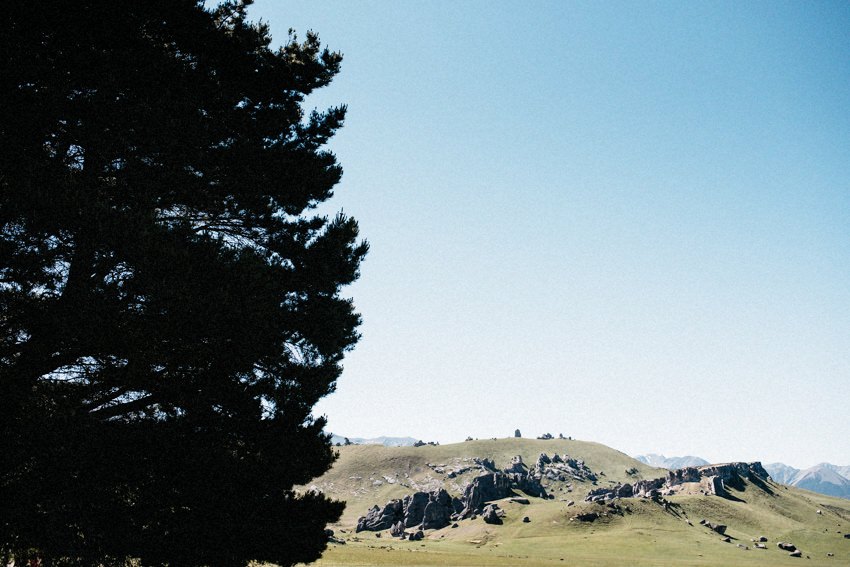 Lake Tekapo
After a night in the Fairlie area (about 50 kilometers / 30 miles from Tekapo), we continued our journey to Tekapo. Tekapo is a real vacation town and full of tourists in summer. It features two major sights: Lake Tekapo surrounded by an unlimited number of pink and purple lupins and the Church of the Good Shepard. The positive thing about Tekapo being a well-established touristic hotspot is that it features lots of cafés and restaurants. We really enjoyed the touristic offering (after a few days without real civilization) and spent some time having lunch, coffee and even a cookie (usually our budget does not allow big spendings like that) on the terrace of the "Reflections Café" with a wonderful view on Lake Tekapo. Then we decided to stroll along the lake and have a little swim in it. It looked clear, blue and clean – and we had to compensate for the missing shower opportunities because of only staying at basic campsites where flushing toilets are rare luxury goods. We put on our bathing suits and were good to go. Lake Tekapo is a glacier lake – and it doesn't only define the color blue newly, it also defines the world ice-cold in a completely new way. Although the lake had maybe 15 degrees Celsius (…. Fahrenheit), we totally enjoyed our swim – we were completely alone (nobody was there but us – except a Chinese guy was sleeping on a boulder close by but he did not disturb our little private lake fun as he slept so deep that we had moments when we started to worry if he was still alive). Cleaner than clean and happy about the beauty of the lake and how cool the swim was, we continued our stroll along the lake. We passed thousands of colorful lupins and enjoyed their smell.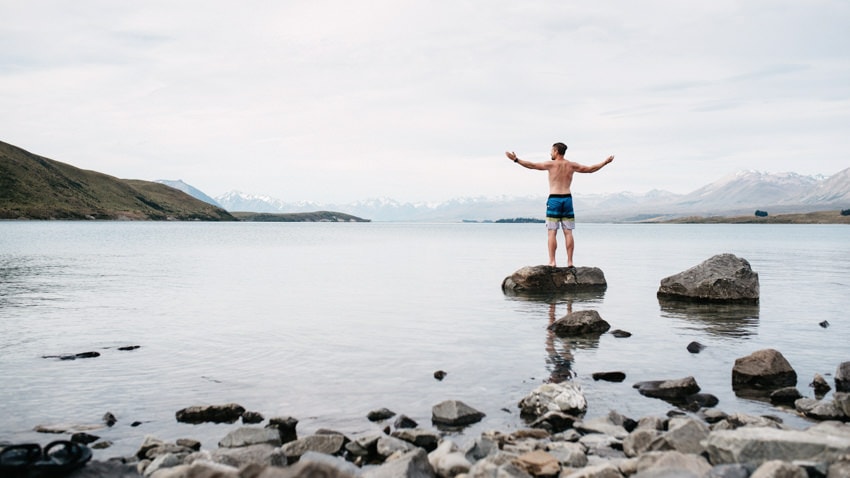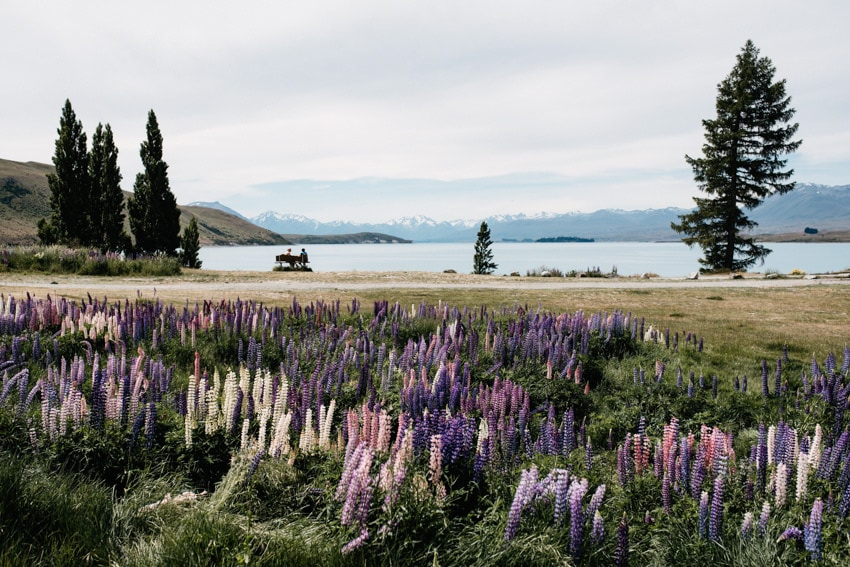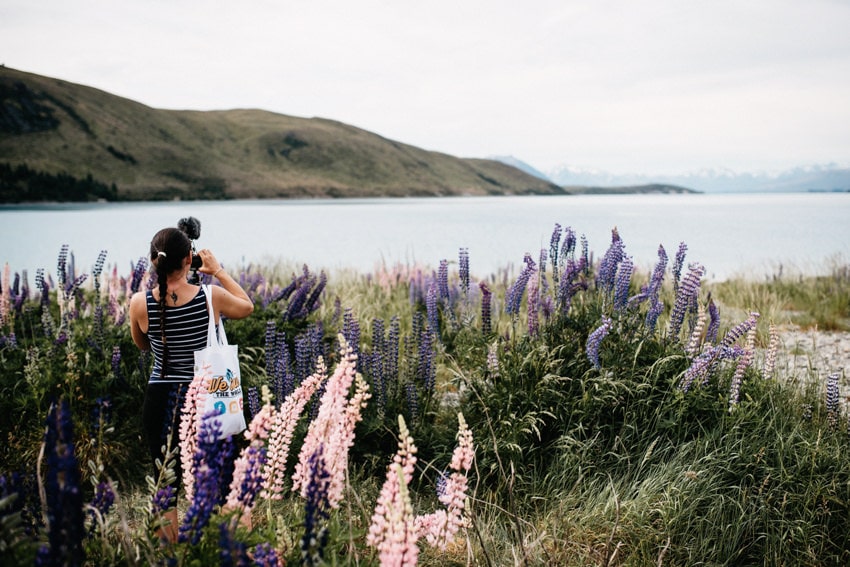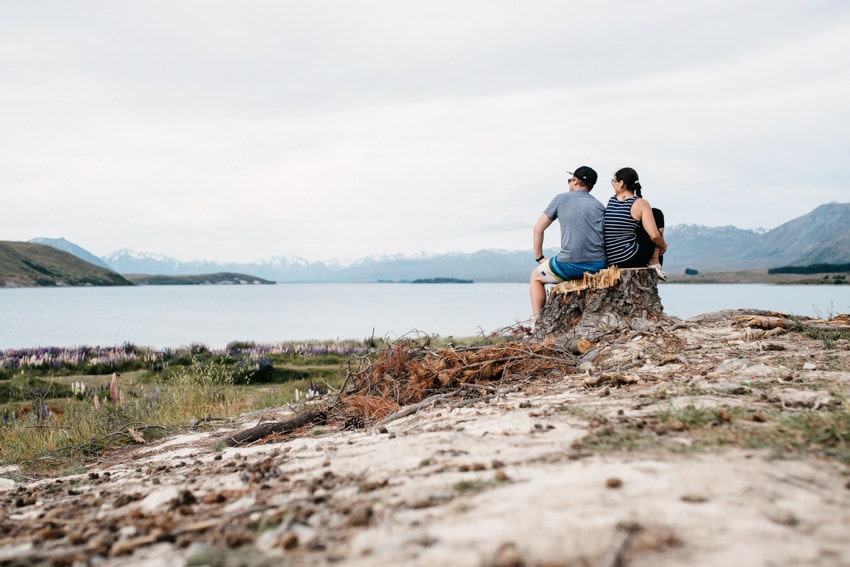 Church of the Good Shepard
A little bit further down the lake, we already recognized the Church of the Good Shepard. It is totally weird but on the famous pictures that show it at night covered in a clear sky full of stars, it looks a lot bigger than in reality – or during the day. Maybe it looks bigger at night – although we highly doubt that – but during the day, it is a really tiny, tiny but very cute church. At the first sight, we were disappointed but at the second sight, we totally fell in love. We crossed the bridge that leads over the turquoise blue Lake Tekapo and soon reached the church. It is located directly at the lake and has a huge window behind the altar that offers a great view on Lake Tekapo. Every last Sunday of the month, a mess takes place there. The church is made from stone and although tons of tourists are taking pictures there, it is a very special place. Unfortunately, we did not get to admire it at night but if the sky is clear and there is a lot of stars, it is worth visiting it for sure.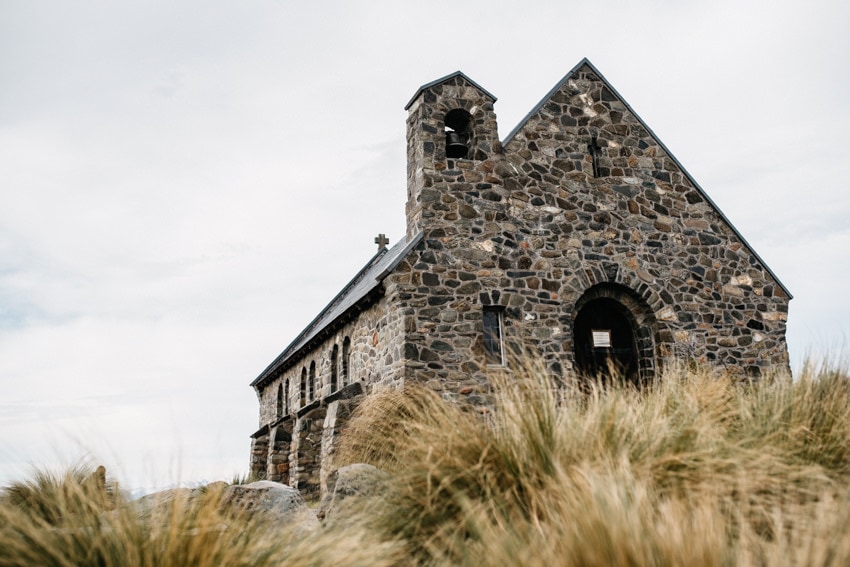 We spent the night at a campsite near Mount Cook Village, the starting point for many walks and hikes around the area of NZ's highest peaks. The area is home to 10 shorter walks (Red Tarns Track, Kea Point, Hooker Valley Track, …) as well as mountain pass routes for the real alpinists (Mueller, Copland and Ball passes).




Aoraki Mount Cook
Aoraki Mount Cook is New Zealand's highest mountain and located in the Aoraki Mount Cook National Park – which features 23 peaks over 3.000 meters. It also accommodates NZ's largest glacier – the Tasman Glacier, 27 kilometers / 17 miles long. Mount Cook is not only famous because of its altitude, it also helped Sir Edmund Hillary to prepare for his ascend on Mount Everest – the world's highest peak. He, together with Sherpa Tenzing Norgay, was the first man to ever ascend Mount Everest. That was in May 1953. It is called Aoraki because a Maori legend says that Aoraki and his three brothers were the sons of the Sky Father. When their canoe flipped over on a reef, the freezing wind turned them into stone – turning the canoe into the South Island and the four brothers the peaks of it.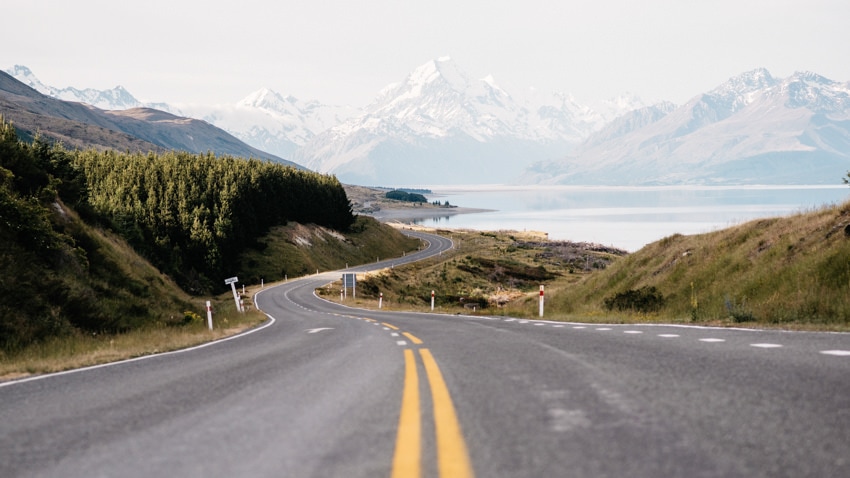 We spent one day in the area and completed the Blue Lake / Tasman Glacier View walk and the Hooker Valley Track. The Blue Lake track is a very easy walk that leads to three little lakes that are rather green-greyish than blue. Still, they are called blue lakes because they used to be blue in the past. We learnt that a lake is blue if the water comes from the glacier but as the glacier got smaller and smaller over time, its water doesn't reach the blue lakes anymore. Nowadays, they are not glacier lakes anymore but filled with rain water and therefore, green-greyish in color. Signs along the way demonstrate how remarkable the glacier decrease has been over the past 100 years – illustrating the consequences of continuous global warming.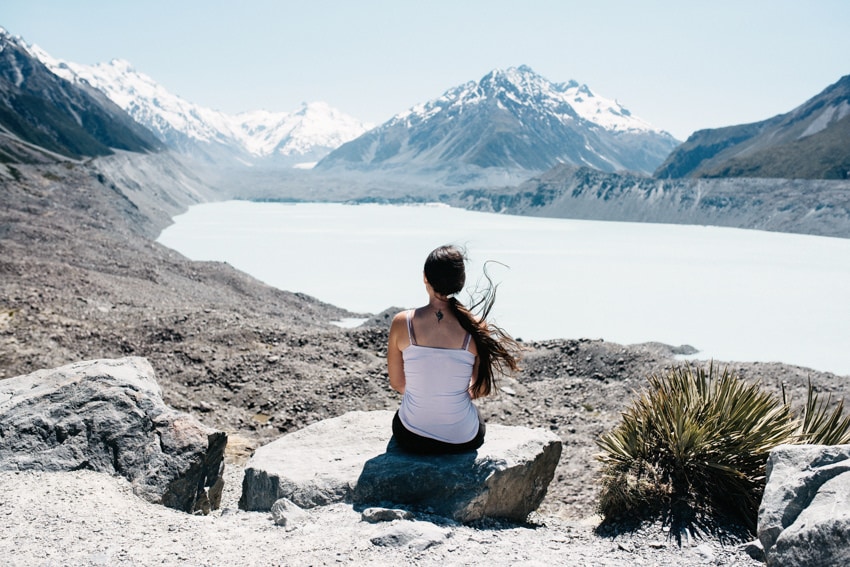 After a well-deserved lunch at our campground, we hit the Hooker Valley Track in the late afternoon – just at the right time to take some great pictures with good light. This track is an easy, three-hour return walk (10 kilometers / 6 miles) that leads to the Hooker Lake, a glacier lake at the bottom of Mount Cook. The path is well-maintained by the DOC and offers great views on Aoraki Mount Cook – already before you reach the final viewpoint, there are lots of opportunities to admire the beauty of NZ's highest peak. The highlight – at least for Bianca – were the three suspension bridges that have to be crossed along the trail and the many boulders that can be climbed that are perfect for "jumping" pictures in the picturesque alpine scenery.
At the end of the track, the efforts are rewarded with a great view on Mount Cook – don't forget to bring a jacket / pullover as it is incredibly windy there.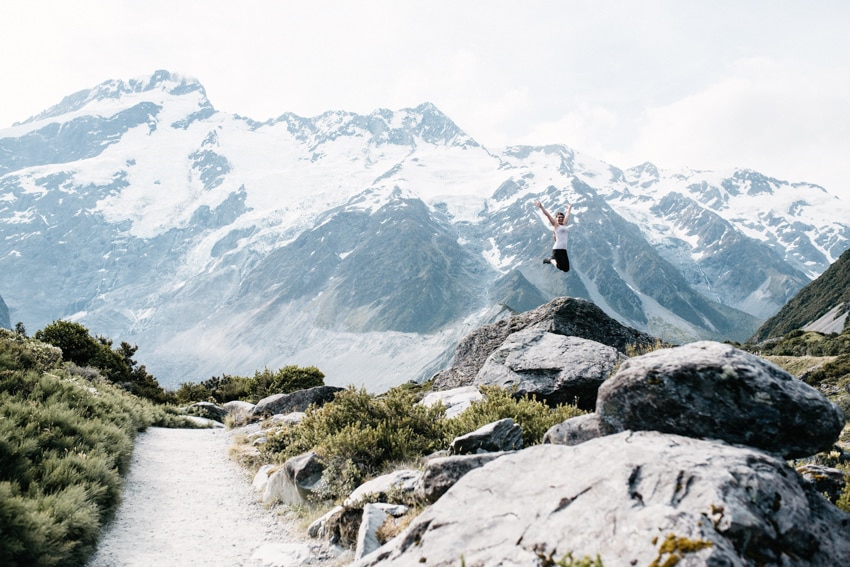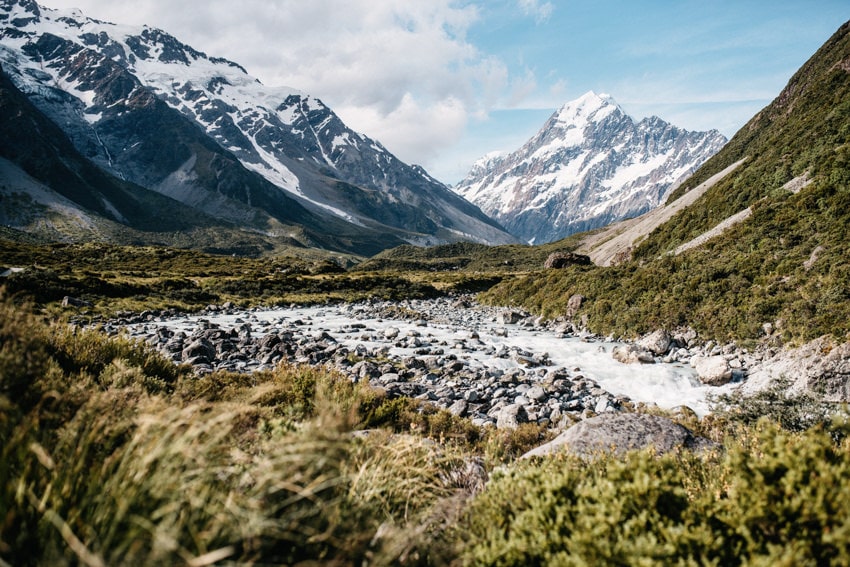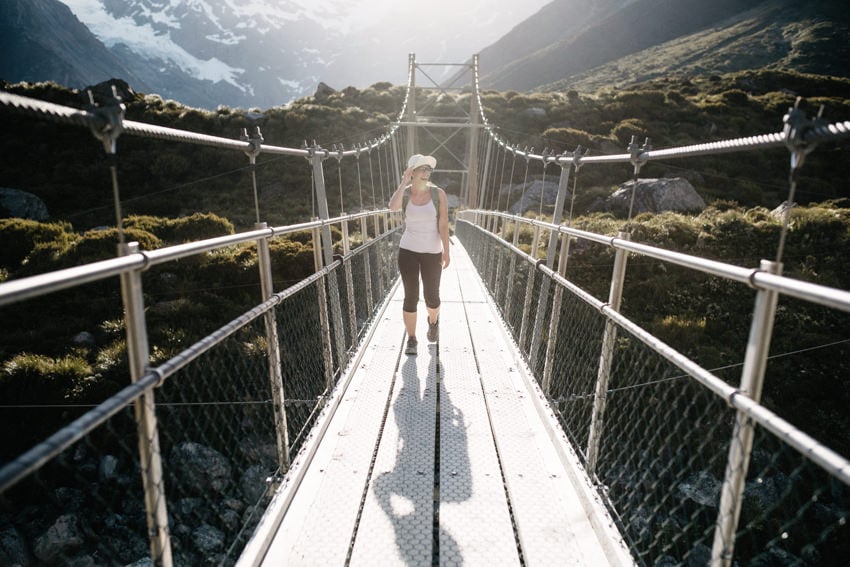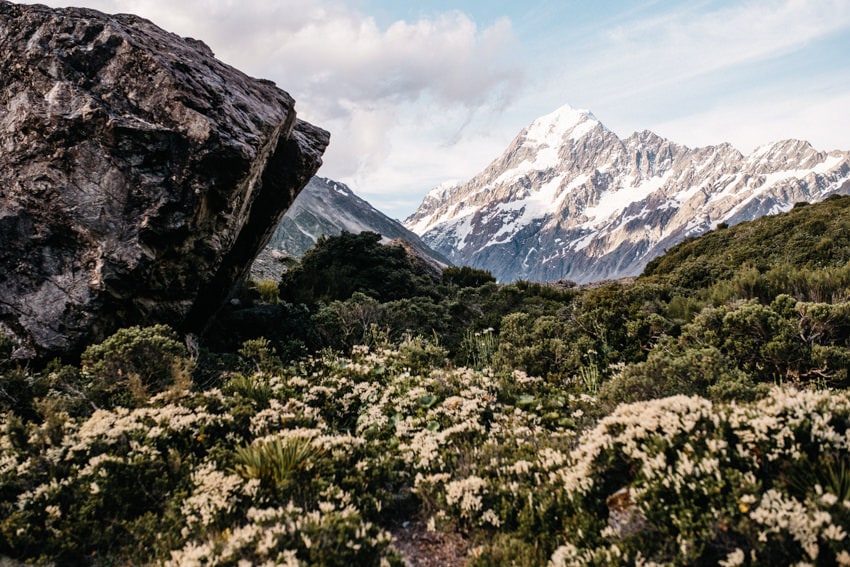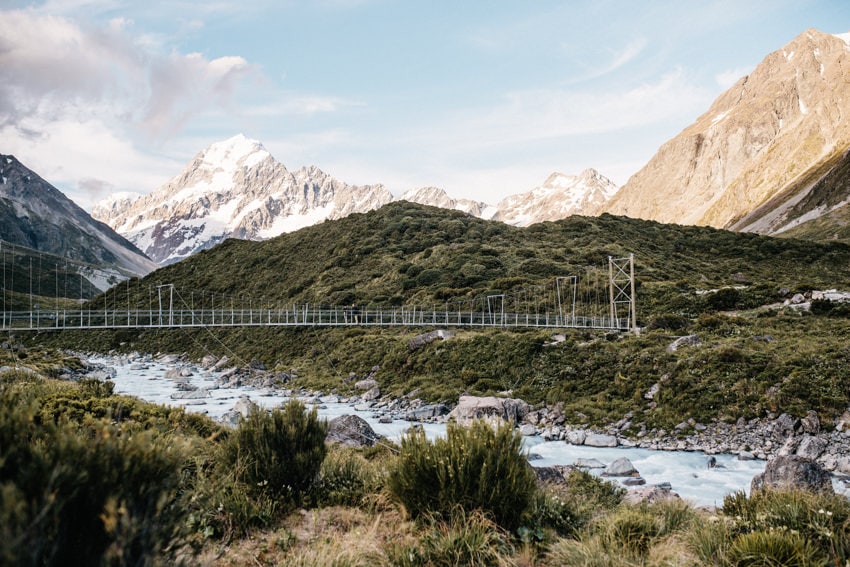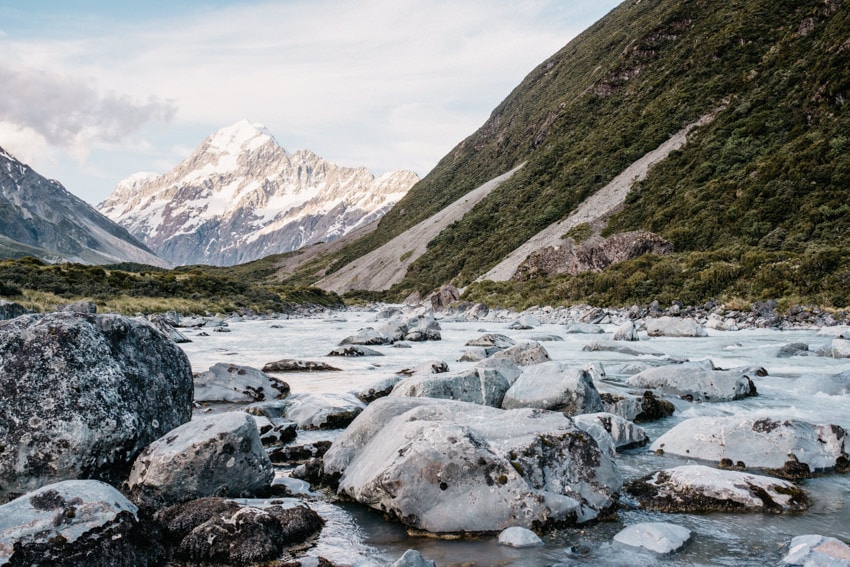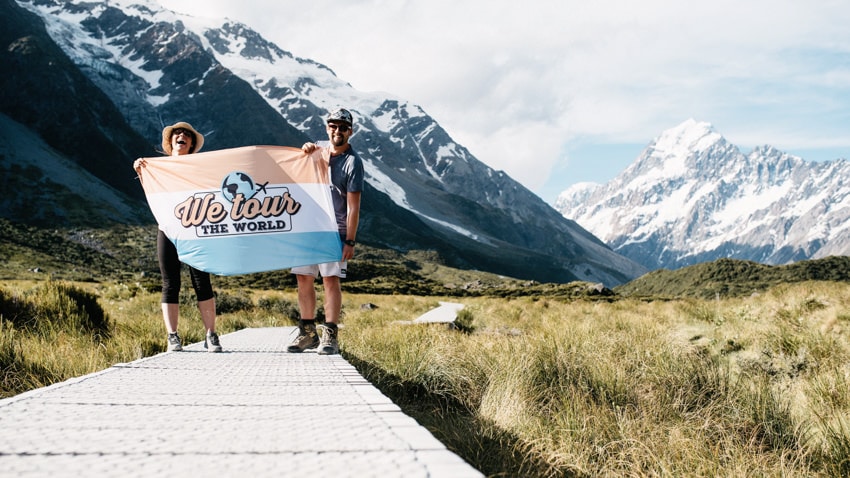 DOC – Department of Conservation
The DOC is an institution that runs a range of i-Site visitor centers (20+), accommodation (900+ huts and 200+ campsites) and recreation facilities and unique outdoor experiences on public conservation land. Furthermore, the DOC focuses on protecting and maintaining the rich history and cultural heritage of New Zealand. The traces of the DOC can be found everywhere in the country: hiking trails are well-maintained, signs lead you along all ways and also teach about the things you see (history, culture, nature). Free maps are available in all visitor centers, many car rental pick-up offices as well as accommodations. There are also very detailed maps with hiking/walking tracks available for many regions (Arthur's Pass, Aoraki Mount Cook, …) at the i-Site visitor centers (for purchase, 2 NZ Dollars).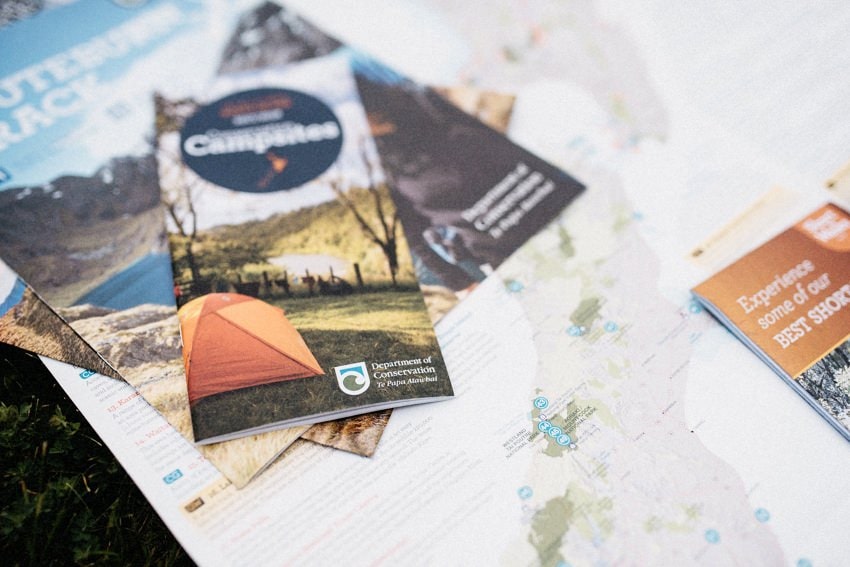 Our overnight stays
Avalanche Creek Shelter Campsite (Arthur's Pass Village)
This rather small standard campsite is located directly at the opposite of the visitor center in Arthur's Pass Village and the start of the Avalanche Peak Track. It is not the most scenic one but it offers a little hut with a sink for your dishes and a flushing toilet. The start of the Temple Basin Walk is about 10-minutes drive away from the campsite and very easily accessible.
Pioneer Park (Geraldine-Fairlie)
On our way from Arthur's Pass to Lake Tekapo, we spent one night at this standard campsite in the middle of nowwhere. We decided to sleep there as it was located on our way and included in the Spaceship campsite pass. It is a standard campsite offering a toilet and a little sink for your dishes. It is a rather big campsite with lots of space and is accessible via a gravel road.
White Horse Hill Campsite (Mount Cook)
We stayed at the DOC Campsite White Horse Hill for 2 nights. The campsite is located directly at the start of the Hooker Valley Track and about 2 kilometers from Mount Cook Village. The Blue Lakes / Tasman Glacier View (both walks start at the same parking lot) walks are about 10 kilometers away and can be reached in about 15-minutes drive. The campsite is very nice – it lies embedded into the chain of mountains of the Mount Cook massive. It offers a little shelter with kitchen facilities (sink and space to set up your gas cooker) and tables/ chairs. This is very good because it tends to be very windy outside, so even cooking water gets challenging. There are no showers at the campsite itself, but public showers are located in Mount Cook Village and can be used by campers.




Campsites (www.doc.govt.nz)
The DOC runs more than 200 campsites (forest, lakeshore and on sandy beaches) of different categories (basic – serviced, price range: 0 – 20 NZ Dollars/person/night) all over both islands. There are free DOC campsite maps (1 x North Island, 1 x South Island) available at the visitor centers. If you rent a campervan, you usually receive both maps when picking up the vehicle.
Spaceship car rental offers a DOC campsite pass (50 NZ Dollars / week) that allows you to camp at selected campsites all over the country (check if campsites on your route are included otherwise you don't really save money).
Of course, there are also lots of holiday parks in New Zealand (Top 10, …) that offer playgrounds, shower and bathroom facilities, …
Or check out a hotel near Mount Cook