After our days in the Sesriem area of Namib-Naukluft National Park, we continued to Etosha National Park. As it is a very long journey, we decided to go to the area around Swakopmund and then go further to Etosha. The drive from Sesriem to Swakopmund takes around 5 hours and is rather straight, bumpy as well as boring and, simultaneously, very spectacular. It leads through endless desert and a canyon that makes you think you have just landed on the moon. Shortly before reaching Walvis' Bay, you pass the Vogelfederberg, an interesting pile of stones, funny to look at. Unfortunately, we did not have time to stop in Walvis' Bay but it is definitely worth a visit because there is a lagoon and a salt pan where you can see flamingos, pelicans and other types of birds. Apart from that, Walvis' Bay is famous for Dune 7 – perfect for climbing and sliding down or, for the real lovers of adventure, sandboarding.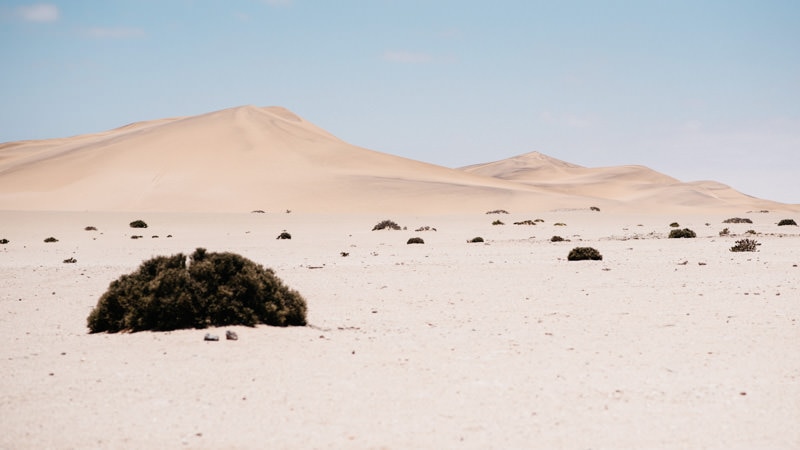 Swakopmund
Swakopmund is a pretty Germany town with many Braustüberl, Beer Houses and other options to grab the one or other Schnitzel. They also have a rather nice beach, The Mole, and a beachfront, both worth a short stroll. We walked along the beach towards the pier when we discovered "The Tug" – a very sweet restaurant / bar at the beginning of the pier. All of a sudden, we felt very hungry and decided to have some fresh fish and a coke. Prices were pretty high but the octopus we had was totally worth it.
After we had also done our groceries for the next days (supermarkets are not super-spread over Namibia) and fueled up, we headed to our campsite, just outside of Swakopmund, where we spent the night in our beloved roof tent.




Moon Landscape & Spitzkoppe
Our next destination after Swakopmund was the Brandberg area – where we decided to spent our last night before heading up north to Etosha National Park. There are basically two routes to Brandberg from Swakopmund – via Henties Bay or into the direction of Usakos – we chose the second but with a litte detour passing Welwitschia Drive and Spitzkoppe. It is the longer route but absolutely worth the extra time and miles. Welwitschia Drive is not very spectacular if you are not a lover of the desert flora or, in other words, a conglomerate of dry desert plants that all look the same (one should actually look like lettuce, one should be grey and have leaves – to us, they all looked the same). According to Lonely Planet, there is a very famous plant called "lichen" that plays some magic when it is touched by water. We, of course, were totally eager to find out what magic and so, we started to look for the famous plant. As we had no idea what it looks like, Tom just started to pour water on all the plants in the desert but nothing happened. Although we could not find the plant and the magic behind it, we had so much fun because Tom watering the flowers in the desert was very entertaining to watch. Although it is, for the most part, not very spectacular, Welwitschia Drive is home to the moon landscape – an unbelievably wonderful and completely unreal landscape that really makes you feel like you have just landed on the moon. Absolutely worth visiting. After this, we continued our drive towards another highlight along the route to Brandberg – the Spitzkoppe. We passed Goanikontes– a green oasis in the middle of the moon landscape. It is very impressive and even features a campsite – so if you ever come to the Swakopmund region, make sure to stay there – it is truly scenic.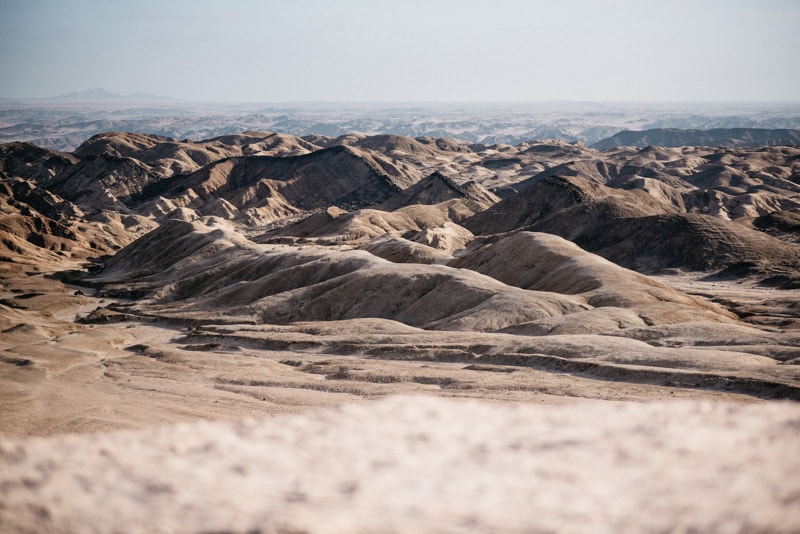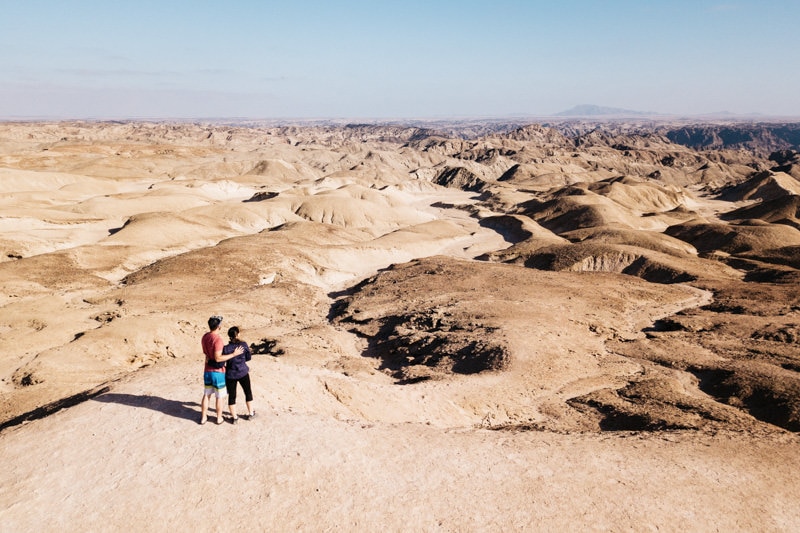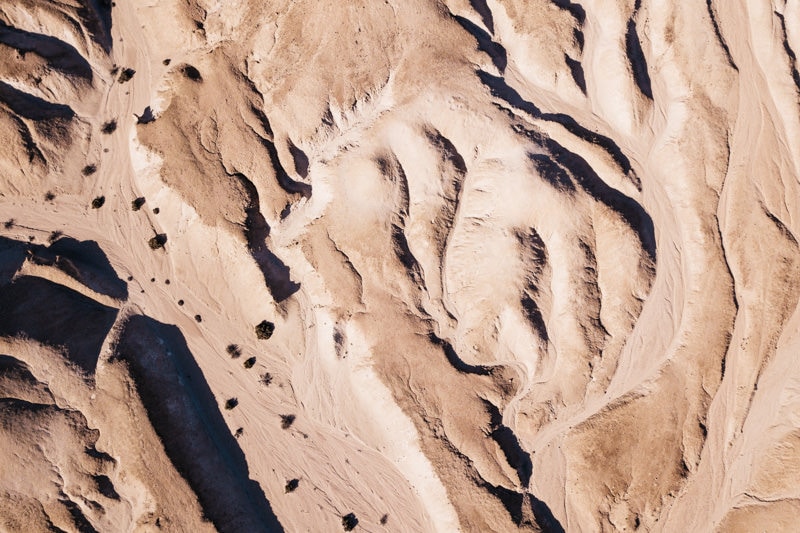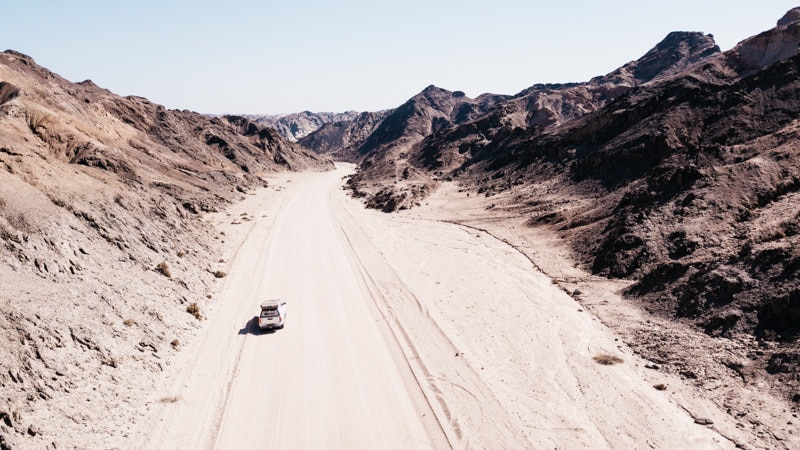 Spitzkoppe
Spitzkoppe, also called the "Matterhorn of Namibia" is a mountain – or more a formation of various granite peaks – that stand, more or less, in the middle of the Namib desert. It is a highly impressive stone formation that you can circulate by yourself if you have a 4 WD. Next to the mountain you can see The Pontoks, an interesting stone formation – reminding a little bit on pictures you may know from Monument Valley on the US West Coast.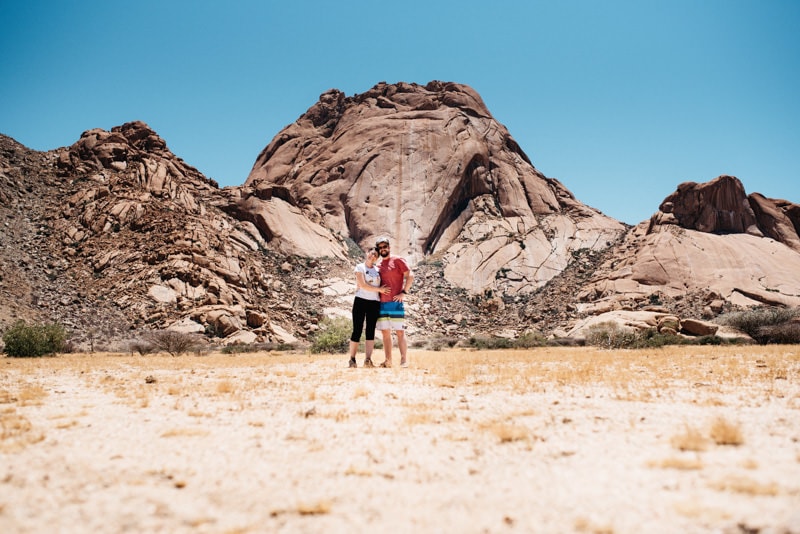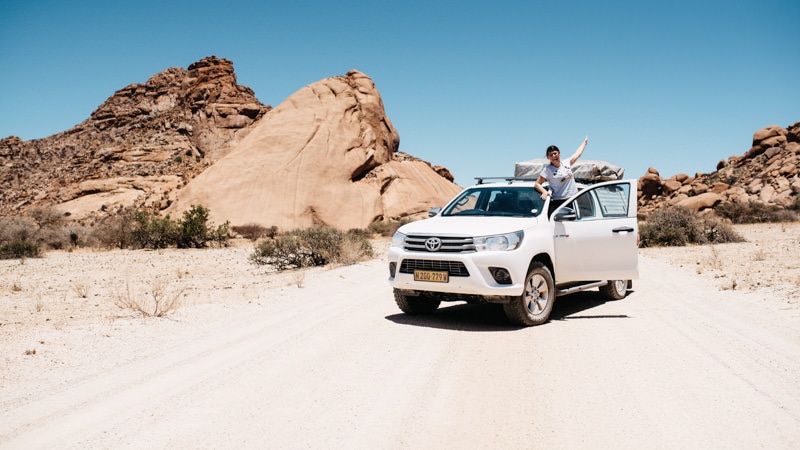 Brandberg
The Brandberg, like the Spitzkoppe, is a massive stand-alone stone mountain in the middle of, well yeah, a lot of nothingness and gravel road. We wanted to go to, of course, see the mountain, that is said to appear pinkish in the morning sun, just right after sunrise and then turns into a red basalt rock formation during the day – almost like it was burning. And, we wanted to see the very old and not least famous White Lady rock painting that was discovered in the early 19th century and that's creation by bushman dates back more than 5.000 years. In order to get to enjoy the legendary view on the Brandberg, we had to get up very early – we start to get used to getting up as early as at home when we have to go to work. We started our drive to the Brandberg shortly before 6:00 AM in order to pick the perfect picture spot and set up the camera equipment accordingly. It was truly mystic when we watched the sun coming out on one side of the car and the Brandberg getting pinker and pinker every second. After the sun was out, we prepared our breakfast directly at the spot where we had watched the sunrise – one of the many advantages of camping over hotels, hostels and guesthouses.
Then we continued to the Brandberg park entrance, where the walk to the paintings starts. Due to the fact that visitors scratched their initials next to the paintings in the past, it is prohibited to walk there alone. When arriving at the park entrance, a guide is allocated to you and will walk you to the paintings. Before that, you have to provide all your data (car registration, nationality, …) and pay the entrance fee. Then you meet your guide – ours was called Justice and a really nice guy – and start the walk. It takes about 45 minutes to an hour to get to the paintings. The walk is straight (not steep up the mountain or anything like that) and scenic as it leads through the Brandberg mountain massive. At the end of the path, you get to admire the paintings, it's very small but especially Bianca thought it was very impressive. It illustrates coloured people and diverse animals and in the middle the white lady. There are many different legends and theories about the painting, one saying that as it is a white person in the middle, this could be a person from the Mediterranean region that visited Brandberg.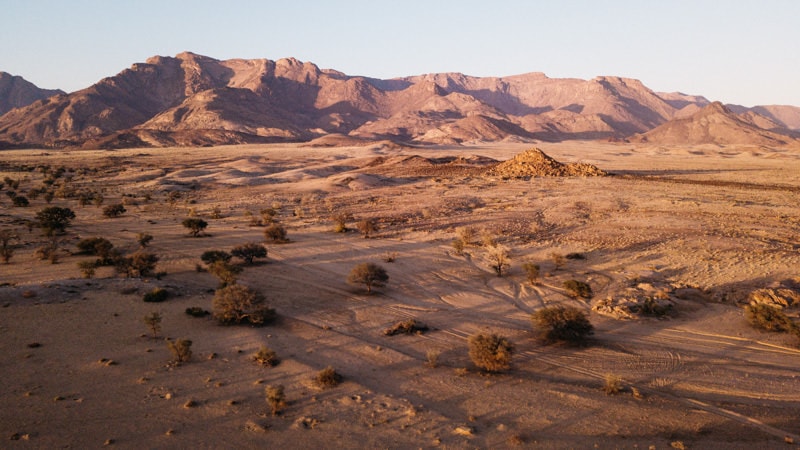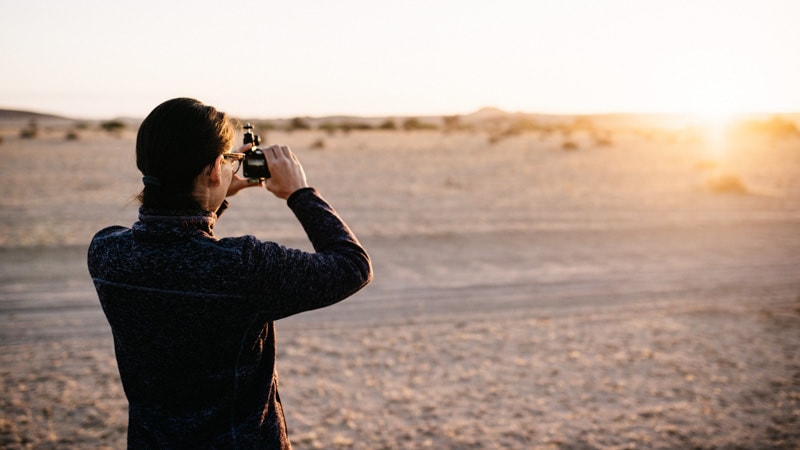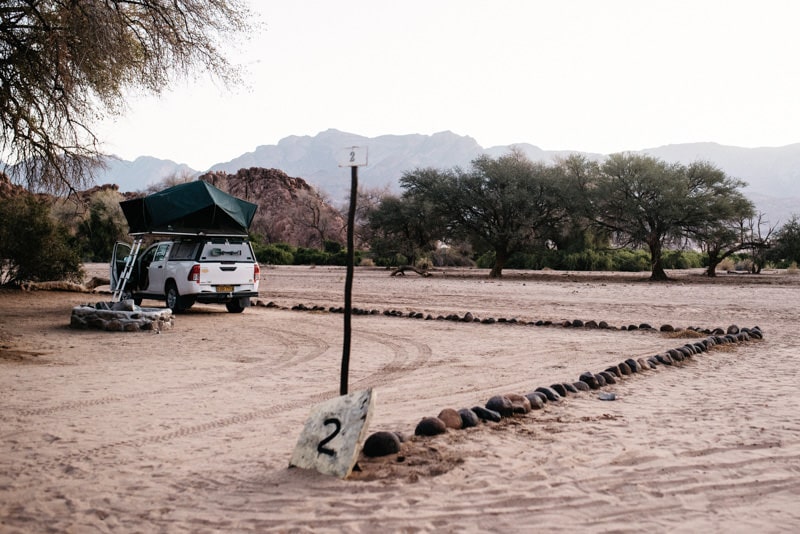 Etosha National Park
After our little tour 5.000 years back in time, we continued to Etosha National Park. Before going through the gate, we stopped in Outjo (about 100 kilometers / 62 miles before the Anderson Gate), to stock up on groceries and get the tank filled up. We arrived at Anderson Gate at 5:15 PM, which was pretty late considering the fact that we had booked Halali Camp and it is 85 kilometers (52 miles) away from the gate – of course, reachable only via a super-pebbly gravel road in about 1,5 hours. Make sure to be on time as the camp gates all close at sunset! There is one campsite right after the gate (Okaukeujo – with a waterhole where rhinos are spotted almost every night) but unfortunately, when we enquired it was already booked out. So, we decided to stay 2 nights in Halali (which is in the middle of Etosha National Park and is also a good starting point for drives through the park) and 1 night in Namutoni (which is on the other side of the park at Von Lindequist Gate), right next to the gate where we planned to exit the park. So, yes, we were pretty late and the lady at the gate was rushing us through the registration process, the drone also had to be registered and sealed (because of serious drone flying prohibition in entire Etosha NP) and after all that, we were good to go. Right when we entered the park, we saw a lion that walked directly next to the street – completely crazy. After that, we spotted giraffes enjoying their vegetarian dinner from the top of the trees and after that, a herd of about 30 zebras. We realized we had just arrived in animal heaven and were really looking forward to apply all the spotting knowledge we had gained from Shoes in Kruger National Park the week before.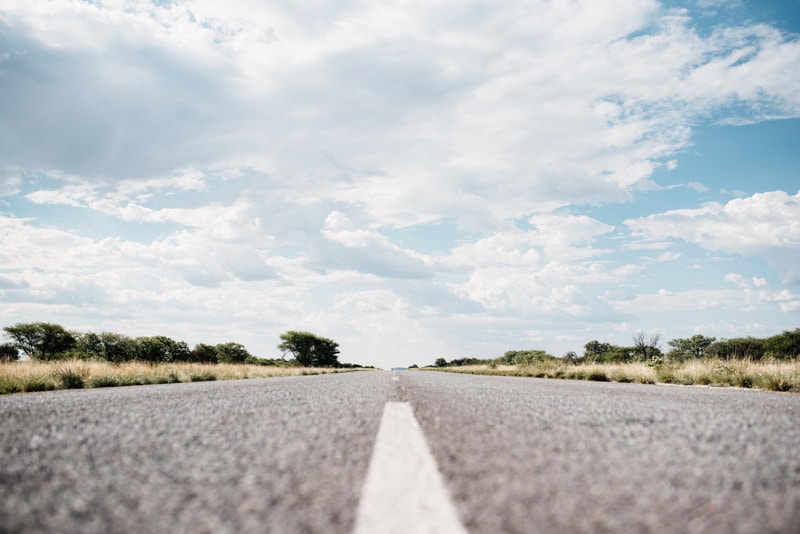 Day 1
The next morning, we got up pretty early – around 6:00 AM to find out that all the other campers had already gone up much earlier and finished breakfast already. Anyway, we quickly went to the Halali waterhole right next to our camp to see what is there. When we arrived, we already saw a huge group of birds walking towards the waterhole. We are not big bird fans because we think they are not so spectacular but still, at 6:15 AM we were just totally happy to spot any animal to justify the early interruption of our sleep. After a little bit of bird watching, we went back to the camp. We pre-gamed with our every-morning outdoor breakfast with view and around 8:00 AM we started the game self-drive tour of the day. We decided to do it on our own because in Etosha National Parks animals are quite easy to spot (not the cats but these are also hard to spot with a guide) because grass is very low (during the dry season), the animals are close to the main roads and they tend to appear in large groups at the waterholes. All you need, is a map of the park including the waterholes and lookout points (that really helps), which you can buy in the shop at every campsite (for 65 Namibian Dollars/4 EUR).
We had just reached the main road, when a large group of wildebeests crossed our way. They crossed the street slowly in their own pace (the pacemaker leading the group obviously had no stress at all) and we watched them. After the last wildebeest of about 20 had crossed the street, we continued to the first waterhole – the Rietfontein. Most of the animals of Etosha have already been spotted there, so we had to go there. When we arrived there was not much more going on than a few birds flying around. Patience really pays off in wildlife watching (we are both totally impatient) and so we waited for about 5 minutes until we spotted a large herd of zebras appearing between the trees. They grouped around the waterhole and we watched them, stunned because it was so many of them. We had seen lots of zebras (easy to spot animals!) but never 50 at the same time drinking at the same waterhole.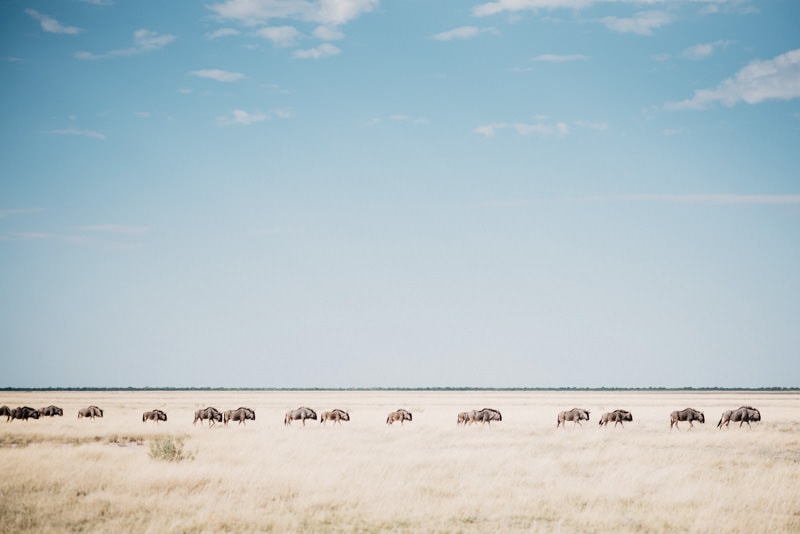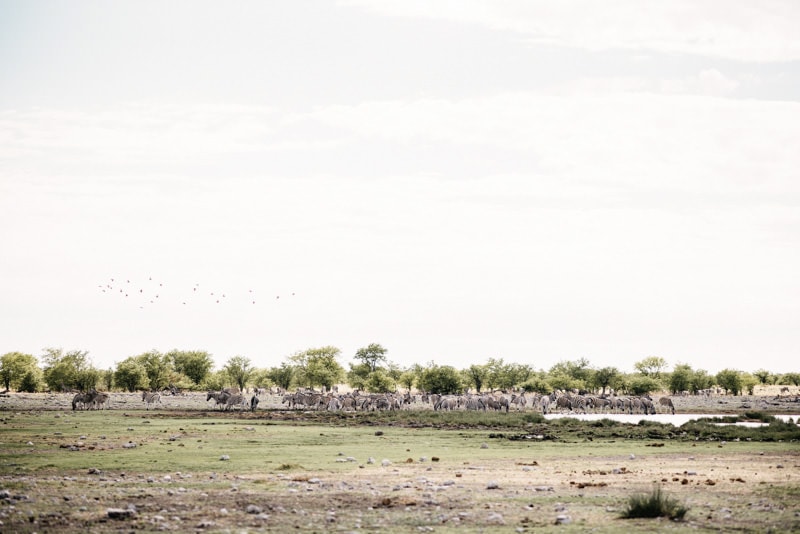 After that, we drove along the Etosha Pan for a while (a big salt pan in the middle of the park that becomes a little "Uyuni" with many flamingos when it rains). Around 11:00 AM we decided it was time to go to a waterhole where elephant spottings are likely because in Krueger we had observed many elephants trying to cool down in the water around noon. So, we drove to the Aus waterhole, where elephants do often appear (at least according to the map we bought). We waited for about 10 minutes and nothing happened. Tired from the way too early wake up for – well, a little bit of bird watching, we fell asleep in the hot car. Just when Bianca woke up, she spotted an elephant walking towards the waterhole. We watched the elephant, which was a lonely bull, for a while until we decided to move a waterhole further. After a short drive, we reached Olifantsbad and caught a large group of elephants cooling down in the water. We counted about 25 elephants, a mixed group of males, females and their little babies. After all the elephants we had spotted in Kruger, we still really enjoyed it because they are so cute when they drink and splash water on themselves to cool down. When they were done and left, we also left and continued our drive towards the Gemsbokvlakte – where lots of antelopes can be spotted and also, occasionally, a lion or a rhino. We were not that lucky but saw lots of little gemsboks and zebras. As we still had not seen any cat, we drove to Newbrownii next – a spot where lions also have appeared before. Approaching the place, we already spotted lots of zebras and other antelopes, so we knew there was not going to be any lion around and if, very far away and therefore, invisible and un-spotable for us.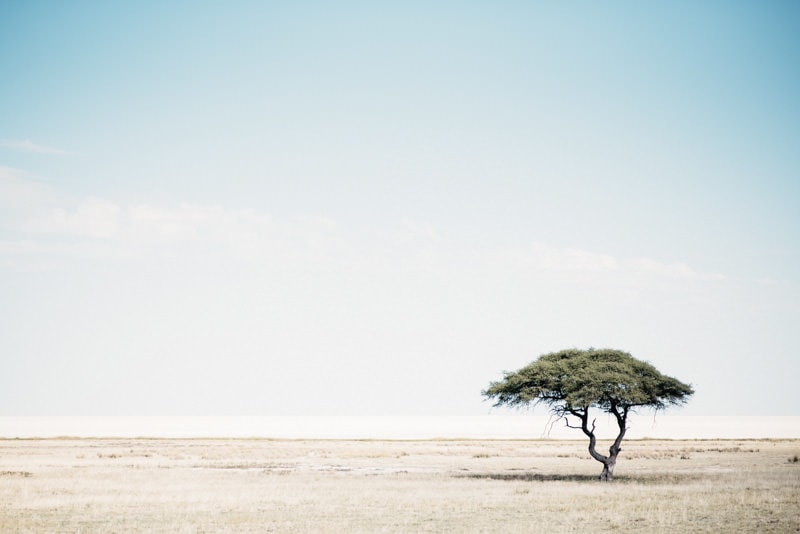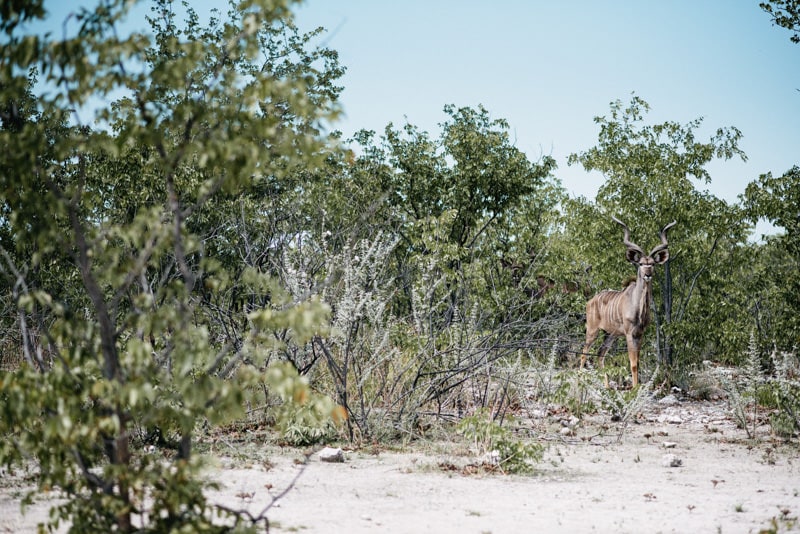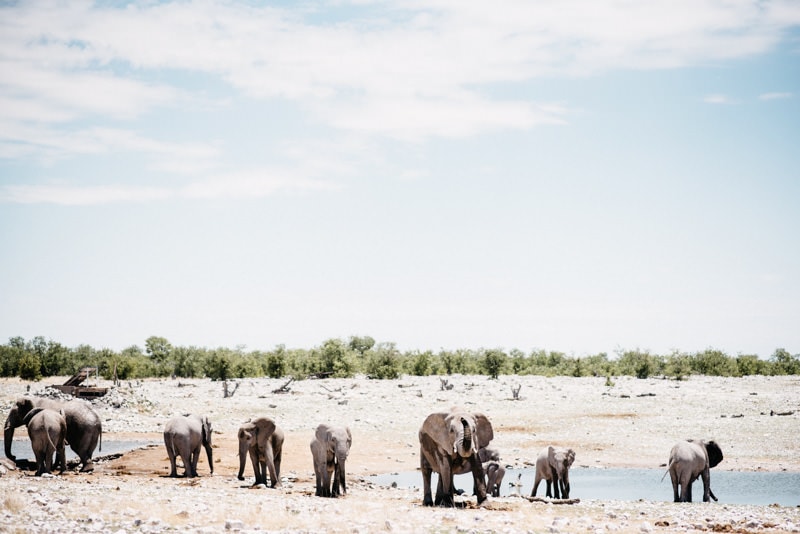 In the meanwhile it was 2:00 PM and so burning-hot that we decided to have a little break at our campsite and have a refreshing swim in the pool as well. After we had cooled down a little bit, we started our evening drive, still with the plan to spot a lion or any other cat. Well, if you have plans regarding wildlife spotting, you make your plans without the animals and it will come differently for sure. We spotted some ostriches, again many zebras, giraffes, wildebeests and also some foxes, but no cat – not even anything close. So, after an hour we went back to the camp and enjoyed a wonderful sunset at the Halali waterhole – with the same birds that we watched in the morning but, of course, no leopard anywhere in sight.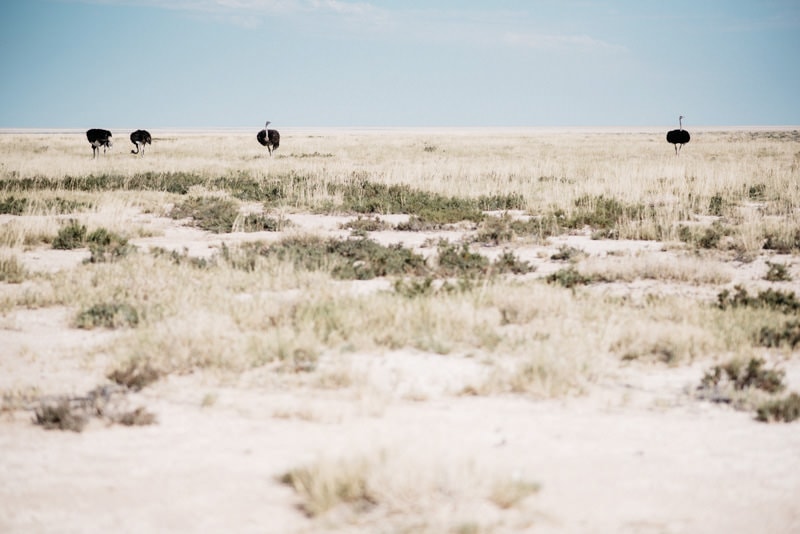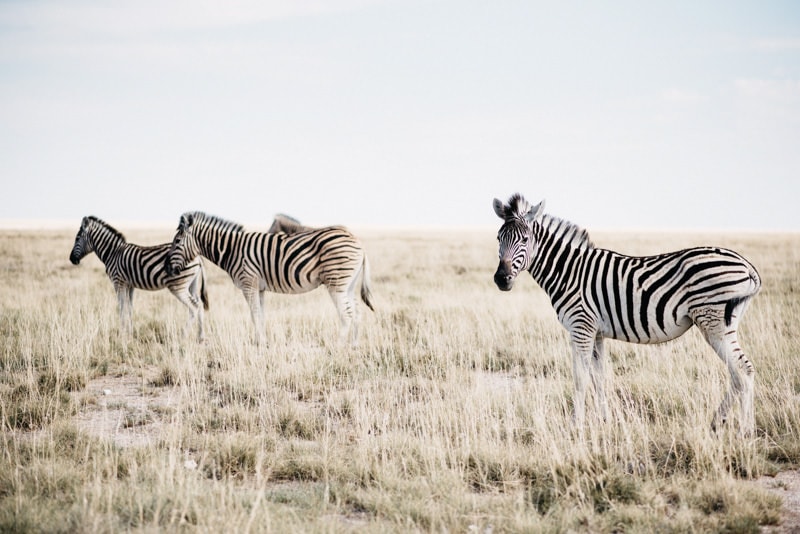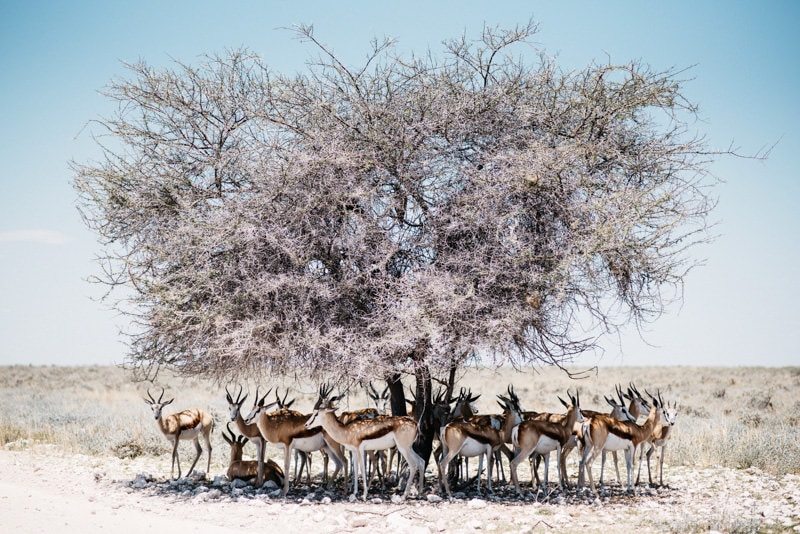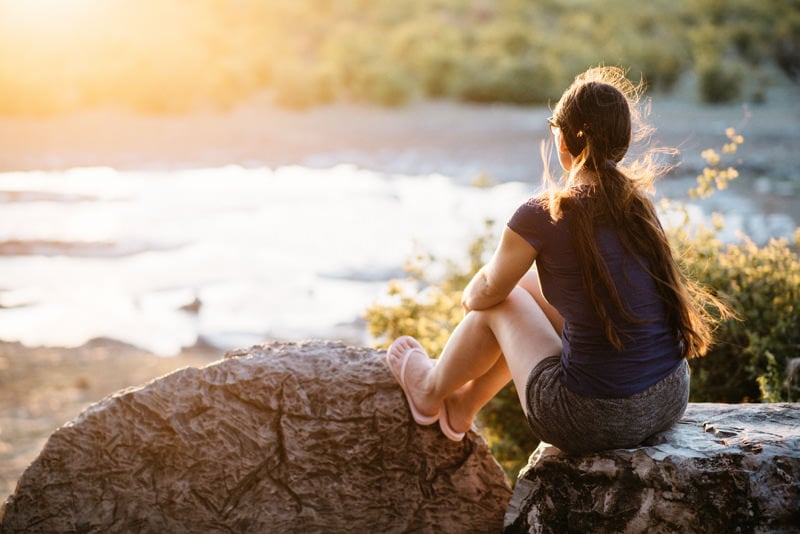 Day 2
Day 2 started a little bit later – we enjoyed a really late breakfast at 7:00 AM and then started the first game drive. We covered the other side of the park, which is basically the way to the Namutoni Camp where we had booked a campsite for the night. We drove to the Etosha Pan Lookout first to get a good early morning view of the massive salt pan, which is seemingly endless. After that, we continued to the Goas waterhole – still with the one and only goal to spot a leopard. Already when we arrived, we saw lots of impalas, so we knew that there was not going to be a leopard anywhere close because then the impalas would not chill there. We sat in the car for about an hour watching the waterhole, but no sign of a leopard. It was already noon, so we assumed our chances were decreasing anyway, because as it gets hotter and hotter, cats tend to move under the shadow of the trees. We continued our drive towards the campsite when we, all of a sudden, saw a fat stack of cars standing on the road. Very soon, we spotted one lion sleeping under a tree and only a few minutes later, another one lying under another tree. We sat there for more than an hour watching one lion sleep, wake up, look at us, sleep, turn around, look at us until the other one stood up and joined the other. Watching lions is very spectacular as they are rare and very hard to spot. After another half hour watching them sleep, we continued to the camp.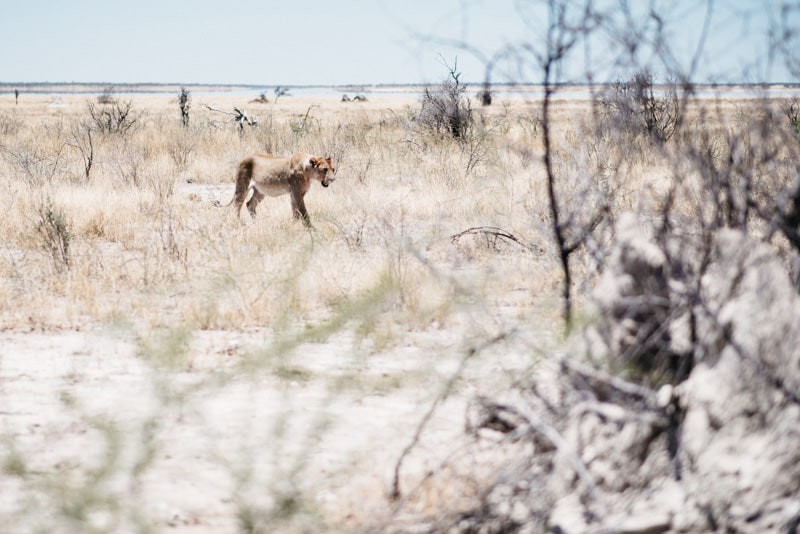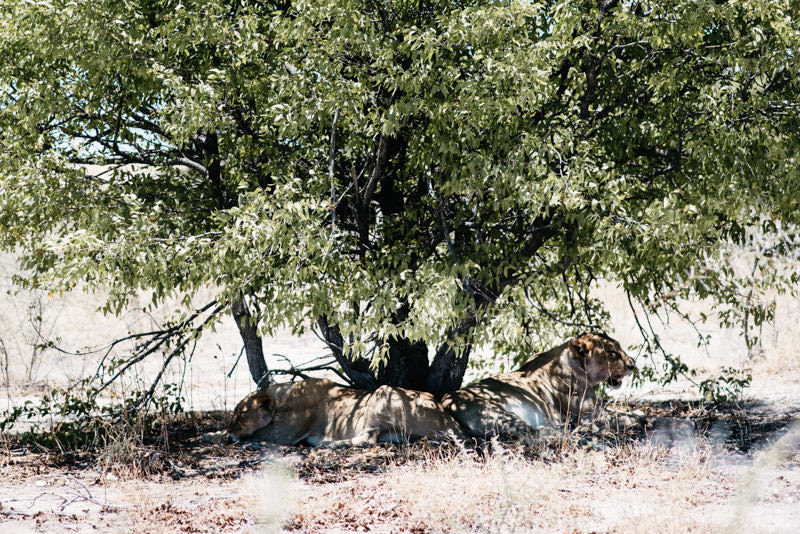 On our evening game drive, we did not spot any lions or any other cat but it was also spectacular for us as we discovered giraffes drinking at the Klein Namutoni waterhole. It is spectacular because drinking – and that no real surprise – is obviously a relatively big deal for giraffes. The reason is that they have to somehow get their head – and neck – down to the waterhole and, of course, up again. So, we watched them – looking at the waterhole or themselves using the water as a mirror (we really don't know), looking left and right, looking into the water again and then … eventually, slowly lowering their head towards the water, drinking and then, raising their head again in one very quick move. You really have the impression the long neck is more a curse than a blessing – of course, it enables them to eat from the top of the trees but still, it looks very inconvenient.
On our drive back to the camp, we were extraordinarily lucky because a giraffe was standing right next to the street, eating from a tree. When we stopped and watched her, it did not run away, it just continued her dinner. We watched her for 10 minutes and it was totally amazing to see an animal that close.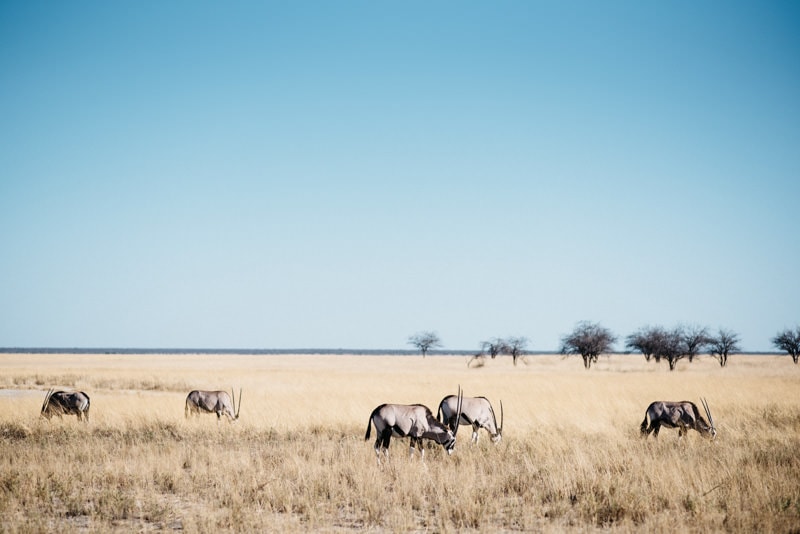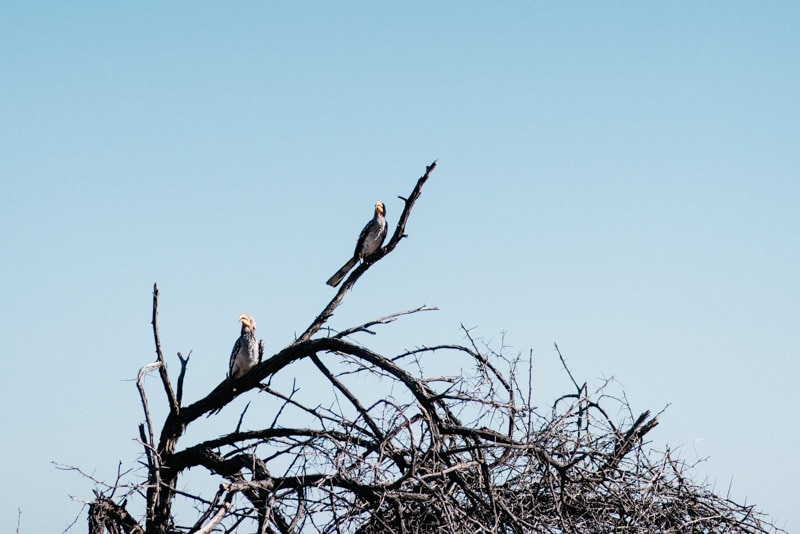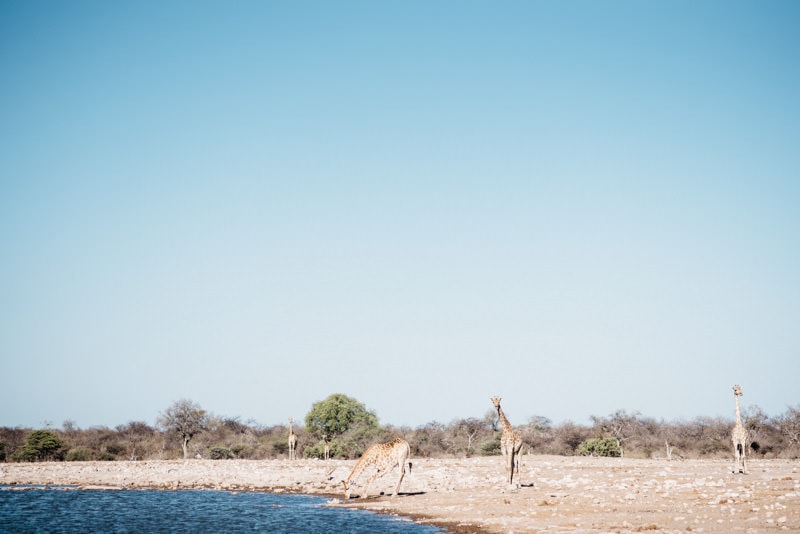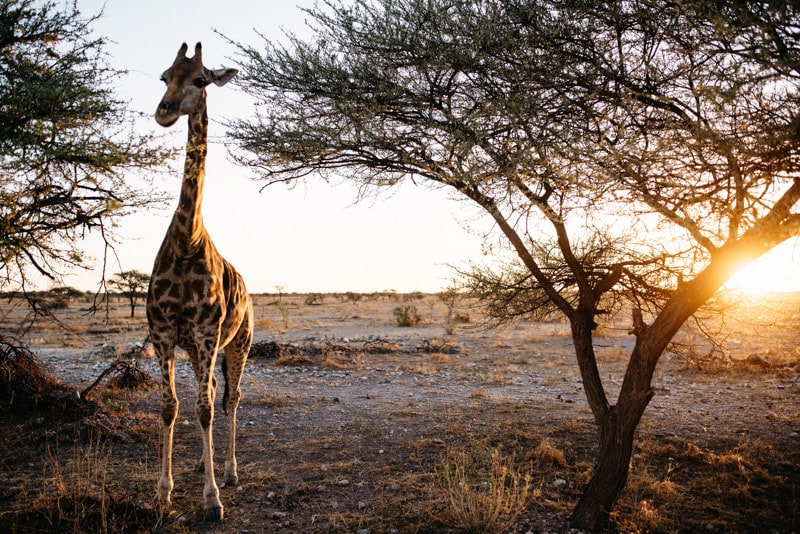 Etosha National Park Fee:
80 Namibian Dollars (5 EUR) per person / day + 10 Namibian Dollars per car / day (0,60 EUR)




Our Etosha NP Self-Drive Safari Hacks
Get a map of Etosha National Park – sold at the tourism shops in the camps and in supermarkets in Outjo and Tsumeb (we saw them but don't know if they are cheaper there) – the map gives you a good overview of the waterholes and which animals are likely to be spotted there
Park next to a waterhole and wait until the animals come – noon is a good time to see animals as it gets very hot
Having a 4×4 helps as the entire park features gravel road
Always have enough water and snacks in the car (within reach and not in the trunk) because in the park you are not allowed to leave the car and waiting at a waterhole for an hour at noon will make you hungry and thristy
You can bring a binoculars but in Etosha animals tend to be very close and appear in large groups – so even without a binoculars you will get to see a lot
Apply sunscreen (at least on your arms) although you have to stay in the car – you will lower the car window if you see an animal or just go get fresh air while waiting
Our Overnight Stays
We spent 1 night at the Sophia Dale Base Camp, a little bit outside of Swakopmund. It is owned by a German family, that also run a Beer Garden on site. The camp itself is already a little bit dilapidated and shabby (unfortunately, not shabby chic because then Bianca would have loved it) and could need a little bit of renovation. The showers and the toilet are clean and in a good condition. The owners are friendly but still, we do not really recommend staying there. When we asked them for advice regarding our plan to drive to Brandberg via Welwitschia Drive and Spitzkoppe, they asked us what we wanted to do in the Brandberg area. Then she said the moon-landscape is ok but Spitzkoppe is way to far to cover everything in one day – not interested in providing info and seemingly annoyed. We researched then on our own and drove exactly how we had it planned and it worked out perfectly.
Brandberg White Lady Lodge & Campsite
This lodge and campsite is located right next to the Brandberg, featuring a very scenic view on the massive stone mountain. The campsite features a very nice special: an outdoor shower and toilet. We really enjoyed to shower under a tree in the nature – highly recommended! The lodge/campsite also features 2 swimming pools (very small – more comparable to a puddle than a real pool), a restaurant and a little bar (unfortunaltely, serving all kinds of spirits and liquors that exist in this world but no cocktails – so if you like Kahlua, Malibu and Co just pure without any add-on, this is the place to go).
Halali Campsite – Etosha National Park
Halali is the campsite inside Etosha National Park that is exactly in the middle between the two gates (Anderson and Von Lindequist). The campsite is huge and features every facility camping addicts can wish for – toilet, shower, sinks for the dishes, an area with shadow where you can eat (Zebra Bar), a pool, a restaurant (serving breakfast, lunch and dinner). Every campsite has its own grill – so there is not limitation to the full enjoyment of camping. Halali also has a waterhole that can be reached by walking 10 minutes – leopards have been spotted there but we have not seen any. Halali is a good starting point for an exploration of the park as it is in the middle so every point can be reached from there. It is still better, if you enter from Anderson Gate, to stay to night in Okaukeujo camp and then continue to Halali for the second night. If you cannot get a space in Okaukeujo, you can also stay outside the park and enter the next morning (this saves you one day of the Etosha NP fee).
Namutoni Campsite – Etosha National Park
Namutoni is also a very nice camp. Whereas Halali is pretty sandy, Namutoni is very green. We were very delighted because after one week in sandy areas we thought it was cool to see grass. Well, yeah that is what happens in Namibia, you are totally delighted when you see grass. Namutoni also offers nice toilet and shower facilities as well as an area with sinks for the dishes. Grillers are also at every camping spot. Namutoni is really convenient if you plan to exit the park early in the morning after the last night as it opens at sunrise and is just 10 minutes' drive from the Von Lindequist Gate.