After our time in Zambia had ended, we continued our journey to the last stop on our tour through Africa – Botswana and Chobe National Park. Knowing that we will be sitting in the airplane to New Zealand and therefore, to the first world, in only a few days, we decided to give Africa the chance to make up for the inconvenience in Zambia. And from the first step onto Botswana land, it was a totally different and very pleasant experience. People are really friendly (almost like in South Africa), processes easy, costs and fees at the border transparent and the landscape wonderful.
After we had stocked up our grocery supplies in the supermarket (where the prices are surprisingly high compared to the other countries in Africa we have visited – 500 ml cream costs 3,5 EUR), we headed towards our campsite, about 65 kilometers (40 miles) and 1-hour drive from Kasane – the major town around Chobe National Park. Originally, we wanted to stay in Kasane but as we had problems finding a camp, we decided to stay at the Mwandi View Camp, which turned out to be really lovely and only 18 kilometers (10 miles) from the Ngoma Gate to Chobe National Park.




We decided to drive through Chobe from Ngoma to Sedudu Gate on our own and then do a boat tour from Kasane in the afternoon (3:00-6:00 PM). We could also have driven to Savuti for another game drive the next day, but as we had seen basically lots of animals in one day, we decided to save the fee for the park entrance and enjoy the pool at the camp. We did not join a guided safari but decided to drive through the park on our own as we had already done 2 safaris – a guided tour in Kruger National Park in South Africa and a self-drive safari in Etosha National Park in Namibia and felt confident to do it on our own.
We started our day in Chobe National Park very early and left our camp shortly before 6:00 o'clock. We drove to the Ngoma Gate and entered Chobe National Park, which is primarily famous for its big elephant population (more than 100.000). Before entering, we had to deflate our tires again (from 200 to 120 bar) as the Chobe is mostly covered by sand. We had visited Kruger and Etosha National Park before but the animal paradise we found in Chobe is not comparable to either of the two.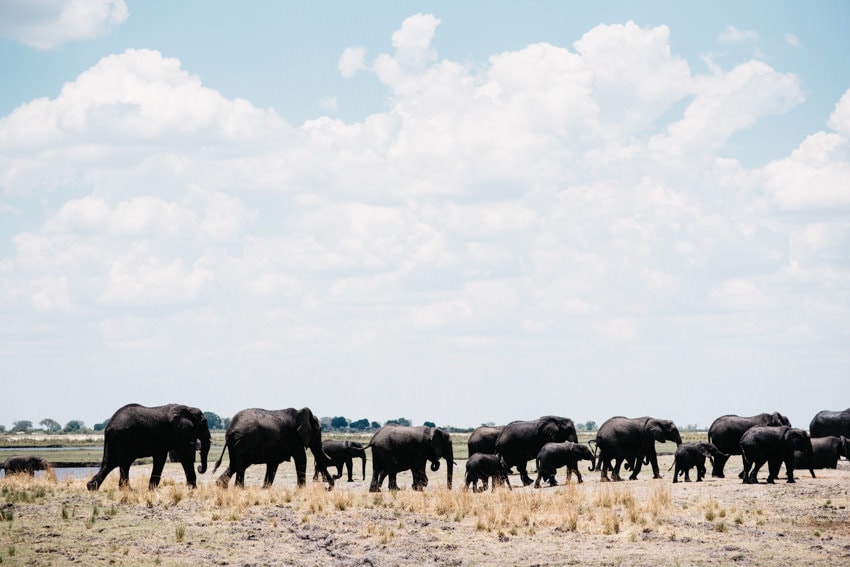 The first part of the path leads through a rather wooden and very sandy part, that is very bumpy with little chances to spot wildlife (expect for antilopes) but only after a short drive you can turn left towards the road to the Chobe river (where we expected lots of animals). We quickly reached a huge area where the grass is really low (good to see the animals) and spotted a herd of zebras grazing. Although we had seen so many zebras already, they are still very beautiful and interesting to watch, especially because they always stick together in large groups. We continued our drive towards the water and as we approached it, we already saw birds flying over the river and two big and hungry mouths with sharp teeth coming out of the water trying to catch them. First, we thought it was hippos but coming closer, we recognized two alligators hunting for their lunch. Although we did not see them catch anything, it was still very impressing to observe some hunting action. We drove further along the Chobe looking for Hippos as Bianca still had not seen a real hippo (just their wet backs overlooking the water surface in iSimangaliso, which, in her opinion only counts as a hippo sighting if we don't spot any others). Soon, we found 5 hippos lying in the water but with half of the head outside. The best thing about them was, that 2 were diving and having some real fun in the shallow water. That was a lot of fun to watch but after 10 minutes we had to continue because, in the meanwhile, it got noon and we expected the elephants to start heading towards the water soon. It did not take very long until we discovered an elephant herd walking towards the water. We followed them and got to watch them cooling down and spraying mud on themselves from very close. We watched a lonely elephant trying to join the group but as he approached the others were not amused about his appearance and did not accept him. So, he continued alone.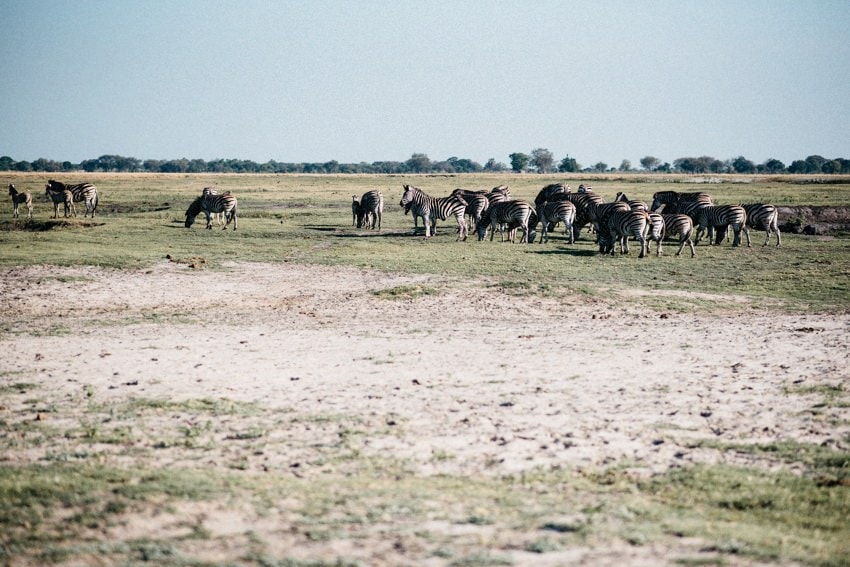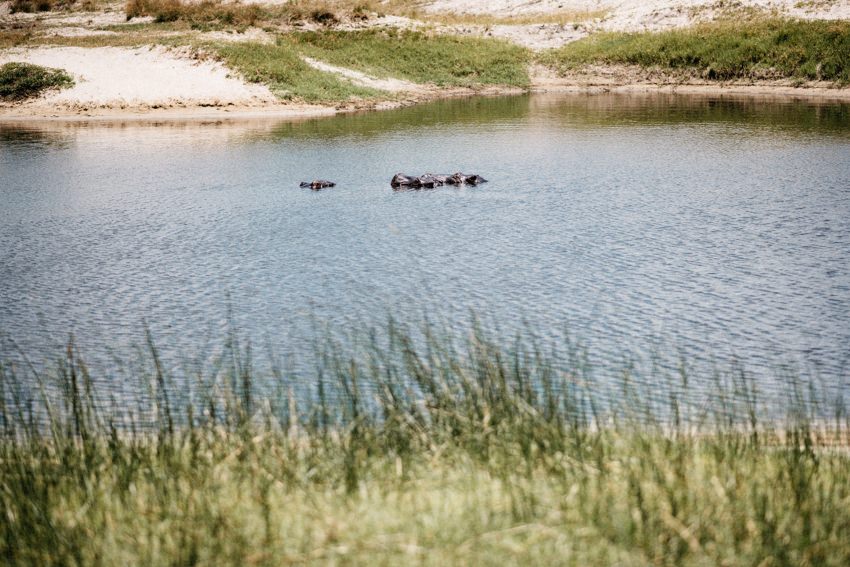 We continued our drive and after a while, we discovered about 100 elephants that were just taking a bath in the Chobe. Already delighted about the group of eight we had just discovered, we were completely head over heels happy and out of our mind because of what we saw. We watched them for a long time because it was so entertaining to see them walking through the water, bathing, washing off the mud from their bodies and spraying new mud on it. Elephants always put mud on their body as they use it as a protection against insects.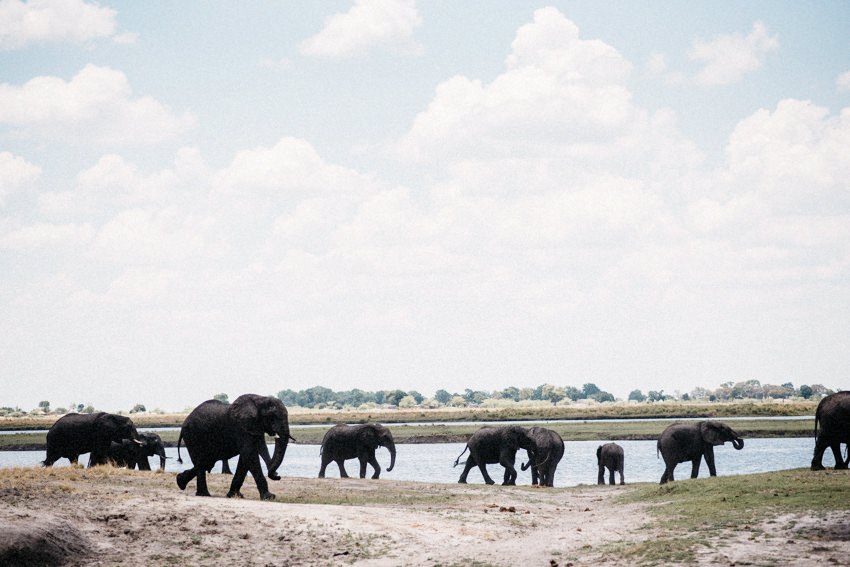 Right next to where the elephant party was going on, we discovered around 50 hippos in the water (of course, far enough away from the elephants to make sure they can relax in their comfort zone). Unfortunately, we were only able to see their backs but Bianca quickly had a theory. In the afternoon, they are likely to graze outside the water, so we might see them on our boat tour.




Our boat trip on the Chobe River
After our hippo sighting, we continued to the Chobe Safari Lodge, where we boarded the boat. The tour takes 3 hours and brings you very close to the animals. As there are several islands in the Chobe, the only way to watch the animals on the island is by boat. Unfortunately, our guide was a little bird lover and spotted many birds for us. Then he stopped the boat for 5 minutes and told us everything about the bird (that had already left when we approached with the boat) he had just spotted. Bianca only wanted to see hippos grazing and got very impatient. It did not take too long though until we spotted a group of female hippos in the water and a male grazing on the island. It was very spectacular as Bianca's dream to see a hippo with an open mouth also eventually came true. We could not approach them very close, not even with the boat, because hippos are very fast and dangerous animals. They cannot swim and move in the water by walking. They lie in shallow waters and move forward by diving under the water until they reach the ground (good for them that they are exceptionally fat and heavy) and then walking to the land. Although we asked the guide to move closer, he did not do it. Another boat drove very close to watch one hippo grazing on land. All of a sudden, the hippo perceived the boat, jumped into the water and quickly approached the boat. You would never believe how fast they are. The boat left as quickly as the hippo had approached it and what was left was our boat, glad we had not moved any closer and happy that we got to see the event. We also saw two alligators, lots of elephants and a lion (from very far though). The boat tour ended shortly before sunset but we got to see the sun going down over the water.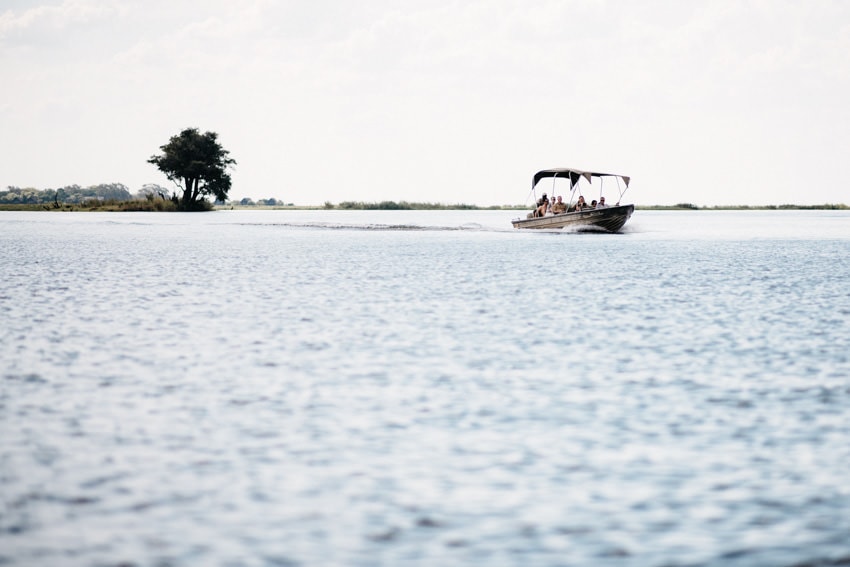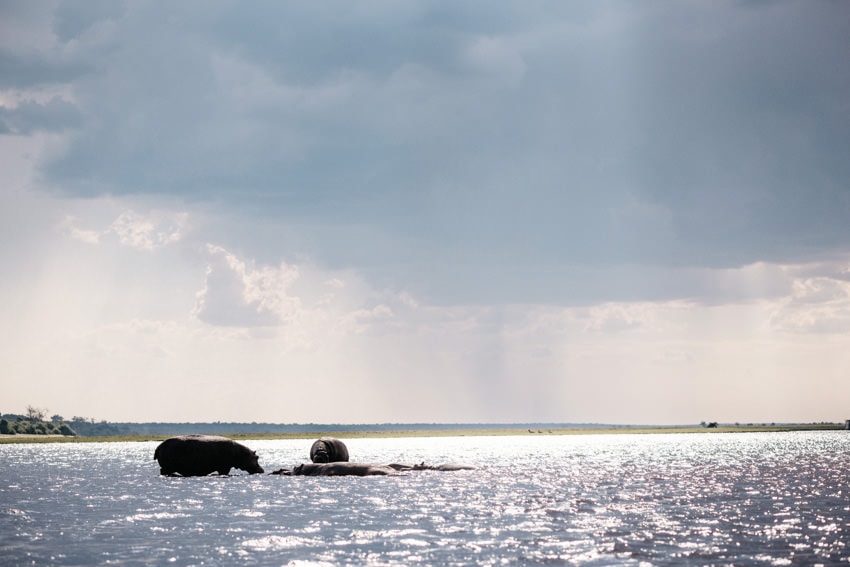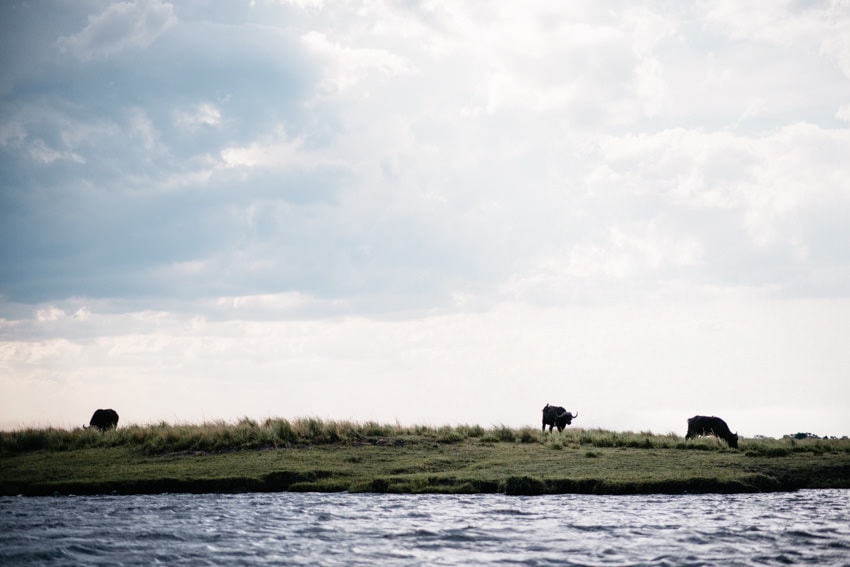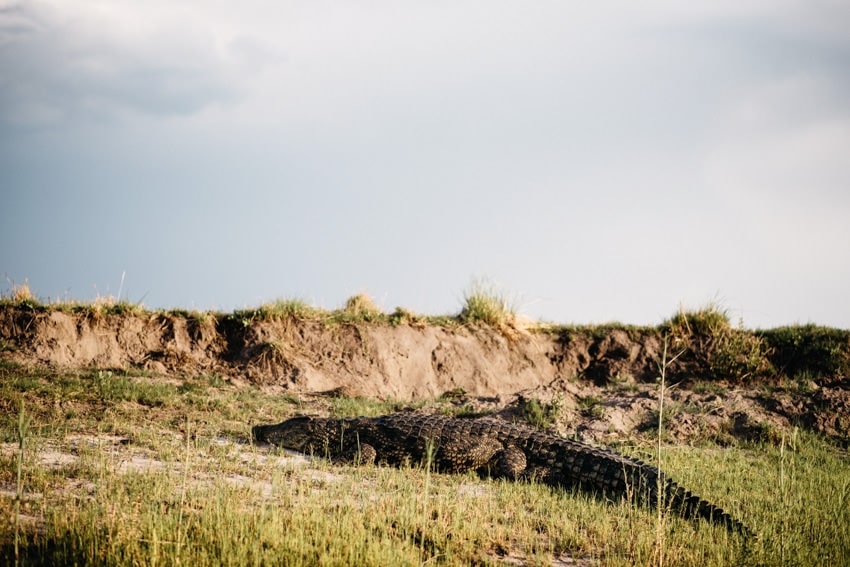 Costs for Chobe National Park
Park: 120 Botswana Pula per person / day (10 EUR)
Boat Tour: 350 Botswana Pula per person / 3 hours (30 EUR)




Chobe National Park Safari Hacks for Individual Travellers
Bring a binoculars (it is always good to have one – if you don't bring one it is no problem either as the animals are really close in Chobe NP)
Aiming at taking pictures of cats, you should bring a good telephoto lens (at least 70-200 mm or even more)
If there are many safari cars gathering at one spot, there's gotta be something – stop as well, if you can't see it just ask the guide, they will be glad to tell you what they spotted and where it is
Never block the way of an animal with your car – they will change direction and back off
Never provoke animals – watch them, take picture but respect their comfort zone
Noon is a good time to see animals at the Chobe River as it gets very hot – birds, crocodiles and hippos can always be found there
Having a 4×4 is a necessity as the majority of the park features very sandy roads
There are many picnic areas all over the park – they are called "Stretch Area". You can stop there and have a snack. Still, it is always a good idea to have water and little snacks within reach (not at the back in the trunk) as it is not allowed to leave the car except in the designated stretch areas.
Apply sunscreen (at least on your arms) although you have to stay in the car – you will lower the car window if you see an animal or just go get fresh air while waiting
Our overnight stay
We stayed in the camp Mwandi View, approximately an hour drive from Kasane and 15 minutes from Ngoma Gate to Chobe National Park. The camp is very nice, rather small and offers a wonderful view on the Chobe and the National Park (you can see Buffalos and many many birds – really cool). It features a pool (also with view on the National Park), a restaurant / bar, nice shower facilities and a sink for the dishes. Every campsite has at least one tree, which is a nice shadowy place for the table and the chairs. Internet is only activated from 6 PM – 6 AM, which is something we found ridiculous and also annoying. The owners are very friendly and also helpful when it comes to organizing / booking tours to Chobe National Park.
We do still recommend to stay in Kasane or anywhere nearby as it is the center, is close to a Chobe Gate (Sedudu) and all activities start and end in Kasane (boat trips, guided safaris, …). Another option would be to stay in the game reserves Savuti or Linyanti (which are also open to day visitors), but that is, especially when it comes to lodges, an expensive option.