It is our second time in New Zealand and after our first days back, we know: We still love New Zealand. In 2015, we spent one month in this wonderful and diverse country at the end of the world (or at the beginning, depending from where you look at it), visiting the South and the North Island. We love hiking, trekking and every activity that is somehow related to spending time in the outdoors (only in summer and if the temperatures are at least in the low 20s – otherwise, Bianca is freezing and gets grumpy very quickly if she has to leave the house – except for mulled wine – this is the only thing she voluntarily leaves the house for in winter … and a sauna. But even with mulled wine, she prefers to cook it at home by herself – she learnt it last year, googling recipes forever to find out it is not about more than heating up a bottle of red wine and adding a few spices. Now she can drink mulled wine by the bottle (way cheaper and, in her eyes, completely over-the-top more efficient than going to an overpriced Christmas Market) and she has one more thing she can cook (Bianca is a real bad cook and always happy if she learns something new – she is very willing to learn, just not very talented). Ok, so far to that, we love New Zealand because it is an outdoor paradise – given the weather decides to be good. As we were really lucky the last time, we expected good weather and were really looking forward to great walking and hiking in New Zealand for two weeks.




Our Route 2015/2016 (4 weeks)
South Island
Christchurch – Dunedin – Otago Pensinsula (Taiaroa Head) – Nugget Point – Slope Point (New Zealand's Southernmost Point) – Catlins – Fiordland National Park (Te Anau – Milford Sound) – Queenstown – Mount Aspiring National Park (Wanaka & Rob Roy Glacier Trek) – Westland National Park via Haast Pass (Franz Josef / Fox Glacier & Lake Matheson / Gillespies Beach) – Paparoa National Park (Pancake Rocks) – Nelson Lakes National Park (Lake Rotoiti) – Abel Tasman National Park
North Island
Wellington (Te Papa Museum) – Egmont National Park (Mount Taranaki) – Tongariro Alpine Crossing – Lake Taupo – Waitomo Glowworm Caves – Rotorua / Wai-O-Tapu / Kerosine Creek – Coromandel Pensinsula (West Coast) – Bay of Islands – Cape Reinga – Te Paki Giant Dunes – Waipoua Forest – Auckland
Check out some pictures of this trip on Tom's Wedding Photography website HERE.
2 years later: 2017 and back in New Zealand
As we loved the nature and tranquility of the South Island so much, we decided to return to New Zealand for two weeks in between our time in Africa and Australia. Getting her from Windhoek took us two days, two days on four airplanes – (two of flights were operated by an A380, which still causes Bianca to be totally excited when she gets to be passenger on one – an airplane that has two floors – so cool, especially sitting on the top floor, which we never will because it accommodates only first and business class) usually this would kill us but this time, we really enjoyed it. Two days without driving, visiting any , cooking or writing and filming … just relaxing, watching movies and sleeping.




Two days later, we were welcomed by New Zealand very kind – with sunny weather and very friendly people. We picked up our Spaceship campervan (for Australia and New Zealand we went with Spaceship as we got a great deal – in the USA, we booked a JUCY campervan as they don't have Spaceship there), booked a campsite for the night and drove there immediately. The campsite was a DOC campsite (DOC stands for Department of Conservation and is an institution that runs tourist information centers, campsites and national parks all over New Zealand) and located on a very scenic spot in Awaroa / Godley Head right next to the start of a nice walking trail along the coast overlooking Sumner and Christchurch. We did the trail the next morning as the weather was wonderful and we needed some exercise after two days sitting on diverse airplanes. After that, we decided to roughly plan our route, what we had not done so far. We wanted to leave New Zealand completely open and see what we are up to once we get there. The only thing we really wanted to cover was Mount Cook – the mountain and thing to do in New Zealand that was completely off our route in 2015 and therefore, a must-do this time. So, we spent some time looking at the map and quickly, had come up with a route:
Christchurch – Hamner Springs – Karamea (start of the Heaphy Track – one of the 9 Great Walks) – Arthur's Pass – Lake Tekapo – Aoraki / Mount Cook – Twizel – Wanaka – Queenstown – Christchurch.
Our first stop was Hamner Springs – the Alpine Spa and Thermal Village of New Zealand. We wanted to visit it but decided to make it a little dependant on the weather. Going to the thermal spa in summer is one thing but going to the thermal spa in summer when it has 35 degrees is another thing. We were really lucky because the day we went there, was not so nice and eventually, it even started to rain (with lightning and everything). So, we spent a nice and relaxing day in the thermal spa in Hamner Springs and even got to shower and wash our hair (difficult on DOC campsites as most of them do not have showers but as we prefer to camp in the nature instead of crowded holiday parks, this is ok for us).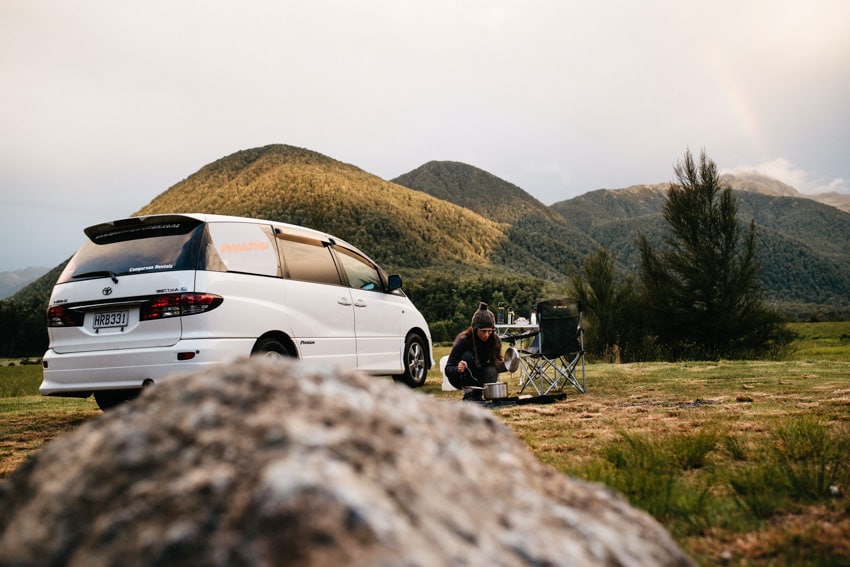 The next day, we continued our journey towards Karamea – a village in Kahurangi National Park and where the Heaphy Track starts. The Heaphy Track is one of the 9 Great Walks of New Zealand – and the longest. It takes 3-5 days to complete the entire track from Brown Hut to Kohaihai (or vice versa). The ends of the track are more than 400 kilometers (250 miles) apart from each other – so, you will have to arrange a transport for you or a relocation of your car. Overnight stays are possible in either the 7 huts or 9 campsites along the track. A bed in a hut costs around 30 NZD (per person/night), a campsite around 15 NZD (per person / night).




As we do not want to rent a car and then sleep in huts along the track (which also cost money) leaving the car parked for 5 days, we decided to only complete the first part of the track, which is said to be the most beautiful and impressive. We spent the night at the DOC campsite Kohaihai, which is located directly at the beach and at the beginning of the Heaphy Track. The campsite can be reached in about 1.5 – 2 hours drive from the village Westport. Make sure to stock up your groceries and fill up the car in Westport. There is a little Four Square supermarket and a gas station in Karamea as well, but both were closed when we were there.
After watching a wonderful sunset at the beach of Kohaihai and spending the night there, we got up very early the next morning (knowing that we had 32.4 kilometers / 20 miles ahead of us) – ready for some trekking along the beaches of New Zealand's west coast. The first part of the Heaphy Track leads from Kohaihai to the Heaphy Hut – a route of 16.2 kilometers (… miles). It leads through lush rainforest (no snakes or other dangerous animals!) and along the coast with a wonderful view on the ocean and lonely beaches.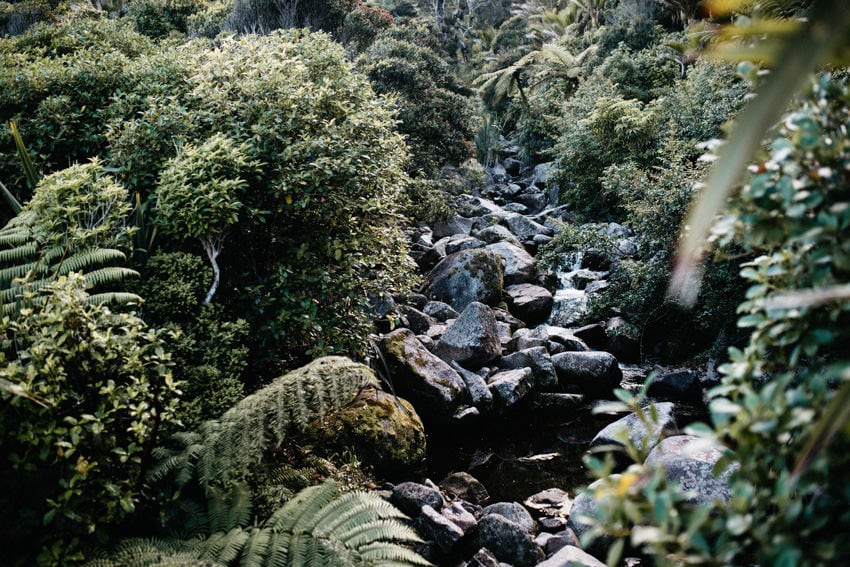 After about 30 minutes walk, we reached the first viewpoint – down to Scott's Beach, which we reached after 15 more minutes. We arrived there at about 8:00 AM and it was wonderful. It was still a little bit foggy, the sun was still trying to make its way through the clouds and there was nobody but us. It was so calm, we could almost hear our steps in the sand. We continued our way to Heaphy Hut along the coast and many wonderful beaches. We crossed many bridges, walked through forests and along steep cliffs until we reached a little shelter – exactly half way to the Heaphy Hut. Right after the shelter, approximately 2 minutes walk, there is a little bridge that offers a good view on the beach and the sea and is just the perfect place for a little break. We met an employee of the DOC at the shelter and he recommended the place to us. It is perfect because on the bridge there is usually a little windy breeze and therefore, no sandflies will attack you. We sat down on the bridge and enjoyed the ham & cheese sandwiches we had taken with us.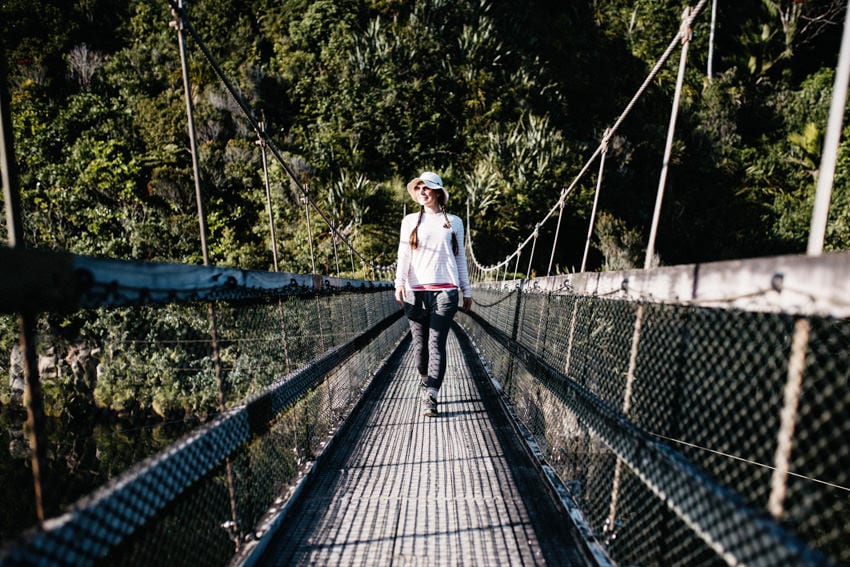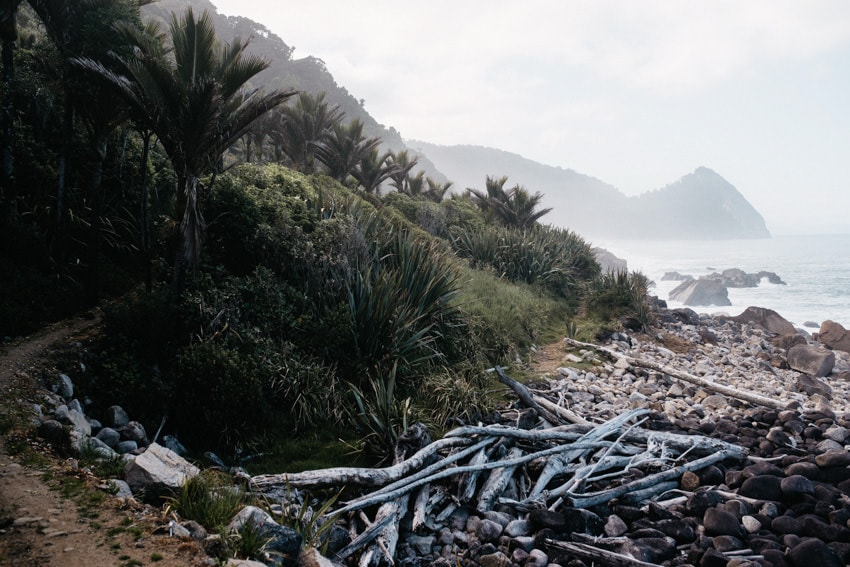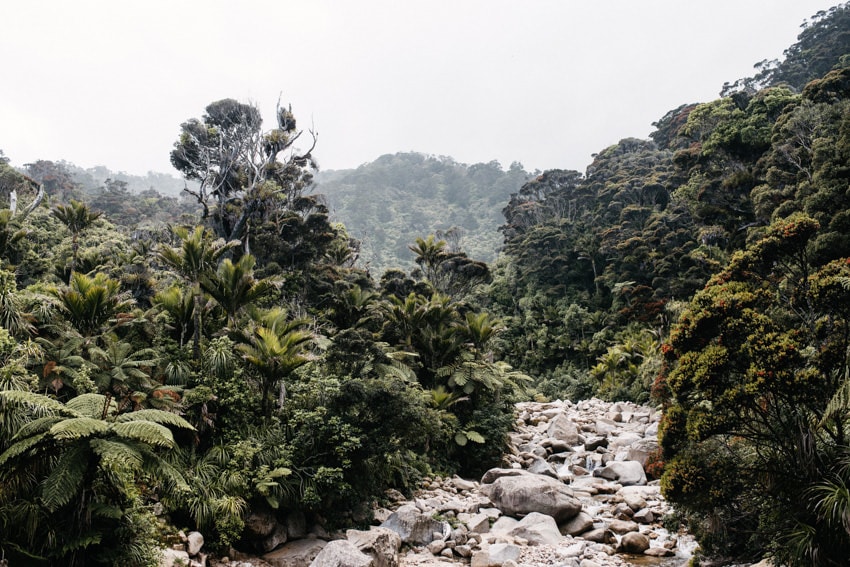 We passed Nettle Beach and 20 Minute Beach – why it is called 20 Minute Beach is something we don't know. We came up with some ideas and theories but couldn't find the answer. The last beach before the Heaphy Hut is Heaphy Beach. After 5 hours of trekking, we eventually reached Heaphy Hut. For people doing the entire track (usually 4-5 days), this is the first overnight stay (or the last – depending in which direction you are doing the track). We enjoyed a little lunch with ocean view – only for a few minutes because then the sandflies started to attack badly – and then started the return walk. We quickly reached the Kohaiti Shelter (8.1 kilometers until the camp), but this was where our backs, shoulders and feet started to hurt. Over the next 8.1 kilometers – or 2.5 hours of trekking – we found out how long 8.1 kilometers can be and how painful trekking can be. Now we really understand why hiking up the Everest is not advertised as "the best adventure of your life" – because it is mostly pain, more precisely 5 weeks of pain that, if you eventually do the final ascend and are lucky with the weather, will be rewarded with survival and 10 minutes of stunning view 8.000 meters down the mountain. So far to that, we found ourselves stuck in our own Everest-ascend on the Heaphy Track, in the middle of New Zealand far from Nepal and very far from 65 % incline but still – as much hell as it can be when you have never climbed up Everest and have no idea how painful it is.




After 10 hours of trekking, we reached the campsite again – very tired and feet like elephants but happy we have made it. We are glad we did it and will, very probably, never do it again.
Our Top Travel Hacks for doing the 1st part of the Heaphy Track in 1 day:
Stay 2 nights at the Kohaihai campsite
Bring enough sandfly repellent (we brought it from home but it can also be bought everywhere in New Zealand e.g.: i-Site Tourist Infos)
Only walk until 20-minute beach (from there to Heaphy Hut the path only leads through rainforest – no beach view anymore)
Take pictures when walking there – not on the way back as you will be very exhausted (except its raining on the way there)
Bring enough water and snacks
New Zealand – Hiker's Paradise
New Zealand is a real hiking, trekking and climbing paradise. It offers routes for every fitness level (very high fitness to families with little children and wheelchair accessible). The hiking options range from multi-day great walks over scenic day hikes / walks to short and very easy walks (minimum time to complete: 10 minutes) that can be easily done with little children or even in a wheelchair. We only did parts of the great walks so far – not a complete – because we rent a campervan both times and we did not want to park the car for 3-5 days, not using it but paying for it. IF you want to complete one of the great walks, make sure you plan it accordingly and allow some time to arrange all huts / shelters and permits (if needed).
The 9 Great Walks of New Zealand
It takes several days to complete the great walks – however, some of the walks also feature popular parts that can be done in a few hours or at least one day (e.g. the Key Summit – a 3-hour-return track and part of the Routeburn Track). You can find everything you need to know on the DOC-website: http://www.doc.govt.nz/great-walks
North Island
Lake Waikaremoana (46 km / 29 miles) – 3-4 days to complete, Whirinaki Conservation Park -> this walk features the Korokoro Fall, giant native trees, remote beaches and the Panekire Bluffs
Tongariro Northern Circuit (43 km / 27 miles) – 3-4 days to complete, Tongariro National Park -> this walk features volcanic landscapes, glacial valleys, emerald colored lakes, native beech forests and the famous Mt. Ngauruhoe (Mount Doom "Lord of the Rings")
Tongariro National Park is also home to the famous Tongariro Alpine Crossing, NZ's most spectacular 1-day track (19.4 km / … miles) passing through volcanic land, emerald but stinky lakes, lava flows and active craters. It features Mount Ngauruhoe – better known from Lord of the Rings as Mount Doom – which can be climbed in about 2 hours (no paved ways, you have to find your own way up). The crossing is a one-way track and ends at a car park (a bus transfer drops you off at the starting point in the morning – make sure to book a ticket in advance!).
Whanganui Journey – done by canoe in 3-5 days, Whanganui National Park -> this journey features Whanganui river, the Bridge to Nowhere, remote hills and bush clad valleys




South Island
Abel Tasman Coast Track (60 km / 37 miles) – 3-5 days, Abel Tasman National Park -> this walk features sandy beaches, split Apple Rock and Cleopatra's pool (a natural rock pool)
Heaphy Track (78.4 km / 49 miles) – the longest of the Great Walks – 4-6 days, Kahurangi National Park -> this walk features white sandy beaches, lush rainforests, caves and limestone arches
Routeburn Track (32 km / 20 miles) – 2-4 days, Fiordland National Park -> this walk features the crystal clear Routeburn river, Routeburn Falls, Hollyford Valley and Darren Mountains
Milford Track "The finest walk in the world" (53.5 km / 33 miles) – 4 days, Fiordland National Park -> this walk features Sutherland Falls, stunning panoramas from Mackinnon Pass and the emerald waters of Clinton River
Kepler Track (60 km / 37 miles) – the only circuit – 3-4 days, Fiordland National Park -> this walk features the Iris Burn Falls, Luxmore Caves and alpine tussock grasslands
Coming 2019: Paparoa Track (55 km / 34 miles) – 2-3 days, Paparoa National Park -> this walk will feature limestone karst scenery, beech forests, alpine tops and the Pororari River Gorge
Stewart Island
Rakiura Track (32 km / 20 miles) – 3 days, Rakiura National Park -> this walk features beautiful native forests and the natural beauty of Stewart Island
DOC – Department of Conservation
The DOC is an institution that runs a range of i-Site visitor centers (20+), accommodation (900+ huts and 200+ campsites) and recreation facilities and unique outdoor experiences on public conservation land. Furthermore, the DOC focuses on protecting and maintaining the rich history and cultural heritage of New Zealand. The traces of the DOC can be found everywhere in the country: hiking trails are well-maintained, signs lead you along all ways and also teach about the things you see (history, culture, nature). Free maps are available in all visitor centers, many car rental pick-up offices as well as accommodations. There are also very detailed maps with hiking/walking tracks available for many regions (Arthur's Pass, Mount Cook, …) at the i-Site visitor centers (for purchase, 2 NZ Dollars).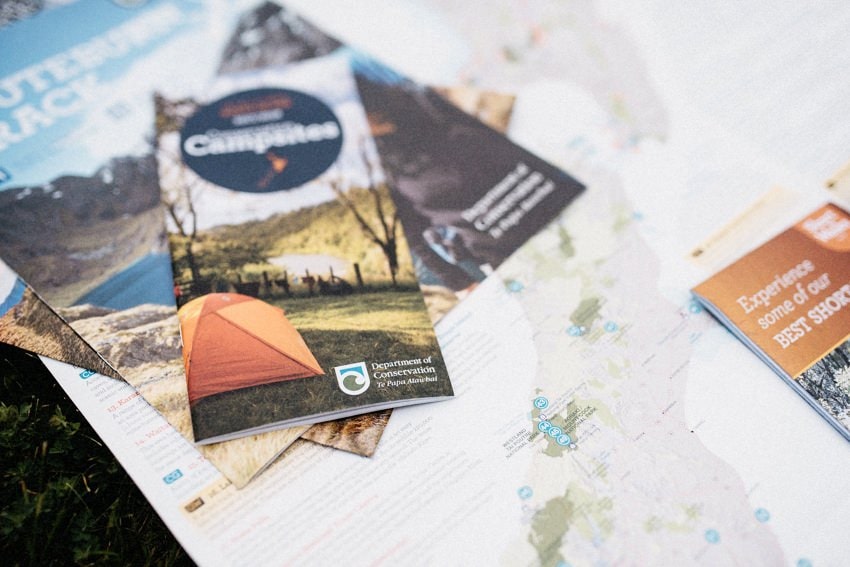 Our overnight stays
Campsites (www.doc.govt.nz)
The DOC runs more than 200 campsites (forest, lakeshore and on sandy beaches) of different categories (basic – serviced, price range: 0 – 20 NZ Dollars/person/night) all over both islands. There are free DOC campsite maps (1 x North Island, 1 x South Island) available at the visitor centers. If you rent a campervan, you usually receive both maps when picking up the vehicle.
Spaceship car rental offers a DOC campsite pass (50 NZ Dollars / week) that allows you to camp at selected campsites all over the country (check if campsites on your route are included otherwise you don't really save money).
Of course, there are also lots of holiday parks in New Zealand (Top 10, …) that offer playgrounds, shower and bathroom facilities, … but are usually not that nicely located as DOC campsites are – also nice but not that natural 🙂