Queenstown is NZ's adventure capital No 1. New Zealand's South Island was not one of the first places where Bungee Jumping became commercial for no reason. If you want to spend relaxing days at the lake, you better go to Wanaka. Queenstown is also nicely located at a lake – Lake Wakatipu (NZ's third largest Lake and one of the clearest / bluest lakes we have ever seen) but it is very touristic and tends to be pretty crowded with adventure-seekers in summer / high season. It is packed with tour operators (selling the craziest Bungee Jumps, rafting tours, canyon swings and many other activities pushing your heart rate up), bars, restaurants, cafes and shops. It was not love at the first sight – when we visited Queesntown in 2015, we felt it was way too crowded and escaped after not even one day. This time, we really enjoyed it and we will definitely be back!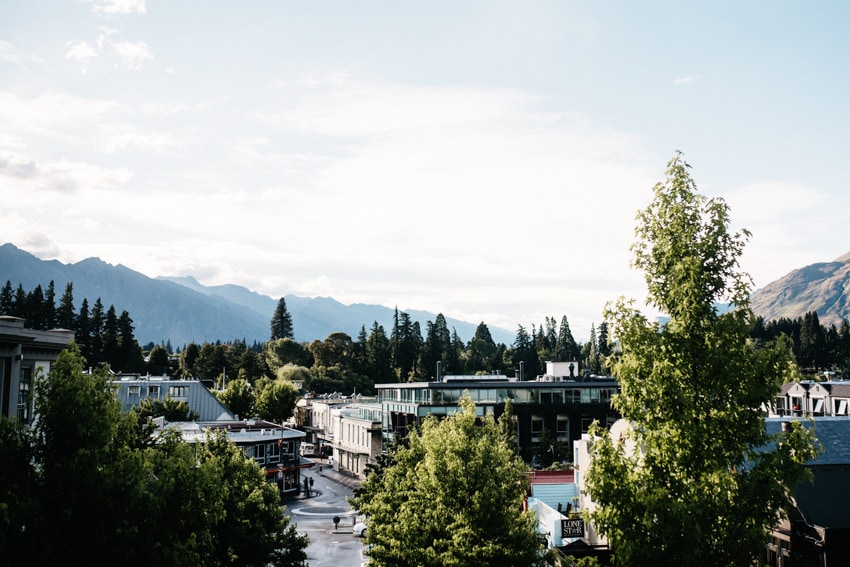 Shotover Canyon Swing & Canyon Fox
Once we had arrived in Queenstown, we directly headed to "Shotover Canyon Swing & Canyon Fox" to book our canyon swing. There are also other tour operators offering the swing like AJ Hackett (offering the highest) but as we liked the office and the friendly staff at Shotover, we decided to book with them right away. Bianca really wanted to do it since she saw a clip on Facebook – it is high and almost like Bungee Jumping (which is the only thing that has never made it to her lifetime-adventure-bucket list because of serious fear of height in combination with hanging upside down) – just that you don't hang on the feet but on a harness around the waist. That was enough difference to Bungee Jumping for Bianca to do the canyon swing. Other than that, it is high (110 meters / 360 ft), you jump off a cliff (over Shotover River) and it includes free fall (60 vertical meters – 4 seconds) – so basically, everything she is afraid of, combined into one activity. So, we booked the tour – which was basically the moment when she still thought it was cool but decided that it is high and almost like Bungee Jumping – so not really something she wants to do. The good thing is that Bianca never thinks before she does something she might be afraid of – so, she already did lots of things that scared the shit out of her – Abseiling 204 meters down a waterfall (high), Skydiving (high and with free fall) and canyoning in the Waitomo Caves (dark, cold and tight).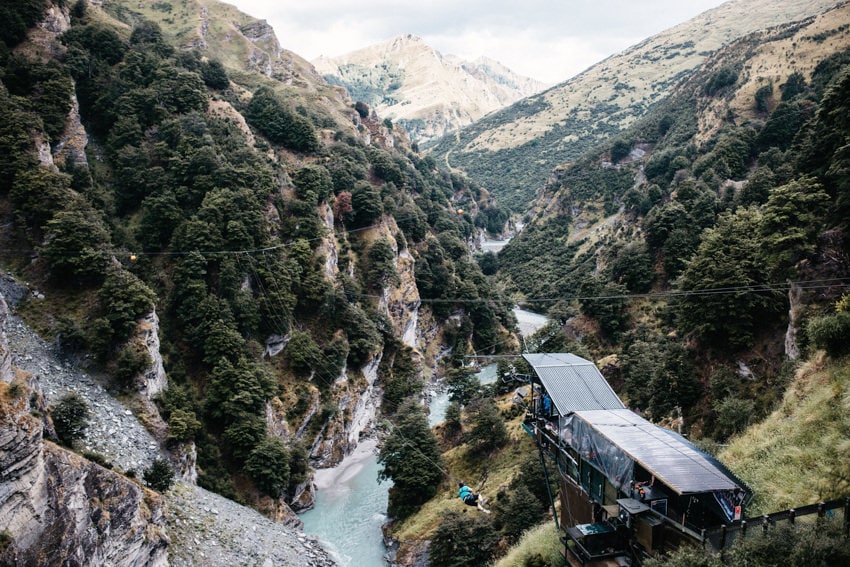 Shotover also offers the Canyon Fox – which is basically a massively high and long zip line with a free fall-element (180 meters high and 445 meters total length along the two lines). So, if you prefer to enjoy the great view of the canyon and don't enjoy too much free-fall and hanging around on a rope, you should definitely go with the zipline.




In Ferg we Trust – the Best Burger in (Queens)Town
Before doing this adrenaline stimulation activity and to make Bianca forget that she is about to do something that is high and includes free fall, we decided to do something very special that our tight world tour budget does not allow very often – going out for dinner. More precisely, going out for a Fergburger – a real institution in Queenstown, specialized in gourmet hamburgers. Bianca loves hamburgers – well, she loves everything that is somehow related to, popular in or coming from the United States of America (she even starts to cry when she hears the National Anthem – so yes, she is a real fan). Fergburger is definitely one of the best burgers in the world. We have tried so many burgers in our lives and we think it is really one of the best ones – but Bianca decided there is no best burger in the world as there are so many really good ones (Five Guys, In-N-Out Burger and Burger Joint in the States, Kirby's and Freigeist back home in Graz and so on and so forth …) – so it is not like Nutella (which is the best hazelnut spread in the world) – it's more like chocolate and French Macarons – you can find many good examples around the globe.
When we were in Queenstown in 2015, we also went there. Tom's friend Reini – who spent an exchange semester in NZ – recommended it and so, we went there. Already when we approached the little restaurant, we noticed a long waiting line and were confused which store was giving away free things and what. Coming closer, we already heard the voice of a girl wearing a "Fergburger"-Shirt informing us about the current situation: The waiting time till order is 1 hour 20 minutes and then it will about 45 minutes until you get the food. Bianca started to laugh because she thought it was a joke – but she was being serious. It was noon, burning hot and the waiting line is not shaded and the worst thing was that we were really hungry. So, we decided to leave without having tried the famous Fergburger.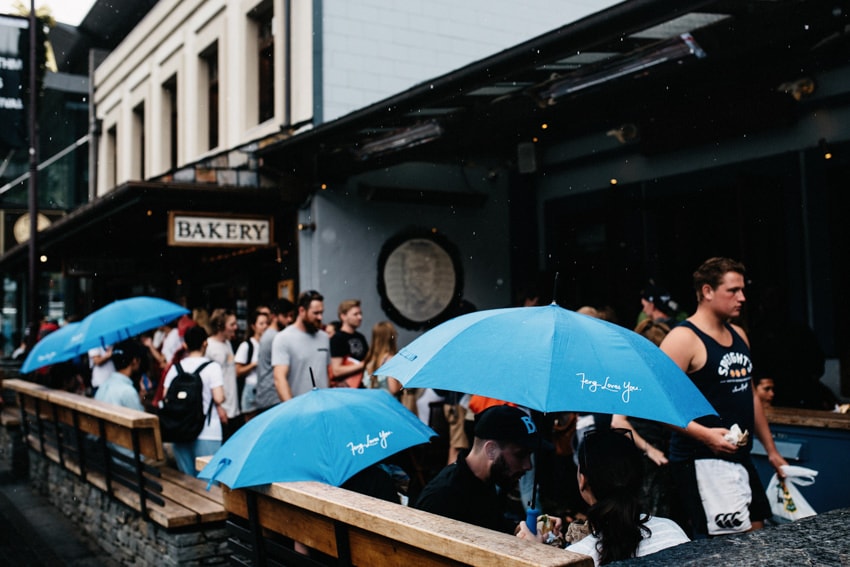 This time, we knew what to expect and we were highly determined. No matter, how long, we will wait. When we arrived at the restaurant, there was a line but it was by far not as long as we remembered it from two years ago. We had just placed our hungry bodies at the end of the line when we heard a familiar voice: The waiting time till order is 20 minutes and then it will about 20 / 25 minutes until you get the food. Great, only 50 minutes and we will eventually get to enjoy the famous burger. The girl gave us the menu – so we accelerated the waiting time by selecting our food. Tom decided to go for the Fergberger Deluxe (prime beef, bacon, cheddar cheese, pickle, lettuce, tomato, red onion and aioli & tomato relish) and Bianca for The Fergburger (beef, lettuce, tomato, cheddar cheese – no onion, no relish, of course) – both with fries. We were really lucky to catch one of the not many tables in front of the restaurant. If you don't get one, you can still enjoy your burger at a bench in front of the restaurant or in a nearby park or at the front of Lake Wakatipu (only 3 minutes from Fergburger).
25 minutes later we saw our order number on the display. It took us 50 minutes to wait, order and receive our burger – considering it was a Fergburger, really fast food. We unwrapped the burgers, took out the fries, opened the aioli dip – it was a real ceremony. The burgers taste delicious – the meat is juicy, the vegetables fresh and the bread is just perfect. The fries are equally perfect and the aioli dip … yeah, also perfect. We ate everything … the portions are really big and worth every single Dollar. If you come there and face a long waiting line … either you line up or you come back later – Fergberger is open from 8:00 AM – 5:00 AM. In this case a video can say more than 1,000 words, so make sure to check out our VLOG about the delicious Fergberger:


Right next to the Fergburger is the Fergbaker – selling all kinds of breads and sweet bakery stuff like croissants, pain au chocolats, donuts and danish. Of course, they also do coffee, so it is the place to grab a quick breakfast. It is open from 6:30 AM – 4:30 AM, so basically almost always and is perfect to grab a quick snack before heading to a tour in the morning or after a party night out.
If you prefer a relaxing coffee or hot chocolate with a scenic view, you can also go to Patagonia Chocolates – a very nice café that has 2 locations in the town center in Queenstown (free WIFI for customers is offered – just ask for a voucher at the cashier). Queenstown also has a Starbucks that offers free WIFI and also plugs for the laptops/cells/tablets. We thought the WIFI at Starbucks was the best although it sometimes disconnected. However, the sheer existence of plugs is such an advantage that we usually had our coffee at Starbucks.




Canyon Swing – Shotover River
"It's not a grandmother's teaparty."
So, there we were, sitting in the shuttle bus to the canyon. It was very early in the morning (we booked the 8:30 AM tour), Bianca's hands were pretty wet but she had decided before that this was going to be one of the coolest things she has ever done in her life (it is very possible that the next step will be Bungee Jumping although she will, for sure, never do it in her entire life). You have to come to the office of Shotover Canyon Swing & Fox 15 minutes prior to the time of your tour. So, we arrived there at 8:15 AM with a donut and a coffee from the Fergbakery. Your guide welcomes you, weighs you (because you must not exceed a certain weight to be able to participate but don't worry … they don't tell you the weight J) and then you are good to go. The shuttle bus takes about 20 minutes to bring you to the canyon where the swing takes place. However, the bus ride is not a time to chill or reconsider your decision, you get to watch a video with all the swing styles so you have already chosen one when you get to the platform.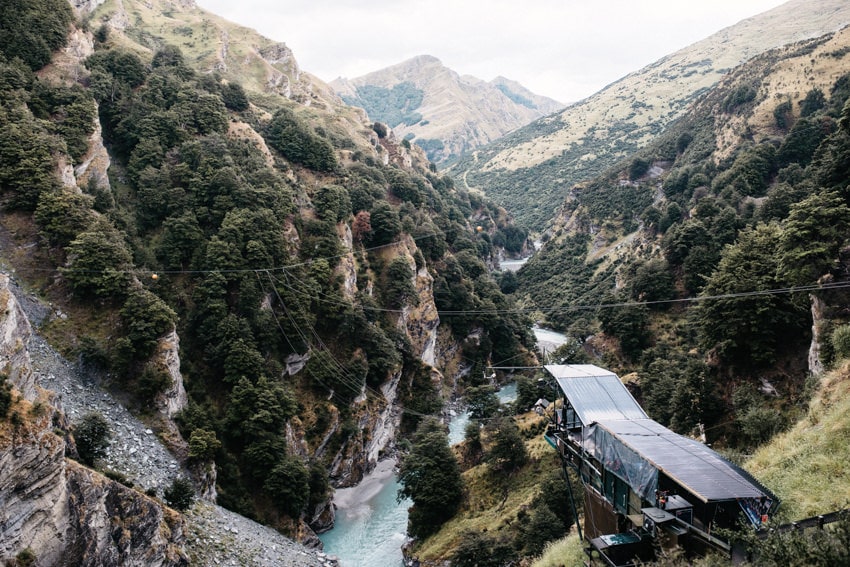 We decided to do the Tandem Swing- so basically, we jumped together. Tom had the honor to decide on the jumping style – there are many styles available and you got the choice – he decided on the backward tandem jump. All jump styles are rated by the Shotover Rating System – from one to five shitty underpants. The backward tandem jump has five underpants – so basically, the highest rating of scariness (your shit will be totally scared as well). If you wanna see us and our happy faces while falling down the cliff just hit the play button below:

 
Here is a selection of the styles "menu" that you can choose from:
Forwards Jump – you go or run towards the edge and jump (3 underpants)
The Chair Jump – you get attached to a stack of three chairs (so basically you sit) – a guy from the tour operator holds you and then drops you off the edge – backwards (3 underpants)
The Slide Jump – Bianca's favorite (she wants to do it next time) – they attach a slide to the platform and you can slide down into the free fall (3 underpants)
Indian Rope Trick Jump – you hold on to a rope as long as your muscles hold you – when you can't hold anymore you will fall down (4 underpants)
Gimp Boy goes to Hollywood – you will be suspended upside down over the canyon – the stuff will release you by cutting a rope (5 underpants)
Shotover Canyon Swing
Costs per person: NZD 239 per person (around 140 EUR)
The tour includes the shuttle bus and all the equipment
You also get the second jump for NZD 45 – not only the day of your jump for lifetime. So whenever you come back to Queenstown you get to do it again for only 45 bucks.
Safety: we felt very safe, our guide told us everything we need to care about and what is important to know / consider when jumping down the cliff
There is lots of stuff at the jumping platform – one guy that provides you with the harness and checks if everything fits perfect and two guys that prepare you for the jump at the platform (securing you, giving you advise on how to jump best depending on the style you picked, what to think of and give a really safe feeling).
Staff: the staff at Shotover was very friendly and helpful. We felt very welcome and they treated us special – not like we were the 1.000st persons doing the swing. You really feel that they love what they do and enjoy sharing the spirit among other adventure-seekers.
Add-on purchase: after your jump, you can buy a USB-Stick with all your fotos and videos for NZD 80. They have 2 Go Pros attached to the rope that record every second of your jump. They produce a very nice short video from the material so you get to enjoy the moment over and over again. You also get lots of pictures (including a multi-shot pic that shows you on your descend). Of course, if you don't want to buy the whole package, you can also buy individual pictures.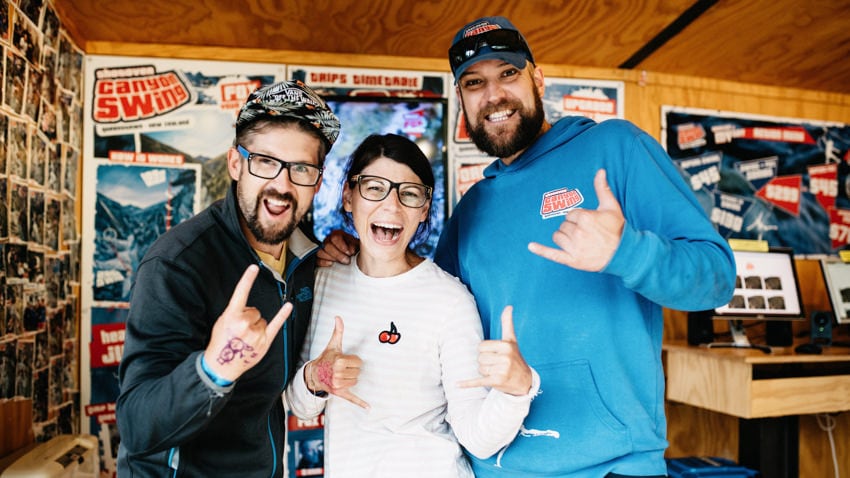 Lake Wakatipu
After our little morning fun in high altitude, we drove to Lake Wakatipu for a little swim – and, of course, not only for that but also to compensate for the missing showers at the campsite. It was not the most wonderful day concerning the weather – rainy, cloudy and not really hot. Lake Wakatipu is NZ's third largest lake and not really the warmest. We went to Wilson Bay – a really nice place where you can park, set up a table and a chair, cook and swim in the lake. It is only about 10-minutes drive from the center of Queenstown and a very calm place. Lake Wakatipu is the clearest lake we have seen in New Zealand – and they are all incredibly clear. We quickly ran into the lake as it was so cold that we almost stopped breathing. On a hot and sunny day, we can totally recommend to go swimming in Wilson Bay – it is the perfect place for a little refreshment, a little remote from the crowds.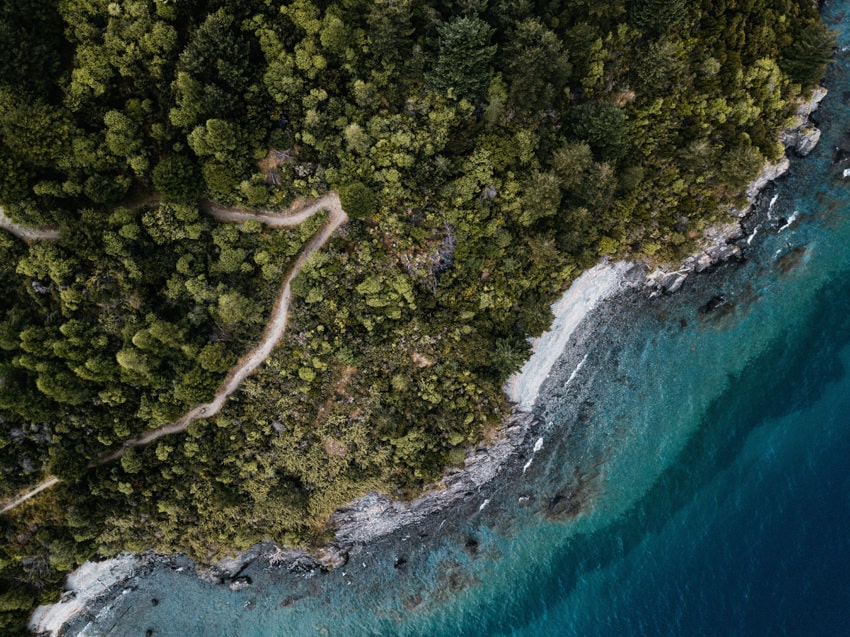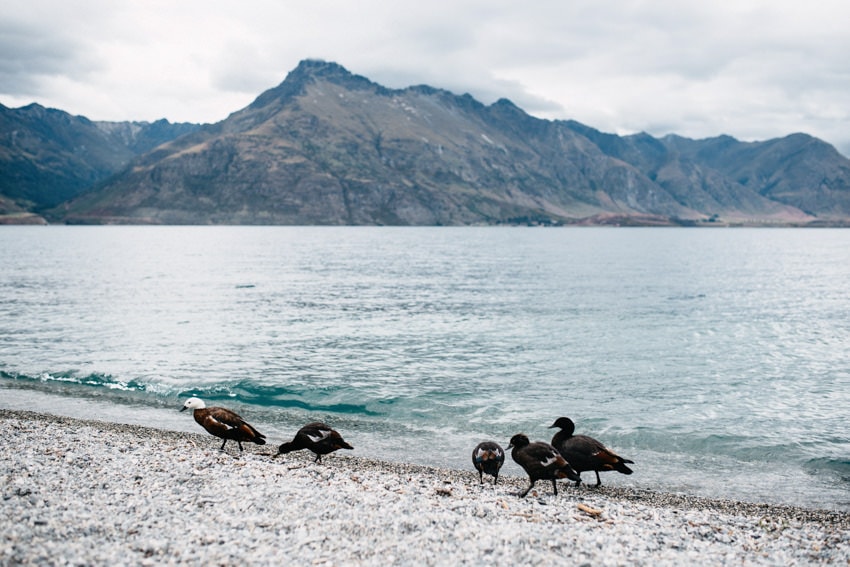 Cookie Time Cookie Bar Queenstown
After we had almost frozen to death in the ice-cold water of Lake Wakatipu, it was time for another shock – a real Cookie Time sugar shock. Cookie Time is a real big thing in New Zealand – the company basically produces only a chocolate chip cookie and sells it all over the place. The brand is really strong – you can see Cookie Time delivery cars everywhere and the mascot is a red and fluffy cookie monster. We are totally in love with the cookies, so when we discovered a Cookie Time Bar in Queenstown, we had to go there. The place is so cool – almost like a little Cookie Time Disneyland. A real fun place, just as we love it. Firstly, it smells delicious – a mixture of freshly baked cookie dough, warm chocolate and caramel. Secondly, the cookie bar is huge and offers everything for real cookie munchers – cookies, smores, cookie dough, ice cream, shakes and of course, a milk bar. So, with every cookie you can enjoy a glass of your milk choice – plain, chocolate or caramel. Of course, they also have a full-sized cookie monster there which you can hug, kiss and take pictures with. They also have a half car – yes only one half. You can sit inside – it is over and over painted with cherry blossoms (Bianca loves cherry blossoms) and inside it is coated with red fluffy cookie monster fur. They also have a karaoke corner where they offer all kinds of 90s trash songs Bianca really loves (Backstreet Boys, Spice Girls, …) and also Disney Songs. To put it in a nutshell, it is a totally cool place where you can't just eat all the cookie stuff, you can also buy it for at home. After about an hour of crazy cookie fun, we left with a sugar overdose but very happy faces.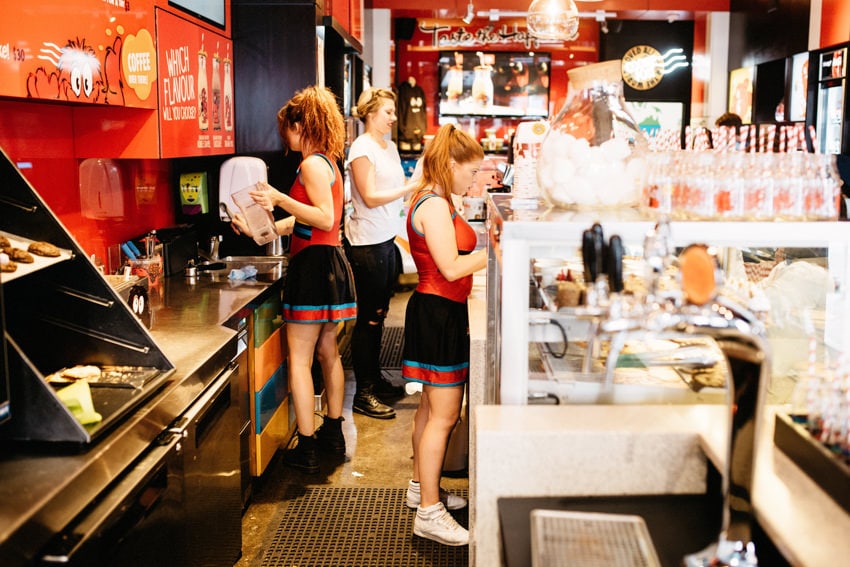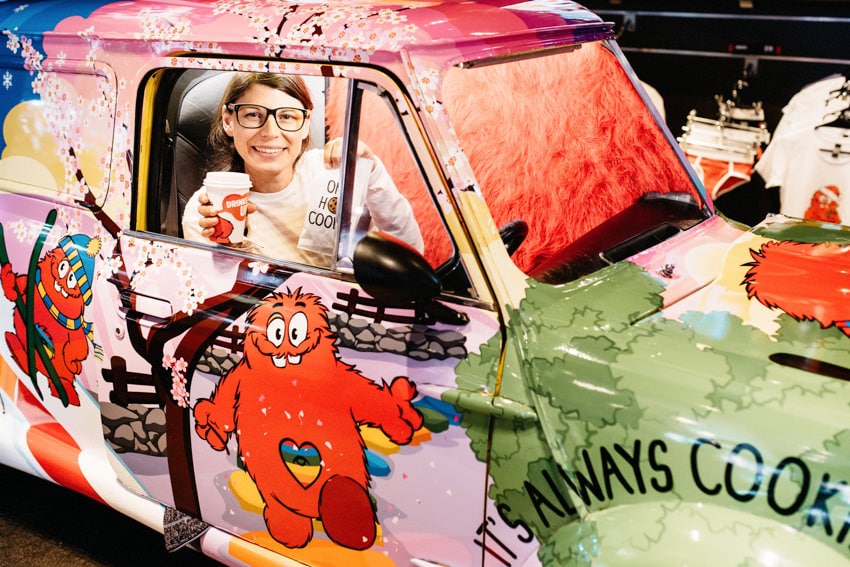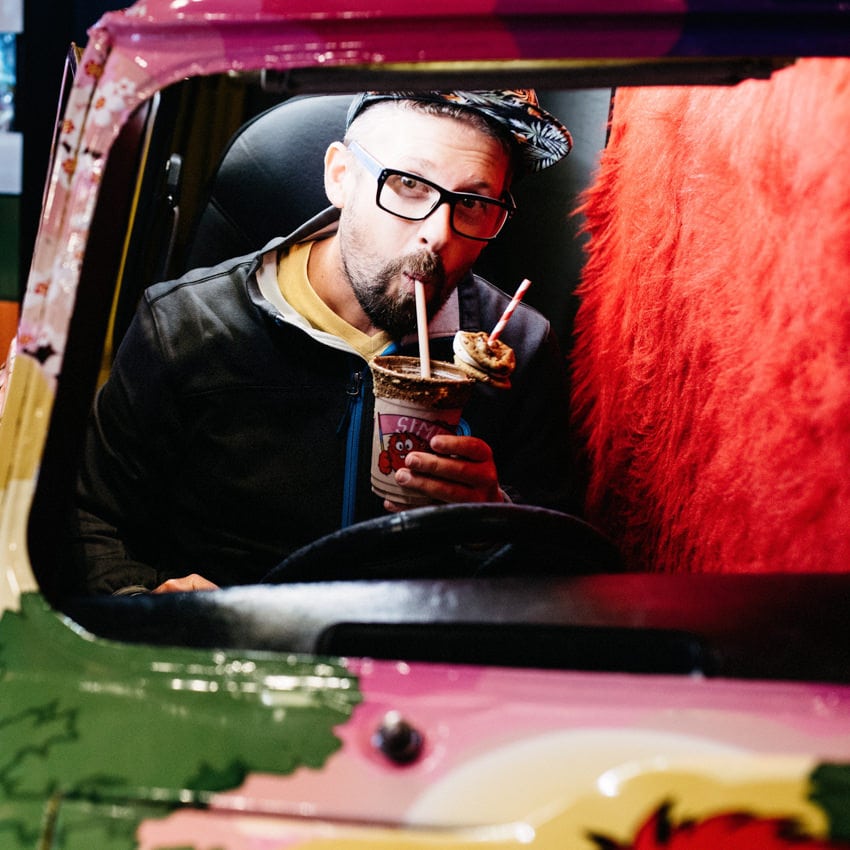 Queenstown was a complete blast – we loved our days there. Last time, we did not enjoy it as much because we were more seeking loneliness and tranquility. This time, we wanted action, people and adventure – and found it there. We really enjoyed it and will definitely be back … for a Fergburger and a Canyon Swing.
Our Overnight Stays
Twelve Mile Delta Campsite
We spent 2 nights at the DOC campsite Twelve Mile Delta (13 NZD pp / per night). There is no campsite in or in close proximity to Queenstown included in the Spaceship campsite pass, so we had to pay for the campsite. There are 2 DOC campsites close to Queenstown – each one about 15-minutes drive from the town center – Twelve Mile Delta and Moke Lake. We chose to stay at Twelve Mile Delta as it is nicely located directly at Lake Wakatipu and because it is huge. We usually arrive very late at campsites, so the chance to get a good spot at a huge campsite is always higher than a smaller one. Although Moke Lake is also big (50 spots).
The campsite is very nice – it offers many scenic spots, two toilets and sinks for the dishes. If you want, you can also jump into the lake and get a little shower/refreshment.
Or check out a hotel in Queenstown