Already on our last vacation in New Zealand in 2015, we spent two wonderful days in Wanaka. As we completely loved it there, we wanted to go there again for some time. Wanaka is about 1 hour and 45-minute drive from Twizel and about 2,5 hours from Mount Cook Village. It lies directly at Lake Wanaka – NZ's fourth largest lake (after Lake Taupo – North Island), Lake Te Anau – South Island and Lake Wakatipu -South Island) that is more than 300 meters (900 ft) deep and almost 50 kilometers (30 miles) long. Next to Lake Wanaka is Lake Hawea (almost 400 meters / 1.300 ft deep and 35 kilometers / 22 miles long), making the town a real paradise for swimming, boating, paddling and other water activities. Wanaka is the door to Mount Aspiring National Park – NZ's third largest National Park. It is coined by an alpine landscape and named after Mount Aspiring – "New Zealand's Matterhorn" because of its distinctive outline.
Wanaka Lavender Farm
Our first destination in Wanaka was the Wanaka Lavender Farm. When coming from Twizel, you will pass the Lavender Farm when going into the direction of Wanaka's city center. Bianca is completely head-over-heels in love with lavender – not just because of the beautiful color (our kitchen and our living room at home are painted lavender purple) but because of the delicious smell and the beauty of the fields.
In 2016, we spent two weeks in the Provence – just to enjoy the beauty of the blooming lavender carpets decorating the entire region of Southern France. Unfortunately, it was one of the hottest summers in the history of hot summers and they started to harvest the lavender two weeks earlier than usual (and before we actually arrived). So, when we got there, all we found were acres of fields with little green tufts that used to be blooming lavenders before they were cut. At first, Bianca was a little bit disappointed but then we discovered a few fields that had not been cut yet and that was enough beauty to make her completely happy. And, she also thought that the green tufts are beautiful – considering the fact that it is still lavender, just without the purple blooms. She still thinks it was one of the most wonderful vacations ever – and the lavender fields so pretty. She even participated in French guided tours about lavender (she could not follow everything although she was listening very carefully but French is just not her strongest asset) – the history, the three types of lavender, how it is harvested, how the oil is produced (according to her, a very difficult chemical process – at least, in French) and so on. So far to that, when we got to know that there was a Lavender Farm in Twizel and one in Wanaka – we, of course, had to visit both.
The Alpine Lavender Farm in on the way to Twizel from Mount Cook Village opens on December 1 – so we had to make sure not to get there before that date. When we got there, it was almost like in Provence – it was all green, not a lot of purple. We learnt that lavender in New Zealand blooms in January – so we were too early. Too late, too early – Bianca still hopes that we will be on time someday. We continued to Wanaka, our most favorite place in entire New Zealand and the Wanaka Lavender Farm – for Bianca, after the USA, the second most wonderful place on earth. The lavender was already quite in bloom and the place just as wonderful as two years ago. The style is very shabby chic (just like our apartment in Graz) and the shop is lavender paradise. They sell lots of different – and of course, very useful – lavender products – cremes, soaps, shampoo, dishtowels, cookbooks, tea spoons … everything. Bianca could shop herself to death in this shop – she just thinks she needs all that stuff – yeah, of course, how much better would tea at home taste with lavender-purple tea spoons with a little lavender print on the spoon handle. Attached to the shop, there is a little café where they sell lavender and other herbal teas, lavender cookies and cakes and – what they are most famous for – lavender ice cream in three flavors: chocolate, manuka honey and boysenberry. Manuka Honey is NZ's signature product – a honey that does not only taste good (well, like honey) but is also a well-trusted medical product with anti-bacterial effects. The ice-cream is very delicious with a little touch of lavender. Bianca loves the taste of lavender (she just loves everything about lavender) – when we are in New York, we always have to grab a lavender macaron at the Macaron Café (another thing she totally loves – macarons and of course, NYC). Tom thinks it tastes like the little anti-Motten bags you hang in the closet to prevent your clothes being eaten by them.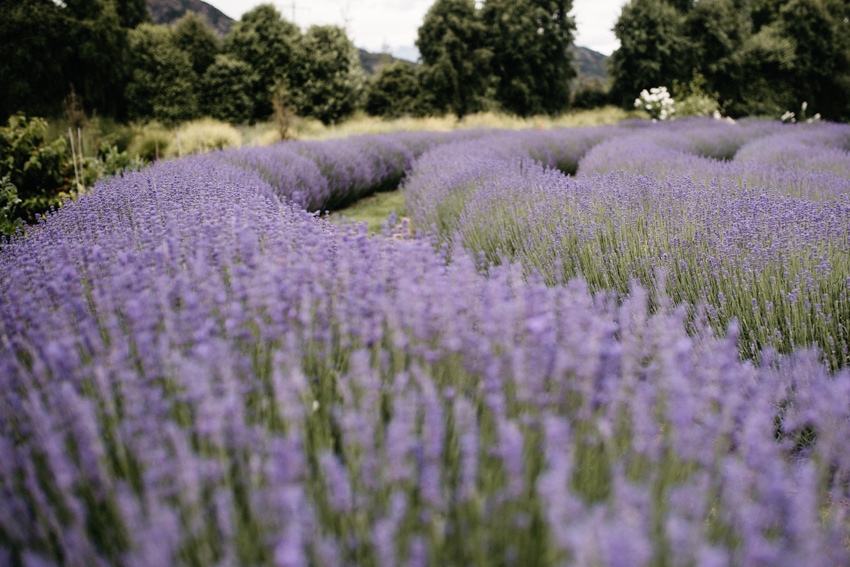 That Wanaka Tree
After our little lavender indulgence, it was Tom's time to take a photo that is basically a must-take picture when coming to Wanaka. For some reason – and we really couldn't find any logical reason for this incident – we did not go there last time we visited Wanaka. That Wanaka Tree is really the photo-spot in Wanaka and visited by many 100 people every day. It is very easy to find, just follow the crowds. No, it is located approximately 20-minute walk from the town center of Wanaka into the direction of Mount Aspiring National Park. If you go by car, you can park there for free and then just walk 2 minutes along the lake until you reach the tree. That Wanaka Tree is really nothing special, it is an ordinary tree – just that it is the only tree that grows in the water. Pictures look very spectacular with the scenic landscape at the back and the lonely tree in front.
Roy's Peak
Our next destination was Mount Roy. Mount Roy is located directly at Lake Wanaka and its peak offers a wonderful view down to the village and the lake (in case you reach the top because the hike is just awful). We parked our Spaceship campervan on the parking lot at the bottom of Mount Roy's Peak – the starting point of the hike. The hike is 2 NZD per person – when we wanted to insert the money into the cashbox, there was none. We thought it was really sad because the DOC does a great job maintaining the hiking trails. Already after the first 100 steps of the track, we had understood that is was going to be a hell of a hike. It was so steep (the map we received at the visitor center already said it was a hard track but we always believe things once we see / feel them) that we thought it was a 90-degree incline. Probably it wasn't but until we reached the top it felt like 90 degrees. The first part of the track leads along rather grassy serpentines before the path becomes sandier as you approach the top. It is not comparable to hiking up a dune (or a volcano) but because it is so steep, it is a hard hike – at least we thought so. The higher you hike, the more remote the peak appears. After 3 hours, we reached the first picture stop – we did not take a picture though because Bianca hates the sheer imagination of having a picture hanging on the wall at home that thousand others also have. We ate a snack and relaxed for a while – the view is already stunning before you reach the peak – and then continued for the final ascend. It is approximately another 30 minutes but the last part is the worst – the path leads vertically up to the top. When we had eventually reached the top, life rewarded us with a stunning view down to Wanaka and the lake – truly beautiful and worth the pain. We enjoyed the view for a few minutes, finished our snacks and went down again – as exhausting as the climb up.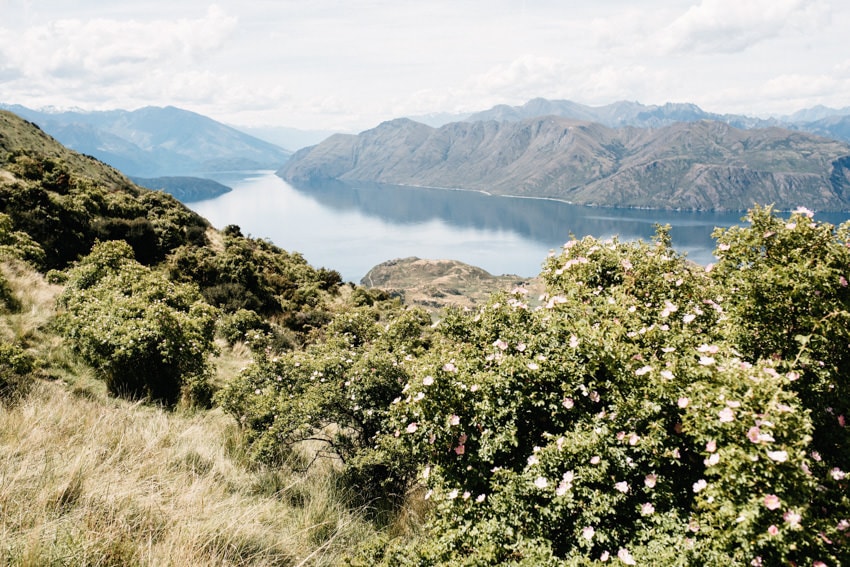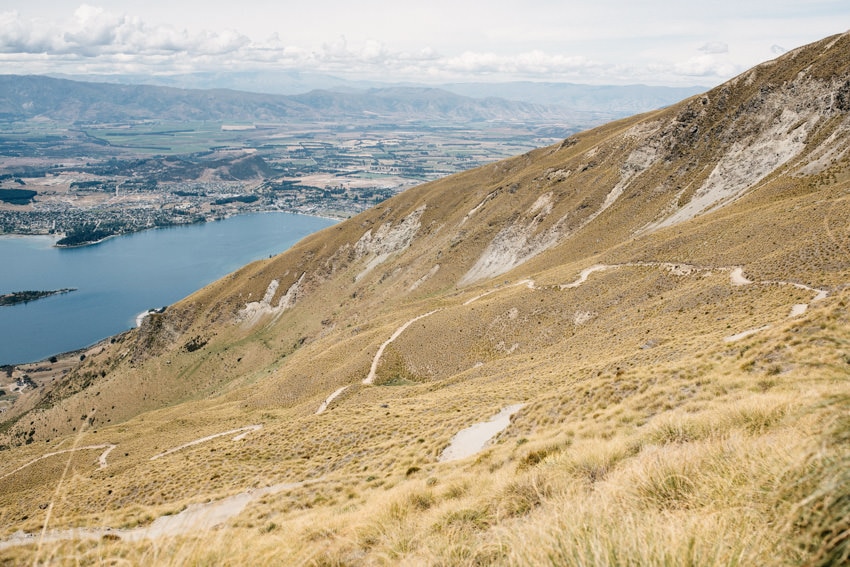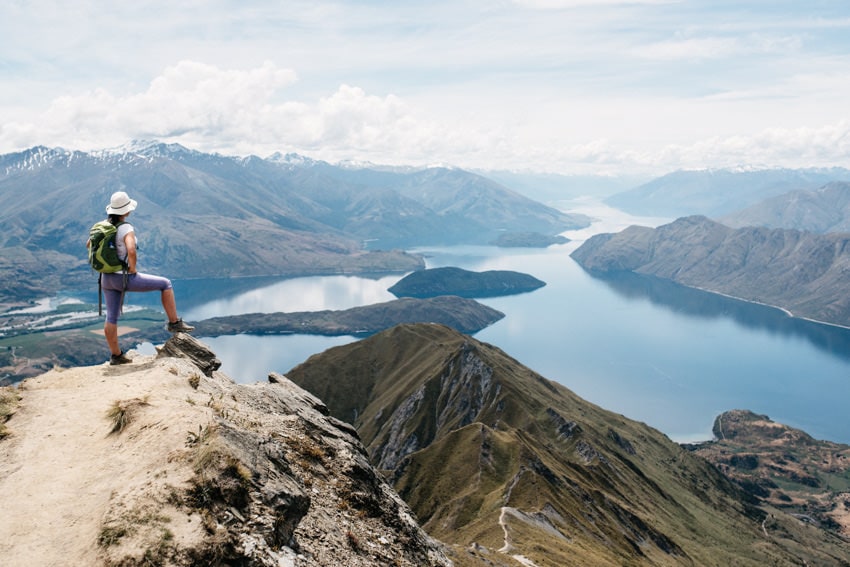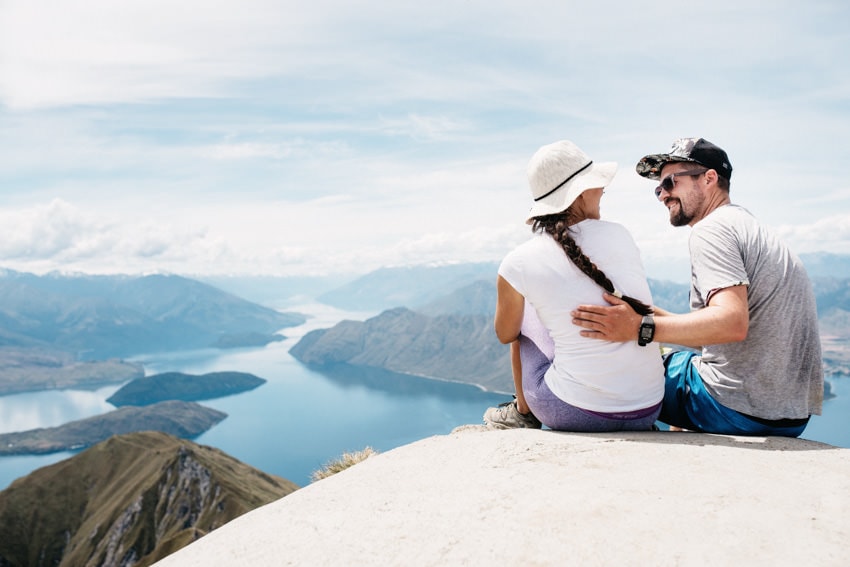 Right after we reached the bottom again, we jumped into the lake and received our well-deserved refreshment in the wonderful, clear, blue water of Lake Wanaka. The lake is very easy accessible by foot and by car. There is a very nice lakefront in Wanaka with lots of bars, restaurants and little shops. In order to reach the lake, you just have to cross the street and you can already enjoy the cool lake. You can bring a towel, your camping chairs, your bathing suit and a coke and just sit at the lake, swim and enjoy the wonderful view. There are many spaces for parking available, so if you have a car or a campervan, it is also no problem. In case you don't find a space, a huge parking lot is located just opposite of the New World supermarket – very close to the lakefront (2 minutes to walk). You can park there for 240 minutes – free of charge. There is also a very clean public toilet located next to the parking lot – so, if you need one, it's all there.
Hikes and Walks in & around Wanaka
There are many hikes, treks and walks for all fitness levels available in and around Wanaka. In 2015, we were not really into the mood for Mount Roy (as it was already rated as hard and difficult back then and we wanted to have a relaxing time), so we decided to do the Rob Roy Glacier trek – not super easy and chilly but not comparable to the Mount Roy ascend at all. It offers a wonderful view on the Rob Roy Glacier at the end of the track. Here is a little overview of walks/hikes in and around Wanaka (a free guide to all activities including accommodation / restaurants is available at the local visitor center in Wanaka):
Easy-Medium / Child-Friendly
Blue Pools (1,5 kilometers / 1 mile return) – north of Lake Wanaka near the town of Makarora
Gladstone Track (6,5 kilometers / 4 miles one-way) – near Lake Hawea, just outside of Wanaka
Aspiring Hut (9 kilometers / 6 miles one-way) – child-friendly, outside of Wanaka – at the beginning of Mount Aspiring National Park
Medium
Waterfall Creek to Glendhu Bay (10 kilometers / 6 miles one-way) – also bike-friendly, at Lake Wanaka – the starting point is close to town
Rob Roy Glacier (10 kilometers / 6 miles return) – in Mount Aspiring NP – about an hour drive from Wanaka (only accessible via gravel road)
Fern Burn Hut (7 kilometers / 4 miles one-way) – next to Roy's Peak
Hard
Roy's Peak (16 kilometers / 10 miles return) – close to Wanaka
Isthmus Peak (16 kilometers / 10 miles return) – starts at Lake Hawea




The next morning, we decided to continue our journey to Queenstown, only about 1 hour drive south of Wanaka. Before leaving our most favorite place in NZ, however, we pampered ourselves with a morning Chai Latte in the Patagonia Chocolates – the best Chai Latte we've had for a very long time (it even comes with a free shortbread cookie). Moments like these become very special on a world tour with a limited and pretty tight budget – usually we prepare our own coffee at the campsites (instant, of course) and buy cookies in bulk (of course, the non-branded value packs in the supermarket) – no complaint, we love camper life, it just makes these moments even more special. Patagonia Chocolates also has 3 cafes in Queenstown (2 directly at the waterfront – very nice location and 1 at the airport) and 1 in Arrowtown. They sell Churros (a typical South-American desert option – fried dough sticks toped with sugar, cinnamon and/or warm chocolate), home-made chocolates (dark, milk and white with a sheer endless choice of flavors/fillings – nuts, almonds, strawberry, …) and ice cream (huge scoops and super-delicious flavors). The café also offers free WIFI to guests (just ask for a voucher with the code at the cashier).
Puzzling World – a Place for all Ages
We have, unfortunately, never made it to the Puzzling World in Wanaka – but it is obviously a very nice place – especially for children but also for adults of all ages. It is Wanaka's Wonderful World of Weirdness and guides you through a world of bizarre buildings and optical illusions that will freak your brain out and challenge your perception of reality. Of course, it also accommodates a cafe, a shop and NZ's most unusual public toilet.
Our Overnight Stays
We spent two nights in Wanaka – one night at the DOC campsite Boundary Creek Reserve and one time at the Albert Town Campsite.
Boundary Creek Reserve
The campsite is nicely located at the north of Lake Wanaka – with direct access to the lake. It offers running water (practical to wash the dishes or also hair – as Bianca did once) and flushing toilets (no common standard on Standard DOC campsites). It is about ½ hour drive from Wanaka (45 kilometers / 28 miles) and is the perfect overnight stay when coming from or heading to the north of Wanaka (to the West Coast – Franz Josef / Fox Glacier).
Costs per person (2017): 8 NZD / night
Albert Town Campsite
Albert Town Campsite is just 2 kilometers (1 mile) outside of Wanaka. It is the closest non-holiday park campsite. The advantage is that it is cheaper than a holiday park but it does not offer any fancy facilities a holiday park does offer. The campsite is huge (getting a space is usually no problem – also in summer) and equipped with a toilet. It is located at a river, which is good for doing the dishes – just make sure to bring biodegradable detergent.
Costs per person (2017): 10 NZD / night
Or check out a hotel in Wanaka