After our short stop at Paronella Park, we continued towards Airlie Beach – the gateway to the Whitsunday Islands. We had a quick swim in the ocean at Mission Beach, stopped for a picture at the Golden Gumboot in Tully and got refreshed in the Rock Pool in Townsville. We enjoyed a panoramic view over Townsville from Castle Hill (where you can either walk or drive up – we decided to drive as it was too hot for walking) before we drove towards Airlie Beach.
Airlie Beach – Gateway to the Whitsundays
Airlie Beach is a pretty small town that gained world-fame because of its prominent location in close proximity to the Whitsunday Islands – home to the famous Whitehaven Beach – and parts of the Great Barrier Reef. With lots of holiday parks, hotels, restaurants and cafes, Airlie Beach is very much – and well – aligned to the inflow of mass tourism that hits the city throughout the year.
The Whitsunday Islands
The Whitsunday Islands is a group of more than 70 differently-sized continental islands – 17 inhabited. It was discovered by James Cook in 1770 when he was sailing through the passage on a Whitsunday – the day before Whitmonday. Later, it turned out that it was a mistake because it was before the international date line was established and therefore, Whitmonday. Whatever – the Whitsundays are called Whitsundays not Whitmondays and we really found paradise there … white sand (white as snow, walls or paper) and the most turquoise water ever … just beautiful.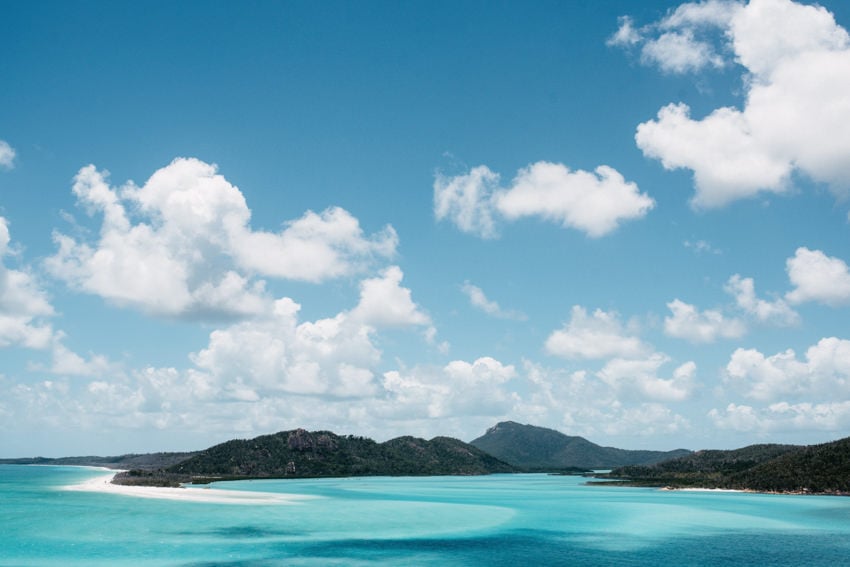 Sailing the Whitsundays
As Tom loves sailing and always pretends to know everything about it, we decided to explore the Whitsunday Islands on a day tour with a sailing boat. Originally, we wanted to spend one night on a boat but when we saw the prices and our tight travel itinerary, we decided to go for the day tour. Looking at it now, we think a day tour is generally sufficient to get an impression of the Whitsundays and visit the most attractive and famous spot, Whitehaven Beach, but if we visited the area again, we would still do an overnight tour. Sailing (motor-supported, of course) to Whitehaven Beach takes about 3 hours (you can also go with fast boats), so the entire day is very full of sailing and you get to spend little time on the island itself. We pre-booked our trip about a month in advance, knowing that we will be visiting in high season and that tours will sell quickly. When we got there, we learnt that you have to book in advance – just stopping by and sailing the next day will be barely possible.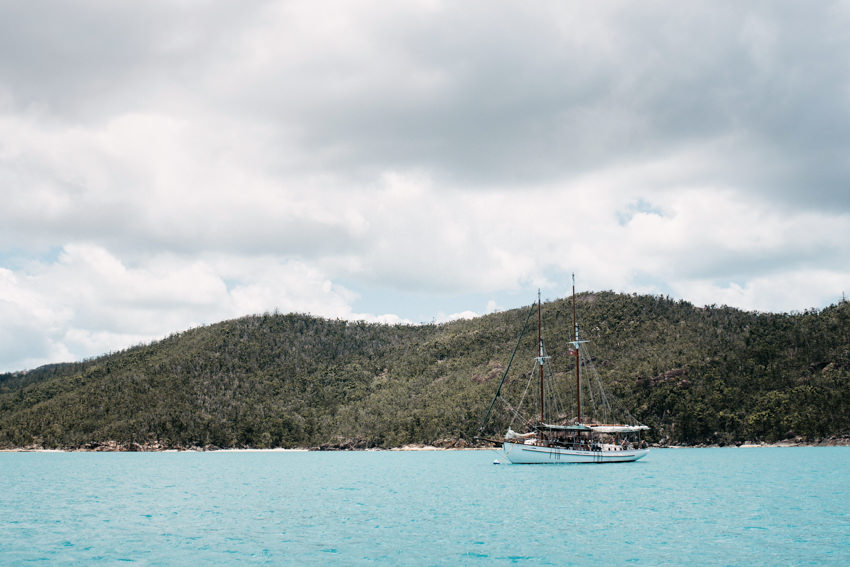 We chose Providence Sailing as we liked the boat, its size and the homepage / booking process. The tour is a classic tour – not very much different than the other tours but how could it be, there is no real creativity required to plan a tour that covers Whitehaven Beach in a day tour – leaving from Airlie Beach in the morning, stopping at Whitehaven Beach for the Hill Inlet Lookout and a quick swim in the turquoise water and rolling in the white sand (if you'd like to) and a little bit snorkelling in the afternoon.
7:30 AM Check-In at Abell Point Marina
We met our skipper for the day – Kieran (originally from Scotland, now residing in Australia because – we did not ask but we risk a well educated guess and are sure to be right – of the weather). The check-in process is efficiently handled … you show your booking confirmation (on our confirmation e-mail it said we needed to bring a print-out, however, we did not have a printer so we didn't and just brought it on our cell – they did not ask for the print-out – the cell was fine, so no need to look for a printer, just make sure you have it available on your cell) and once all participants have done so, it is time to meet the most important part of the tour – the boat. It lies in Abell Point Marina – the award-winning marina of Airlie Beach.
8:00 – 11:00 AM Sailing to Whitehaven Beach
The journey to Whitsunday Island / Whitehaven Beach from Abell Point Marina takes about 3 hours, so you get enough time to enjoy the view on the turquoise water. The day we did the tour, the sea was very rough, so basically people sitting in the front of the boat (including us) had the first bath on the way to the beach. The water was splashing on us without any break and we were quite happy when we entered a more calm passage and warm morning coffee was eventually served. The coffee / tea was accompanied by a piece of orange-poppy seed cake – one of the best cakes we have ever eaten. Bianca is completely crazy about cakes (she can eat cake all the time, there is no cake she doesn't like and if she bakes a cake at home, she will finish it within 2 days on her own) and she just loved the cake (it was juicy and refreshing and not too sweet and fluffy and everything a cake must be to be delicious). Tom also loved it – because he loves everything with poppy (his favorite poppy sweet being Bianca's poppy apple strudel – hot and with vanilla ice-cream). So, to keep it short and simple, we had the best cake of our life and were already in heaven when we eventually reached Whitehaven Beach. The boat lands on the other opposite side of the island (than the side of Whitehaven Beach), we all hopped into the "dingy" and got transported to the land.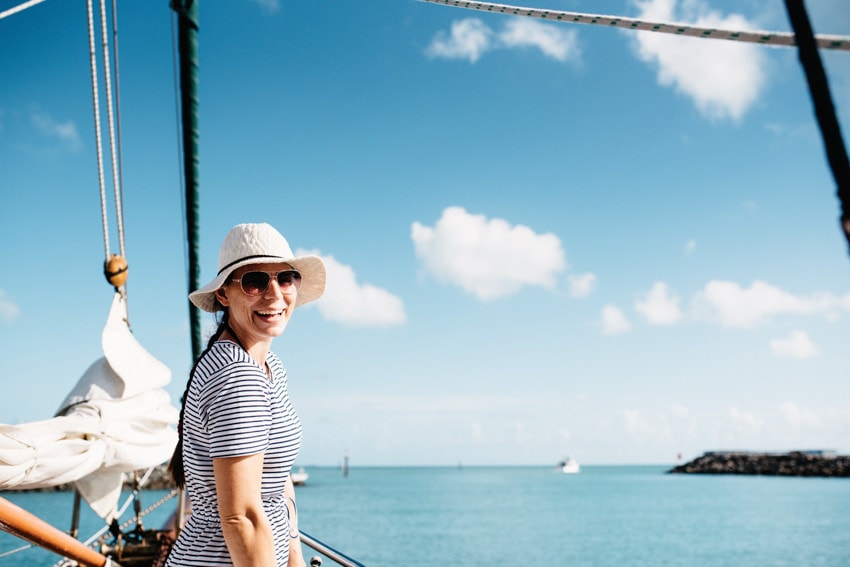 11:00 AM – 12:00 PM Hill Inlet and Beaching in Whiteh(e)aven
Once, we all safely landed on the land, we had an hour to walk the Hill Inlet (viewpoint to Whitehaven Beach and the surrounding beaches) and enjoy the beauty of Whitsunday Island. The first impression of the island was quite disappointing as the backside is not really beautiful. When we reached the viewpoint after 15 minutes, however, we knew why we spent 3 hours on a shaky boat getting soaking wet all over. The view is just so picturesque – the beach is soooo white and the entire scenery looks exactly like on the pictures on the internet – the ones we always thought have to be retouched because no place on earth can look like this. Well, we learnt it can.
After we had enjoyed enough Whitehaven Beach from the top, we walked down and took a bath in the sea. Walking on the sand is really comfortable as it doesn't get hot and it is so fine that it crunches under your feet – it felt like we were walking on a cloud. The sand is really soft – it almost feels like the baking icing sugar – but not the standard one – the one that is extra fine and perfect for baking delicious cupcakes.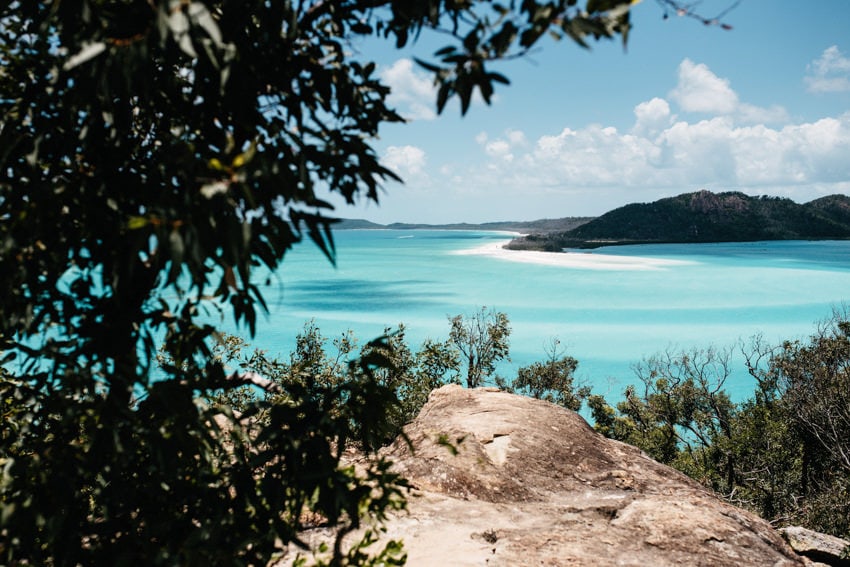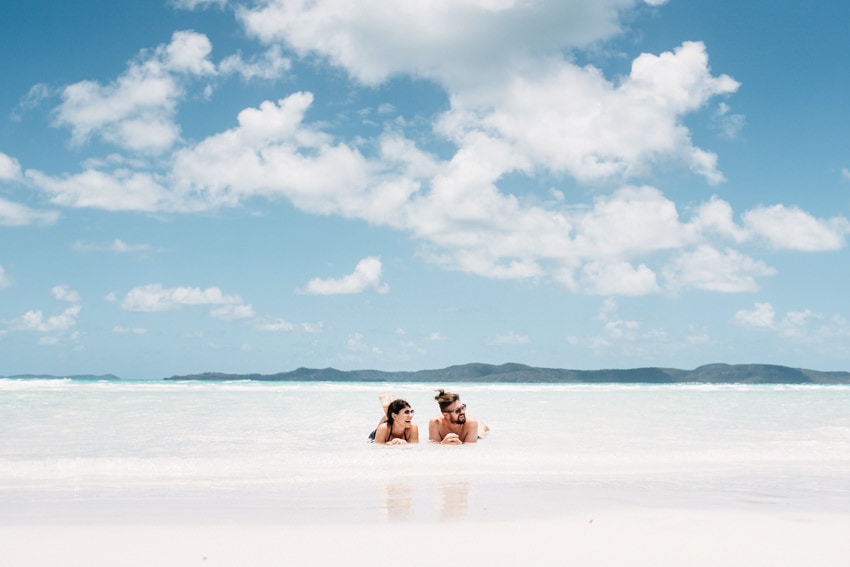 Why is the sand on Whitehaven Beach so white?
The sand on Whitehaven Beach is considered one of the most white in the entire world. It is so white (Bianca loves to call it whitsunday-white) because it mainly consits of silicia (98 percent). It is a very jewellery-friendly sand and good for polishing it up but not such a good friend of cells and cameras.
12:30 – 13:30 PM Lunch
Upon our return on the boat, our lunch box was ready. We were really hungry – wonderful beaches make really hungry – and the lunch was delicious (salad, rice, chicken and a piece of bread). While we enjoyed our lunch, Kieran brought us to our next destination: our snorkelling spot.
13:30 – 14:30 PM Snorkelling
On our way back to Airlie Beach, we stopped at a little reef for some snorkelling. People that did not want to go snorkelling stayed on the boat for a little sunbath. We went snorkelling and considering, we had just visited the Great Barrier Reer before, we were not so impressed by the little reef – still, it was very nice to see some fish and colored corals again.
16:30 PM Back to Abell Point Marina
Providence V – Sailing Experience
We booked our trip in advance – about a month before coming to Airlie Beach. We decided to do so because we visited in high season (basically, it is always high season on the Whitsundays as the climate is always warm and sunny) and tours can be fully booked quite some time in advance. We talked to people that tried to book a tour a day in advance and everything was sold out. So, if you want to have the choice and go with your preferred tour, you should definitely book in advance.
We were looking for a 1-day sailing tour and analyzed the operators according to the following aspects:
The Booking Process
The Size of the Boat
The Value for Money
The Tour
The Website
The website is appealing and it provides the info you need on the first click (costs, itinerary, what it includes). Especially Bianca hates it to dig through many sites of a webpage, looking for the info she needs to make a booking/purchasing decision. The website of Providence V is very clear and straightforward and allows you to gather all the important facts in just a minute.
The Booking Process
The booking process was as easy as finding all infos on the website, the LiveChat starts right after you arrive at the Providence V website. We could ask all our questions and everything was answered immediately and properly. The tour also includes a free pick-up service from any public accommodation (hotel, hostel, …). As we camped in a free rest area near Proserpine, we were not picked up there. However, parking is avaialbe at Abell Point Marina and costs 6 AUD for 12 hours. We provided all our details in the chat and after only a few minutes, received a pre-filled booking from to our mailbox – totally convenient. We just filled in all missing info (food allergies, …) and our credit card details and sent it back. We immediately received the booking confirmation and were done.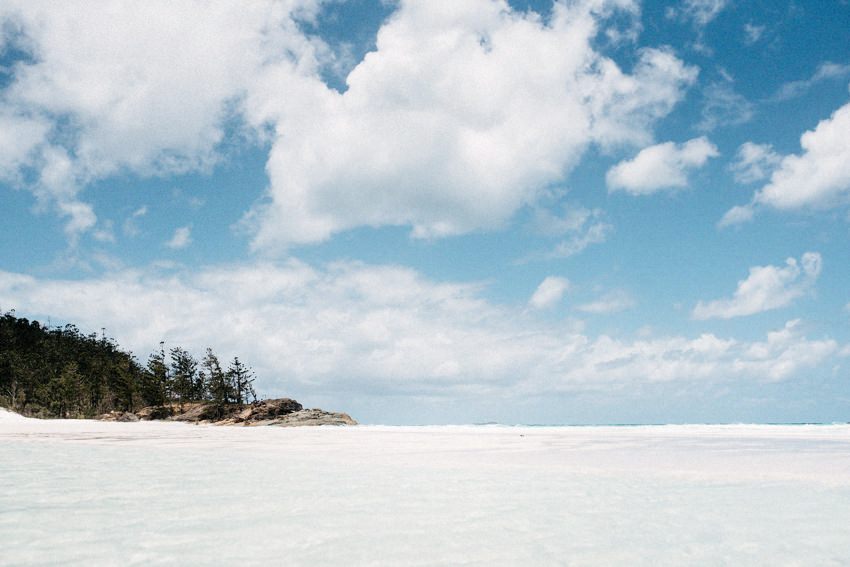 The Size of the Boat
We, of course, prefer smaller group sizes when going on a guided tour. The Providence V has a capacity of approximately 30 people – a very convenient size. We really enjoyed the tour, the group size was good for the size of the boat (with a few people less, it would have been even more comfortable).
The Value for Money
Being on a world tour with no unlimited budget will necessarily force you to care about budget somehow. If you have an unlimited budget and you don't … then you are a lucky bastard and we wish you a nice time spending the money! We aren't, so everytime we look for a guided tour, we do analyze the price-benefit ratio thoroughly. What is included that we really need, what is not included that we really need and what extra costs do we have to calculate.
Tour Costs: 195 AUD per person
So, here is what is included in the day-trip to the Whitsunday Islands:
Morning Coffee / Tea and a piece of cake
Unlimited fresh water
Lunch Box with meat, salad, rice and a piece of bread
Fresh fruit in the afternoon on the way back to Airlie Beach
Complimentary transfer to the Marina and back to your accommodation (Airlie Beach)
Sun Screen (30+ and 50+)
Snorkel Equipment (no fins!)
The Tour
We really enjoyed the day. It was packed with wonderful views and awesome impressions. It included a lot of time on the boat and not so much time on the island but that is the problem with a day tour. If you want to get to spend more time on the island / beach, you should definitely consider staying at least one night on the boat.
Are you looking for a hotel in Airlie Beach?