After our excursion to paradise – Whitsunday Islands and Whitehaven Beach – we continued south towards our next destination: Fraser Island. There are two major gateways to the island: Hervey Bay and Noosa, most of the tours leaving from Hervey Bay though. We decided to do the tour from Noosa – as the town is close to Rainbow Beach and the tours offered from there also include a drive on Rainbow Beach. The beach is named Rainbow Beach because it features colorful sand formations. Bianca loves rainbows because she thinks it is one of the most romantic things on earth (and one of the not-so-many physical phenomena she understands) and so, we had to visit Rainbow Beach. As you can only drive on Fraser Island/Rainbow Beach with a 4WD (which are very expensive in Australia) and not with our Spaceship Campervan, we had to do it with a tour. If you are among the lucky ones having a 4WD, you can also do it individually – which is, for sure, an even more thrilling experience. If you do the tour from Hervey Bay, the drive is shorter – so you might get to enjoy more time on Fraser Island (more lakes, …).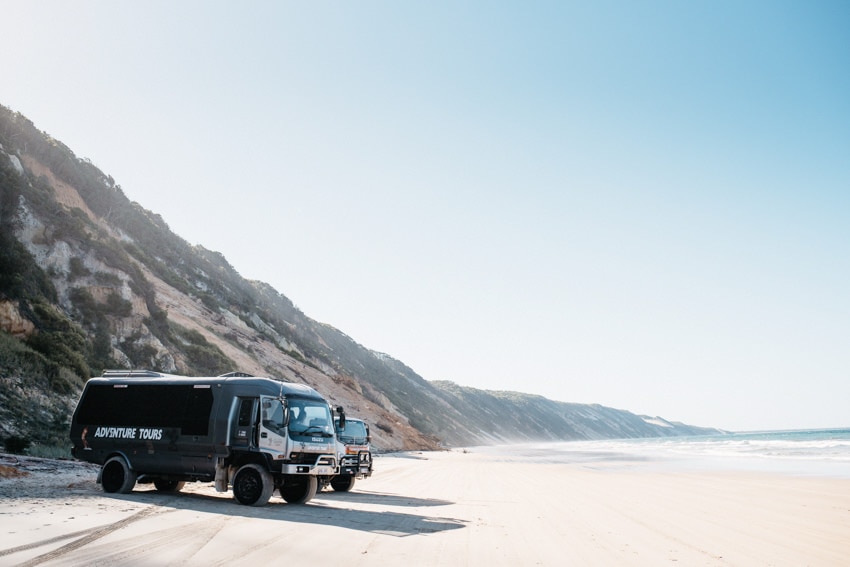 Fraser Island
Fraser Island is the largest sand island in the world. The Aborigines named it "K'gari" which means paradise. The island is part of the Great Sandy National Park and since 1992, a UNESCO World Heritage Site. The island has a huge sweet water occurrence – it is home to almost 200 lakes. The highest mountain on Fraser Island is a sand dune – Mount Bowarrady and the highway is a beach – 75 Mile Beach (which is not 75 but only about 50 miles long). The island is also home to a very diverse fauna (birds, reptiles, dingos, …) and flora (rainforest, mangrove forests, eucalyptus woodland, …). There is no other place in the world, where such a huge rainforest grows in pure sand.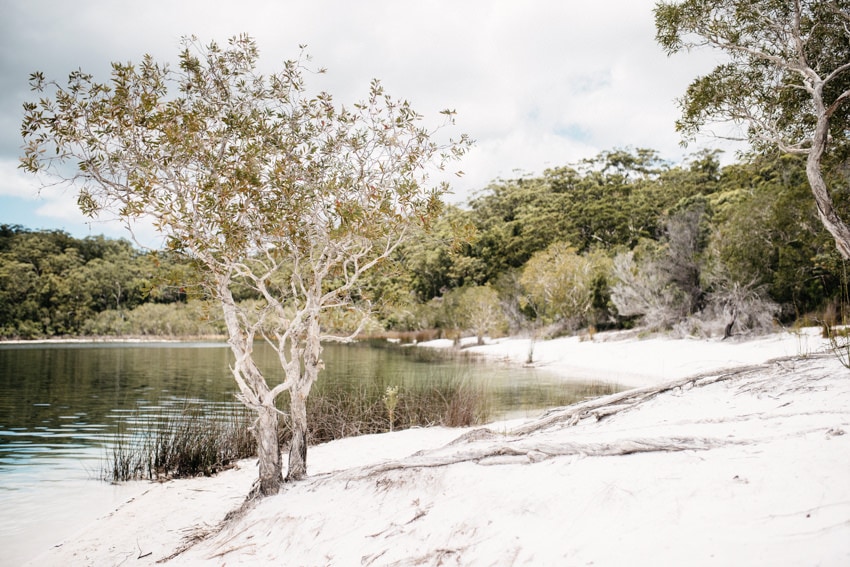 Fraser Island Adventure: 1 Day on a 4WD Bus
Our tour to Fraser Island started very early – we were picked up by our 4WD-bus at the Noosa Marina at 6:30 AM. We had booked the tour with Fraser Island Adventure Tours from Noosa as we also wanted to visit Rainbow Beach. The bus itself is already a huge attraction – its wheels are almost as big as Bianca. If you stay in Noosa, a pick-up from your accommodation is included (also caravan parks) – as we spent the night at a free motorist rest area (10 minutes from Noosa in the direction of Proserpine), we had to drive there in the morning. There are lots of parking spaces available at Noosa Marina and parking is free for the entire day – so we just parked there and were really happy we did not have to spend money on that.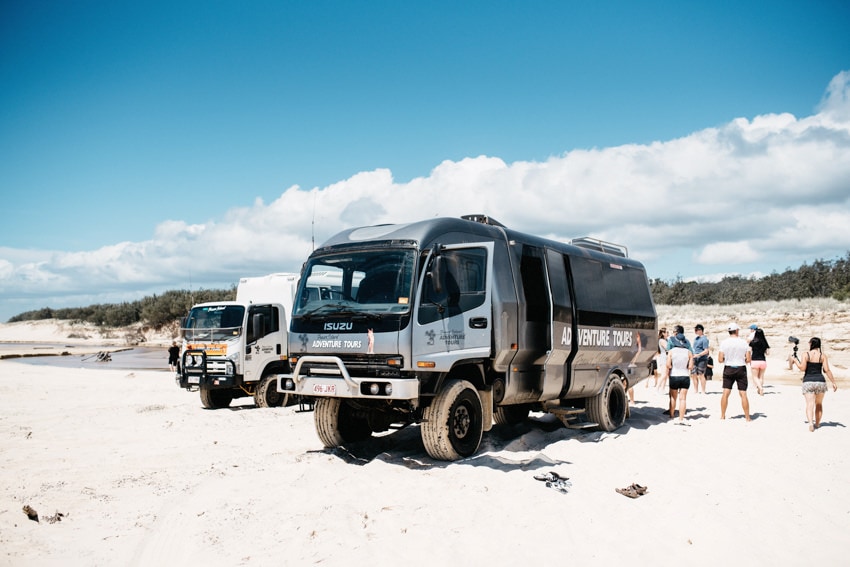 Breakfast on a Highway … at 75 Mile Beach
Our first destination of the day was the ferry to Fraser Island, which we boarded at Inskip Point. We stopped very briefly at Rainbow Beach – only for a quick bathroom stop (and for our driver to have some time to deflate the tires of the bus – just as we had learnt it in Namibia, never drive on sand with too much tire-pressure) because we were gonna come back in the afternoon anyways – and reached the ferry after a partly smooth, partly bumpy 90-minute 4WD-bus drive. In about 15 minutes, the ferry brought us to the destination of the day: Fraser Island. Another 10 minutes of bumpiness later, we eventually arrived at 75 Mile Beach – Fraser Island's highway. The bumpy ride was very funny for us because our tour fellows were all screaming and laughing because of the high level of bumpiness (we felt almost like we think clothes must feel in the washing machine) and we were just sitting in the bus like we were waiting for the bus. We had experienced so many hardcore roads and complete bumpy, sandy 4 WD awesomeness (self-driving not being driven) in Namibia and Botswana and have survived the roads of Zambia that this was almost a train ride for us. Still, it was totally exciting and we enjoyed it very much (probably more than the others that were just screaming and trying to stabilize their necks).
Our first stop was a little creek directly at the beach – or better at the highway (the tour guide told us to mind the traffic when walking from the bus to the ocean because vehicles tend to drive fast – of course, it is a highway). While we were having fun in the sand and tipping our feet in the ocean, our tour guide prepared our morning coffee. There was coffee, tee, fruit juice and cookies – the perfect start in a day on Fraser Island (we slowly get used to eating cookies for breakfast – not so good for our shape but perfect for the mood). When we wanted to take-off to the next stop, we couldn't as our driver (well-experienced, doing tours on Fraser Island for 5 years already) had somehow managed to get stuck in the sand. So, we called the second Fraser Island Adventure Tours Bus, that was always with us and had just left 1 minute before we tried to leave, to come back and tow us out to help us escape from our sandy prison.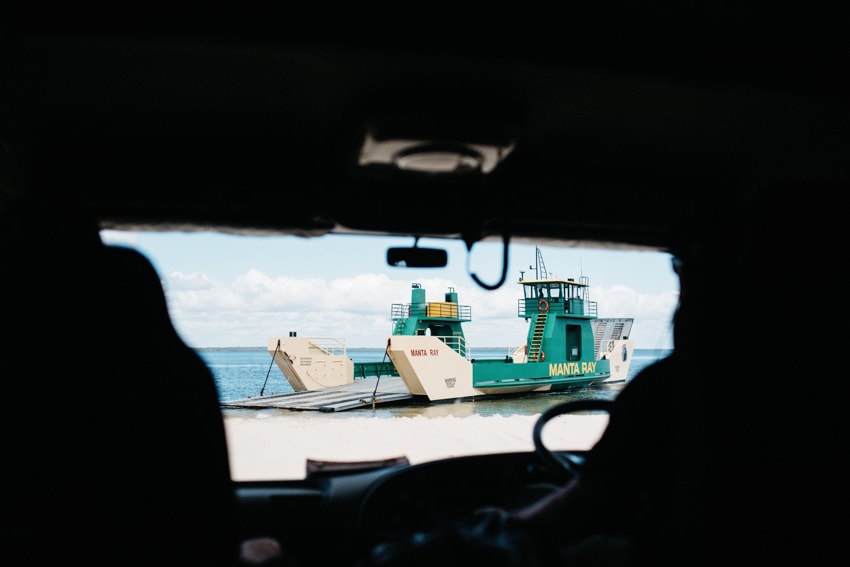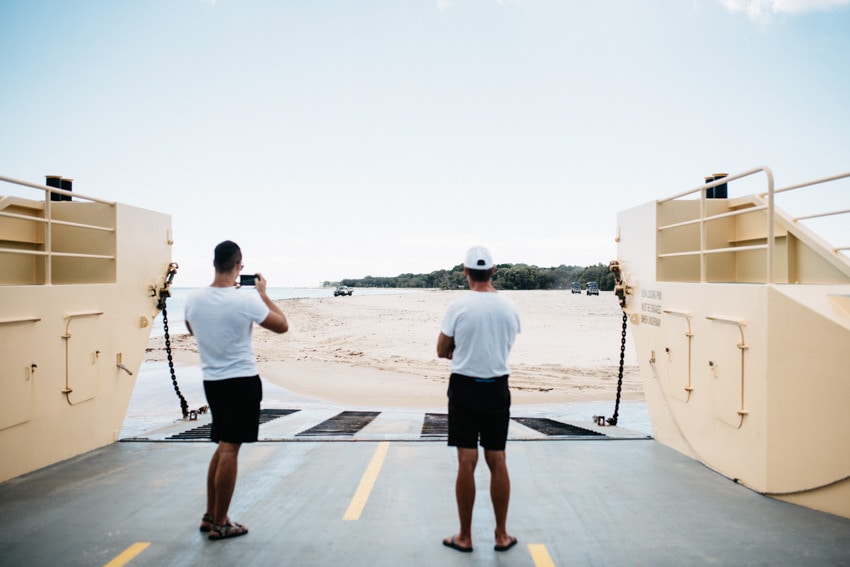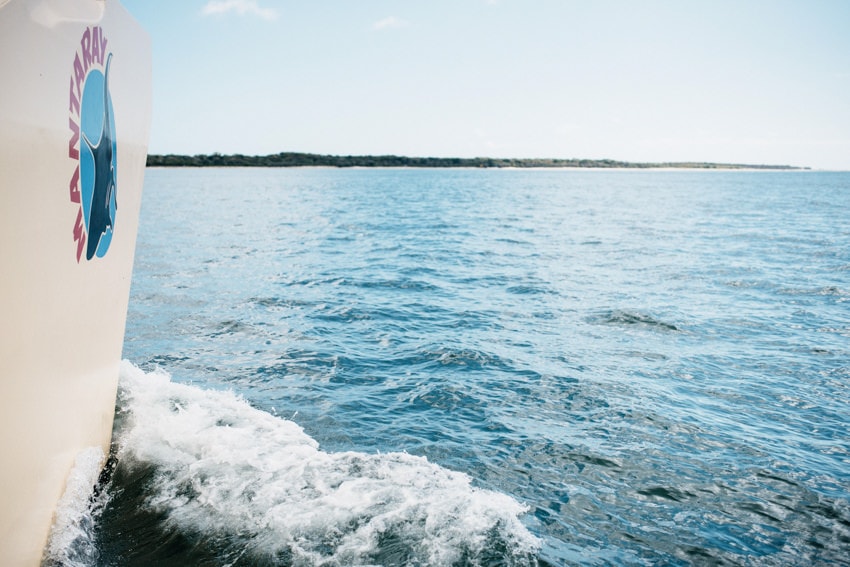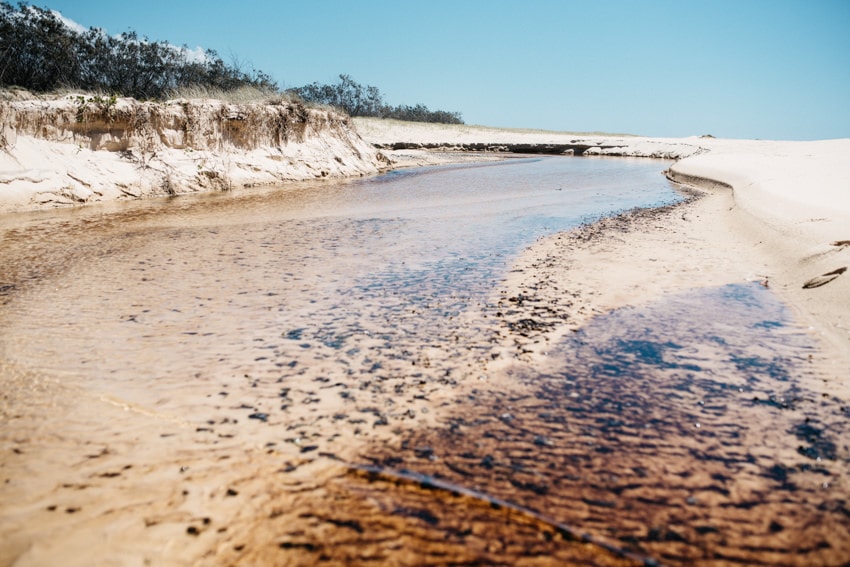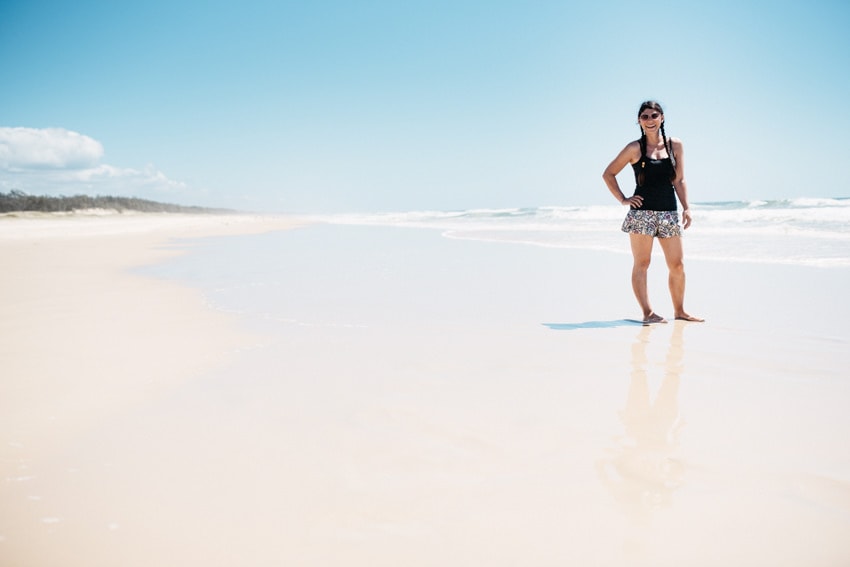 Lake McKenzie
Our next stop was Lake McKenzie – which was about 30 minutes from our morning coffee-stop. We drove through lush rainforests and learnt a lot about the logging history of Fraser Island – which started in the mid-19th century due to the high occurrence of different trees, for example satinay timber, eucalyptus, kauri and oak. Especially satinay is very popular because of rarity and endurance. It was, for example, used for the construction of the Suez Canal. We also learnt that the island accommodates lots of animals such as Dingos (which look like dogs – not the cute dogs though), mammals such as wallabies, possums and echidnas, many different birds and, of course, reptiles. Geckos, frogs and 19 types of snakes (quote of our guide: some of them are friendly, some of them are not so friendly e.g. red bellied black and eastern brown snake but they are really shy and do not really want to be seen by you) call Fraser Island their home.
After our little flora and fauna-class, we arrived at the lake. We got an hour to chill-out at the lake, swim and exfoliate in the white sand. The sand is very fine (it consists of pure silica) and the water of the lake is, with a PH-level of about 4, slightly acidic. In combination, they can be used for a pretty well free spa-exfoliation treatment: first, you go into the water to get wet, then you roll in the sand covering your entire body in sand, then you rub the sand into your skin (like a peeling) and then you jump into the water again. The treatment will leave you with baby-soft skin – highly recommended.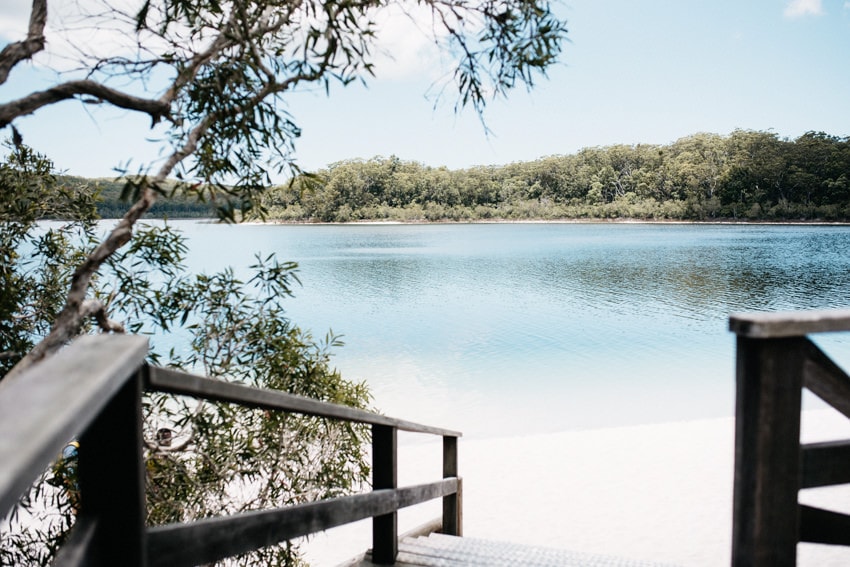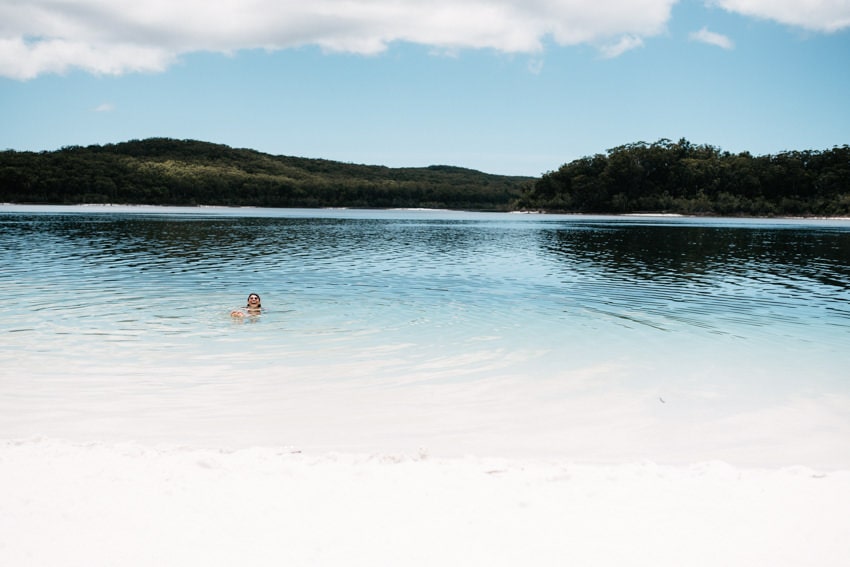 When we got back to the picnic area, the BBQ-lunch was already prepared. When booking the tour, you are asked to pick your preferred main course (so they can plan accordingly and bring what people want) – steak, fish, sausage or vegetable patties. There was also a huge salad buffet – everything we dreamt of for weeks – feta, olives, coleslaw, beetroot, eggs, lettuce, tomatoes, cucumbers. As a dessert, fresh fruit was available and there was even a bar (coke, lemonade, beer – everything was available – free of charge).




Central Station
After the great lunch (where we ate way too much again – but the salads and everything was just too good again) we headed towards Central Station for a little bushwalk. Central station is the historic heart of the island – in earlier times, it was like the capital city accommodating all infrastructure (houses, a school, …) for the loggers and their families. The area is surrounded by a thick forest in which we took a short, guided walk to the silent creek. Silent creek (Wanggoolba Creek) is not called silent creek because you cannot hear it (which you can't) but because it is really hard to spot it. It is neither visible nor audible because the water runs over white sand – not like other creeks over rocks.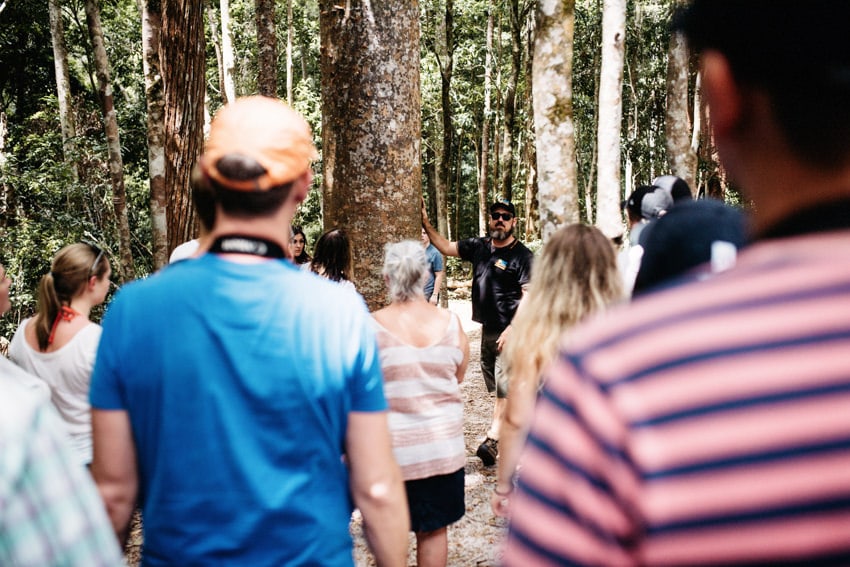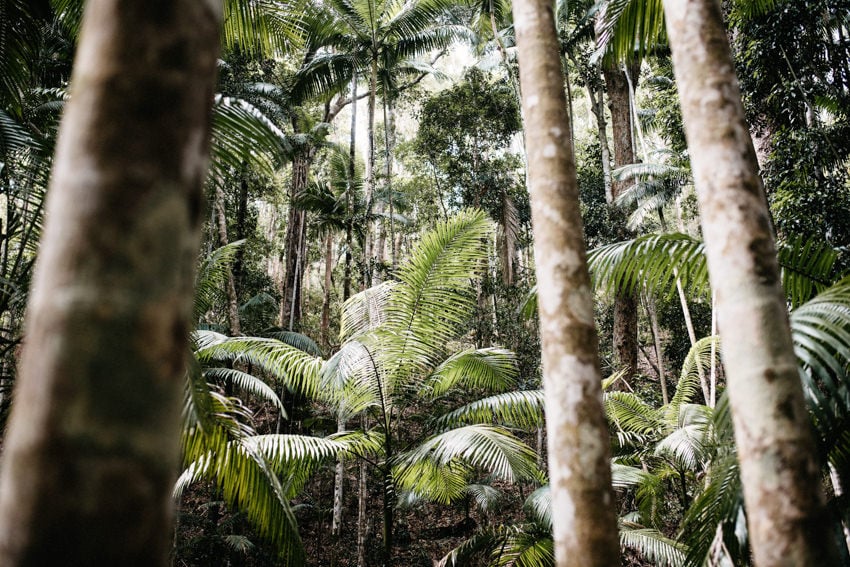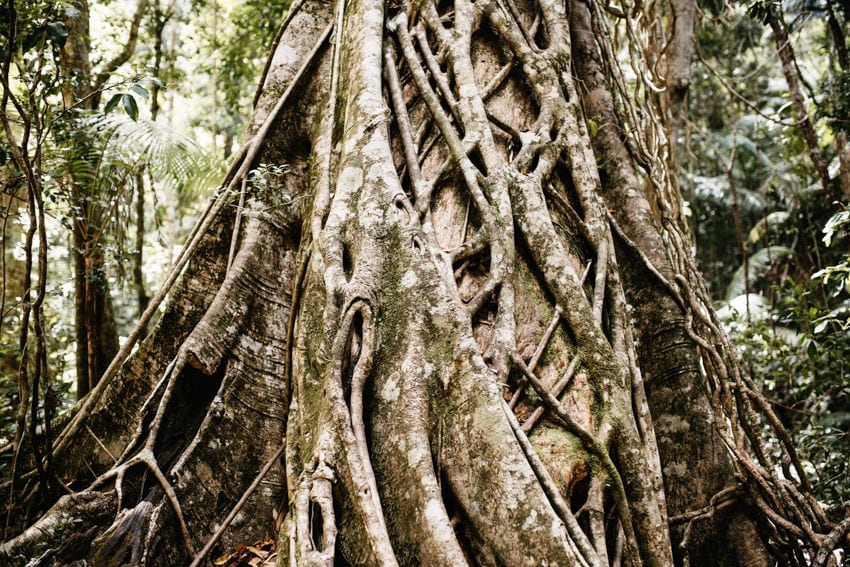 Rainbow Beach
After our visit to Central Station, our time on Fraser Island was already over. One day is not enough to explore all jewels of the island – all the lakes, creeks, forests and sand formations it is home to. Should we ever return to Australia, we will definitely make sure we get to spend more time on Fraser Island – preferably with our own 4WD-rental car.
On our way home, we drove another route than to the island – over rainbow beach. Rainbow Beach, as the name already states, is a colorful beach. Because of different minerals in the sand (zircon, rutile and many more), it took on many different colors at some points.
Just when Bianca said that she feels like having coffee and a Lamington (an Australian sweet that consists of a white sponge cake that is covered in chocolate and rolled in coconut; there is also a version that is filled with raspberry jam – tastes very synthetic but gooooood), we stopped for our afternoon tea at the beach. Bianca was a lucky girl because there was coffee and Lamingtons served. She was so happy that the colorful sand formations where even more colorful and beautiful – as if the Lamington was LSD. But it is always pretty easy to make her happy – just give her a piece of cake and she will most of the time be fine.
After our Coffee-Lamington-Picture break in the beautiful scenery of colorful sand formations – reminding us on our vacation in Provence in 2016 where we visited, among others, the village Roussillon (very pretty and just as scenic as rainbow beach), it was time to return to Noosa. We arrived back at 5:00 PM after a pretty long day packed with adventure and fun with sand.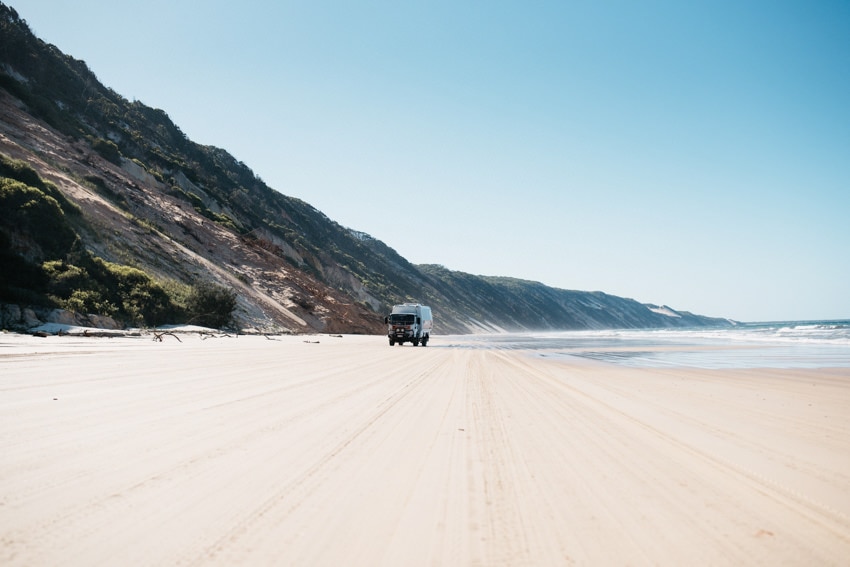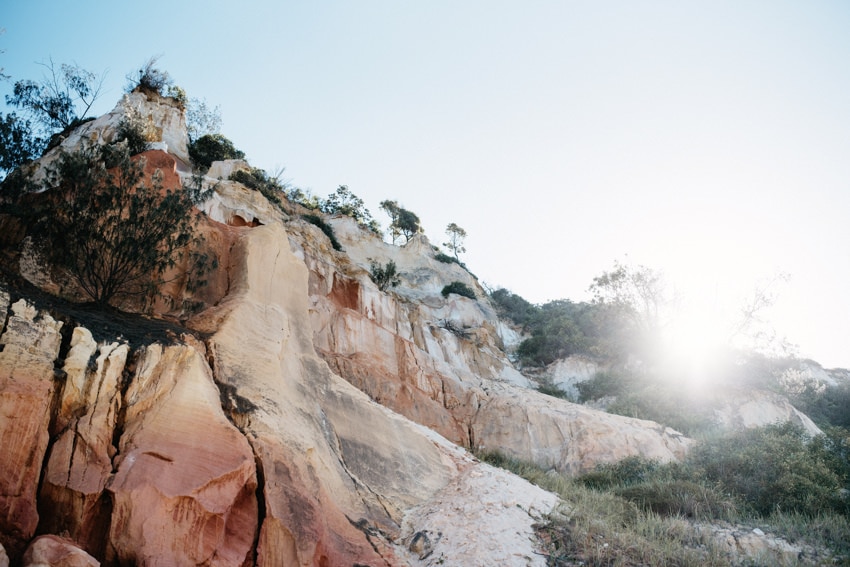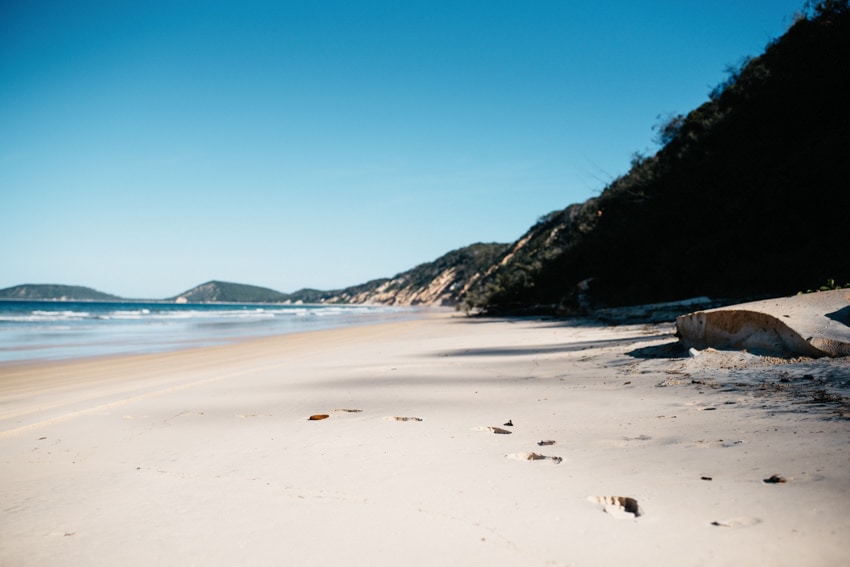 The Tour with Fraser Island Adventure Tours
Cost: 180 AUD / per person
The booking process was quick and easy – we booked online on their website and received a confirmation right away. The communication with them was very easy – we received recommendations for campsites in Noosa, all info about when we needed to be where and they always answered our e-mails quickly. The tour includes morning/afternoon tea/coffee, lunch, a driver/guide, the ferry, pick-up/drop-off at your Noosa accommodation. Everything was perfectly organized – the tour was very informative, we covered everything as promised, the drive was safe (seat belts in the bus, …) and the size of the group was not too big. One bus fits around 20 people, which is a personal, still private group size – you get to know lots of people but it is not so big that it gets impersonal and too touristy. We do really recommend Fraser Island Adventure Tours for you Fraser Island Adventure.
If you fancy a hotel before your trip to Fraser Island, book here: