Vietnam's infrastructure is great and by car, bus, train or airplane you can reach most of the tourist destinations. Of course, streets are not at an Western European standard and you don't move as fast as at home but in general, we have made no negative encounter with Vietnamese Streets.
Booking your transfer
Every hotel, hostel, guesthouse, tour operator and visitor information offers a transportation booking service. There are also flight centres spread all over the touristy places, where you can book flights. Commissions are not super-high, so the price is not exceptionally higher when you have it booked instead of booking it on your own. We booked tickets by ourselves and in our accommodation and concluded that booking on our own is the better way to do it.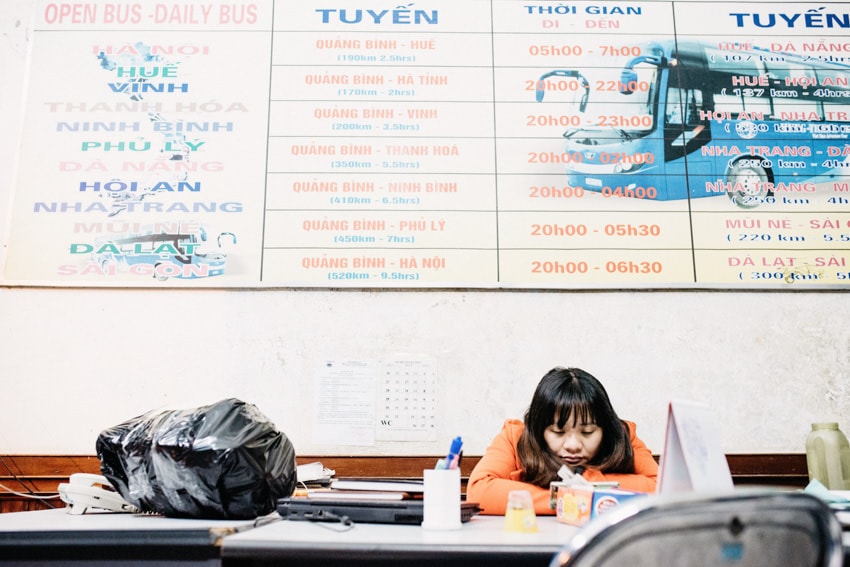 Baolau – the easiest source to book your transfer
The booking platform www.baolau.com is the best source to book transportation in Vietnam. It is also available for Laos, Cambodia and Thailand.Why Baolau is the best way to book:
Baolau is easy to use
The booking platform is set up completely in English. It is easy to navigate through – you just need to enter your origin, destination, number of travellers and date of travel, select one-way or return and you are good to go. Baolau offers the big advantage that is scans four different modes of transportation in one search: bus, plane, train and ferry. So, you don't need to enter your search in different platforms for each – you can easily do it on one platform.
Baolau is fast
Booking on Baolau is the fastest way to book your transfer and you can book it at any time at any place.
Baolau is convenient
Booking on Baolau is as convenient as booking on booking.com (accommodation) or swoodoo.com (flights). You select your desired transportation, select "book" and enter your details and payment method. Your booking will be completed in about 5-10 minutes.
The big advantage for Baolau
No need for cash to purchase a ticket (every ATM in Vietnam charges a transaction fee, so withdrawing money is not very cheap)
No print ticket – you receive an online ticket that you have on your phone – no need to carry a printed ticket – which you may lose before boarding the transfer)
We booked many tickets via the platform and can highly recommend it!