Halong Bay is a UNESCO World Heritage Site that is located in the North-East of Vietnam. It encompasses thousands of limestone karst mountains and islands. The landscape was formed over millions of years – creating an area of high geo- and biodiversity. Halong Bay was recognized as a UNESCO World Heritage twice – for its outstanding beauty and its geological value.
Bai Tu Long – Halong "off the beaten track"
If you visit Vietnam and you don't visit the Halong Bay, your trip to Vietnam is not complete. We almost ended up skipping one of the most significant sights in Vietnam – which is also one of the most travelled. Every touristy place is not touristy for no reason – usually, they are just crowded and overrun by travellers from all over the world because they are really beautiful. The idea of going to the Halong Bay with 150,000 other tourists just did not sound very attracting to us. Additionally, trips to Halong Bay tend to be pretty expensive (not to say ridiculously overpriced) and when spending a lot of money, we strive for a unique experience. So, we considered skipping it completely but then decided to do some research and maybe find a less travelled route, which we found with the Bai Tu Long Bay. But, apart from this decision, there are further decisions you have to make.
Booking in advance vs. Booking in Hanoi
Booking in Hanoi, you can make unbelievable bargains. Walking through the center of Hanoi, we saw hundreds of tour operators battling for customers by undercutting each other regarding the price. So, if the Halong Bay-trip is a price-sensitive topic for you, you should definitely book in Hanoi once you get there. Time is not really an issue, you can usually still get available spots for the next day. By booking there, you can save up to 50-100 USD per person. The cheapest tour we discovered in Hanoi was 50 USD for the 1-Day Tour, 100 USD for the 2-Day/1-Night Tour and 150 USD for the 3-Day/2-Night Tour.
We booked about one month in advance. We, basically, compared the ships going to Bai Tu Long Bay only. These are usually rather small boats (with an average of 20-25 people on board) – so prices are generally higher and boats booked out in advance. We booked the 3-Day/2-Night Trip to Bai Tu Long with Indochina Junk (which is one of the most exclusive junks) and paid 275 EUR (340 USD) per person for 3 Days / 2 Nights. This is pretty much double the price you pay when booking a bigger boat to Halong Bay in Hanoi.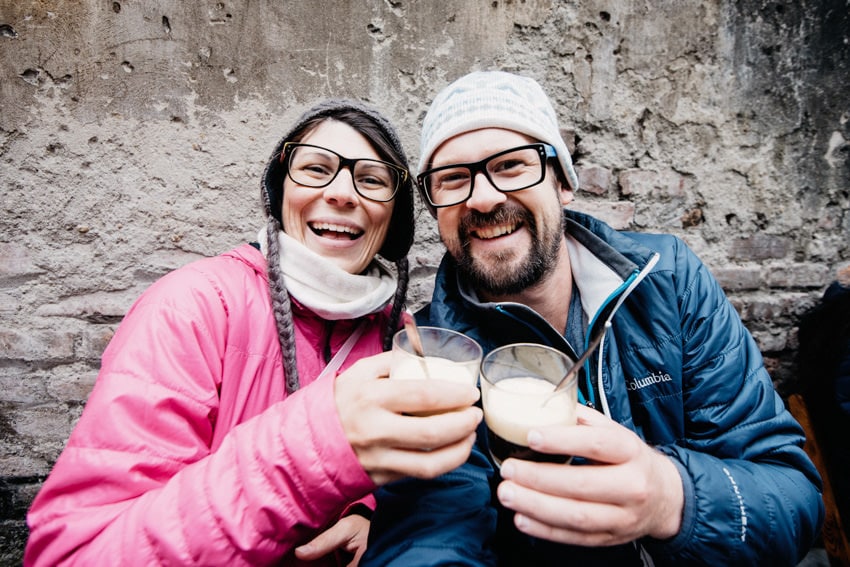 Length of the Trip
In general, there are 3 options: 1 Day, 2 Day/1 Night and 3 Day/2 Nights
We spent 3 Days and 2 Nights in Bai Tu Long Bay. The major reason for our decision was that travel time to Ha Long from Hanoi is about 4 hours. So, if you spend only 1 Day in the Bay, it will be a very long day and you won't get to see a lot of the bay – you rather spend a lot of time on the shuttle bus. If you spend 2 Day and 1 Night on the boat, it is definitely better than only 1 day, but still, it is not a very extensive trip. You spend 8 hours on the bus to spend 24 hours in the bay (including the touristy visit of a pearl farm with the obligatory guided tour at that ends with the sentence "and here is the showroom where you can buy our products"). The 3 Day/2 Night is the most expensive option but definitely the one that makes you enjoy the trip the most as you get to spend 1 entire day in the bay cruising around the karst mountains, exploring caves and visiting an island.
Junk or Cruise Ship
There are many ships available for a trip to Halong Bay but they are all of either type: Junk or Cruise Ship (not the really big ones but still in the style of a cruise ship). The Junk is the typical way to explore the bay, however, recently new cruise ship companies popped up now offering tours to Halong Bay (so, there are some rather new boats available). As we always prefer the authentic way of travelling to the luxurious, we decided to go with the Junk. Most of the cruise ships have rooms with balconies and bigger cabins. Junks have smaller rooms and mostly no balconies (which we did not need anyway because we visited in winter and it was just freezing).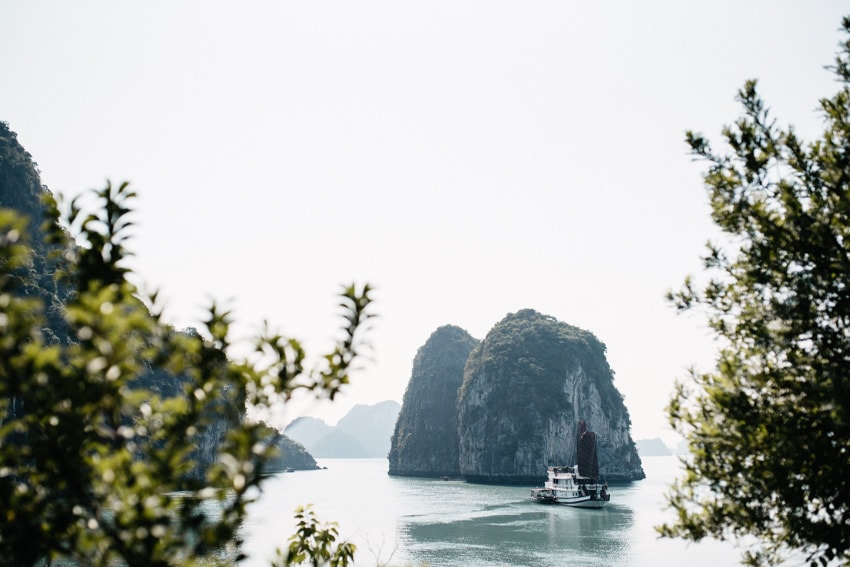 Travel Time
We visited Halong Bay in winter – knowing that it would be chilly. Winter and spring (December – April) is the best time to visit – it is dry, as opposed to summer, when it is hot, humid and storms tend to occur. However, from December to February, it can be quite cold and foggy and visibility, therefore, limited. We visited in January and when we arrived, it was freezing with temperatures below 10°Celsius (50 Fahrenheit). We were really lucky as the weather changed once we reached the bay. When planning a trip to Vietnam, it is recommended to also consider the travel time for Halong Bay – January is definitely not the best month to visit. Still, at that time of the year, the bay features a mystic beauty and is still worth visiting.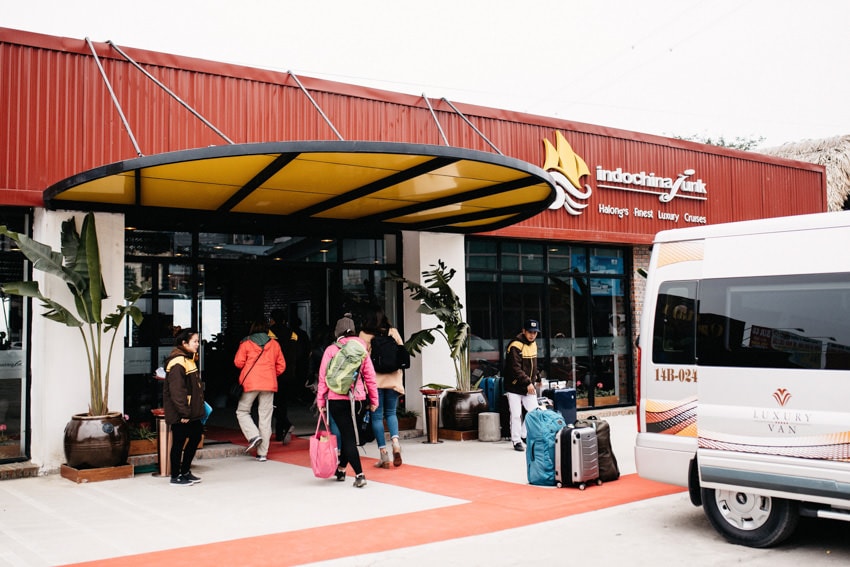 Bai Tu Long Bay with Indochina Junk
During of our research and also thanks to "TripAdvisor", we found Indochina Junk. It is a company that goes the less travelled route "Bai Tu Long"-Bay and describe themselves as sustainable and caring for a green bay. They are not necessarily the cheapest but our online research has proven that, if you look for a smaller boat, the cruises are generally not a bargain.
Cost for 3 Days/2 Nights: 270 EUR (340 USD) per person
Including:
Transfer in a luxury van to Halong and back (to your accommodation in Hanoi)
Guide
3 meals / day (breakfast, lunch and dinner)
Water
Excludes:
Drinks
Tips
Personal Expenses

The Itinerary
We got picked up on the first day at 7:45 AM at our hostel in Hanoi by a luxury van. The car was really comfortable and only fit 6 people (it was very private). Before we boarded the boat, we stopped in the village of Yen Doc for lunch and to watch a traditional water puppet show. The water puppet show was cute and showed typical scenes of Vietnamese life (fishing, growing rice, etc.). It was very interesting to watch and see how they implemented it technically (6 hidden ladies controlling the puppets from inside the water).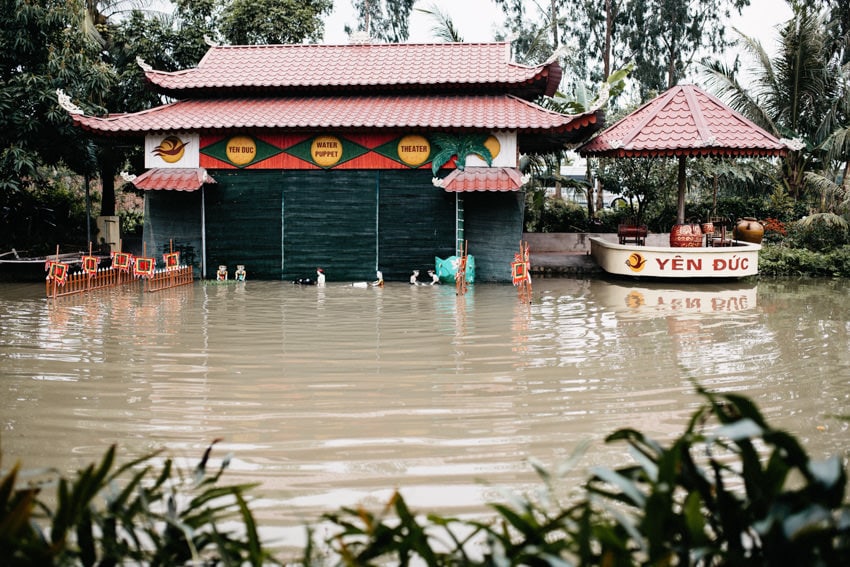 After lunch, we boarded Indochina Junk. While sailing to our spot for the night (about 3 hours), we got a welcome drink (watermelon juice) and an introduction to the bay from our guide. As we shipped through the bay, we had time to explore the junk and spend time on the sundeck (they provided blankets) and enjoy the wonderful view on the limestone karst formations from a kayak. At night, they served us a 7-course Vietnamese Dinner, which was just delicious.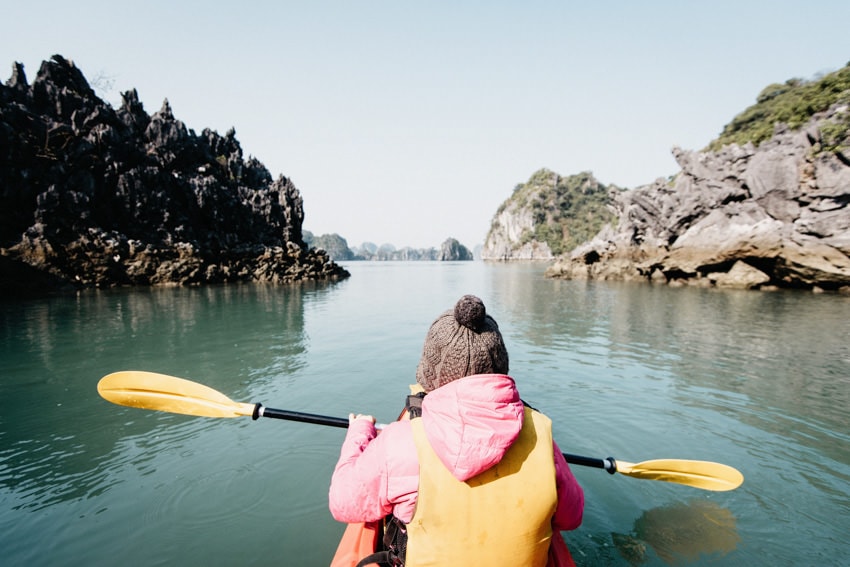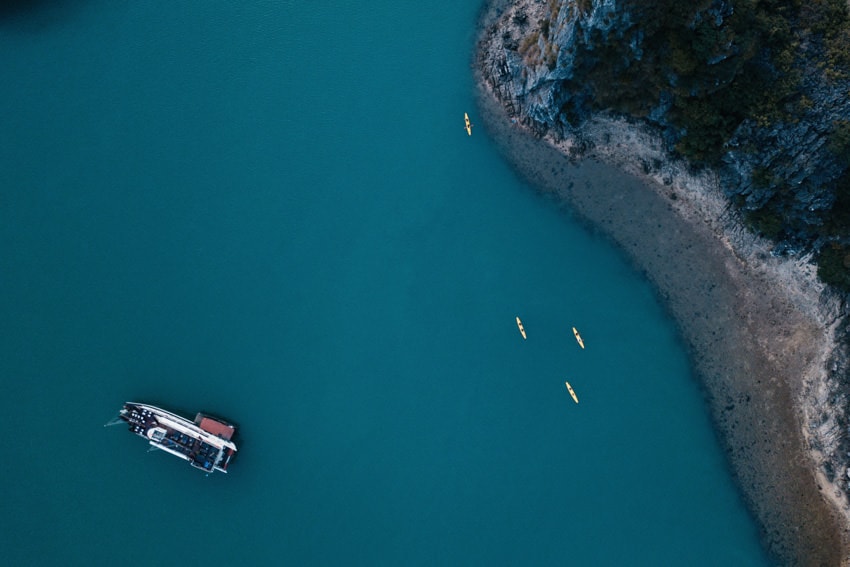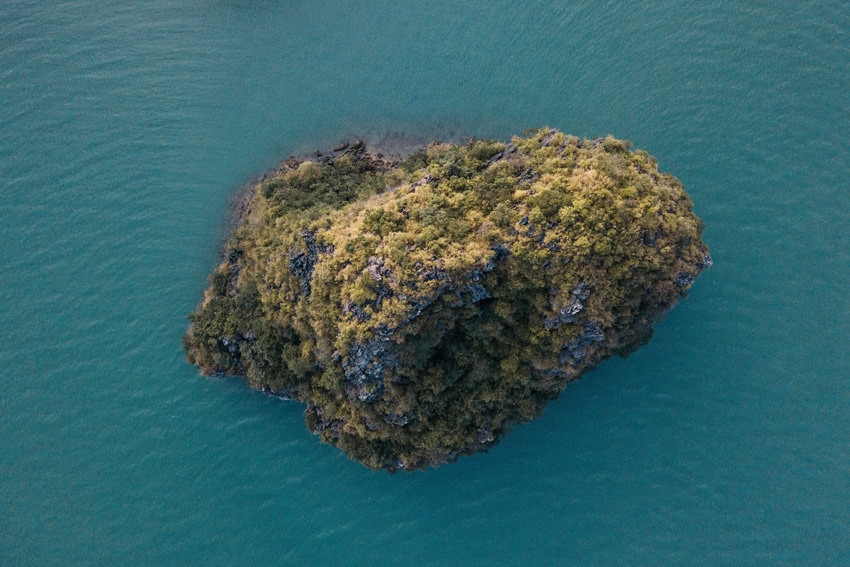 The next morning started with breakfast at 7:30 AM. Around 10:00 AM, we had reached the destination of the day – a little island with white sand (not whitsunday-white but close) surrounded by karst mountains. We visited a little cave and had a BBQ lunch at the beach. The weather was perfect – it had changed from freezing, windy and foggy 5°Celsius (40 Fahrenheit) to warm, sunny and clear 15°Celsius (60 Fahrenheit). After our beach excursion, we headed back to the boat where we relaxed on the sundeck and enjoyed the view while shipping to the overnight location.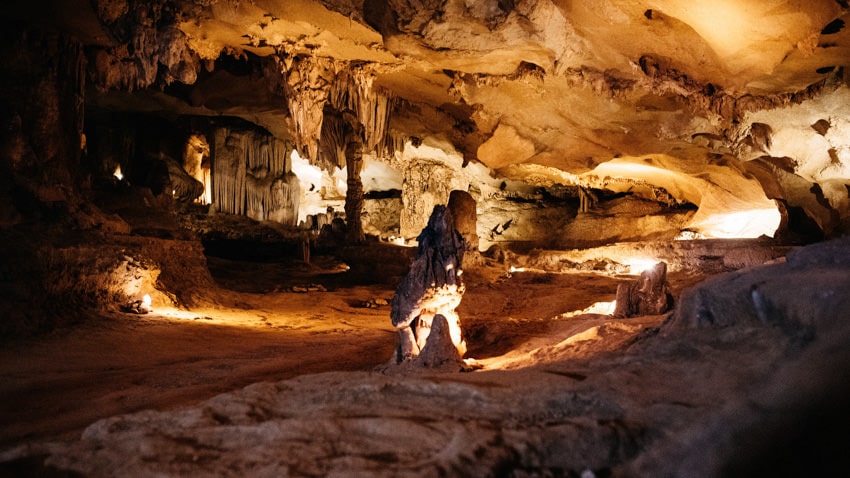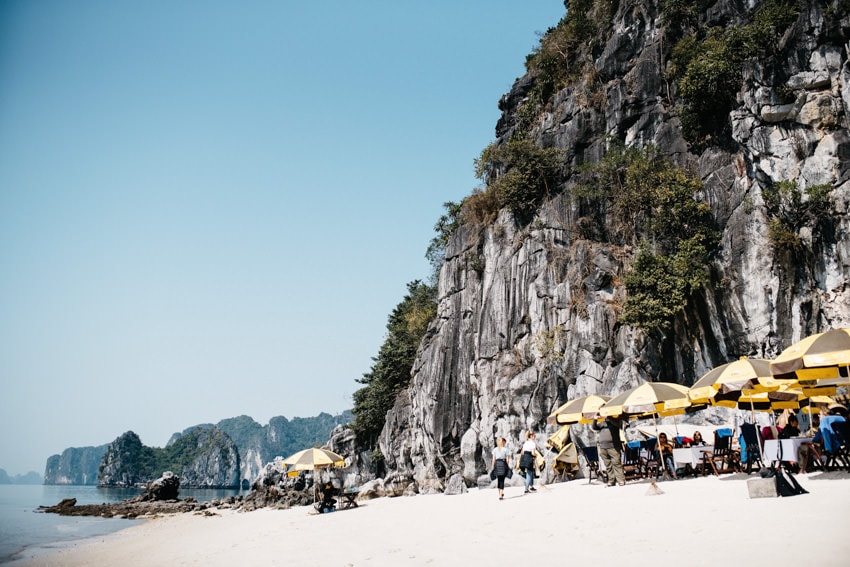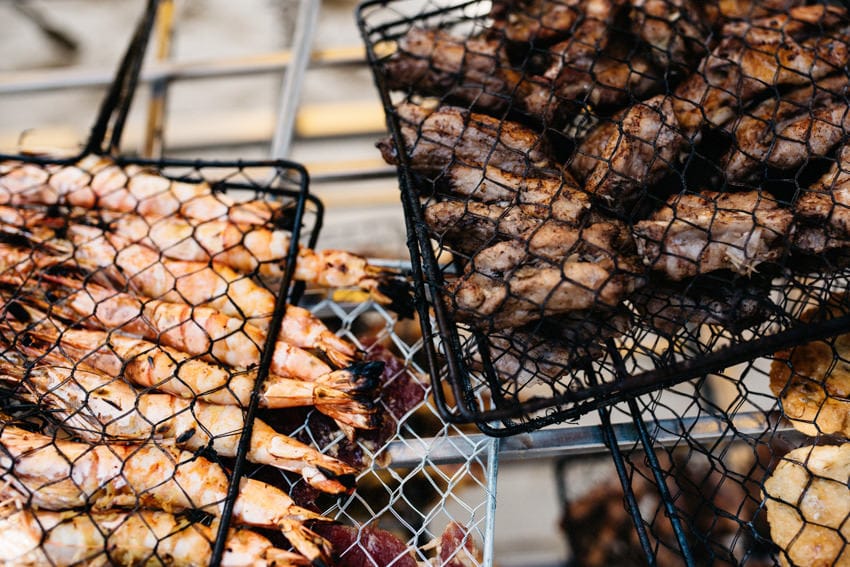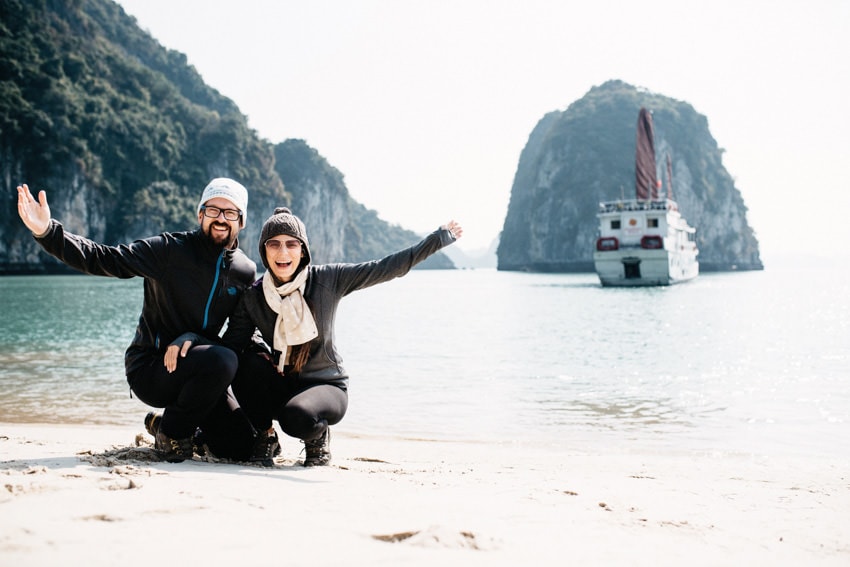 On our last day, we visited a typical fisher village in the morning. Many fisher families live in Halong Bay on little "islands" (that are more wooden constructions that float on the water), earning their living from fishing. After that, we visited pearl/oyster farm and got to admire the largest oyster in the world.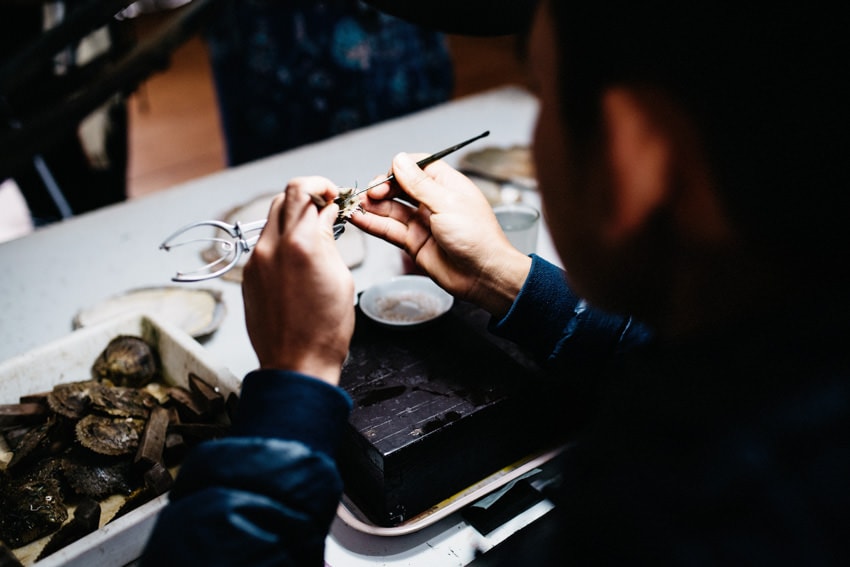 Indochina Junk
We really enjoyed our trip with Indochina Junk. Bai Tu Long Bay is abandoned, while you will share Halong Bay with hundreds of other boats, Bai Tu Long Bay is not crowded at all – we spotted a maximum of 10 other boats. Indochina Junk is very concerned to offer a unique and relaxing experience. They ask for food allergies and if you have any, you will get your own meals (separately served so that no ingredients you can't eat will be included).
The only thing we did not like about our trip were two long breaks we took with the shuttle on the way to the bay and back. Each break was about 30 minutes and we stopped at a very expensive "souvenir" rest stop, where super-expensive marble statues were being sold (we discovered one for almost 200,000 EUR (250,000 USD). On our way to the bay, it was freezing cold and the rest stop was not heated (and the doors open on all sides), so we basically froze for 30 minutes. It is good to have a "bathroom" stop, however, 30 minutes is too long – we had the feeling they just wanted us to buy something at the store.
Book your hotel in Hanoi before your cruise