Our first stop in Laos was Vang Vieng. We flew into Vientiane, where we took a minibus to Vang Vieng. We took the bus by the company Malany which we had pre-booked online on baolau.com. It cost 6 USD per person. We do highly recommend pre-booking this bus as it was fully booked when we arrived in Vientiane. You may still be able to catch a bus if you have not pre-booked, however, it might include some waiting time. The transfer from Vientiane to Vang Vieng (about 160 kilometers / 100 miles) takes 4-5 hours (including one break for snacks, drinks and bathroom). Surprisingly, the bathroom was not for free where we stopped (it cost 1,000 Kip to use it). The streets in Laos are pretty bad – you will barely find properly paved roads. Usually it is a mixture of paved (with deep potholes), gravel road and dirt road. The street from Vientiane to Vang Vieng and further to Luang Prabang is one of the better roads – still, it is not good.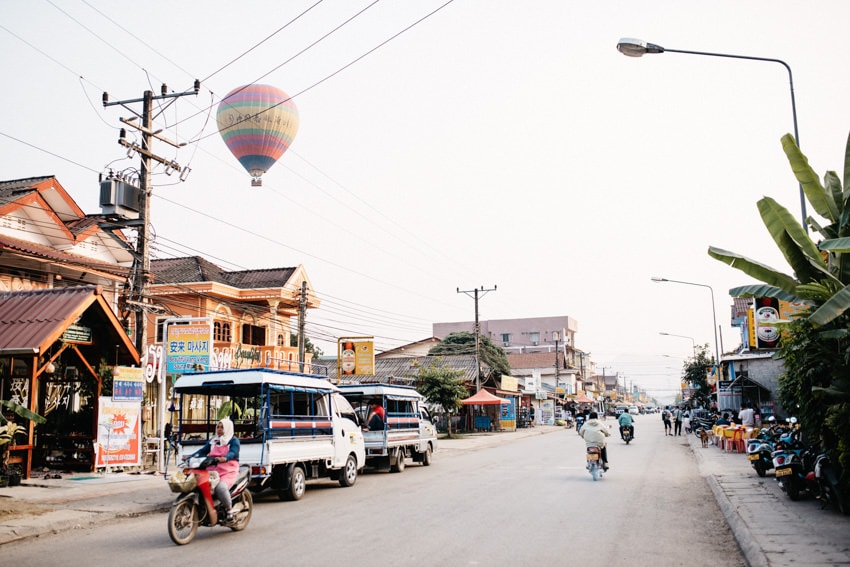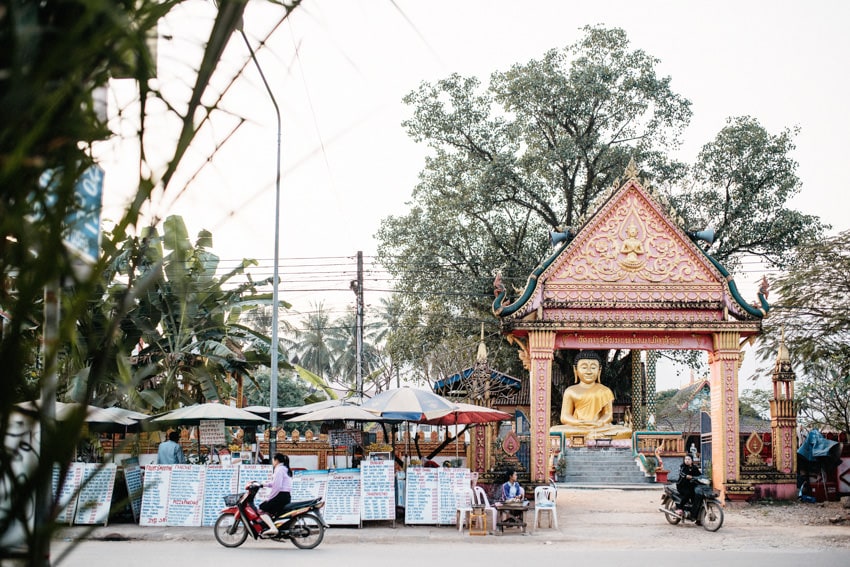 Vang Vieng
Vang Vieng is a rather small town between Vientiane and Luang Prabang. So, it is the perfect stopover along the journey from Vientiane to Luang Prabang. The town lies directly on the Nam Xong (Nam Song) River and is surrounded by a stunning landscape with lots of karst mountains. The major activities in the area are kayaking, tubing, climbing as well as visits to the caves and lagoons. Vang Vieng used to be the party mecca of Laos. Backpackers came from all over the world to tube down the Nam Song in a drunk – some even in a high – condition. Unfortunately, this led to many lethal accidents in the rapids and therefore, the government had many bars close down in 2012.
How much time do you need in Vang Vieng?
We would not necessarily call ourselves party people (well, at least, not anymore – especially Bianca partied really hard in her 20s, she wasn't really partying, she actually was the party) but, still, we did not want to skip Vang Vieng. We do not regret that we stopped in Vang Vieng as the landscape is absolutely stunning. We spent 2 days in town and think that this is the right amount of time – we do not recommend a shorter stay, however, we also do not think that you need more time. However, if you want to go kayaking, visit some caves and explore the surrounding villages, you may need a third day.
Vang Vieng on a motorbike
We have read many articles about what you can do in Vang Vieng that is "not the blue lagoon". Yes, the lagoons are touristy and yes, the lagoons are not as pretty as you may assume but still, we wanted to visit them. A total of 5 blue lagoons can be found in the surroundings of Vang Vieng. We decided to rent a motorbike and explore the area around Vang Vieng on our own for one day. We wanted to add a little bit of the local culture and an authentic experience to the rather touristy agenda of the day.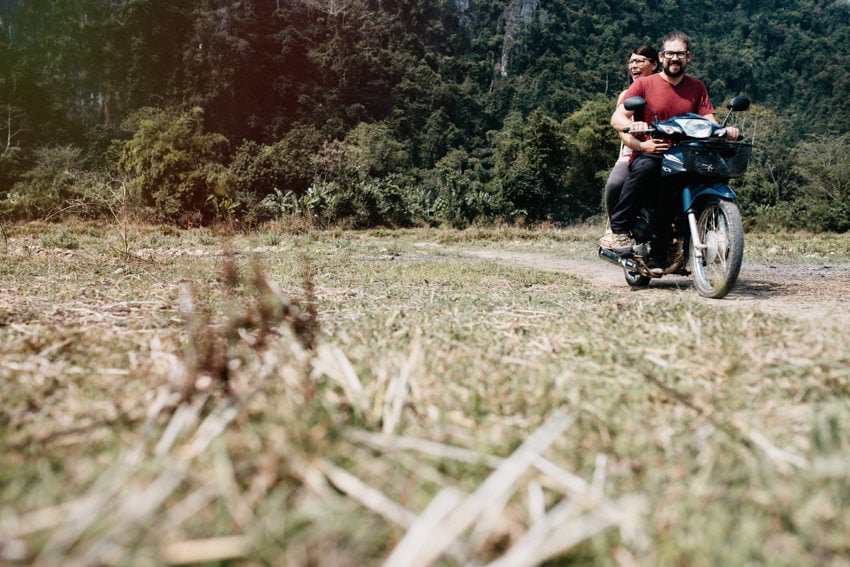 Renting a Motorbike
We rent a motorbike at our accommodation for 60,000 KIP (about 6 EUR / 7 USD for one day excluding gas). You can rent motorbikes all over the city and the average price is between 40,000 and 60,000 KIP for one day (return is usually at 7:00 PM). If you have time, it makes sense to compare prices although you won't save a fortune (appr. 1-2 EUR / 2-3 USD). However, if you travel on a tight budget, every Cent will make a difference. We filled 3 liters of fuel into the motorbike (3 EUR / 4 USD) and found out that it was way too much. We drove about 80 kilometers / 50 miles on that day and did not even use half of the tank. Better to be safe than sorry, the entire day we haven't seen any gas station.
Apart from the motorbike, you also receive two helmets (not the safe ones, more the ones that do not fit and in case of an accident will not really prevent you from anything) and a free map of Vang Vieng and the surroundings (lagoons, caves, …).
Buggy – the alternative way to move around
The alternative way to getting around is renting a buggy car. These are special buggies made for a little offroad driving experience on the sandy / dirt roads of Laos. Basically, every tour operator in Vang Vieng rents them (just ask there for the price) – they are definitely more expensive than a motorbike. We saw lots of people driving around with them and they all seemed to have a lot of fun.
Blue Lagoon and Poukham Cave
We visited the Blue Lagoon first as we had seen many stunning pictures. When we arrived, we found out that the live-version, is not as beautiful and scenic as the picture version. The lagoon was crowded with fun-seeking people, mostly Chinese. They were lining up to climb the tree and jump into the water – in shorts with long trousers underneath (probably so they don't get cold), shirts, some of them even wore rain jackets (probably so they don't get wet) and of course, hats, sunglasses and life jackets (probably so they don't drown in the blue lagoon). As we are not the real enjoyers of Chinese crowds (we enjoy observing them for some time but that's it), we made our way to the cave instead.
Poukham Cave
Although we were told the Luci Cave was the most beautiful, we visited the Poukham Cave. The reason was that Lucie Cave is pretty off the track (which can also be a blessing because it probably is not that crowded). The disadvantage is that we could not find the way to there – we found a way, but it wasn't really manageable with our motorbike.
As we had visited the Phong-Na-Ke-Bang National Park in Vietnam just 2 weeks earlier, we thought that no cave was ever going to be able to impress us. Poukham Cave is not in any case comparable to the caves in Phong-Na-Ke-Bang National Park, however, we genuinely enjoyed it.
The reasons are:
The cave is abandoned (although it is located directly next to the Blue Lagoon)
There is no pathway that leads through the cave (only a few red arrows that somehow point out the direction)
Apart from the part where the entrance is located, the cave is completely dark (you can rent torches but we used the flashlights of our iPhones)
So, visiting the Poukham Cave is a little bit of an adventure. The entrance fee is pretty cheap (about 1 EUR/1,50 USD) and we think it was worth it. However, the Blue Lagoon is not really worth it as it is crowded and the area is tiny so it quickly fills up with people.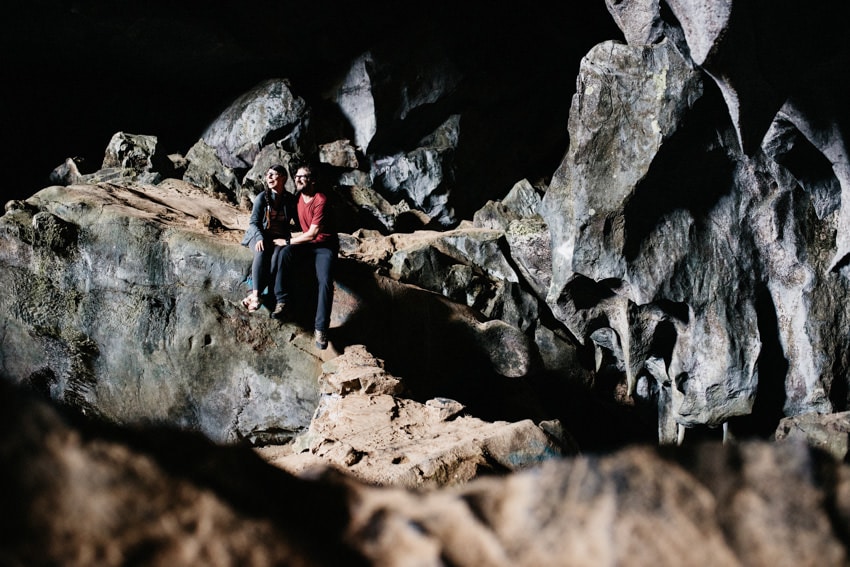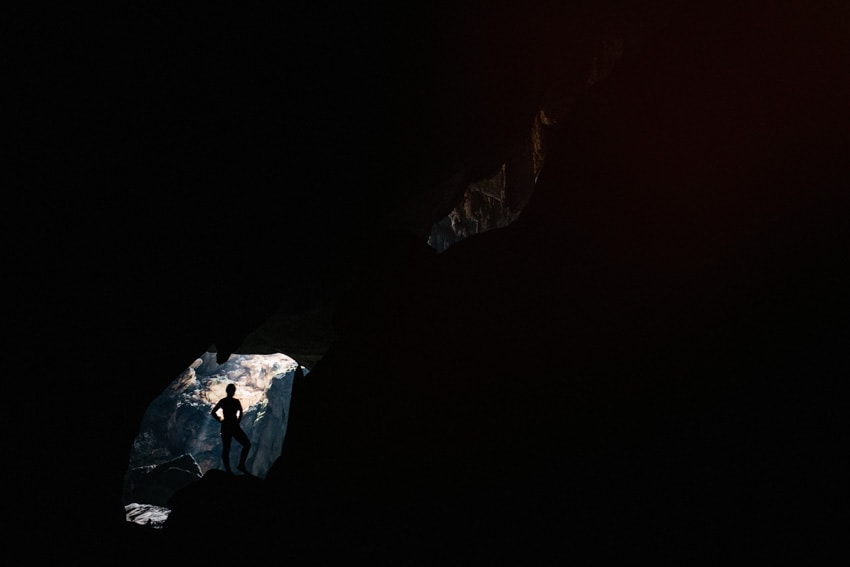 Lagoon 2 & 3
We drove a loop through the villages surrounding Vang Vieng passing the mountain ranges that dominate the landscape to our left and right. Doing the loop, we also passed 2 further lagoons (2 & 3), however, they were all crowded and so, we saved the entrance fee and not go inside.
The Highlight: Laotian Village Life
We continued our drive through the villages and it was very interesting to watch Laotian life. Every village has a primary school, which had just ended when we drove through the villages. We observed many pupils on their way home from school in their traditional clothes – some walking, some with a bike. We found out that every house has a satellite dish – really massive ones. They are so massive that almost the entire house is hidden behind the satellite dish. Other than masses of pupils that fill the streets when school ends, the streets of the villages are pretty abandoned. You see the occasional motorbike – sometimes with only one passenger, sometimes with entire families, some restaurants with just a few tables and some little markets where you can buy snacks and drinks. All in all, we felt like time had just been turned back about 100 years – everything is very slow, calm and relaxed.
Tubing on the Nam Song River
We also couldn't stand the temptation and tried the Tubing on the Nam Song River. Most of the bars were closed after too many party-lovers had consumed too much drugs (mainly alcohol) and then died in the rapids of the river. Still, enough bars are open to engage into drinking in combination with tubing if you really want to. We, basically just liked the idea of sitting in a large tube and floating down the river. So, we tried it and her is what we learnt:
Tubing is not a "tour" that you can book.
Tubing starts at the "Tubing Office" where you just show up whenever you want to go Tubing. You pay the fee (60,000 KIP) and the deposit (60,000 KIP). The deposit is for the tube – if you bring it back, you get your money back, if you arrive back without a tube, they will keep the 60,000 KIP. It includes the transfer if there is more than 3 people going – which is basically always the case. Whenever we passed the office, at least 10 people were lining up. In the very unlikely case that there are no other people going, the transfer costs 10,000 KIP per person extra.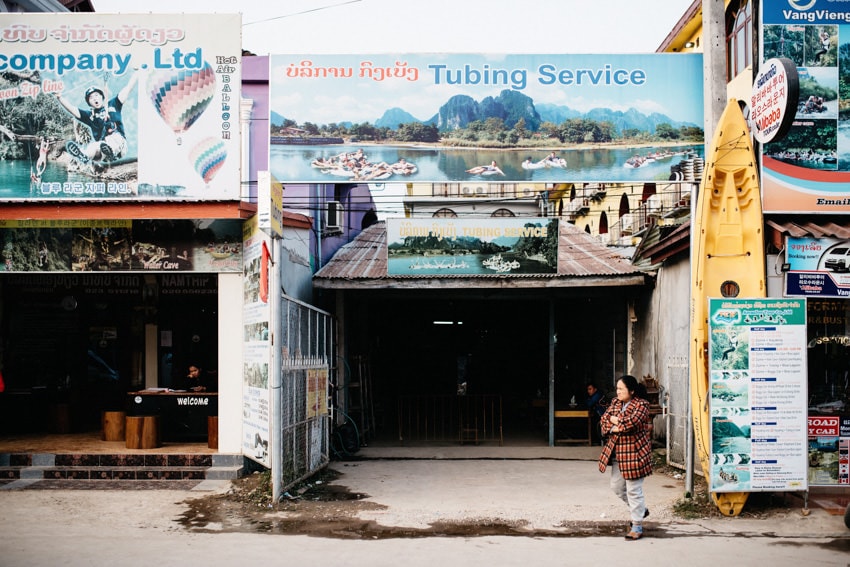 A waterproof bag is really helpful if you want to bring your camera, phone or any other stuff. You can buy them at many stores in Vang Vieng – two shops located right next to the Tubing Office sell it – probably a little bit more expensive than further away.
Tubing is exhausting and partly really boring. Along the 4 kilometres down the river, there are about 5 spots with strong rapids. The rest of the time, you just float over the river at a speed of ½ km/h – the only way you can speed up is by paddling with your hands (which is ok for 1 km but then becomes a painful act and you constantly find yourself confronted with the questions to paddle or not – which you have to answer with "paddle" or you will never reach Vang Vieng again.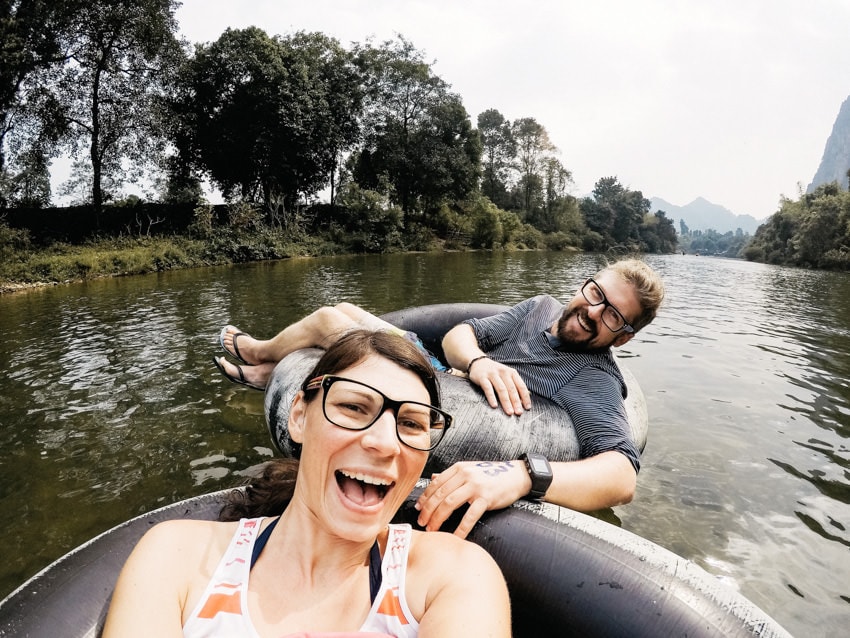 Tubing is a party activity. The first bar is located only 100 meters after the start of the activity. Most of the people got stuck there and we saw them being brought back to town with the shuttle later in the evening.
The "end of the tubing"-station is barely reachable as it is located at a spot with strong rapid. There is a huge sign and you cannot miss it. You reach the riverside via paddling which, especially Bianca totally failed at. She was just shot passed the station through the rapid (she had not been that fast along the previous 4 km of the river) and so, we both left the river close to the Tubing Office and carried the tubes back to there.
Our Conclusion:
Tubing is a fun activity; however, we don't think it is a total must-do when in Vang Vieng. We still recommend some kind of water activity as the landscape along the Nam Song River is nice to watch.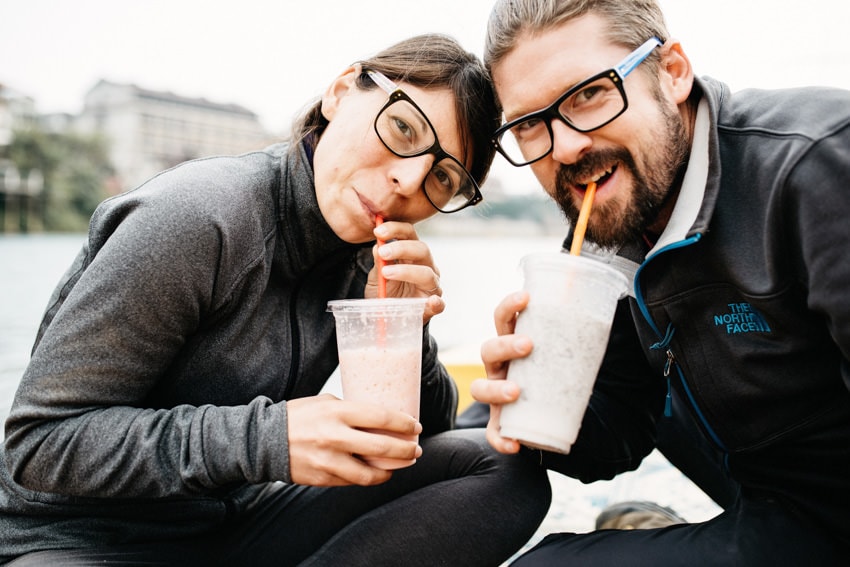 Alternative Ways to explore the Nam Song River
Kayaking
Kayaking is also very popular on the Nam Song River. Originally, we also considered the kayaking – in the end, we just decided to go with the Tubing as we had been kayaking in the Halong Bay just a week before coming to Vang Vieng. Bianca thought kayaking was exhausting – tubing changed her mind – if you think kayaking is exhausting, you have never tried tubing on the Nam Song River. You can book a kayaking tour with every tour operator in Vang Vieng. It costs 15 USD per person for a half day tour (including transfer to the beginning of the kayaking route) – about 12 km of kayaking.
Speedboats
The alternative to self-paddeling in you kayak is renting on of the many longboats you can find everywhere along the river. We did not rent one on our own, but we saw countless tourists enjoying a fast boat ride.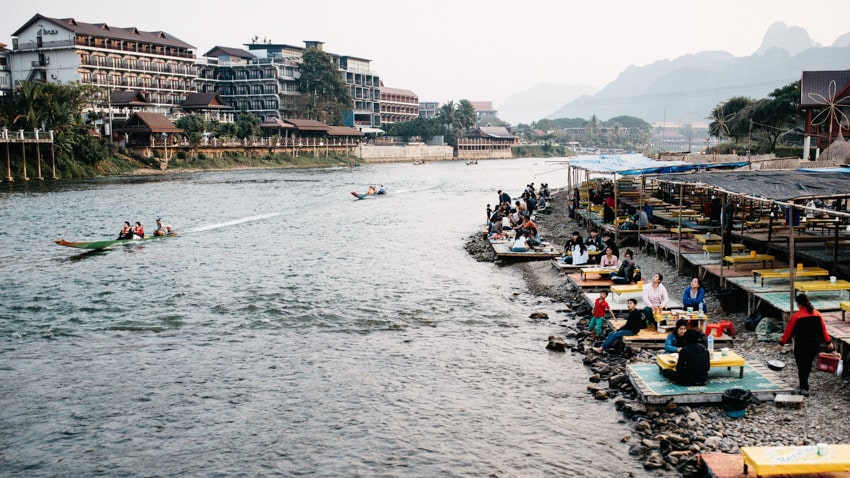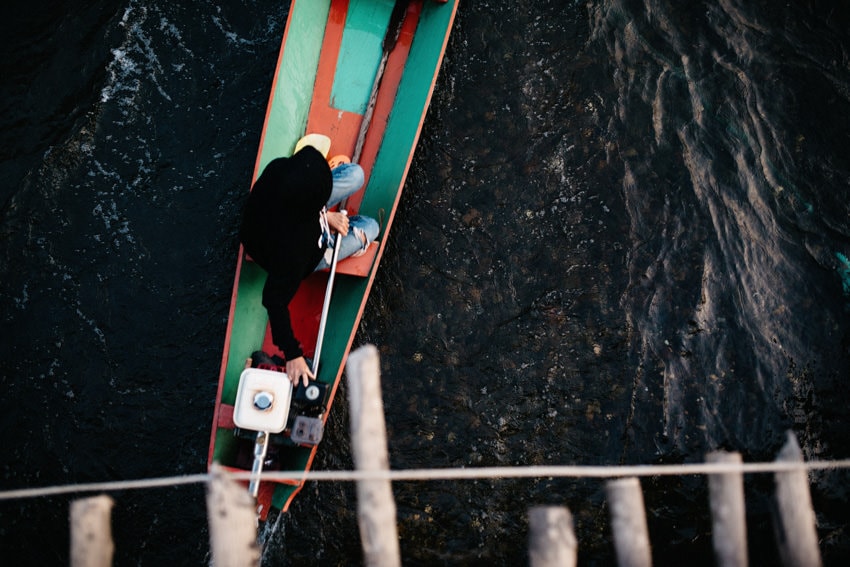 Where we stayed
Magic Monkey Garden | This place has cozy rooms, nice garden, great view at the bar and super friendly staff. Especially the sunset view is amazing. If you want to relax, you will like this place. It's only about 700 meters from the center which is 7-10 minutes by foot.