Wilsons Promontory (Oz Slang: Wilsons Prom) is a peninsula that accommodates the southernmost point on the Australian mainland – South Point. It is located in Victoria – only about 3 hours drive from Melbourne. The majority of the area is National Park area and therefore, protected – Wilsons Promontory National Park and Wilsons Promontory Marine National Park. The peninsula is coined by a highly diverse flora, fauna and landscape. From whitsunday-white (as white as a wall) beaches over lush rainforest as well as mountains, Wilsons Prom features every landscape. It is home to a diverse wildlife either – kangaroos, koalas, wallabies, numerous types of birds, of course, snakes and a lot more types of animals live there.
Getting there:
The park can be visited from Melbourne or on the way to Melbourne for one day – however, you can easily also spend 2 or more days in the park. The park is free for day visitors – if you stay overnight, however, fees apply.
There is only one street that leads to Wilsons Prom and there is only one village on the peninsula – Tidal River, which is the starting point for many activities (hikes, beaches, …). Basically, in order to reach Wilsons Prom (Tidal River), you just follow the Wilsons Promontory Road until Tidal River. It is a little bit tiring and annoying following the winding and narrow road until Tidal River (about 50 kilometers from Foster – the last town before the National Park) but as it is the only way, you can just hope there is no wildlife crossing or a slow car in front of you (with no opportunity to overtake).




1 Day in Wilsons Promontory
As we were travelling in high season (January), we did not get a spot at the only campsite in Wilsons Prom anymore – the Wilson Prom National Park Tidal River Campsite. As this is also the time when Australians are travelling (it gets better after Christmas but it is still high season), you have to book way in advance to catch a spot. As we did not know when we will be there exactly (until we basically got there), we did not book and, of course, all spots were taken.
The positive aspect of visiting only for the day – it is free. Park fees only apply for overnight visitors. So, if you travel on a budget, this is a good opportunity to save – not fat stacks of money but at least a few dollars.
We first drove to Tidal River as it is the starting point for many activities. It features a huge free carpark, a visitor center, a general store (selling cold drinks, ice cream, insect repellent, sunscreen, souvenirs etc … – so everything a camper heart could wish for) and a little bistro/café selling snacks, drinks and coffee.
Mount Oberon Summit Track
We started our exploration of the Wilsons Prom with a hike up Mount Oberon. The final ascend starts at the Telegraph Saddle carpark (there is a toilet but nothing else). There is a free shuttle service from the Tidal River carpark (1st station – right at the entrance to the carpark, not far from the visitor center) and from the overnight hiker car park (2nd station). When we were visiting, the road to the Telegraph Saddle carpark was closed, so we had to take the shuttle. The shuttle runs every 30 minutes (with a 1-hour break between 12:30 and 1:30 PM).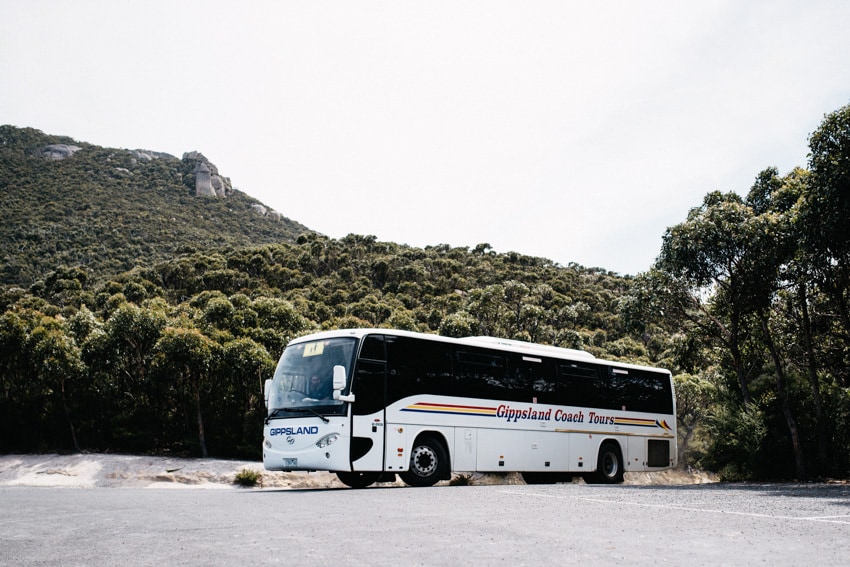 The shuttle ride takes 15 minutes (the speed limit is 20 kmh, so you could almost walk to the Telegraph Saddle in the same time – however, the drive up the mountain is pretty steep so you better take the bus).
The hike is moderately difficult – it is steep but not too much and it does not include any hard-climbing parts or so. The path is well maintained and winds 3.5 kilometers (2.2 miles) up the mountain. It takes about an hour to arrive at the peak. The path leads through rainforest and is, therefore, shadowy and cool. Once you made it up, you will get rewarded with an awesome – almost 360-degree panoramic view over the Prom. The view reflects the diversity of the peninsula: from white beaches to turquoise ocean over stony islands just off the coast to mountains vegetated with rainforest your will get to enjoy everything.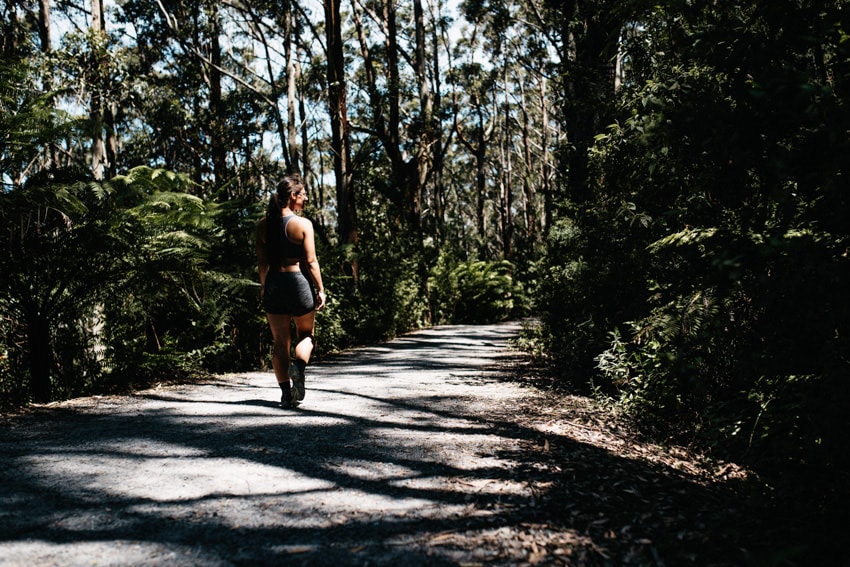 There are lots of hikes in the Prom (also overnight hikes) but if you visit only for one day, the Mount Oberon Summit Track is definitely worth doing and should be on your bucket list. Another, longer day walk/hike that start from the Telegraph Saddle Carpark is the Sealers Cove Track (approximately 10 km / 6.2 miles – one-way). You can explore many nice beaches and lonely, remote bays by trekking to them but if you want to do that, you definitely need to plan more time in the Wilsons Prom.
Squeaky Beach
After our little hike to Mount Oberon Summit, we decided to cool down in the ocean at Squeaky Beach. We discovered the white beach from the top of Mount Oberon and thought it was really nice. When we arrived there, we found out that it was not as abandoned as it seemed from the peak (it was full of sun-loving surfers, families and tourists). However, we still enjoyed it. The sand is really white (because of ultra-fine quartz sand), the ocean clear and turquoise and the beach is limited by huge rocks to the left and the right (you can climb on them but be careful, the water can come really high and it is pretty slippery).
There are two options to reach Squeaky Beach: parking at the carpark and walk 300 meters (900 feet) or you do a walk that also covers Squeaky Beach.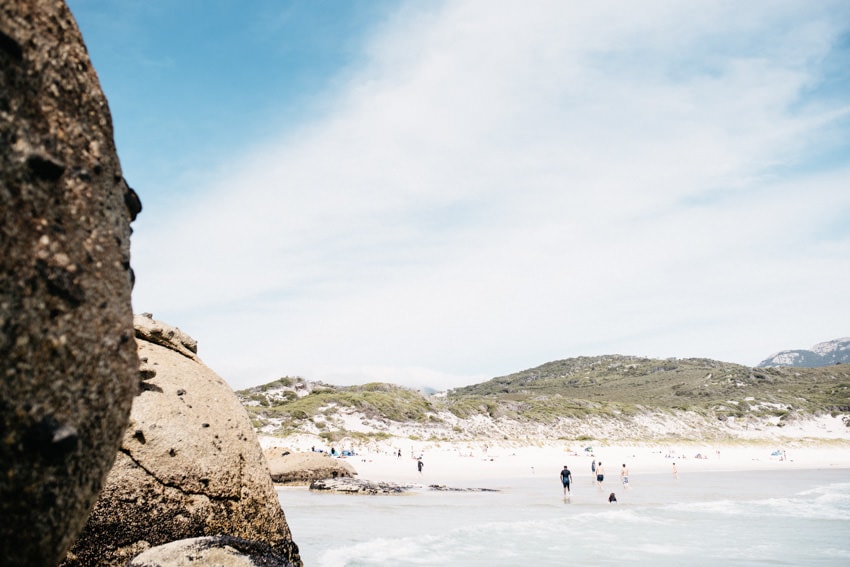 We really enjoyed our day in Wilsons Prom – for us, it is one of the nicest National Parks we visited in Australia – along with the Blue Mountains National Park, Royal National Park, Great Sandy National Park and Whitsunday Islands National Park.