The first part of the Pacific Highway had lots of highlights to offer – we were really looking forward to the rest of it. And, of course, also to finally reaching Sydney and exploring Australia's biggest city and spend New Years' Eve there. But before that, we had another 520 kilometers (320 miles) ahead of us.
Bellingen
Our next stop after "The Big Prawn in Ballina" was Bellingen – and if Byron Bay is a hippie mecca, then Bellingen is the ultimate superlative of hippie mecca – so basically, the most hippiest mecca. It is just what Bianca loves – 50s fashion everywhere (basically selling dresses with roses and other floral patterns that look like granny's cleaning gown and fit as if somebody had just designed and sewed it for her), nice little cafés and gelaterias and cute shops where they sell all kind of other floral stuff (lavender oil, tea cups with roses, …). We had a quick ice cream at the Bellingen Gelateria (very delicious) and Bianca a quick shopping experience in one of the vintage stores (thank god they only had one dress that fit otherwise she would have tried all, then thought about which one to buy for at least 30 minutes – eventually deciding to buy, in the worst case, none because she can't decide for only one, because one was already 80 AUD and we have no space in the backpack for more OR: buying one and then reflecting upon the decision in the car for at least another hour (should I have taken the blue one but I love pink, but the blue one had a lavender print and the pink one has a rose print – I like lavender better but pink is my favorite color ……….) – which would have led to a sheer endless stream of expressed thoughts that Tom can't follow anyways. So, she bought the only dress that fit (pink with roses) and was totally happy about the X-Mas present she was able to give to herself. And, we were able to continue to our next stop.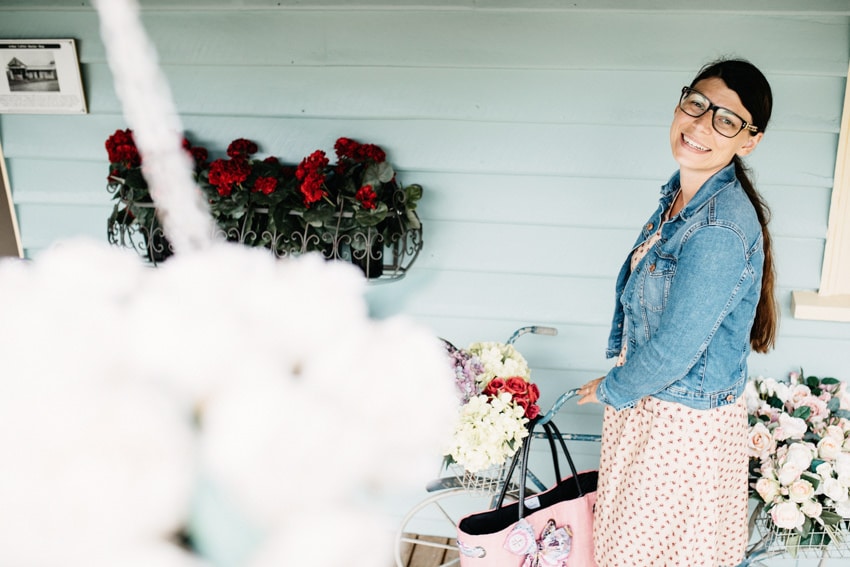 Dorrigo National Park
As it was raining like hell that day, we decided to escape the wetness. As we did not have any money for shopping budgeted and there were no real malls around us (also no museums or anything similar), we decided to escape to the probably second most dry place on a rainy day – the rainforest. We thought it might be a good escape as the trees are high and perfectly protect against rain – it was a good theory, in practice it was slightly different but still, a lot less wet than outside the forest. We decided to visit Dorrigo National Park, about 30-minutes drive from Bellingen up the mountain. On a clear day, you have a really nice panoramic view over the rainforest of the National Park along the way up.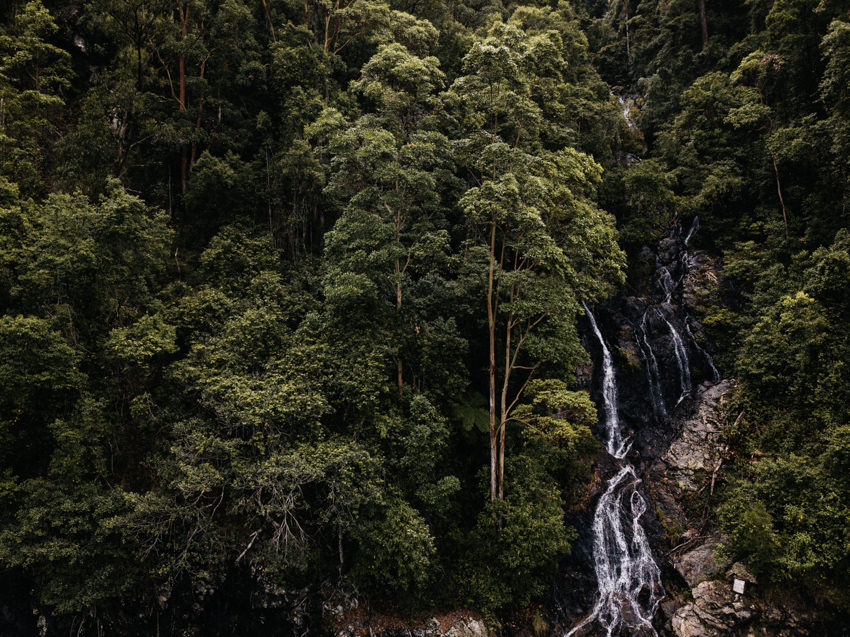 Dorrigo National Park is located close to the town Dorrigo and accommodates part of the Gondwana Rainforest of Australia. The UNESCO World Heritage spreads from Newcastle in New South Wales up to Brisbane in Queensland, which makes it the largest area of subtropical rainforest in the world.
Wonga Walk
We did the Wonga Walk, which is a 7 kilometer (4 miles) loop track that leads you along all the treasures of rainforest flora and fauna. It also comprises two waterfalls – Tristania and Crystal Falls. It is possible to walk behind Crystal Falls and also enjoy the view from a different perspective. The walk starts at the visitor center of Dorrigo National Park – close to the town of Dorrigo. It is also where the skywalk is located – a platform that was built above the forest and enables you to watch the forest from above before walking deeply into it.
The walk is perfect on rainy as well as hot days – the tall trees provide protection against rain and sun. There is no National Park fee and lots of free parking is also available right in front of the visitor center.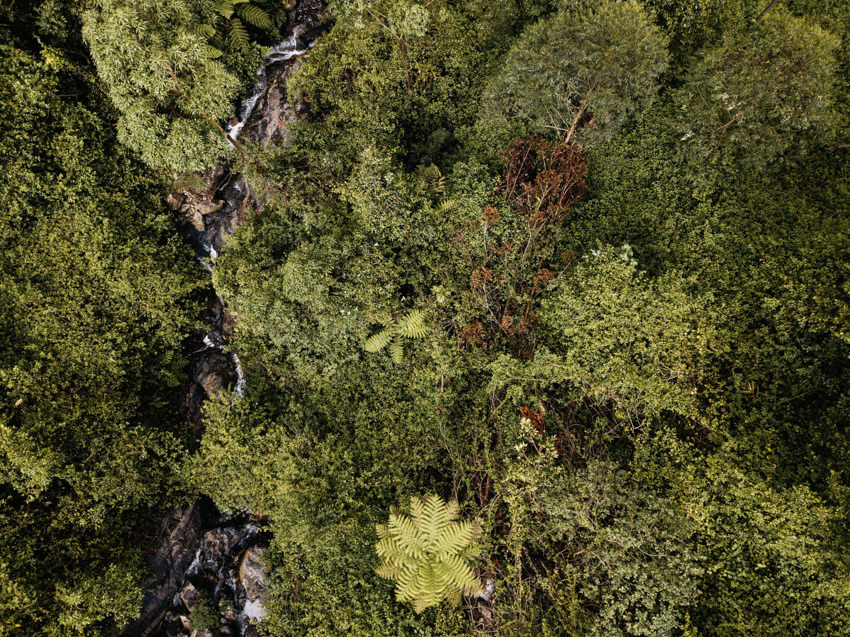 South West Rocks
South West Rocks is packed with tourists in main season and the main beach along Trial Bay is, therefore, full of people. As we were looking for a calm beach, we drove to nearby Little Bay. It is a real tiny bay with a nice little beach. The beach is not packed with people but with kangaroos. Already when we approached the car park / picnic area (lots of parking is available for free), we spotted many of the little balls of fur sitting on the grass. As we walked down to the beach, they followed us and, in the end, we enjoyed our dinner at the beach surrounded by a group of kangaroos (one even had a baby in her pouch). The most important thing to know is that you should not touch or feed them – they look really cute and will, in general, not bite (we saw lots of people touching them). If you feed them, they will eat everything you provide (from Fruit to French Fries – we observed a family giving them fries and they ate them like it was their favorite dish in like ever). However, once they are finished with what you gave them, they will want more and get intrusive. So, our recommendation is to enjoy the nice view but don't touch or feed them.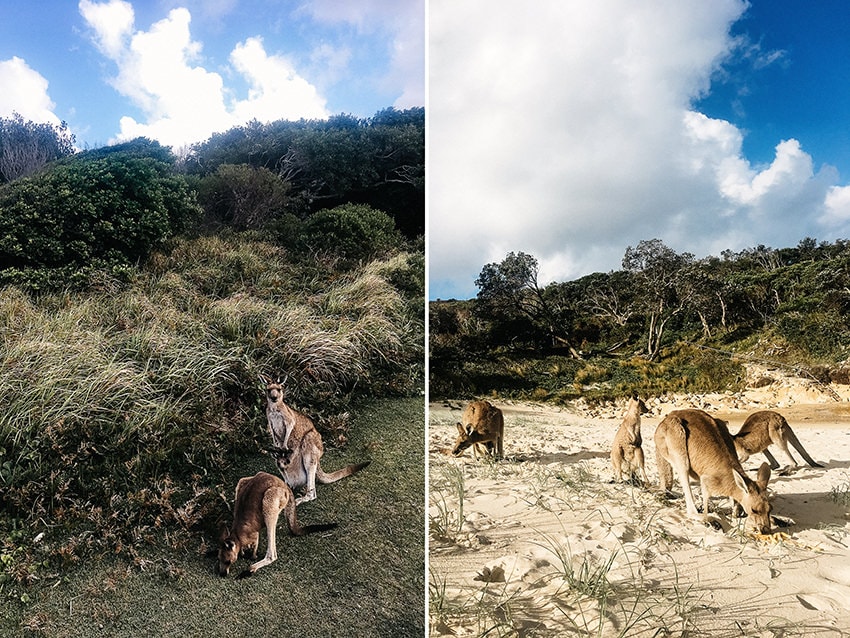 We visited Smoky Cape next – the biggest attraction there being the Smoky Cape Lighthouse. It is nicely located on top of a hill (the climb is steep but very short) and provides a wonderful view over Smoky Beach. There is also a little campsite, Smoky Cape Campground, there – in order to stay there, you have to pay around 8 AUD / person per night plus an 8 AUD day use fee (per car) for the National Park as the site is located in a National Park; The campsite is first come-first serve – reservation is not possible.
This was our favorite lighthouse regarding beach view (out of Cape Byron Lighthouse, Smoky Cape Lighthouse and Sugarloaf Point Lighthouse) as it offers a really good view on the extensive Smoky Beach.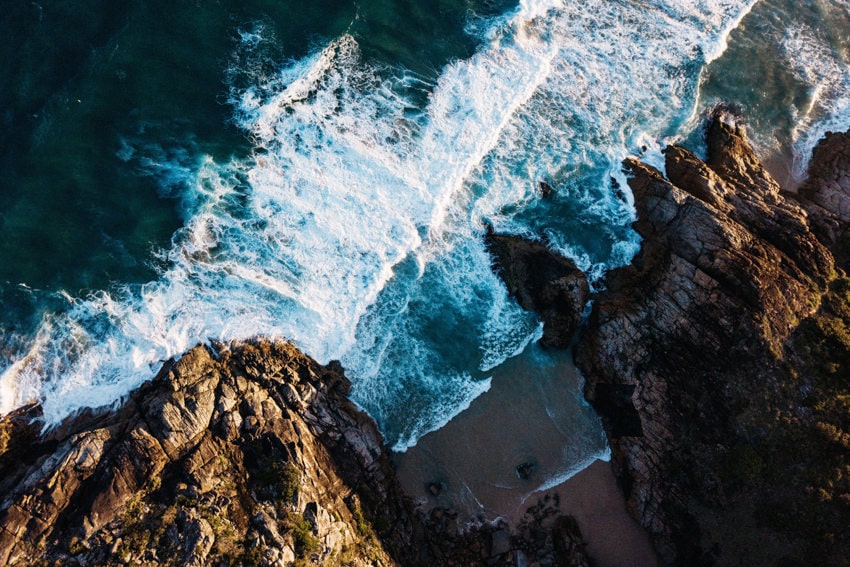 Booti Booti National Park
Booti Booti National Park is a rather small National Park that is located on a pensinsula south of Forster. It can be reached from Forster via "The Lakes Way" that is situated on a narrow strip of land (bordered by the ocean on one side and by Wallis Lake on the other). Although Booti Booti is not a very large National Park, it is home to beaches, rainforests and walks. The most popular walk, Booti Hill Track, leads from Elizabeth Beach to The Ruins Campground (Seven Mile Beach) or vice verca. It is rather demanding at some points but in general, it is more a walk than a hike and suitable for all fitness levels.
TOP TIP:
If you park at the campground, you have to pay a day use fee (about 8 AUD / car) for the National Park, if you park at Elizabeth Beach, you don't have to pay the fee.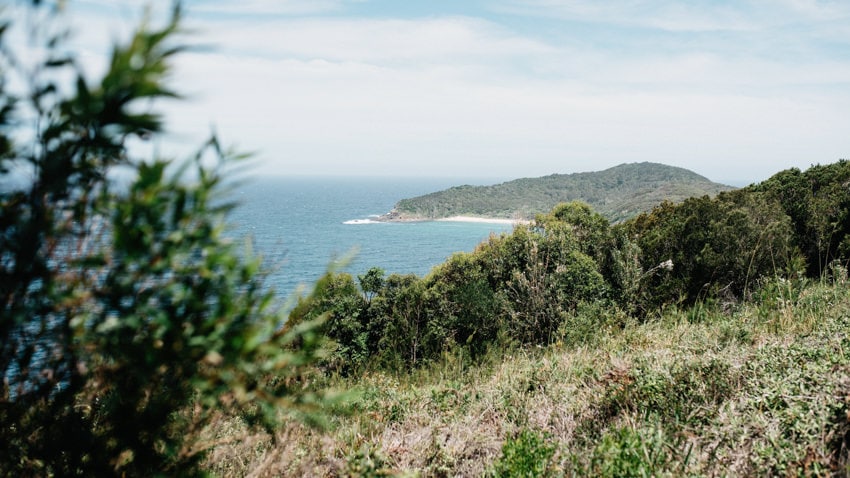 Green Cathedral is also worth visiting if you need a short little break from only watching beaches and oceans. It is an open-air church in the middle of rainforest and is a good cultural sighting as quick escape to the many beaches. Unfortunately, we did not find it so there is no photo.
Booti Booti National Park has many beaches to offer (not only good for swimming and tanning, but also surfing): Seven Mile Beach, Elizabeth Beach, Shelly Beach, Boomerang Beach, etc … – so, you got the choice. You can either check them all out (parking and showers are provided at each of them) and then decide which you like best and spend more time on that one or you go to Boomerang Beach directly – we liked it best. It is a very nice beach with good waves – full of surfers to watch.




Myall Lakes National Park
Myall Lakes National Park was our pre-last stop before arriving in Sydney for New Years' Eve. Booti Booti National Park borders Myall Lakes NP in the south and as you exit Booti Booti, you basically enter Myall Lakes. We drove around Smiths Lake and entered Myall Lakes NP. There is really no need to stop at Smiths Lake to go swimming, take a picture or whatever as the lake is not very nice – it is muddy, brown and smelly (a little sulphuric). The National Park surrounds Myall Lake and is a real camper paradise – if you have a 4 WD. If you don't have a 4WD or at least a car that allows you to drive on gravel / unpaved road, you will only be able to visit, more or less, the points along the ocean but no along the lake (or better said, very limited).
We first visited Sugarloaf Point close to Seal Rocks – the location of the Sugarloaf Point Lighthouse. This was our favourite light house regarding accessibility (out of Cape Byron Lighthouse, Smoky Cape Lighthouse, which offered the nicest beach view and Sugarloaf Point Lighthouse). The lighthouse can be reached from the carpark via a short and easy walk (through a wonderful alley of trees), passing Seal Rocks Blowhole and eventually reaching a very steep path that leads up to the lighthouse. The walk is very nice and view onto the beach is also stunning from the top. A special thing about this lighthouse is the massive seal rocks surrounding the lighthouse. It was a necessity to be built so that the ships can be safely guarded through the massive rocks in the ocean. There are still ships colliding and wrecks occur but the number significantly decreased.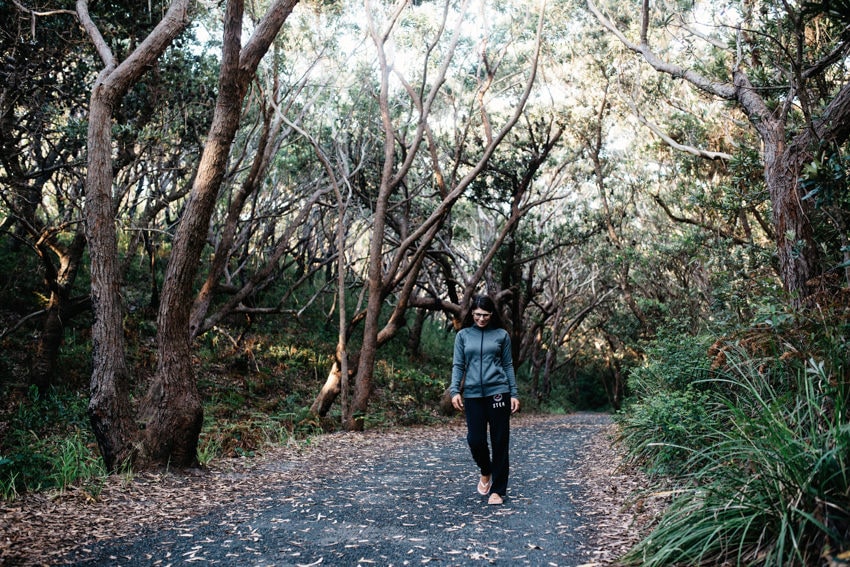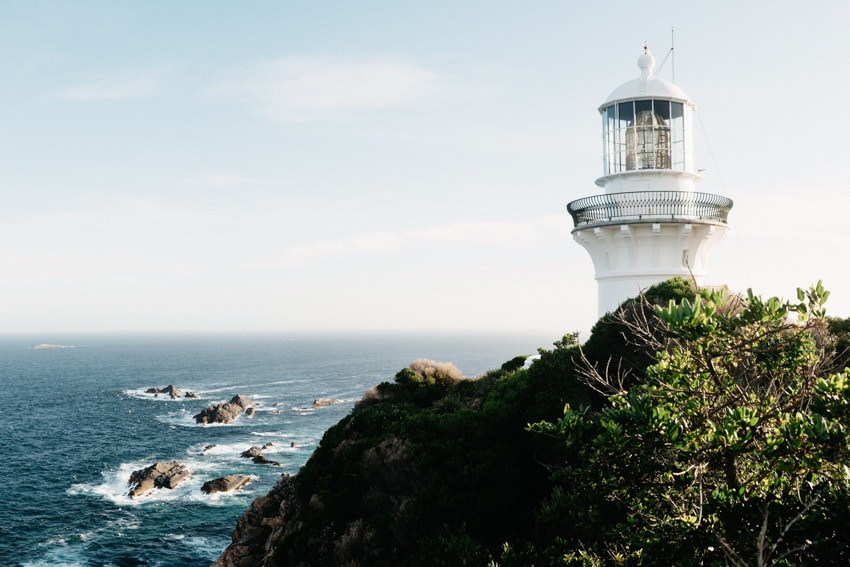 In order to reach the southern part of the park, we had to go back onto Pacific Highway and then enter the park again at Hawkes's Nest. Tea Gardens and Hawke's Nest are two very small towns located at the southern entrance to the National Park (the Mungo Brush area) – the towns are connected via a bridge. Tea Gardens is sleepy little village. Hawke's Nest is also very small but it has a very nice café that is very popular. The absolute highlight of the Mungo Brush area of Myall Lakes NP is Dark Point – an aboriginal place. Because of Worimi gatherings, it is a significant place for the Aborigini culture. The most significant about the place are the enormous sand dunes cover the entire area. We did the Dark Point Walking Track – an easy 2 km /1.2 miles walk – that starts at the carpark on Mungo Brush Road and leads you to the beach, from where you have a good view onto Broughton Island (an abandoned island that is located close to the mainland and where you can camp on – it is said to be a truly spectacular and unique experience). As we love sand dunes, we also loved this place totally.
If you have a 4 WD or at least a car that you are allowed to drive on unpaved roads with, you can explore many more places in the National Park, camp there and spend at least 2 days there.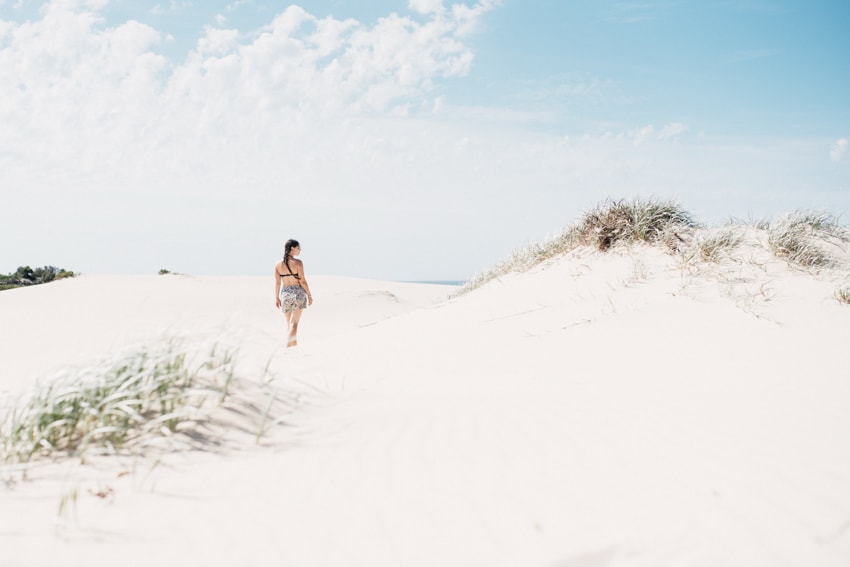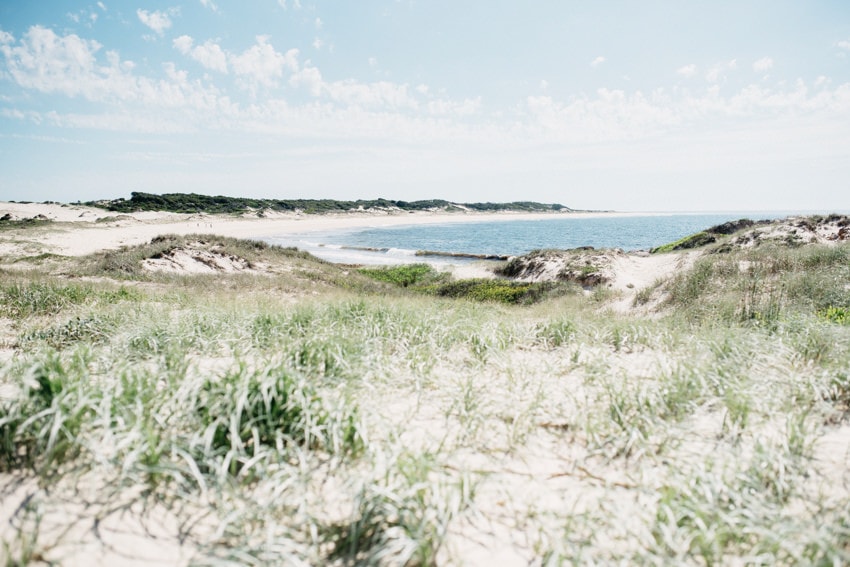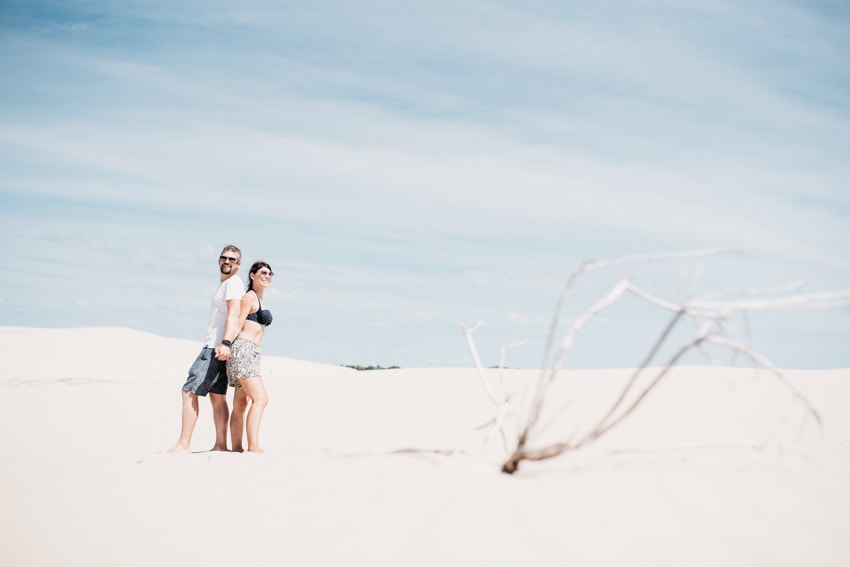 Tomaree National Park
Our last stop before Sydney was Tomaree National Park – located around Port Nelson. Tomaree National Park is about 1.5 hours drive north of Sydney – close to Newcastle. And, it is very close to Myall Lakes National Park – however, both peninsulas are separated by the ocean. You have two opportunities to reach Tomaree National Park from Myall Lakes National Park – by ferry from Tea Garden or by land via Pacific Highway. Both options take almost the same amount of time – the ferry being the slightly faster option – lasting 1 hour as opposed to 1.5 hour driving there. We decided to drive as we did not know exactly which day and time we were going to be there (the ferry needs to be pre-booked in high season) – so we planned the drive accordingly and it was ok.
Tomaree National Park has 3 major tourist attractions – apart from dinner cruises with sea food buffet: Mount Tomaree, Fingal Bay and Worimi Regional Park at Anna Bay.
We started our exploration tour at Mount Tomaree. As we were there in high season, it was tough to find a parking spot. There are lots of parking spaces but also big beaches and many picnic areas – so parking fills quickly. We walked up Mount Tomaree following the Head Summit Path. On the way up, we took a short detour via Fort Tomaree – and learnt about the historic gun emplacement that was used to defend the areas around it being rich in coal reserves. The Head Summit Path leads up to the top of the hill and offers a good view to Myall Lakes National Park, several islands and Point Stephens lighthouse.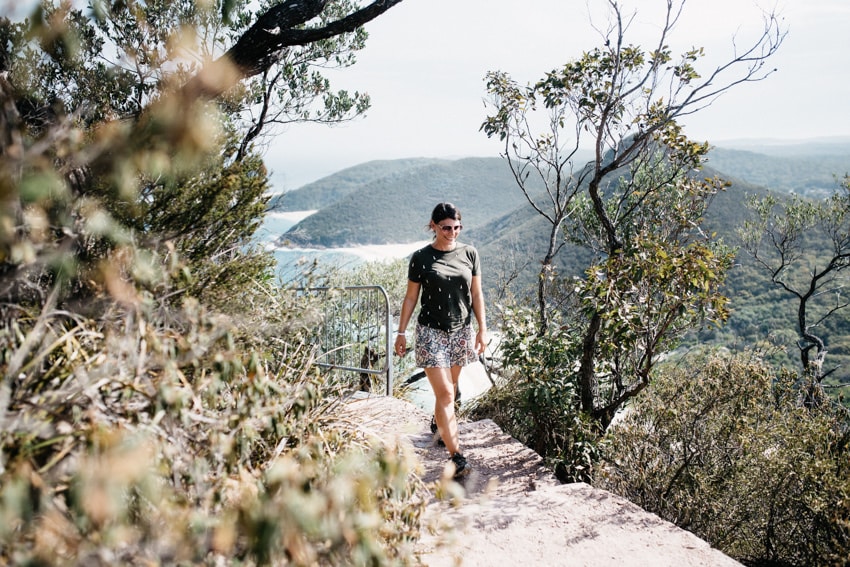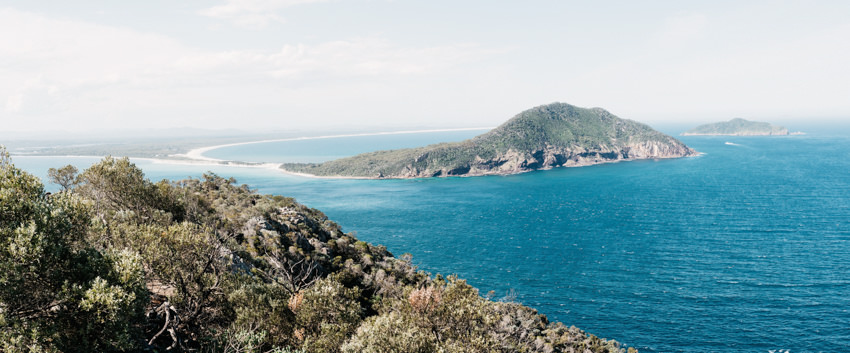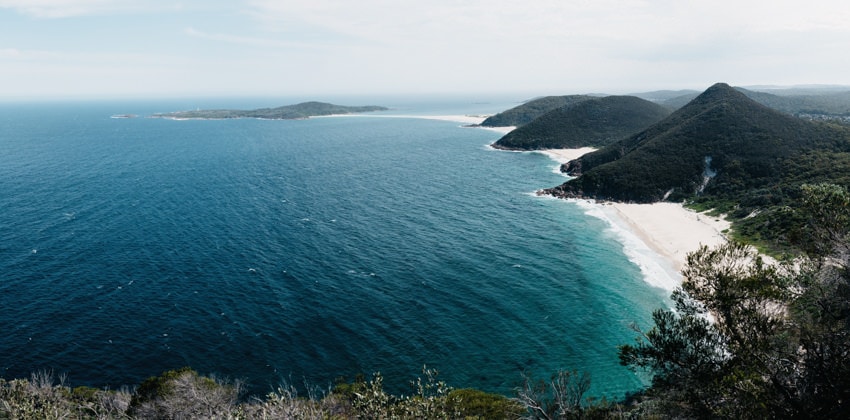 Our next stop was Fingal Bay and its beach – which is nice but not really worth visiting. We have seen so many beaches on Australia's East Coast and this was definitely not one of the most beautiful.
We ended our day in the Worimi Regional Park – home of massive sand dunes (the largest being 35  km / 22 miles long). Like Dark Point in Myall Lakes National Park this is also Aborigini land. Already from the car par, you can see the massiveness of the dunes. It is really impressive although it is not comparable to the Namib Desert in Namibia. You can visit the park with a 4 WD tour (including sandboarding) or individually by foot or by car (4WD only). Sandboarding is one of the most popular activities there – you can book it right at the car park.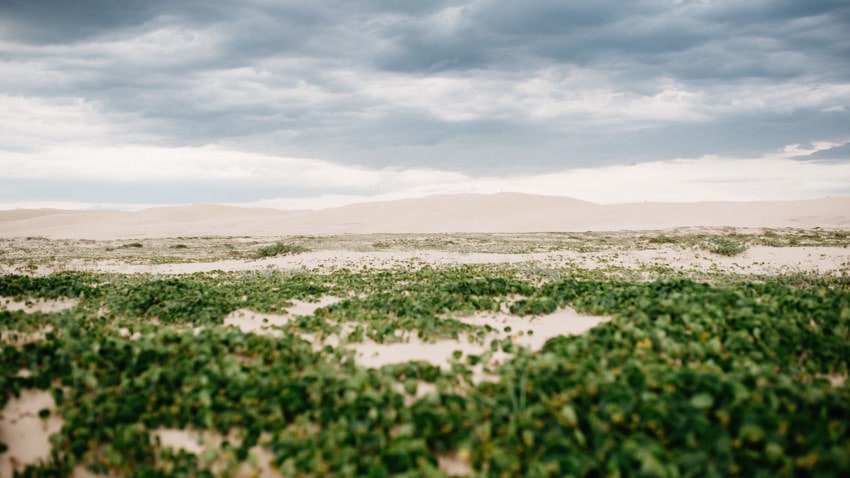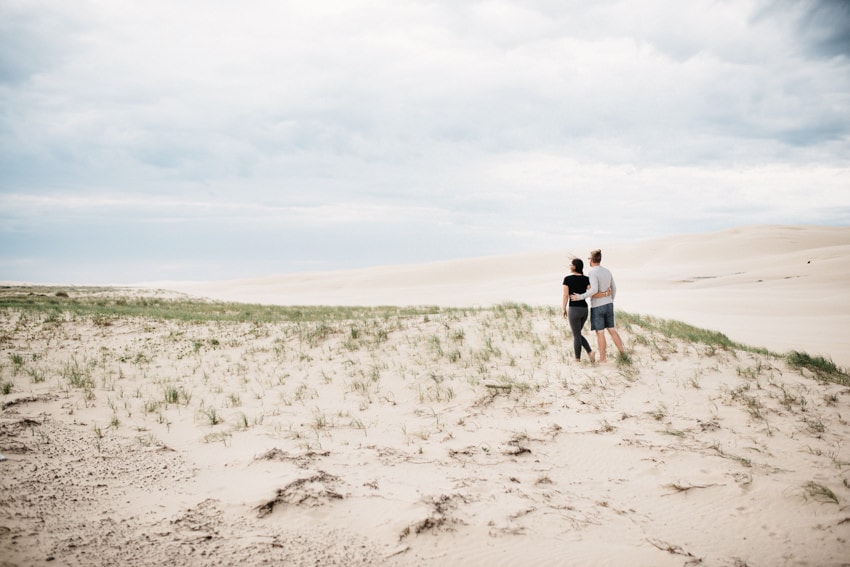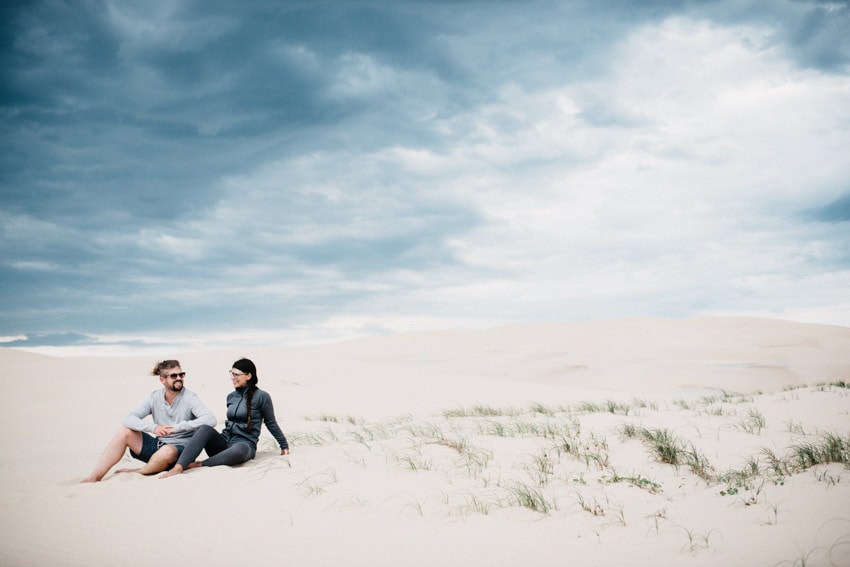 Planning your journey along the Pacific Highway
When planning a roadtrip, the most important question is always: How much time shall we plan in order to have enough time to enjoy all highlights?
We spent 6 days exploring the highlights along the Pacific Highway between Brisbane and Sydney. We thought it was a good time frame to enjoy the highlights. If we did it again, we would plan a little more time though. Especially in the end, it became a little stressful and we thought we did not have enough time in Tomaree National Park. So, our tip is to plan around 7-10 days to explore the 1,000 kilometers between Brisbane and Sydney (including Brisbane, excluding Sydney).