We spent 3 days in Sydney (+ 2 more for SYDNYE – New Years' Eve in Sydney), which was enough time to get an impression of the city and explore the most important highlights. However, you can easily spend a week or 10 days in the city and still, you won't get bored.
Sydney
Sydney is the largest city in Australia. It is not the capital city and it actually never used to be – not even before Canberra was created (before this happened, Melbourne served as the interimistic capital). It has 5 million inhabitants and is the financial, industrial and commercial center of Australia. It is nicely located on the ocean and is, therefore, also an important harbor city. Found in 1788, it is a rather young city with a strong British influence (due to European settlement). There are lots of things to do and see in Sydney and you will discover new corners and highlights every day. Here is a summary of our personal highlights and things you should not miss while you are in town.
Free Walking Tour
The Sydney Free Walking Tour is a great opportunity to get a first impression of the city, learn about its history and collect insider knowledge directly from locals.
Two different tours are offered:
Sydney Sights: 3 hours, twice every day (except 25th December) at 10:30 AM and 2:30 PM
Start: Anchor statute between Town Hall and St. Andrews Cathedral, End: Circular Quay
The tour covers the most iconic sights of Sydney such as the Opera House, Circular Quay, Town Hall, Hyde Park and the Queen Victoria Building.
The Rocks: 1.5 hours, once every day (except NYE) at 6:00 PM
Start: Cadmans Cottage, Circular Quay
The tour brings you deep into the history of the quarter that is the place of Australia's first European settlement. Together with the guide, you explore, buildings, streets, backstreets and learn a lot about the historical background of The Rocks.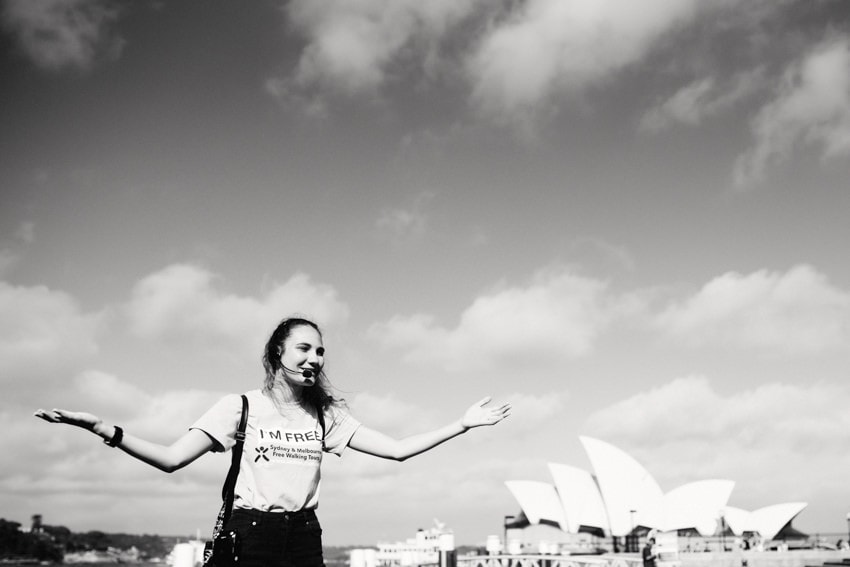 Sydney Sights Tour
Originally, we were planning to do both tours, however, we only managed to participate in the Sydney Sights Tour.
At the anchor statute, we met the free guide with the green T-Shirt. The tour starts relaxing as the first sights are located at the meeting point: St. Andrews Cathedral and Town Hall. St. Andrews Cathedral was the first cathedral in Sydney and was built in 1869. For Europeans, this does not seem to be very old (its more a teenager church) but for Australia, which is a rather young nation, it is a building with seniority. When the church was build, the entrance was directed towards the Main Street at that time. Unfortunately, nowadays the main street is George Street, which causes the entrance to be pretty hidden and not visible from the Main Street. So, the entrance is at the wrong place to attract people to look inside the church – totally different than in Europe where all churches are packed with tourists as the entrances are usually a huge staircase leading to an even huger entrance. At the opposite side of St. Andrews Cathedral is Town Hall.
We started our walking tour at Town Hall towards Queen Victoria Building, a Victorian Building that accommodates many shops and luxury boutiques. Right in front of the building, you can find Sydney's talking dog – an idol of Victoria's beloved dog Islay. He will greet you and introduce himself when you approach him. You can also feed him coins for good luck – we cannot remember what happens to the money though.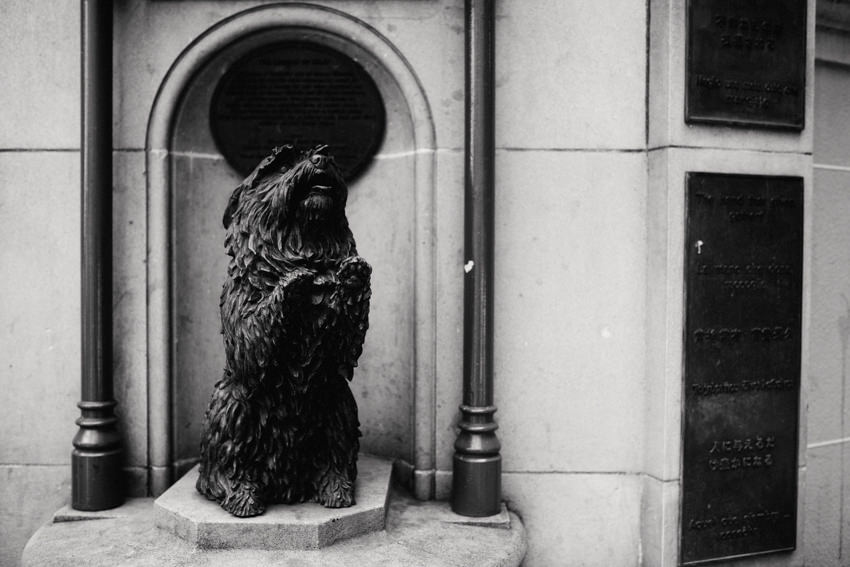 We continued our way towards Hyde Park passing the Westfield Mall on Pitt Street. Pitt Street is the major shopping area in Sydney with hundreds of shops and a huge mall, Westfield. Before the mall could be built, Westfield had to buy all the buildings in Pitt Street at the location where the shopping mecca was planned to be built. It was no problem – they were able to buy all buildings, except one owner did not sell. Westfield had no chance to get the building as the owner was not willing to negotiate. Therefore, right next to the mall, there is a narrow building that is not totally in line with the mall – accommodating the store Seed – and this is the building that could not be acquired. After the Westfield Mall was done, he renovated his building immediately and since then, he rents if for a fortune (more than 10k per m2 / month).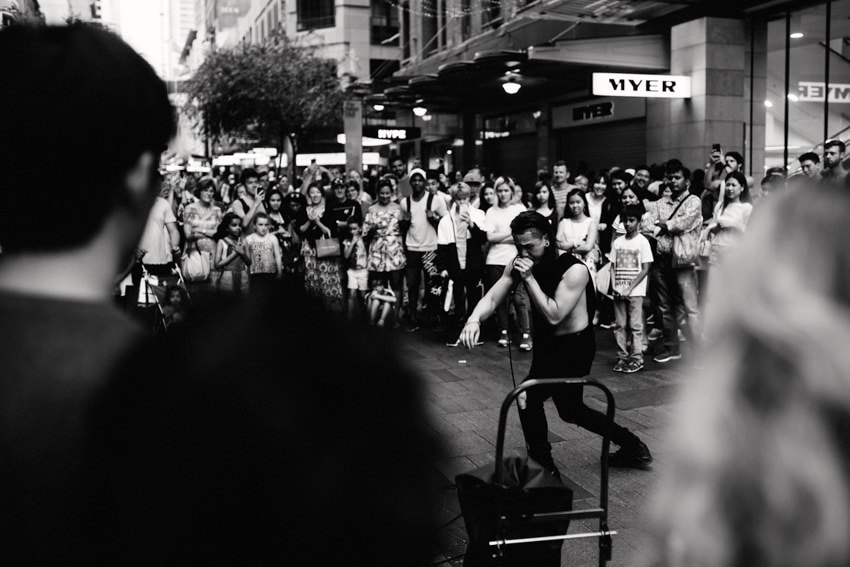 We continued towards Hyde Park – a green spot in the middle of the city and a highly welcome escape for the people in Sydney to have a little picnic or just relax. The park also offers a nice view on the Sydney Tower – with 309 meters, the highest building in Australia and one of the highest buildings in the southern hemisphere. Because of its design and appearance, it is called the golden bucket by Aussies.
We learnt about several options to get to enjoy the view from above:
Buy a ticket and visit the tower: 28 AUD per person – make sure you buy tickets online to save heaps of money – only 20 AUD per person
Have a drink/meal in the restaurant/bar
If you enjoy a meal/drink in the restaurant / bar, you will get to enjoy a 360 degree panoramic view while eating/drinking as the tower is revolving. The restaurant is not really for the low budget travelers and for the bar, there is a minimum consumption of 20 AUD per person.
TOP TIP: Participate in the famous yoga class that takes place every Wednesday and offers a really nice view. It costs 25 AUD per person and includes one hour of Yoga, a bottle of water/juice and a healthy cereal bar.
Our next stop was the Sydney Hospital. It was built in the early 1900 century and is often referred to as the Rum Hospital. When the governor at that time decided to built a modern hospital (back then the hospital was in a real bad condition), he did not get any monetary subvention from Great Britain. So, he approached three rich man with a deal: he would give them the monopole on rum import and distribution in Australia if they financed the construction of the new, modern hospital. Of course, having a good sense of money and smelling the fat stacks of money, they built the hospital.
We continued to Martins Place – Sydney's Wall Street. It has already been used for Hollywood Productions in the past (for example The Matrix). Recently, a scene of a movie was produced there, however, the producers wanted Martin Place to look like New York – so, in the end, they put some yellow cabs there to make it look like the city that never sleeps. Our last stop before the waterfront – Circular Quay – was the Public Libaray.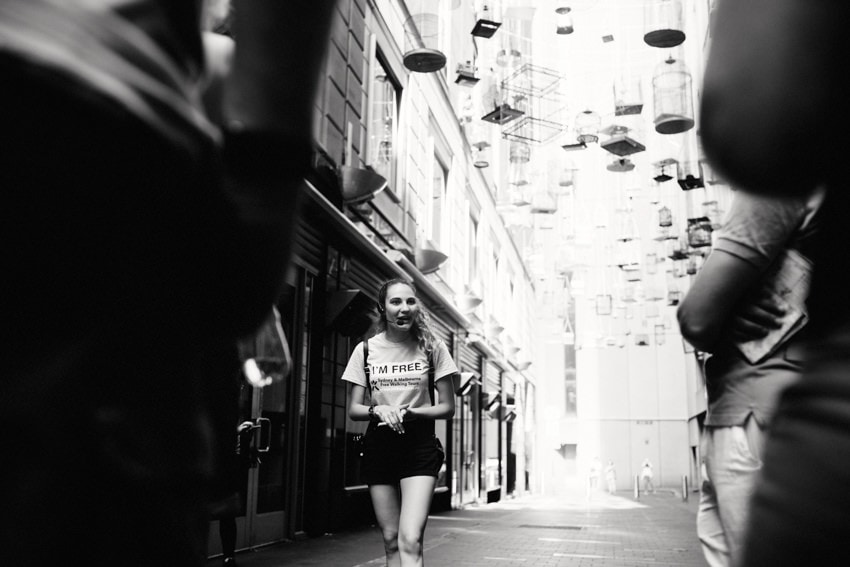 The Public Library, when open, is a good spot for free WIFI. If you go there, make sure you visit the Sydney replica that is built in the floor – enabling you to walk over a model of the city of Sydney, seeing all at a time.
We reached Circular Quay, which is basically the place in Sydney to go when you want to see the two most famous icons of Sydney simultaneously – The Opera House and the Harbor Bridge. First, we went towards The Rocks – the quarter of the first European settlement in Sydney. Nowadays, the area is full of nice little restaurants and cafes (it also features a German Brauhaus – of course, with waitresses wearing original Dirndl Dresses) and, it accommodates the access to the Harbor Bridge – if you want to walk over it. Right in front of Cadmans Cottage (the oldest building of Colonial Times that still exists in Sydney), there is a tree that is highly protected and grows surrounded by a big fence. We got to know, that many years ago, a botanist (at least, we think to remember he was a botanist) was hiking in the Blue Mountains. Deep in the woods, he discovered a plant that he thought he had never seen before. He took a part of it with him back to the city. He showed it to scientists and they found out that it actually was a plant that was thought to have extinct millions of years ago. They planted a tree right at Circular Quay and protected it with a fence. Where in the Blue Mountains, the tree was found is top secret – very often, scientists are invited to go there for scientific purposes – however, they must not know the place, therefore, they have to be transportet there with bandaged eyes. If you feel like learning more about this area, we recommend the Free Evening Walking Tour at The Rocks.
The tour ends with a good view on the Opera House. The story behind the construction of the Opera House was a very interesting one. The Opera House was planned by the Danish architect Jan Utzon, who participated in a competition and won. His design was selected to be implemented because of its futuristic and "out-of-the-box" design. Unfortunately, when the construction of the new Sydney Opera House had not yet been completed, the prime minister changed. By that time, the construction had already cost much more money than budgeted and it was way delayed – the roof construction was just very complicated to be built. Looking for cost-saving opportunities, it was decided to terminate the architect's contract. The opera house was finished without Jan Utzon; for more than 100 million AUD instead of the budgeted 6 million AUD. A team of young architects finished the Opera House, however, the functionality of the halls was limited with regards to acoustics and the narrow steps and little rooms did not reflect the great exterior. Jan Utzon was then consulted regarding improvements to the interior and eventually recognized by naming one hall after him. Jan Utzon never went back to Australia after he was fired from the project and died in 2008, having never seen his masterpiece.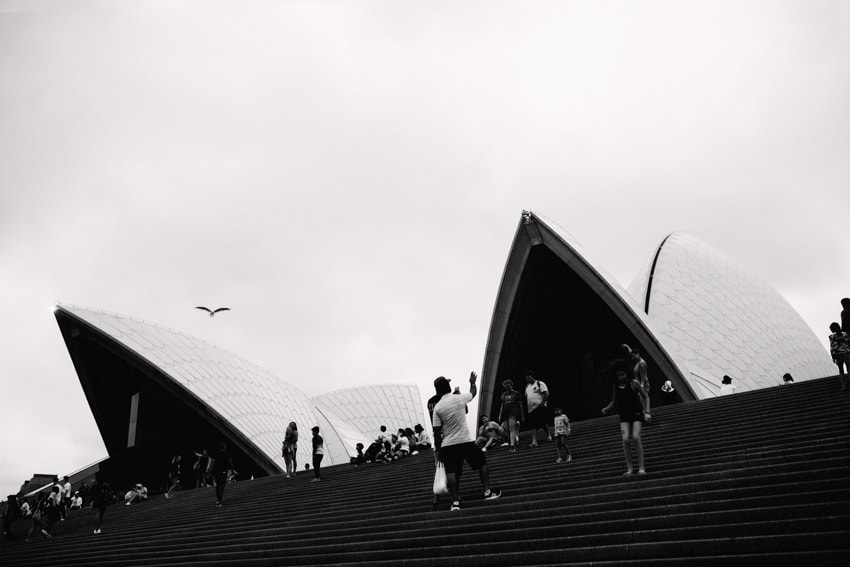 The second landmark of Sydney, the Sydney Harbor Bridge, is tenderly called "coat hanger" by Australians. It is more than 500 meters long and considered "one of the broadest bridges in the world". It can be easily crossed – whatever mode of transport you prefer: car, bus, train, bike and/or foot. The most expensive but coolest – and most adrenaline-loaded – way of exploring the Harbor Bridge is the "Bridge Climb". As it would have set us back about 250 AUD per person, we decided to walk over the bridge. The view is basically the same although we are pretty sure the Bridge Climb does not cost that much for nothing.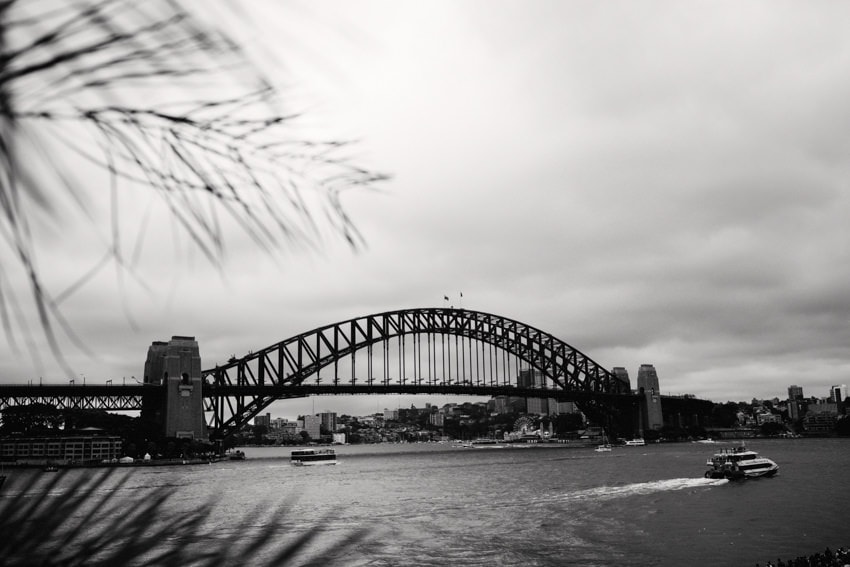 The Royal Botanical Gardens is also worth visiting. You can stroll through the park, have a little picnic and visit Mrs. MacQuarie's Chair – which offers one of the best views on the Sydney Opera and the Harbor Bridge.
Don't miss:
The Soda Factory
The hippest quarter regarding restaurants and bars is Surrey Hills. If you are lucky enough to be in Sydney on a Monday, make sure you visit The Soda Factory – it is a Diner that turns into a cinema every Monday, broadcasting never-forgotten Hollywood classics like Dirty Dancing, The Lion King and many more.
Open-Air Cinema
In summer, there are several outdoor cinema opportunities in Sydney:
Moonlight Cinema: around December to April, takes place in Centennial Park, shows retro all-time classics (for retro prices – a little bit cheaper than the other movies) as well as Australian, Family and newly-released movies.
Open Air Cinema Bondi: six weeks starting mid-January, on Bondi Beach – so basically, watching a movie in Bondi's soft sand, shows primarily new releases
St George Open Air Cinema: the fanciest experience – a huge screen is built up in the Harbor Area, showing new releases, Australian movies and Best-Of last year-movies.
BEST PICTURE SPOTS FOR THE SYDNEY OPERA & HARBOR BRIDGE:
Mrs MacQuarie's Chair in the Royal Botanical Gardens
Luna Park in Kiribilli
Coastal Walks around Sydney
Sydney does not only have unlimited iconic sights, it also offers lots of beaches and coastal walks because of its privileged location directly at the ocean. We decided to do two coastal walks that differ pretty much regarding the landscape you get to see: Manly-Spit Bridge and Bondi-Coogee Beach.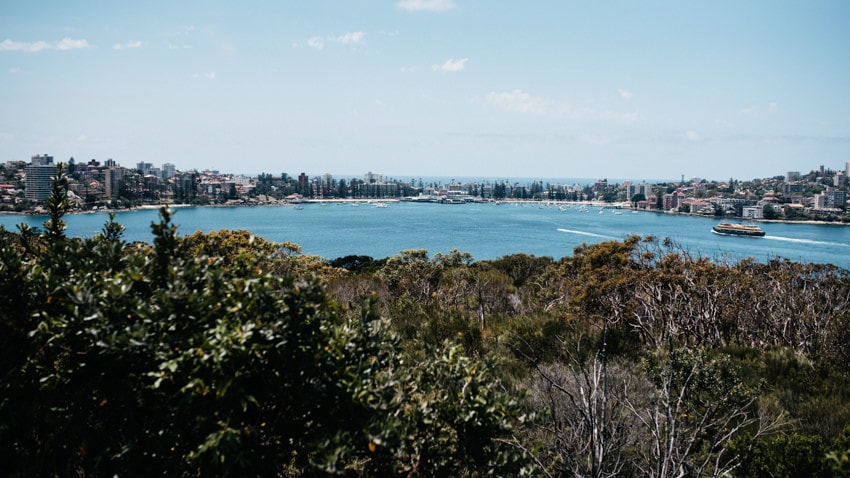 Manly to Spit Bridge Coastal Walk
You can start the walk on either side – we started at Manly Wharf. Manly Wharf can easily be reached by ferry in 30 minutes from Circular Quay. Ferries in Sydney are a more expensive way to get around than trains but it is a very nice way as it also includes a panoramic boat ride instead of driving through dark tunnels.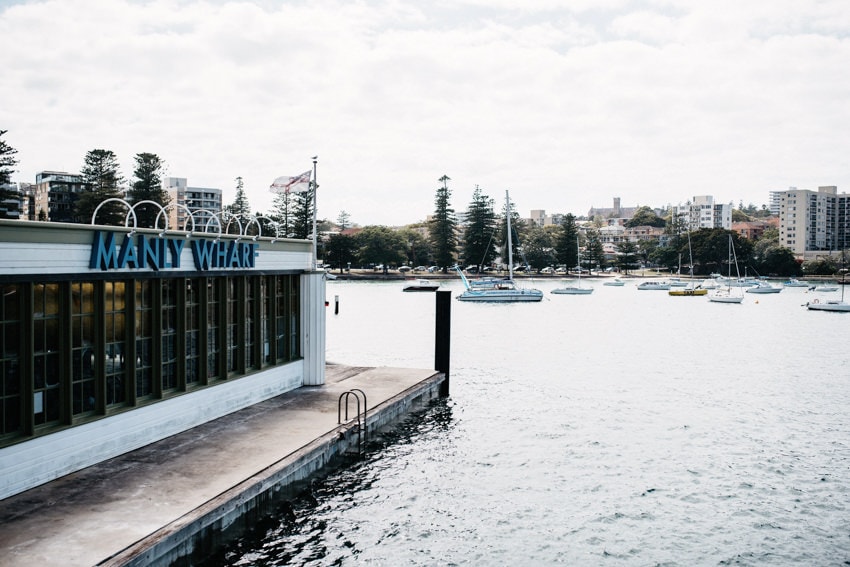 Manly Beach is not part of the walk, so we went there before we started our way towards the Spit Bridge. Some people say Manly Beach is even more beautiful than Bondi Beach – we have to say that, coming from Cairns, we had seen so many wonderful, whiter-than-white beaches with bluer-than-blue ocean that they all started to look alike to us. So, we leave it up to you to decide which one you like best – maybe none of these two.
After our little detour, we started the walk. The distance from Manly Wharf to Spit Bridge is 10 kilometers (6.2 miles) and takes about 3-4 hours to complete. The walk brought us to a completely different Australia than what we had seen before. It is very Mediterranean and reminds a little bit on the Côte d'Azur in France. The beaches are pretty small and some can only be reached by boat or by walking there. Therefore, they are not so crowded. The view on the bold cliffs in the distance is nicely decorated with sailing boats in front of you. Australia kept on surprising us and it also did on this walk.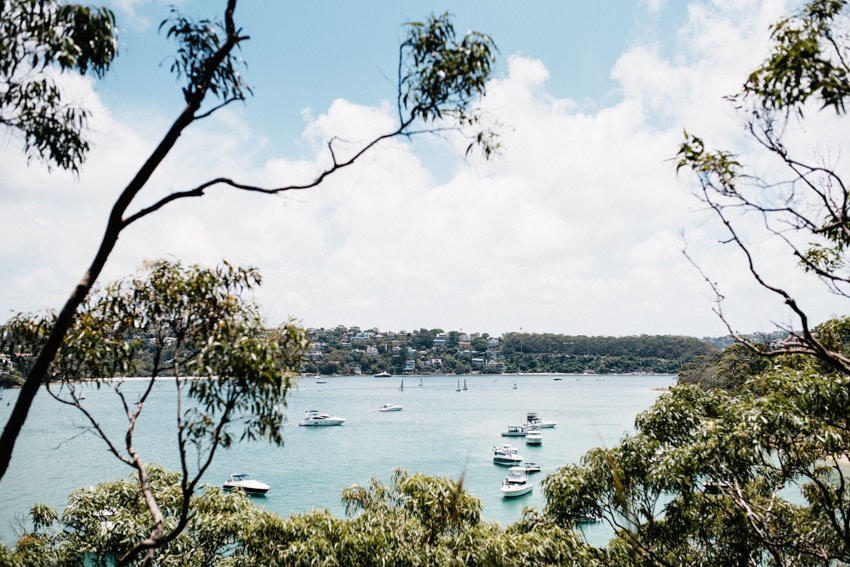 You pass many viewpoints that make you enjoy the highlights of the walk from a little bit above. A good change to the many beaches and coastal views is the Grotto Point Lighthouse. It is not located on the main track and, unfortunately, not well signposted. So, if you want to see the rather small lighthouse, you have to be very attentive in order not to miss the turnoff.
From Spit Bridge, it takes about 30 minutes by bus to arrive back in Sydney (Museum).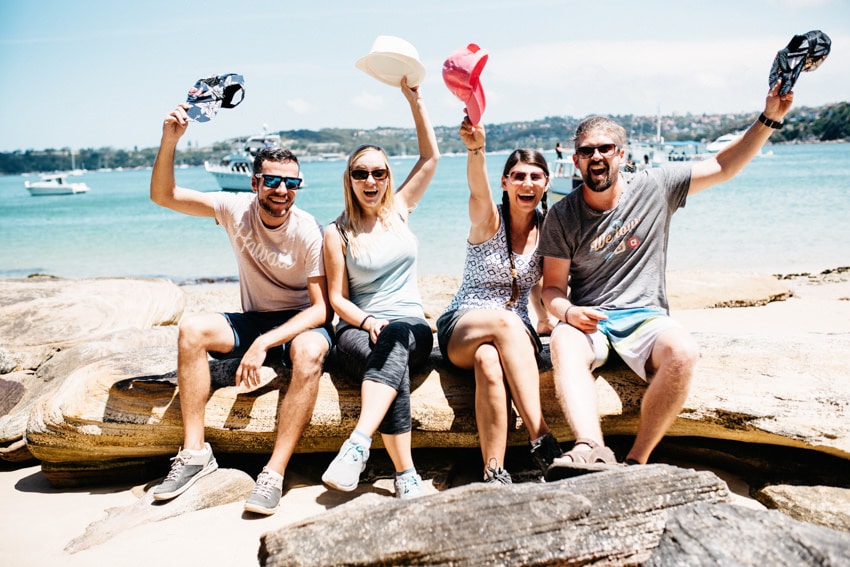 Bondi to Coogee
As with the Manly-Spit Bridge, you can start this walk on either side – at Bondi Beach or Coogee Beach. We started the walk in Bondi – from Sydney you have to go to Bondi Junction by train and then take a bus (it is a very short ride, about 10 minutes) to Bondi Beach.
Bondi Beach is the most famous beach in Sydney – it features the famous Icebergs Pool and the graffities at the beach make it a rather hip location to surf, tan, swim and enjoy life. The beach is for free but in order to swim in the Icebergs Pool (with panoramic view on Bondi Beach and the Australian Surfers) you have to pay around 7 AUD per person.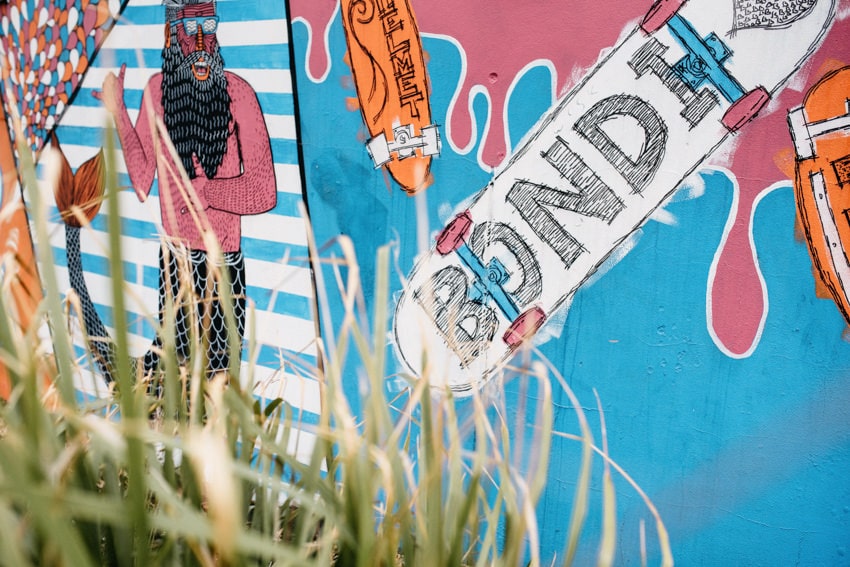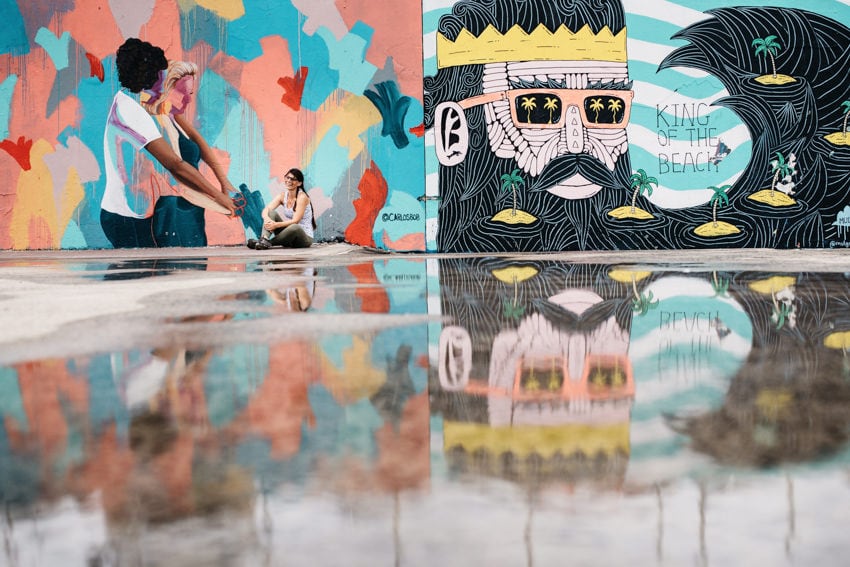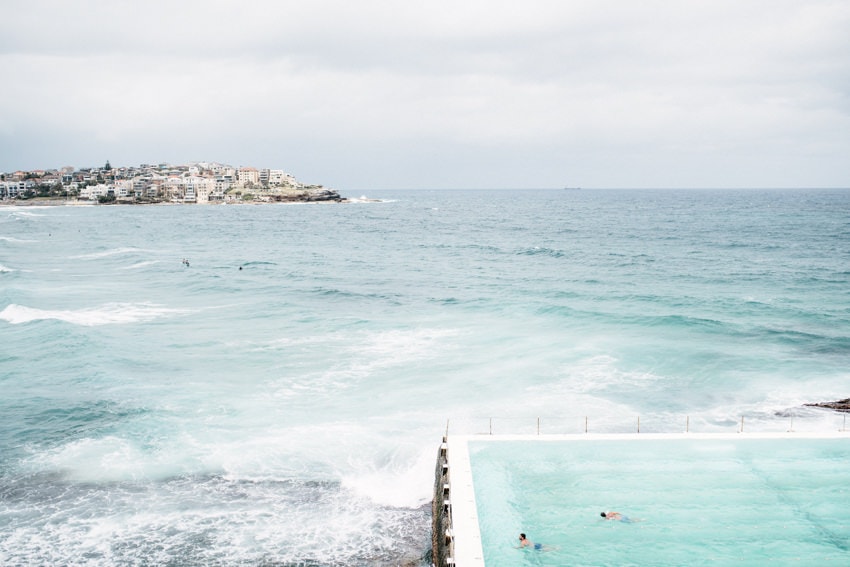 The landscape along the walk is very different from the Manly-Spit Bridge. You basically walk along the bold cliffs and hop from beach to beach. The walk is riddled with beaches – most of them also having a pool to swim in and many good views on surfers (from the beach and from the top of the cliffs – the view is equally cool). In Australia, we both became real surf-watchers, surf-watching entertains us more than whale-watching or dolphin-watching. We both have tried surfing before (Tom learnt surfing and kitesurfing and Bianca tried surfing in one of THE world's surf spot – Hawaii) and know how difficult it is to really ride the waves. In Australia, it seems that everybody owns a surf board and the majority really knows how it works – we love to watch the magic and could do it for hours.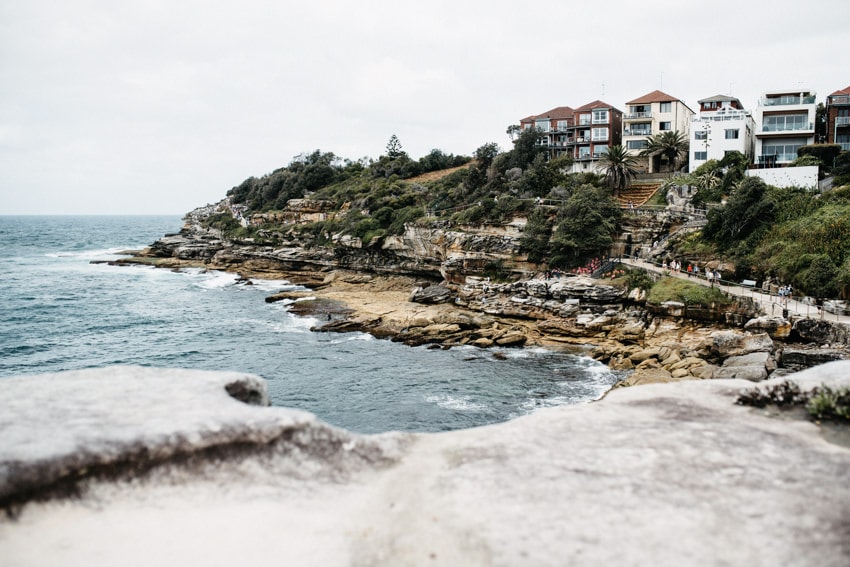 Along the about 9 kilometers (5.6 miles) of walking, you pass many, many beaches – all of them, obviously, equally good surfing spots: Bondi Beach, Tamarama Beach, Bronte Beach, Covelly Beach and Coogee Beach. If you love beaches, you will definitely love this walk.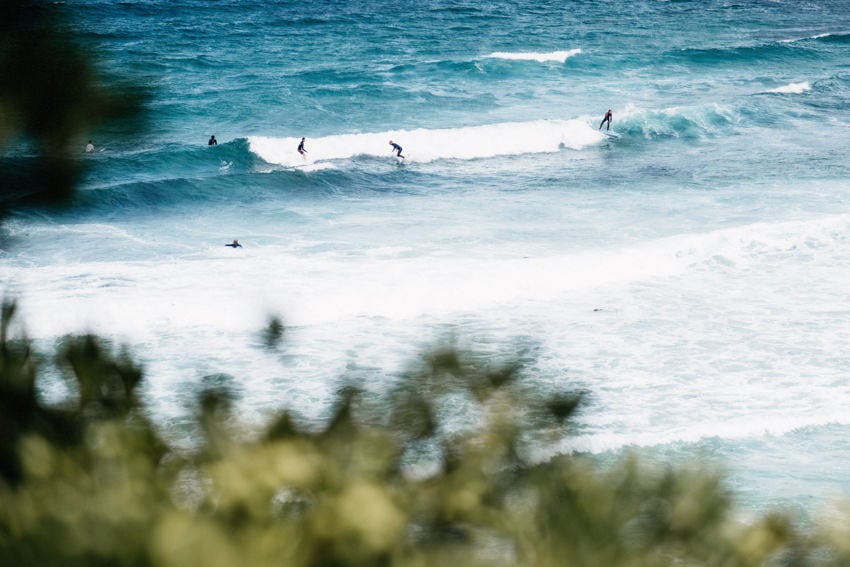 Public Transport in Sydney
Public Transport in Sydney is very well established and getting around in the city is rather easy. The most efficient way to get around is the underground / train system. Areas that are not covered by trains, are well-manageable with busses (e.g.: arriving at Bondi Beach from Bondi Junction) – waterways are covered by ferries. In order to use the public transport system in Sydney, you have to acquire an OPAL CARD. Every person needs an Opal Card – it is free and can be bought in every kiosk and at many stations (especially the bigger ones). It can be recharged at every station.
Moving around in Sydney is relatively economical regarding time – however, not really regarding money. Rides differn in price – regarding to the length of the route. The good thing is that there is a daily maximum (around 15 AUD) – except on Sundays, that is when the daily maximum is only about 2.5 AUD. Sunday is, thus, the best day to travel bigger distances.
Accommodation
Overnight stays in Sydney are also pretty overpriced – not only before, on and after New Years' Eve but pretty much always. However, around NYE the entire city turns into a completely crazy place – the inflow of tourists is massive and of course, the popularity of the fireworks also affects accommodation prices. The rest of the year, Sydney is also not a bargain and the best option to spend an affordable vacation is definitely Air BnB.
We stayed at an apartment in Mascot which we can totally recommend (if you don't have an account yet sign-up through our link and earn a € 35 starter bonus).
Or check out one of the hotels in Sydney