When planning the tour back home in Austria we contemplated whether we should also visit the southern most part of Patagonia or substitute it with another destination. Well what can we say, Tierra del Fuego won and so we drove all the way down there from El Chaltén. Over 1.000 km (600 miles) of endless Patagonian roads with some parts being pure gravel road. It took us two and a half days to get there, including a trip on a ferry at Punta Delgada. On the way down we passed the famous Rio Grande. All the fishermen amongst you will probably know that place as they have the biggest sea trouts in the world. A friend of mine, a passionate fisher, went completely crazy when I told him that I passed by there – without fishing!
Later on the trip you will pass by the city of Tolhuin, it's the last city before arriving in Ushuaia. We definitely recommend a stop there to visit the famous bakery "La Unión". We still find it hard to believe how many people stop by this 24/7 meeting place for both locals and visitors to enjoy a cup of coffee and fresh pastries, chocolate and bread. For more than 25 years the Emilio Saez's family has been preparing those delicious goodies. The walls itself are upholstered by memories from national celebrities and unknown characters who have visited the shop and shared their photographs and affectionate phrases.




Then finally after a sheer endless drive you arrive in Ushuaia, the often regarded southernmost city in this world – which in fact is not the southernmost city as we have learned. It is located at the shores of the Beagle Channel and serves as a starting point for sailing to Antarctica. So there we were, at the so called end of the world.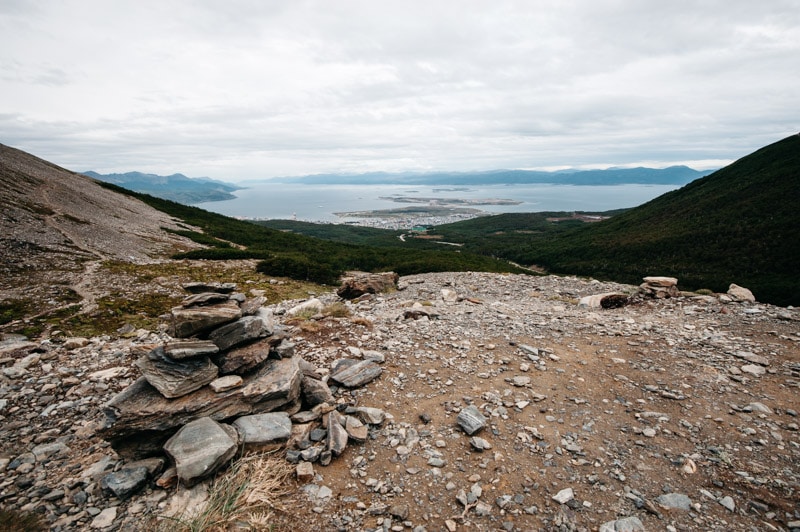 First thing we went to the local tourist office to get some information on recommended hiking trips. With the information received we decided to spend the next few days directly in the National Park Tierra del Fuego to do the hiking trails inside. We ended up doing three of those in total:
the "Sendero Costera" where you walk alongside the Beagle Channel and see the southernmost post office in the world
the one all the way at the end of the Rita Nacional #3 in the Bahia Lapataia
and the HITO XXIV that takes you right to the border of Argentina & Chile
The pictures below are in the order above so you can get some idea of how it looks like down there. All the hikes are really easy, however keep in mind that none of them offer a spectacular WOW moment if you decide to visit the area.