Hoi An is, without any doubt, the city with the most pleasant atmosphere in Vietnam. At night, the entire old city centre is illuminated by thousands of colourful lanterns, which gives the city an equally romantic as unique appearance. The city has been elected as one of the most wonderful places to visit in Asia several times, which led to the only negative aspect of the city – completely being overrun by tourists. However, we succeeded in indulging into the beauty and mood of the city in a way that we did not perceive it as crowded anymore.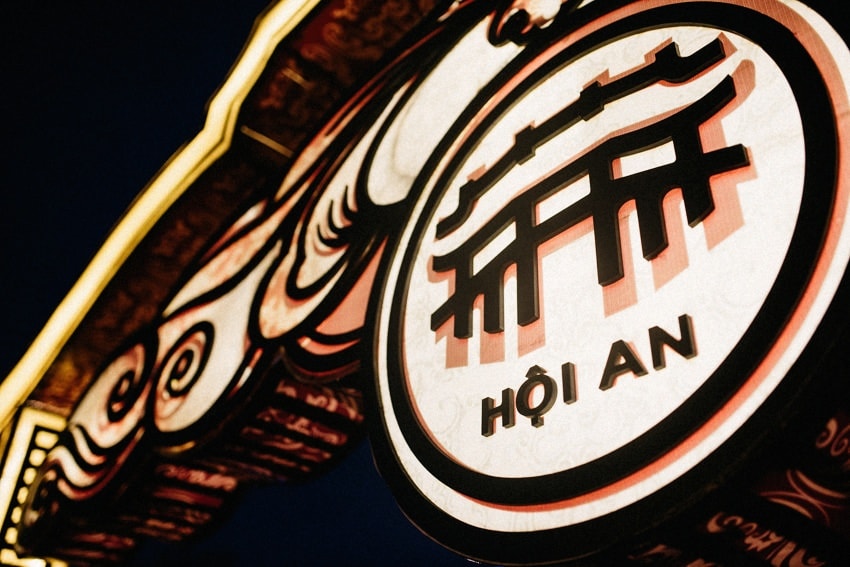 Arriving in Hoi An
We arrived from Ho Chi Minh City (south of Hoi An) with a night train. It is important to know, that Hoi An can be reached via the city of Da Nang – which is located about 30 kilometers (19 miles) north of Hoi An. Arriving from the south, you will always have to go to Da Nang first and then take a taxi, Uber, Grab or a public bus from there. Arriving from the north, e.g. Hue, there are direct busses arriving in Hoi An as well.
As already mentioned, we arrived from Ho Chi Minh City. There are 3 options to arrive in Hoi An from HCMC: by plane, train or bus.
Flights are definitely the fastest option and pretty cheap. For 25 EUR (30 USD) per person, you will arrive in Da Nang in just a little bit more than 1 hour. VietjetAir and JetStar both offer very good deals. There are two add-on costs that you need to consider when going with the flight option: Check-In luggage and Airport Transfer. Make sure the fare includes checked bags if you need to take you entire stuff with you (if you go back to HCMC after Hoi An, you can usually leave your big bag in the hotel as well). You will also have to get to the airport – however, using Uber or Grab this does not cause a substantial financial burden in HCMC – we paid about 3 EUR (4 USD) to get to the city center (District 1) from the airport using Uber.




Trains are the second option to arrive in Da Nang from Ho Chi Minh City. There are several trains per day going from Ho Chi Minh City to Da Nang – during the day and during the night. Depending on the train, the ride takes around 15-16 hours. Trains leave from Saigon Railway Station (the only railway station in Ho Chi Minh City). We decided to take the night train (leaving Saigon at 10:00 PM and arriving in Da Nang at 1:00 PM the next day) as it was a good option to 1.) not loose a day to travelling and 2.) save the cost for one night at the hotel/hostel. The train ride was very comfortable – we chose the 4-bed-sleeper (6-bed-sleeper and normal seats were also available). We could sleep very well – although the beds were really hard (which is very common in Vietnam), electricity, breakfast and lunch were provided.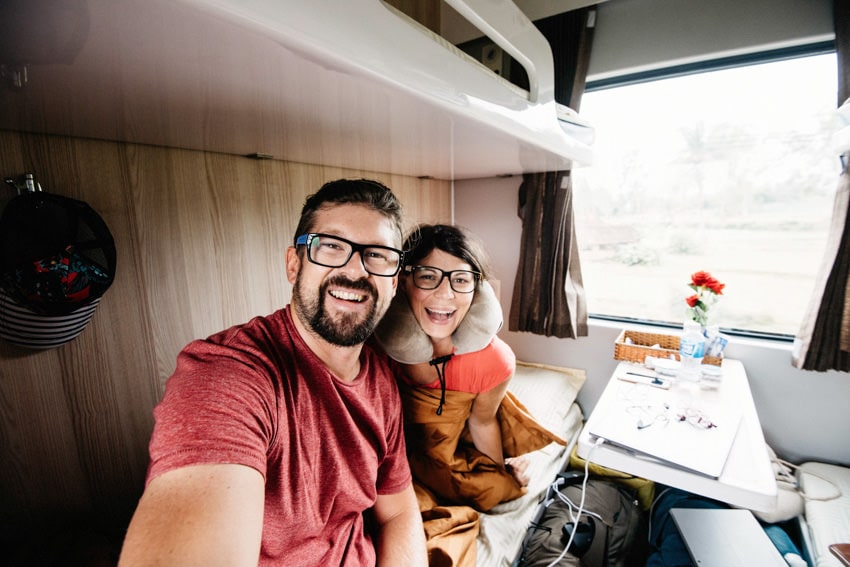 Bus is the third option to reach Da Nang from Ho Chi Minh City – the slowest and, by far, most uncomfortable but also cheapest. The bus ride from HCMC to Da Nang takes more than 20 hours. We do not really recommend it as going by bus in Vietnam is not sooo much cheaper that it justifies the hassle and uncomfortableness of the trip.
Cost vs. Time:
Flight: 1 hour 20 minutes, around 25 EUR per person excluding luggage
Train: 15 hours, around 25 EUR per person including luggage
Bus: around 22 hours, around 10-15 EUR per person including luggage
For all 3 options, you will have to take an Uber, Grab (both around 10 EUR), taxi (about 13 EUR) or public bus from Da Nang to Hoi An if you arrive from the south. It takes about 45 minutes to 1 hour.
Tip: If you pass Da Nang, don't miss the famous Dragon Bridge – just tell your driver to drive by. You will most likely not see it in full action – spitting water and being illuminated in red-ish colors – but it's still cool to pass.




Hoi An – The City of Lanterns
The feature that distinguishes Hoi An the most from other cities are definitely the lanterns that illuminate the city every night. The entire old quarter is decorated with thousands of colourful lanterns that make the city the most pleasant and atmospheric in Vietnam – at least, after sunset. Not only the streets turn into a sea of lights as it gets dark, also the river that flows through the city gets illuminated by hundreds of boats each featuring a colourful lantern. And if this wasn't enough lantern light, old grannies try to sell you paper lanterns with little candles for 1 USD. Included in the dollar is also a tool that enables you to place the lantern on the water of the river. It is truly a wonderful place at night although being asked if you want to do a boat ride by 100 people within 10 minutes can get annoying after a while – especially as you also get asked by 100 grannies if you wanted to buy a lantern for the water as well.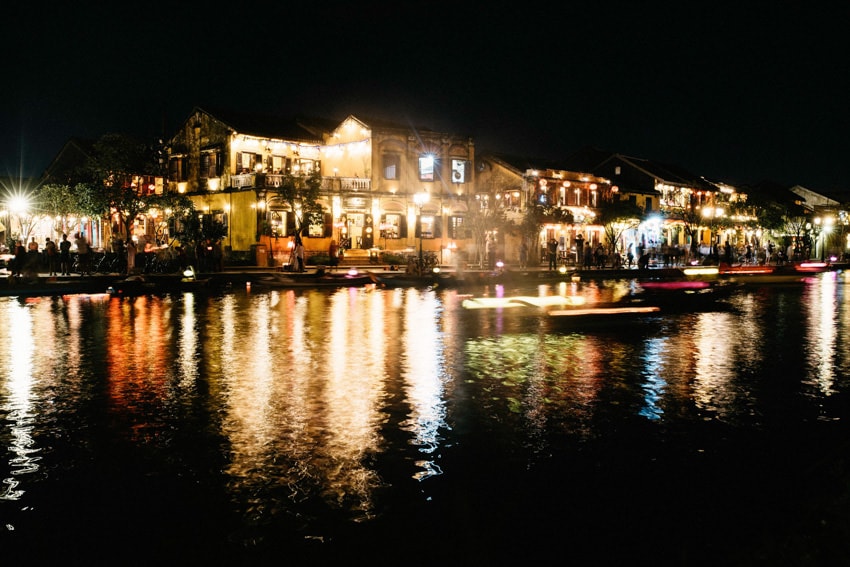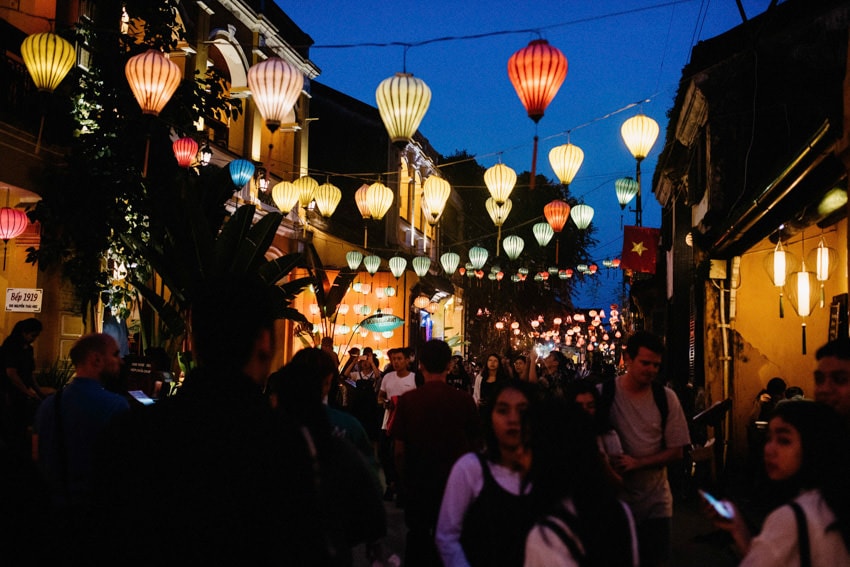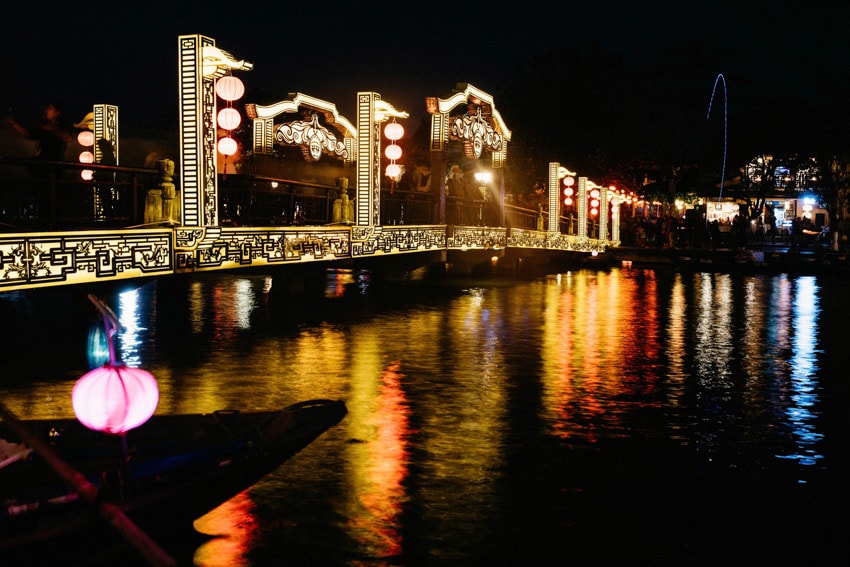 Hoi An – The City of Tailors
Asia is a real clothing mecca – the quality is usually exceptional and prices low. Cambodia, India, Vietnam and Bangladesh have gained world-fame because of their strong representation in clothing stores all over the world. As soon as you arrive in Hoi An, there is no way that leads past a tailor – or better, all ways lead right into the arms of a tailor. All of a sudden, you will be confronted with the need of a tailor-made suit or dress even though, you don't really need it. The mere presence of hundreds of tailors that catch you with a selection of thousands of fabrics, colours and patterns as well as unbeatable prices will create necessity where necessity doesn't really exist. There is a huge war among tailors for the best review and most recommendations on TripAdvisor, so finding the right tailor is a pretty tough task. We talked to many people and read reviews and, in the end, found a very good tailor in Hoi An: The Surprise Tailor.
The Surprise Tailor is located on Tran Hung Dao – one of the major streets in the center of Hoi An. As you enter the store, two ladies welcome you, ask you to sit down and almost capture you with a bottle of water. Then the surprise tailor enters the stage and the show can begin. It is highly recommended to go there having at least a slight idea of what you want otherwise they will sell you clothes for a fortune (making you think now is the only option to get it in a lifetime and you really need it). They have catalogues with styles, if you need some visual support for your purchasing decision. Tom ended up having a suit tailored and Bianca a dress, a skirt and a blouse in the 50s style (of course, knowing exactly what she wanted – she was well prepared as always bringing pictures of the things she wanted). In total, we paid 350 USD for a suit (consisting of trousers, a vest and a jacket as well as 4 shirts – 2 long-sleeved and 2 short-sleeved) for Tom as well as a dress, a skirt and a blouse for Bianca.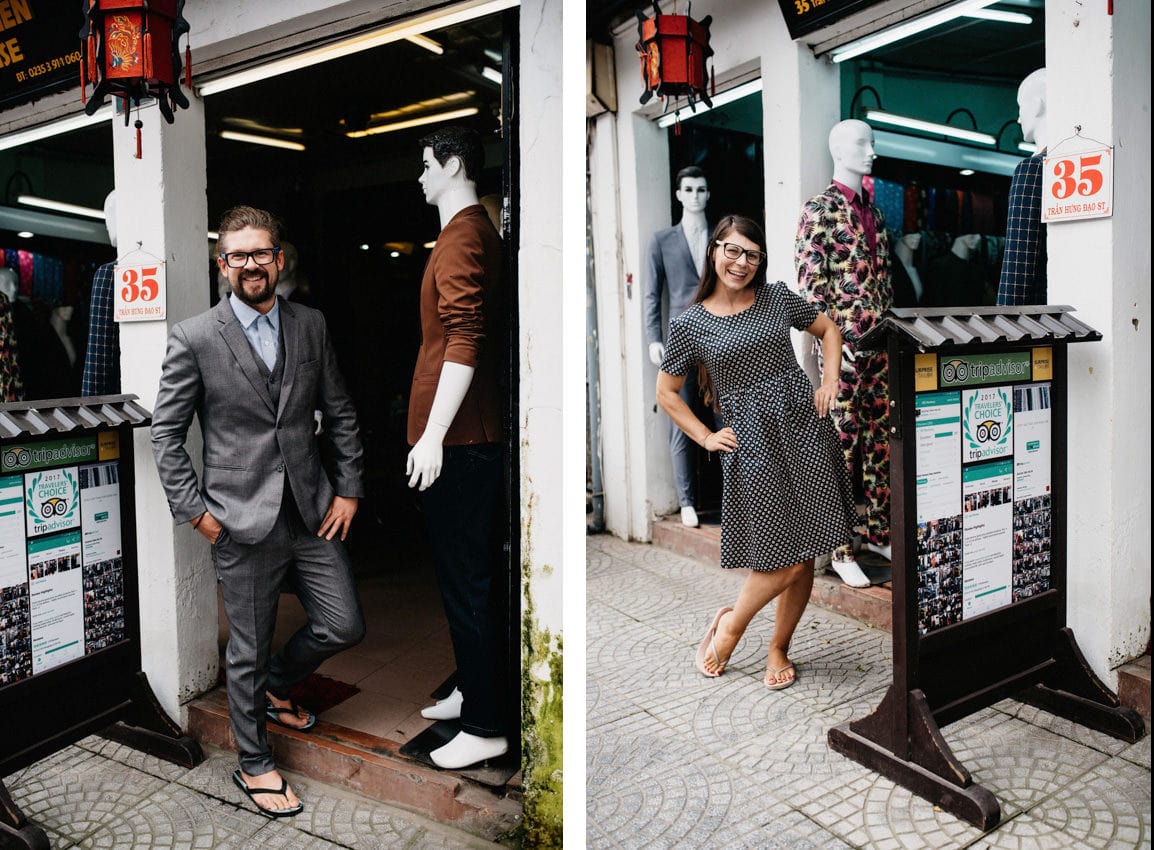 It takes 1 day until everything is done – so, we recommend to visit the tailor on your first day right away (they are open until around 7:00 PM). The next day, you come back, try everything and then they adjust it again so it fits perfectly. In total, we had to come back 3 times until it really fit perfectly. They also organize shipping – a lady comes directly to the tailor, packs everything up and leads you through the shipping process (helps you fill out all documents, …). You can choose air, express and sea mail. Sea Mail is the slowest (up to 4 months to Europe, air is the fastest with about 2 weeks up to 1 month). Insurance is also available and depends on the value of the content of the parcel. Within an hour after we had handed the parcel to the lady, we received a shipping confirmation by e-mail. If the parcel will ever arrive … we will see.




Hoi An – The City of Cooking Classes
Basically, every restaurant in Hoi An offers a cooking class – the offering is sheer unlimited. We even saw a restaurant that offers pizza, pasta and cooking classes – absolutely crazy. We were looking for a not-so-touristy cooking class that adds a little cultural experience/indulgence to this touristic activity and found Papa's Cooking Class with Long Tran. We really enjoyed the cooking class with Long Tran … read more about our experience in our article on the blog.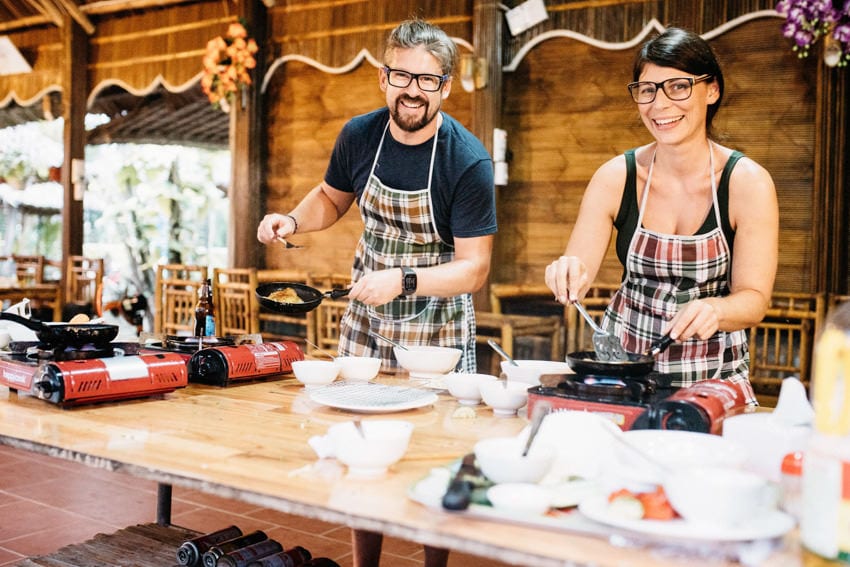 Hoi An – The City of Spas
Hoi An is a real paradise for women – you can't only get tailor-made clothes, after a hard shopping day, you can relax at one of the hundreds of Spas with the treatment of your choice. TripAdvisor is a good reference to find a good Spa – we visited the White Rose Spa for a manicure/pedicure and for a massage and were really delighted about the service. It might not be the cheapest Spa but the experience was excellent. When you enter the Spa, you get tea and candied ginger, the staff is super-friendly and the receptionist speaks really good English. We booked the "White Rose Spa Signature"-massage. It was an 80-minutes deep tissue body massage (you could choose the pressure and parts of the body you wanted the therapist to focus or skip in advance) that was not really relaxing per se but highly effective (after sleeping in hard Vietnamese beds for days). The price for the massage was 500,000 Dong (not even 20 EUR).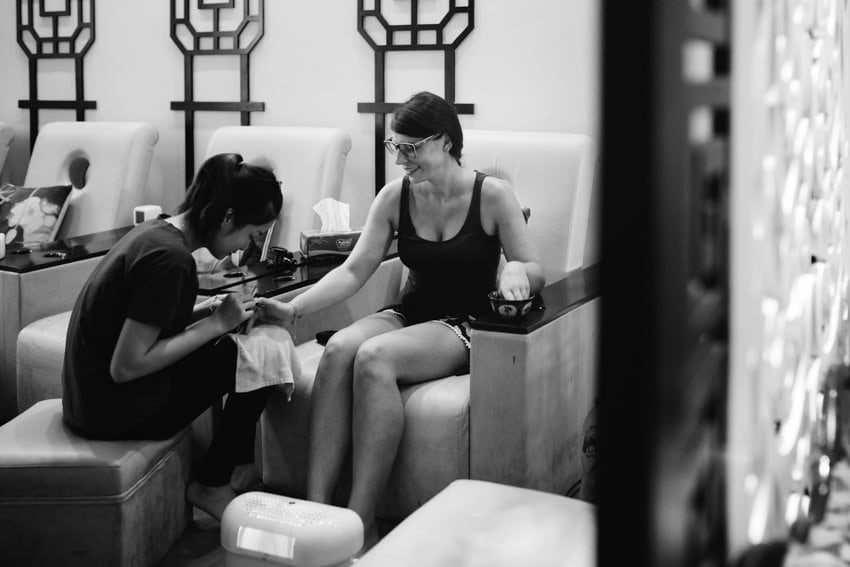 Hoi An – The City of Bicycles
If Ho Chi Minh City is the city of motorbikes, Hoi An is the city of bicycles. This doesn't mean there are no motorbikes (without any, you would get the impression the city wasn't located in Vietnam), however, many people use bicycles to get around in the city and its surroundings. The majority of hotels and hostels offer free bikes for their guests to move around the city. Even at night, when the city is crowded, you can take a bike and park it anywhere along the river. Hoi An is totally save and the risk of a bike getting stolen is very low. Many tour operators also offer bike tours to surrounding villages, rice fields and countryside. There are even free tours offered by university students (bike rental, etc … needs to be paid) that aim at improving their English skills by doing these tours with tourists.
Our recommended length of stay:
We do recommend to spend at least 2 days in Hoi An. If you would like to have clothes tailor-made and enjoy the Spa experience, 2,5 – 3 days might be the perfect length of stay. Hoi An is a real relaxing oasis with lots of fun stuff to do and definitely worth spending more time. The beach is only a few kilometres away and in summer, definitely also worth a visit.
Our Overnight Stay
The Vaia Boutique hotel is located on one of the main roads not far from the Old Town (5 minutes by bike, 10 by foot) and offers nice rooms at a mid-range price level.