Just a friendly notice in case you are feared of snakes and can't even look at pictures of them … In this article there some some pictures of them. So please decide for yourself if you want to scroll down. We are just mentioning this because Bianca had a really strong phobia until a few years back.
We spent a truly "Crikey!" day in Australia Zoo – on of the many legacies of Crocodile Hunter Steve Irwin.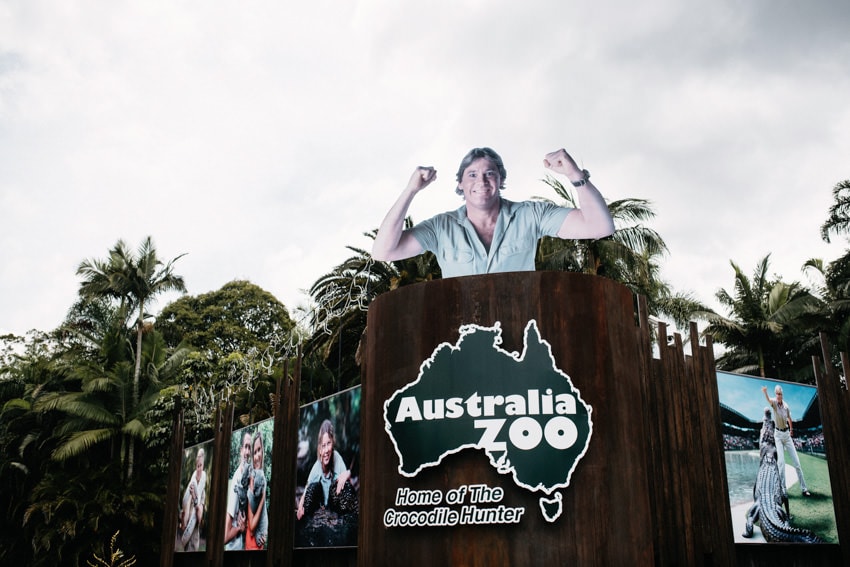 "The Crocodile Hunter"
"Oh my God, look at this beauty" – who does not remember this very famous quote of Steve Irwin. He did not refer to his wife though – whenever he saw a snake, crocodile, scorpion or whatever deadly or not deadly animal in the bushes around the globe, he was amazed by their infinite beauty.
Irwin grew up in Australia, early starting to be involved with reptiles as his father was professionally moving reptiles from inhabited areas to untouched nature on behalf of the Australian government. He received his first "beauty" – a python – for his 6th birthday and started to hunt animals at the age of 9. It did not only become a passion but his profession. He dedicated his life to travelling all over the world, hunting for deadly animals and trying to save them (also breeding endangered species) – appearing in TV-Shows, having his own TV-Show – and gained immense global fame. Irwin died in 2006 after an unfortunate encounter with a sting ray while filming in the Great Barrier Reef.




Australia Zoo – Touching Allowed
Australia Zoo is located in Beerwah, Queensland – about 1-hour drive north of Brisbane. The goal of the zoo is "conservation through education" – so basically, not to solely exhibit animals but to educate the visitors about the animals and their behavior. The zoo is divided into different sections and also features a wildlife hospital (extra fees apply). At the entrance, you receive a little map that really helps to plan your day at the zoo. It also includes all show times – the times when keepers educate visitors about the animals while feeding them. Throughout the day, keepers will be around carrying the animals – snakes, koalas, birds, etc … – you are welcome to touch the animals and take pictures. There are also walk-through areas where the animals are free (not in a fenced area) and you can feed and touch them.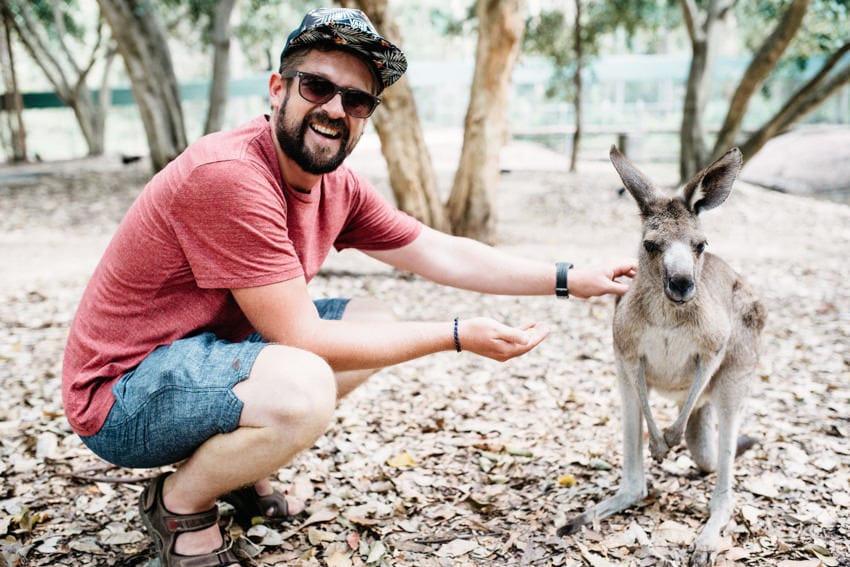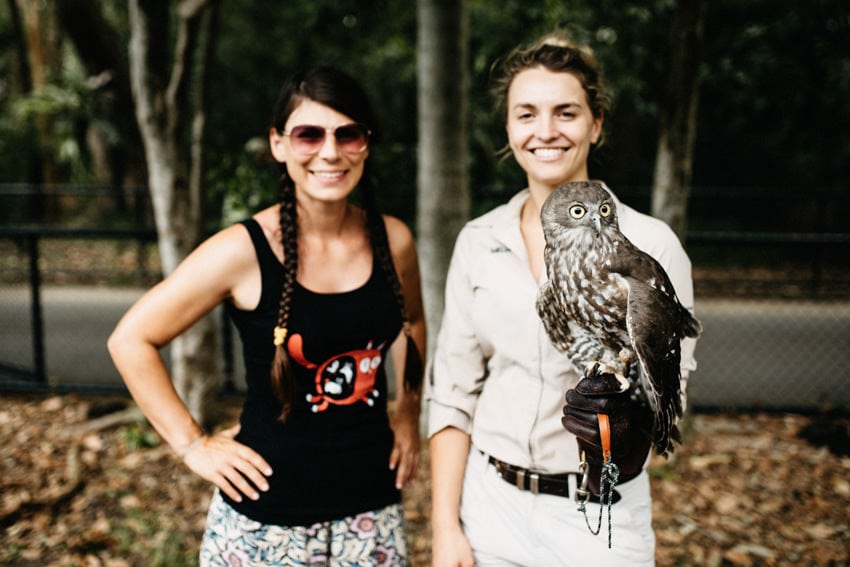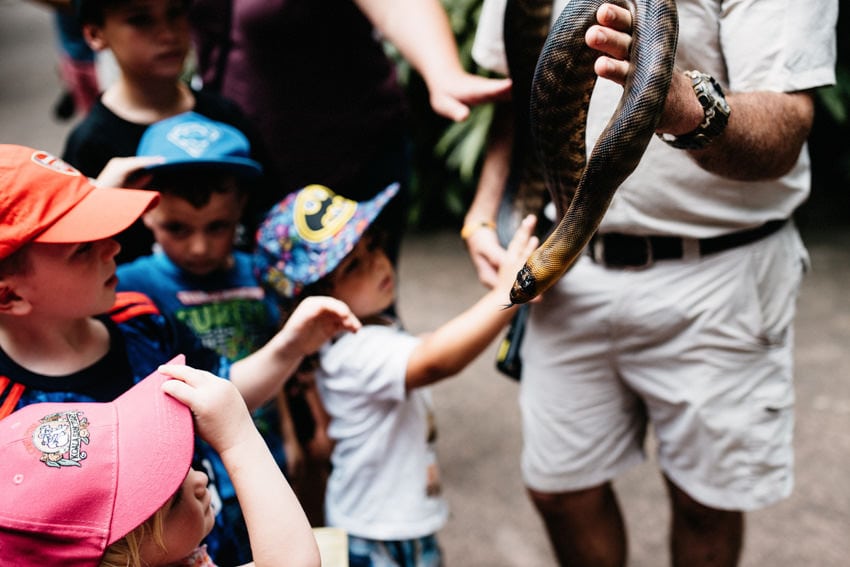 Highlights of Australia Zoo
For us, Australia Zoo is a real highlight and totally worth a visit – full of animals, wonderful areas where you feel like at another continent (Africa and Asia), friendly and educating staff and many shows that basically make up your schedule for the day. Here are our personal highlights:
The 12:00 PM-Show at the Crocoseum
The signature show at Australia Zoo – an it is truly entertaining. In a little bit of an American Style show (Ahhh it is so awesome to have you all here today – welcome to the best, greatest, most awesome zoos of all times where you will now get to enjoy the best, greatest, most awesome crocodile show of all times, blablabla …) the keepers of the zoo tell the history of the zoo, educate you about how to react in case of a snake bite and present many of the zoo's birds. The grand finale of the show is a crocodile entering the "stage" to be fed by one of the keepers – who, of course, tabs into the water with his feet to attract the crocodile and then run away as the crocodile comes dangerously close – suspension guaranteed 😉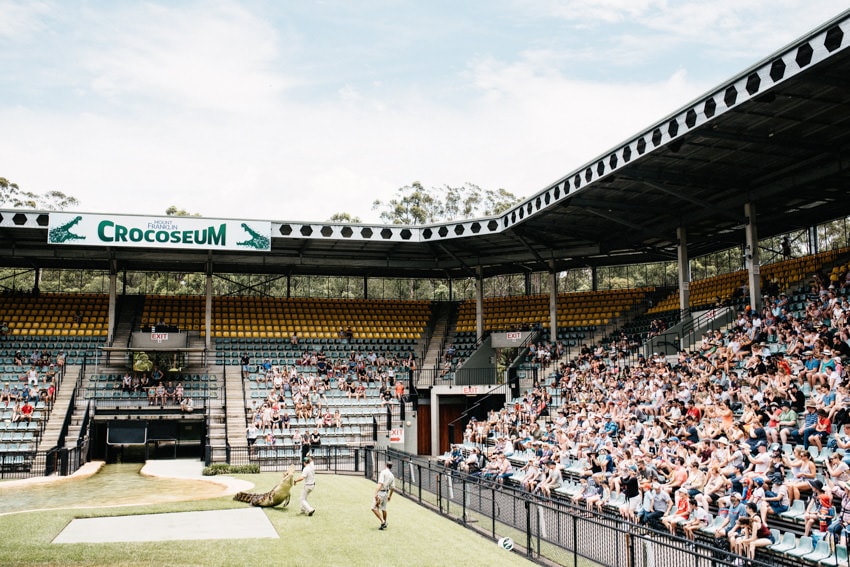 Koala Feeding
There are many different animal shows (turtles, sea otters, birds of prey) but the best for us was, apart from the show at the Crocoseum, the koala feeding. Keeper Sam, a very sympathetic koala enthusiast, told us everything about their behavior of the little grey balls of fur. We learnt that koalas are always warm with their thick fur but still, nature has not found a way in the course of evolution to help them. They only carry for about 35 days before they give birth to a little pink jelly bean-like koala baby. It is then totally dependent on the mother for about a year – it is carried in the pouch and nursed. If the mother becomes pregnant again after that time, the baby has to move out to make space for the newborn. If not, it can remain with the mother for up to 3 years before it eventually leaves and creates its own territory. After the education session, we could pet the animal and, of course, take pictures.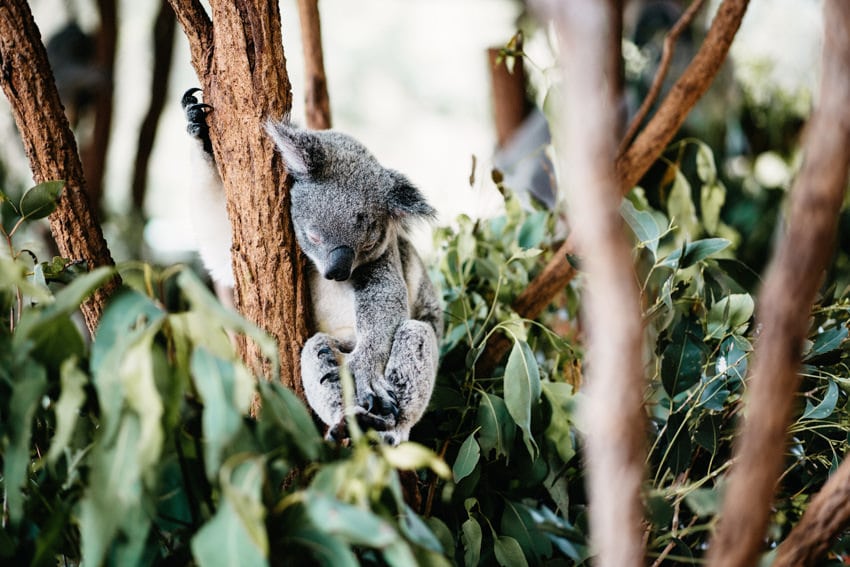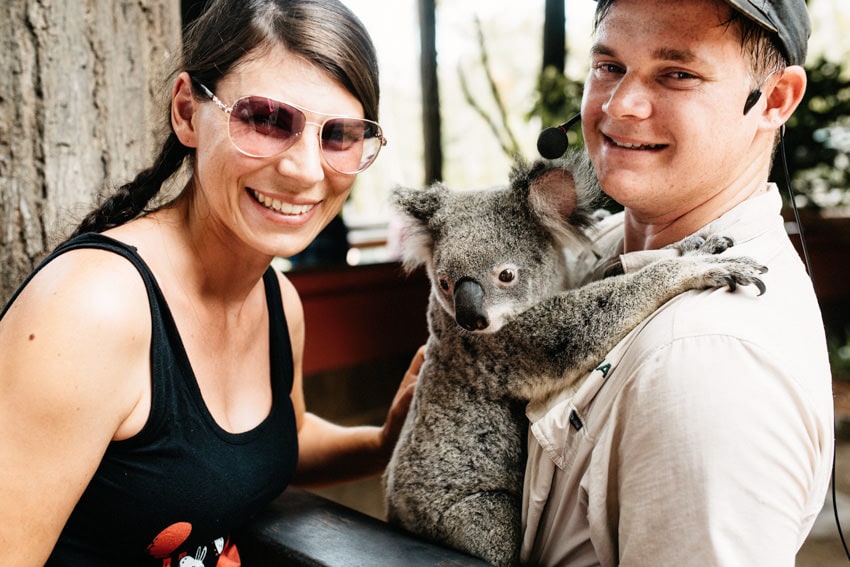 Koala Walk-Through
The koala walk through is a separate area where koalas sit in low trees. You can take pictures and pet them. They are exchanged every day so that its not always the same koala that never gets a break from being stared at, dazzled by the flashlights of cameras and smartphones and being petted by 276.489 hands each day.





Roo Heaven
If you arrive at the zoo without having met them in nature, this is a very spectacular place. If you have already met them, it is still spectacular because you are allowed to feed them and they will eat out of your hand. You can take pictures and observe their unique jumping style.
Important: You must only feed them the designated "ROO FOOD" you can buy at the zoo's store – nothing else.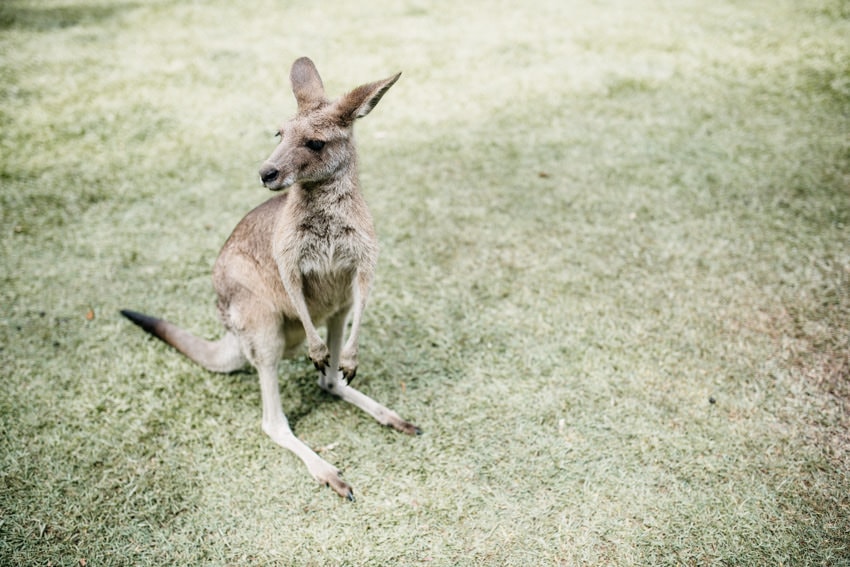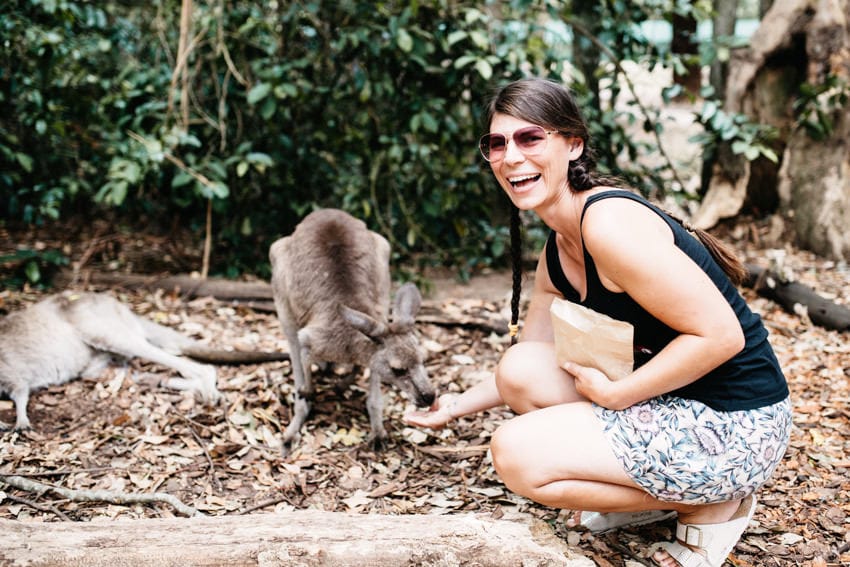 Australian Snakes
In this part of the zoo, you get to "admire" a selection of Australia's most venomous snakes (and some rattlesnakes and a king's cobra that Mr. "Crododile Hunter" Irwin had found / saved on his travels around the world) – so to say, the elite of the dangerous gang. It is pretty good to go there in order to see how they look in order to recognize them a) when you make an unwanted encounter in nature or b) in the very unlikely event you get bitten by one. To us, many of them looked alike (brownish-grey, wet muscle hoses – although they aren't, snakes are completely dry) – so, we would not really have recognized any in nature.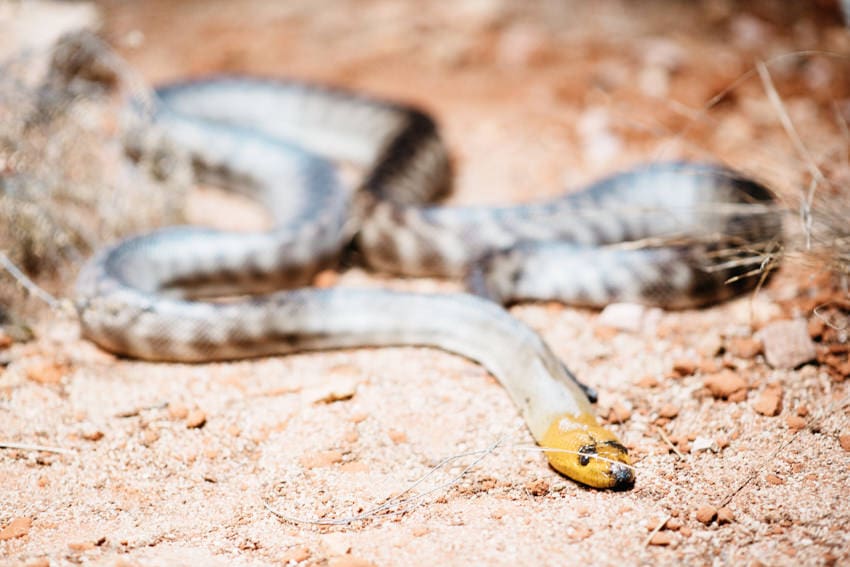 Snakes on display (selection of the most common on the East Coast):
Fierce Snake: The most venomous snake in the World, proudly accommodated only in Australia (German: Inlandtaipan). One of these beasts can kill up to 60 adult men with only one bite – crazy!!! They occur for example in sugar cane fields in Queensland – so, no walking, hiking or playing around in sugar.
Eastern Brown Snake: The 2nd most venomous snake in the World, proudly accommodated only in Australia. The brown snake occurs all over Australia but in the Western part it is referred to as the Western Brown Snake. The Eastern Brown basically occurs – and this is really bad news – everywhere. However, they are very shy and don't really want to be seen by humans – so they usually hide in the bushes – so, no walking, hiking or playing around in dense Australian bush beyond marked trails.
Death Adder: Of course, also very venomous and highly camouflage (so camouflage that it took us 10 minutes to discover it in the 2 m2 terrarium. Adders are not so shy as the others and occasionally occur along marked pathways as well (we haven't heard of anybody meeting one though). If you see one, just wait until it makes its way into the bush (which can take some time because they are lazy and relaxed animals).
Red Bellied Black: This is a venomous snake as well. Locals told us it was not so completely venomous as the others. It is black and has a red belly – so it is easy to recognize (yeah, it is so good that you can always see the belly of a snake J).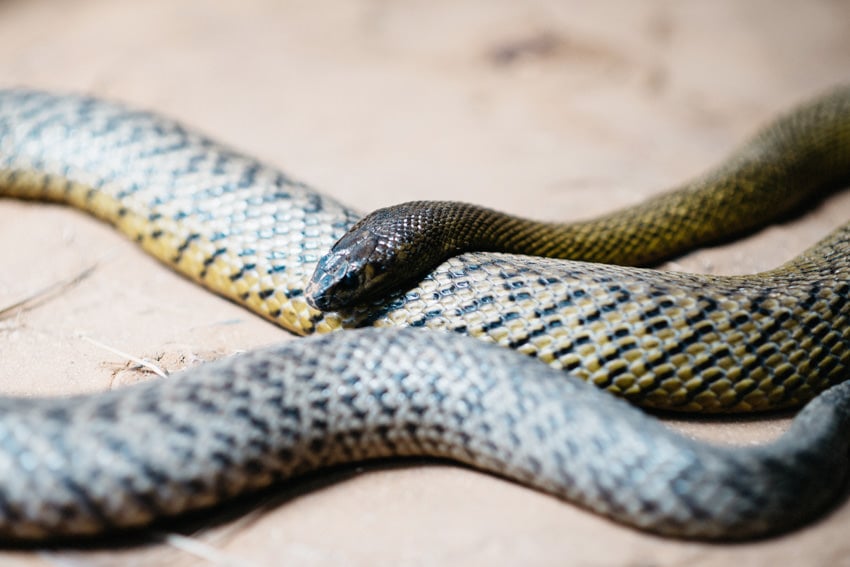 General Info about approaching the "snake-topic" in the outdoors of Australia (also valid for Africa and every other country where they tend to be spread):
Trampling is a good walking style – snakes are completely disabled animals (no arms, no feet, no ears), however they have a good sense. They can feel vibrations from far and will back off before you get a glimpse on it.
If trampling does not feel save enough, you can also use a stick to secure your way and make the ground vibrate.
DON'T GO INTO THE BUSH: Never leave the marked path – snakes love the wilderness, it is their home. If you stay on the path, it is very unlikely you get to see one.
Never cross the comfort zone of a snake – if you see one, give her enough time and space to back off
To go or not to go?
Australia Zoo is one of the best zoos we have ever visited – if not, THE best. We go to the zoo very often (to those having Capybaras like Schoenbrunn in Vienna and Herberstein in Styria) as Bianca is totally head-over-heels in love with Capybaras and has never had a chance in her life to see any in nature (obviously they appear in great numbers in Venezuela but we don't go there as it is too dangerous, in Panama we did not visit the region where they live and so Bianca, by now, remains Capybara-in-free-nature-experience-less). Although it does not accommodate any capybaras, we loved Australia Zoo. It is very authentic, educating and entertaining. Despite the pretty high entrance fee (59 AUD / person), we do highly recommend visiting it.
Are you looking for an accommodation nearby?